KTG Reviews
You can see what some of our past travellers have said from travelling to North Korea with KTG before we started using Facebook and Tripadvisor reviews.
For updated full reviews please go to our testimonials page.
We started arranging trips to the DPRK back in 2008 and hope that you find these testimonials of use.
As for any ratings below, please note that the stars that a review may have are ratings that that specific comment has received from our readers and NOT the rating the reviewer has given their trip.
What Other Travellers Have Said
Click below to see contributions from other travellers who have gone with us to this unique destination!
2017 Trip Reviews
2016 Trip Reviews
2015 Trip Reviews
2014 Trip Reviews
2013 Trip Reviews
2012 Trip Reviews

North Korea Trip Review - June 2012 Group Tour Not rated yet
When contemplating a trip/tour to North Korea, you confront a range of probably well founded apprehensions and emotions. From a question of simple personal …
2011 Trip Reviews
2010 Trip Reviews
Unique experience in North Korea!

I went to the DPRK in Oct 2010. I really enjoyed my trip and came home definitely satisfied by the experience! The whole thing was actually even better …

Great trip to North Korea! Not rated yet
Thanks! Out of all the trips I ever made - quite a few - the trip to North Korea was undoubtedly a highlight. Some of the surreal stories I heard before …
DPRK Trip - September 2010

Definately one of the best trips I've ever had and to one of the most amazing countries. Preconceptions about safety and security are overcome as soon …
Korea Trip September 2010

Very interesting trip. You get a much better idea about the country and the system. Rayco and KTG had organized the trip very well. The trip was …

Un increible viaje dificil de olvidar

La experiencia en Corea del Norte ha sido muchísimo más intensa de lo que imaginábamos. La valoración del viaje es muy positiva, puesto que hemos aprendido …
12th-18th Aug 2010 - DPRK TRIP

This trip to the DPRK by far exceeded my expectations! The countries beauty was something absolutely unexpected and so was the city of Pyongyang. ...

2010 May trip

Hello! I just wanna say many, many thanks to you to fulfill my dreams! Everything was just perfect, even the weather :) Guides were friendly, …

DPRK Easter Tour 2010

Party in the DPRK! Five days I will never forget. This tour in the DPRK was wonderful! Not much trouble for an American to get in anymore but, remember, …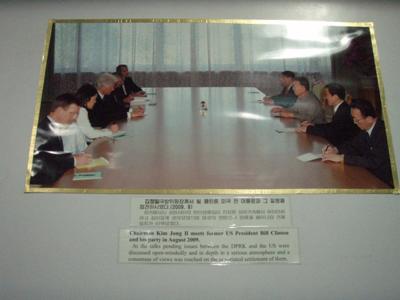 Amazing trip - April 2010

I went on the April 1 trip a month ago, and had a blast. What a strange, but fascinating experience. The guides were wonderful, as were activities and …
2009 Trip Reviews
2009 October Trip
Not rated yet
Richard, Amazingly, I just got back home after my teaching stint and DPRK tour. It has been a busy fall and I am far behind in my correspondence. Thank …
Notes about a "different world"...
Not rated yet
Hi there! It's great to see the new layout and webpage. Nice work! My trip to the DPRK was in September this year. And what a great trip it was! …

The demonstration of socialism
Not rated yet
Hi everyone, I went to DPRK in the early September this year, which was the month of 61th national day! So it's nice to see something more - mass dance …

another world
Not rated yet
I went to the DPRK for 5 nights for the National Day Tour in 09/09/09 We were a small group of 7, so had more flexibility than the bigger groups. For …
Interaction with locals
Not rated yet
What a trip! I must say that having a small group was a plus as it let us get to know the guides more. They gave us quite a bit of leeway in what we could …