2012 Victory Day Tour Review
by Chris
(England)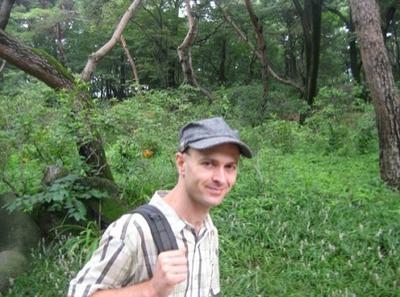 Walking around the Native House of the Great Leader
My main worry about going to North Korea was that the group size would be too big to bond, or that some people in the group might be annoying, neither of which were true. About the country specifically, I was concerned that we would have to ask each time we wanted to take a photo, and that the North Korean guides may be stern 'robots' who didn't show their human side. Having the guides trust you to police yourself in terms of photos let you feel less restricted, and of course the guides were warm and welcoming towards the group.

Going on this trip I found that there's another side to the country besides the aspect that gets the attention in the Western media. That it's not all bad for all the citizens and North Koreans still want to enjoy their lives and are curious about the outside world.

I also liked having all food, transport and accommodation laid on, made it a bit like an all-inclusive Sandals package holiday to Tenerife, but to a communist state. Nice to be able to relax and let someone else sort everything out for you after travelling independently around China for a while. I also liked the itinerary combined both Victory Day and the start of the Mass Games (which is why I chose it) it allowed you to see two of the spectacles that take place in the capital in one trip, plus several other sites around the country.

Besides the free beer, I also really liked being able to interact with ordinary (drunken) North Koreans at the beach was nice, as you got to see their human-side, letting their hair down. This was also true of the funfair and the mass dance.

Doing fun activities like the funfair, circus and beach, besides the informative visits to monuments and temples etc. was a good mix of educational and recreational, and made the trip more of a 'holiday' in the conventional sense.

We were also able to see more of the country than just the area around Pyongyang. Driving through the North Korean countryside showed what a beautiful country it is in parts, in contrast to its media image. It'd be great to trek round it one day.

I definitely recommend KTG. The smaller group size, relaxed atmosphere and comprehensive itinerary I believe made for a superior experience to that offered by larger companies.

I had a great time, thoroughly enjoyed myself, I might come back in a few years time.
Join in and write your own page! It's easy to do. How? Simply click here to return to Trip reviews.