How to go to North Korea with KTG
Please read the following information to see how to go to North Korea with us.
We have been working directly with the DPRK tourism authorities in Pyongyang since 2008, and the visa application process is a very straight forward one as it is to obtain the visa.
How to go to North Korea (DPRK) with KTG in 6 simple steps
The visa process itself is simple and below are the steps you are to follow to book a trip with KTG.
Step 1 - Choose your tour
Choose which tour you would like to join. We have group tours every month and private tours can be arranged at any time.
Step 2 - Send us your application via email
We will send you the DPRK visa application form together with clear instructions on how to fill it in. Send this to us with a scanned image of your passport and a picture.You do not have to send us your original passport at any moment.
Step 3 - specify where you would like to collect your visa
Please specify if you would like us to arrange for your visa to be issued in your country of residence if it has a DPRK embassy/consulate/mission (e.g. London, Berlin, Paris, Stockholm, etc) or in China.
DPRK Visa issued in China
We arrange for the vast majority of visas to be issued in China. You do not need to send us your original passport at any moment. All documents can be sent by email and you will be handed your DPRK tourism card the day before the tour starts during the pre-tour briefing. If you require a scanned image of your visa before leaving your country we will send you it. That easy!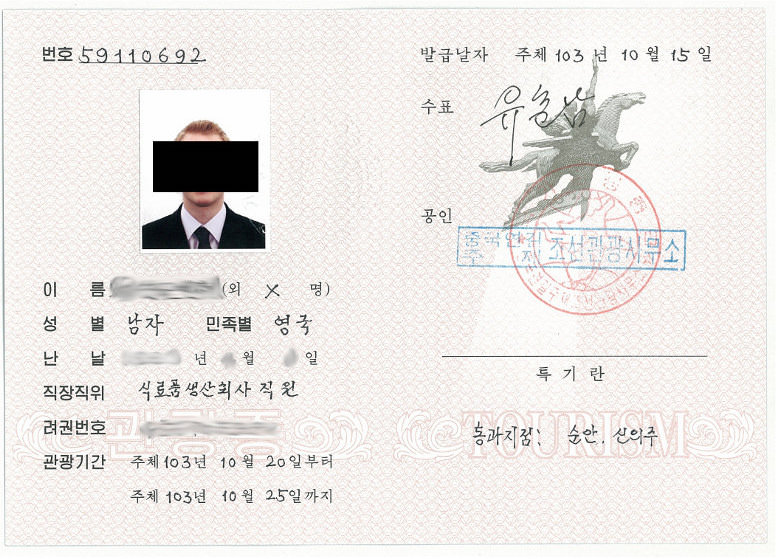 DPRK tourist card - this is what a North Korean visa looks like if issued in China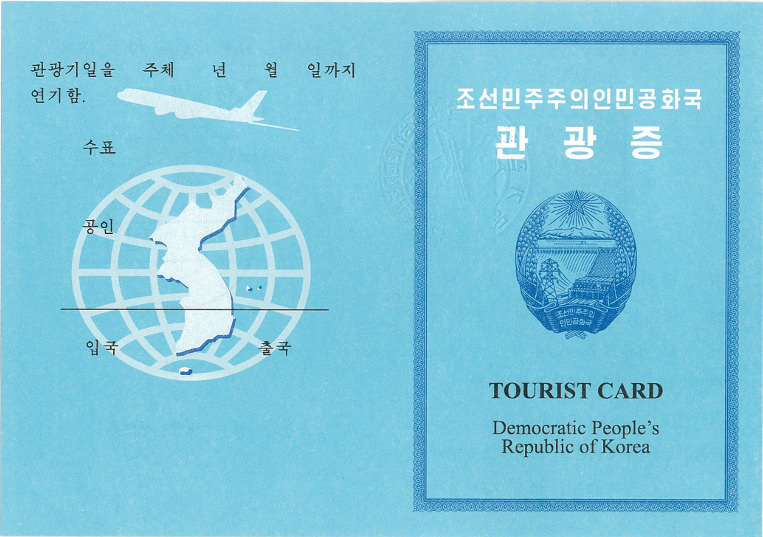 DPRK visa cover if issued in China
DPRK Visa issued out of China
If issued out of China we will tell you when the visa has been approved. We will then send you the contact details of the embassy so that you can arrange a time to take your passport to them (some will agree for you to mail it). The visa will be attached to your passport.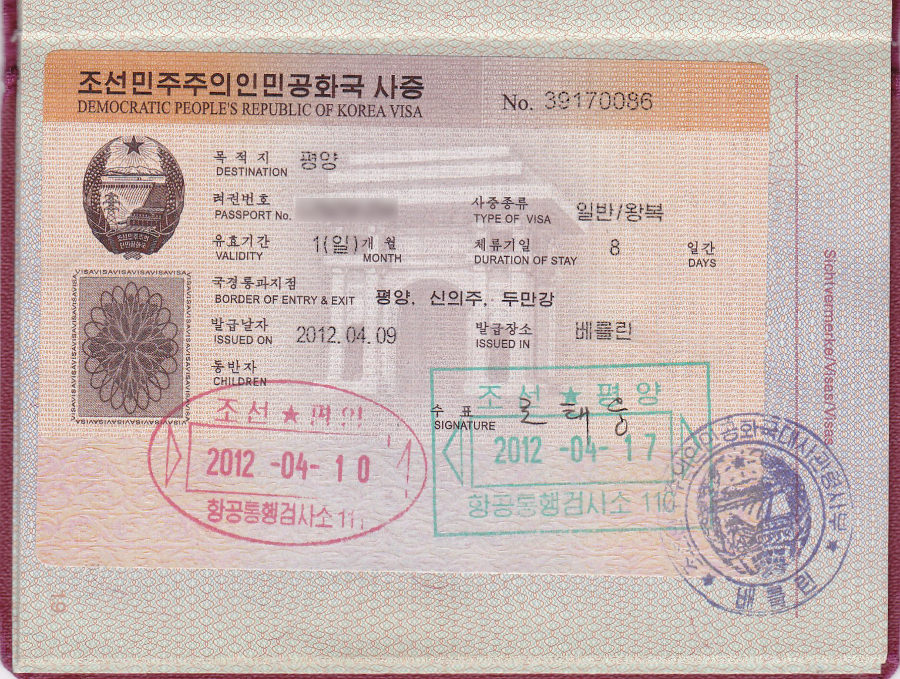 DPRK visa issued in Berlin
Step 5 - first payment
You will receive an invoice for the first payment of the tour. We will require a minimum of 35% of the tour fee. We accept PayPal, card payments (online or via UnionPay at our offices), WeChat, AliPay and bank transfer (in Euros, USD or RMB). The first payment is to be made by the tour application deadline. In the case of private tours it should be made no later than 30 days before the departure date.
As a fully registered international travel agency based in China we accept card payments not just bank transfer payments.
We offer the following payment options:
(i) You may pay online via PayPal. PayPal is a world renowned payment solution that allows customers to pay safely across borders. You do not need to have a PayPal account to pay with your card via PayPal. We will send you a PayPal payment request and you can pay directly with your card on the PayPal site, there is no need for you to send us your card details. We are PayPal verified users.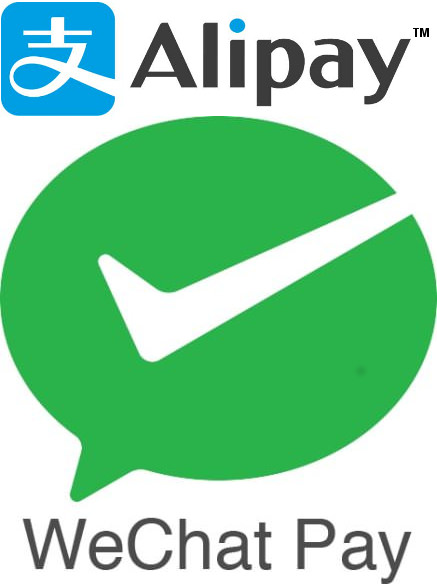 (ii) You may pay directly at our offices in Shenyang by card or cash.
(iii) You can pay via card via AliPay
(iv) You can pay via WeChat
AliPay and WeChat are increasingly popular payment methods used in China. You do not need to be a Chinese citizen to be able to use these options and anyone living in China can pay by AliPay or WeChat.
Step 6 - Remaining tour balance
You can pay this together with your visa fee (if your visa is issued in in China) the day before going to the DPRK during the pre-tour briefing. If you would like to settle the remaining balance via PayPal or bank transfer this is to be done no later than 21 days before the departure date.
Cancellation Policy
A full reimbursement will be made if the D.P.R.K cancels the tour or if for some reason a visa is not issued to the customer, though we cannot be held liable for any bank transfer costs nor costs incurred in your travelling to China. Please note that visa denial is extremely unlikely as tourism is a priority in the DPRK.
If the customer cancels the trip to the D.P.R.K the following costs apply:
Number of days before departure
to the D.P.R.K

Amount of tour cost to be paid

Day of departure

100%

1 Day

65%

2 - 10 days

35%

11 - 20 days

25%

21 - 30 days

15%

31 days or over

0%

Please read our terms and conditions before booking a tour with us.
Pre-tour Briefing
Meet us in Beijing the day before departing to Korea for the pre-tour briefing. If absolutely impossible you can meet us at the airport on the day of departure. We meet travellers the day before the tour starts as some of us will enter by train that day and the relevant documents will be handed to you then.
It is also possible for us to meet you directly at the airport on your day of departure to Pyongyang if you are flying in but please do not arrive in Beijing on the same day you leave for Korea. Flights to the DPRK are limited and not scheduled on a daily basis. Missing a flight means that you may possibly miss quite a lot of your trip and during the high season it will be hard to book another flight.
Entering China without a Chinese visa
China transit visas - for those entering China visa free, we will send you a scanned copy of your DPRK visa and your flight ticket confirmation from Beijing (or Shenyang) to Pyongyang. You will have to show these not only to customs in China but also to your airliner from your country of departure as they may request for evidence of your having a connecting flight out of China within 144 hours of your arrival to Beijing. Please always check with your airline company regarding what documents they may require to see before letting you board the plane if you do not have a Chinese visa and with the Chinese authorities in your country to see if you are eligible for the visa free policy. Please note too that even if you are eligible to use the Chinese visa free policy that it is always up to Chinese customs to allow you to use this policy or not.
Travel Insurance
We require all travellers to have travel insurance for their trip to North Korea and can help you obtain this if you need. Please check our page regarding travel insurance for more information regarding this.