Juche Tower
The Juche Tower was built on the occasion of the 70th birthday of President Kim Il Sung, by the River Taedong in 1982 (Juche 71). The tower has a 20 metre long torch which can be seen glowing throughout the night. Below is a short video we took of the tower, its surrounding area and some of the views it offers. Please note that you will need to have access to Youtube to view the video.
In front of the tower there is a 30 metres tall bronze statue consisting of a group of three people standing. Each person in the trio carry a symbol of the emblem of the Worker's Party of Korea; a hammer, sickle and brush. Two large fountains that rise up to 150 metres can be seen on the Taedong River.
Picture of the Juche Tower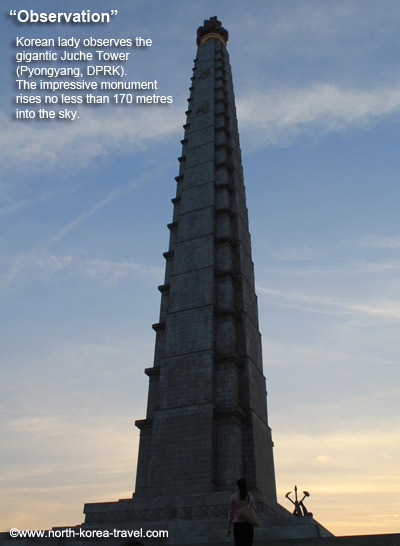 The Juche idea is central to North Korea's policies and political framework, stressing the need of self-reliance and self-defense.
You can go up the Juche Tower and have a panoramic view of the whole capital city. It is also possible to sit and relax by the steps leading to the tower seeing people get along with their daily lives.
Right across from the river the portraits of the Leaders can be seen in Kim Il Sung Square with the impressive Grand People's Study House in the background. The skyline of Pyongyang had some major changes in 2012 and many of the buildings seen on the right hand side of the square are new. The Ryugyong Hotel has also seen some changes as it was only a few years ago that this gigantic building was not covered in glass resulting in a concrete pyramid looming over the whole city of Pyongyang.
Dates in North Korea
You may notice that we use two dates on this website; one being in the traditional format used all over the world and the other with the Year Juche.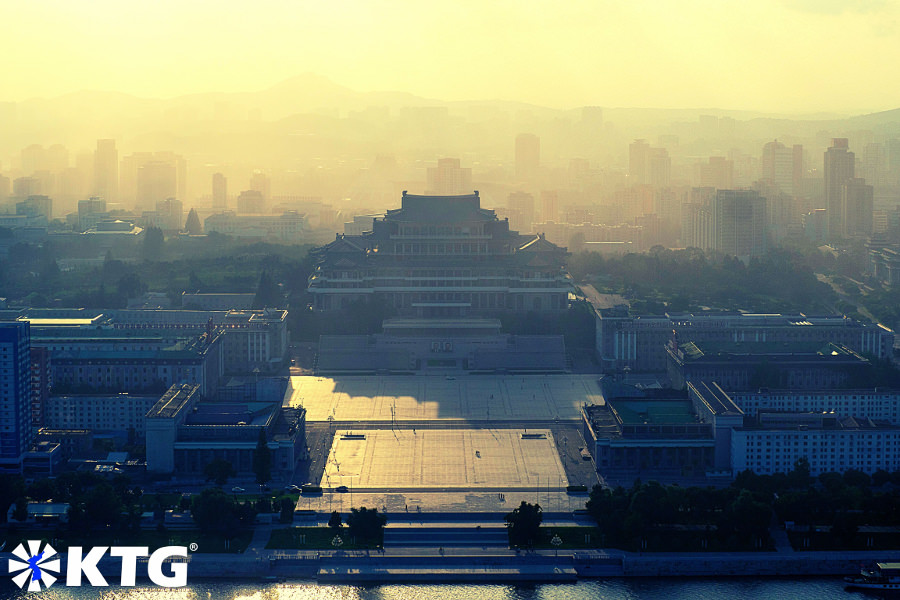 Views of Kim Il Sung Square from the Juche Tower
This is because the Year Juche is used in the DPRK on official documents (you can check this in your visa!) and this shows how much importance is given to the Leaders in North Korea. Juche 1 is the year that the oficial DPRK President Kim Il Sung was born (1912) hence the Tower was built in Juche 71 (1982).
Walking by the Taedong River
Please note that casual walks by the Taedong River can be arranged. A great way to see people spend an evening with friends. There are also boat restaurants that can be used during lunch or dinner. If interested in any of these options please do let us know.
The Juche Philosophy
You may want to visit our Juche section for a more detailed explanation of the Juche Philosophy which will hopefully help you have a greater understanding of the politics in North Korea and of this ideology which is central to its system.