Pyongyang Tours | The Arch of Triumph
Pyongyang Tours - The Arch of Triumph commemorates President Kim Il Sung's return home after Korea was liberated from Japan in 1945.
KTG were one of the first travel agencies to go up the Arch of Triumph. Please check our Youtube video below to see what the views are like from up there!
The figures 1925 and 1945 are inscribed on each side of the the arch to mark the year that the Eternal President of the DPRK Kim Il Sung left Korea to fight to liberated the country and the year he returned back from China. Also inscribed are the words "Song of General Kim Il Sung."
See what it is like to run through the Arch of Triumph in our video below!
This arch is taller than that of Paris, standing at 60 metres (the arch gateway being 27 metres high) and with a width of 52.5 metres.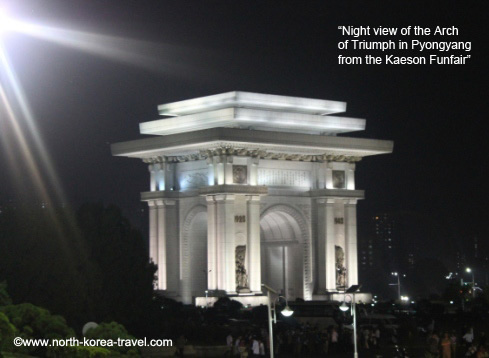 The arch was unveiled in 1982 on the occasion of President Kim Il Sung's 70 th birthday and it is made of well cut granite blocks.
Across the street from the Arch of Triumph of Pyongyang stands a large mural depicting the President's speech upon returning to Korea after the country's liberation. Kim Il Sung Stadium where sporting events such as football matches are held is also just across from the Pyongyang Arch of Triumph.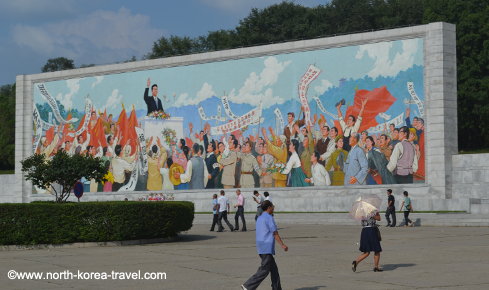 We usually visit this colossal monument after a trip on the Pyongyang Metro (where we have been arranging extended rides for the past few years). It is now also possible for us to arrange for a trolley bus to be chartered from Pyongyang Central Train Station to the Arch of Triumph. At KTG we are constantly working with our Korean partners on new ideas and new forms of tourism in DPRK. We are in fact constantly encouraged by Pyongyang to develop new forms of tourism in North Korea.
The Arch stands lit at night and offers and impressive view from the Kaeson Evening Funfair which is also close by.
Our trips to DPRK always include highlights in the capital city. However, all our tours, including our shorter ones include trips outside of the capital. We were pioneers in promoting express DPRK tours to Western travellers, arranging scheduled 2 night tours to North Korea in 2009. These short getaway trips to North Korea included a combination of Pyongyang highlights together with a visit to Kaesong and the DMZ.

It is of course possible to arrange a trip focused solely on seeing Pyongyang though one of our main priorities is for travellers to be able to see as much of North Korea as possible and we believe that seeing places other than the capital are vital for this to be attained which is why our scheduled group tours combine Pyongyang tours with trips to different areas of the DPRK (a minimum of usually 3 areas/regions are arranged in our standard trips to Korea).