Travelling to North Korea - FAQs
Travelling to North Korea is not something that many people do as the DPRK is one of the most isolated countries on Earth. Below are some questions regarding tourism in North Korea that you will find helpful. Please do not hesitate to contact us directly for any specific questions you may have regarding travelling to the People's Democratic Republic of Korea.
1. Is travelling to North Korea (DPRK) safe?
The DPRK is probably one of the safest places in the world for tourists to visit with one of the lowest tourism crime rates recorded but we should behave according to their rules and regulations. We have never had any issues with any travellers in the DPRK. However, it would be extremely irresponsible from us to say that this is due to the fact that a trip has been booked with us. Although we fully brief travellers before the trip and explain what behaviour is expected once in DPRK, we strongly recommend you to check with your country's department of foreign affairs and see what they suggest.

2. Can I travel alone to the DPRK?
Travelling to North Korea completely alone is not permitted. Private tours can be organised, but you will always be accompanied by tour guides, even if you are just one person travelling. Wandering alone through the streets is not allowed.
Check out our following post for more information:
It is quite hard to do so unless you speak Korean, but you will have several chances to meet locals, especially during festivities. Many North Koreans do not speak English. When visiting places you will encounter local citizens and we always encourage the North Korean tour guides to enable you to communicate with them. One of our top priorities is to allow travellers to see as much as possible, and within the limits set, of ordinary life in North Korea. However, we do not encourage asking them or the tour guides sensitive questions. Our groups tend to be small, with an average of less than 10 people, and we have developed excellent relationship with our Korean partners and Korean guides throughout the years. We believe this to be key in allowing for more flexibilty in our programs and enabling us to offer greater contact with Koreans.
4. How about pictures? Can I take as many as I like when travelling to North Korea?
Your guides will tell you when you are not allowed to take pictures. This will be mainly in certain areas in and accessing the DMZ. Please do respect what the guides tell you to do and restrain yourself from taking pictures of places/scenes they ask you not to. Your pictures will more than likely be checked upon your departure and your guides may get into trouble if you take pictures you should have not taken. We will fully brief you on your expected behaviour in the DPRK.
We recommend you to read our post about taking pictures and videos in North Korea for more detailed information.
5. What currency is used in the DPRK?
The local currency is the Korean Won. However, as a tourist you can only use Euros, Chinese Yuan or USD. Please take small change with you.
More FAQs about travelling to North Korea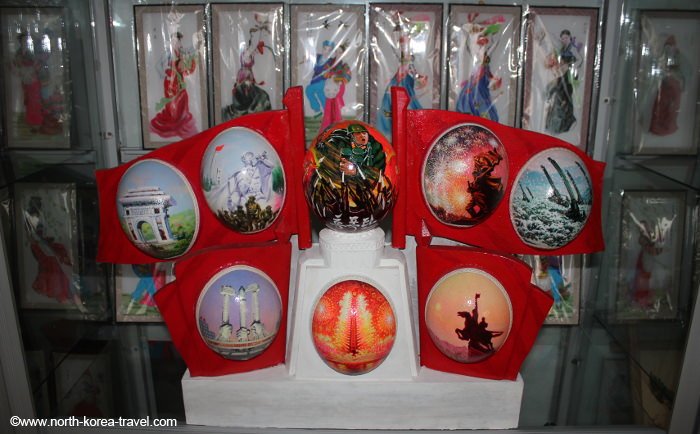 Image of painted Ostrich Eggs. Souvenirs in the DPRK are indeed unique.
6. Are things expensive in the DPRK?
Your tour price includes all costs in North Korea. However, you will see that there are several things for sale such as local products, books, CDs, souvenirs, etc. Prices are not rock bottom, but definitely much lower than that of Western goods. When you contact us we will give you details on the amount for extra expenses and souvenirs that we recommend you to take when travelling to North Korea based on how long you will stay in the DPRK.

7. Is there access to Western media in the DPRK?
Hotel rooms all have Western channels, including BBC international. Local North Korean channels are also available. Please see our North Korea TV page for more information.
8. Can I make phone calls abroad?
You can still make international calls from your hotel. Please check the rate always as this will vary depending on where you call and rates can vary from 0.70 Euros per minute to 6 Euros per minute. You can also purchase a Korean sim card. Please check our page on making calls in North Korea for more details.
9. Can I give tips to my guides and driver?
Giving your guides and driver a present will be deeply appreciated. Souvenirs from your country are a good idea and help break the ice when we meet our guides. Alternatively, men normally like cigarettes and women facial cream/cosmetics. These can be purchased in the hotels where you will be staying. Travellers are recommended to give around 45 Euros tip in total if with a group (15 Euros to each guide and to the driver).