Taking Pictures in North Korea - all you need to know
Can you take photos and videos in North Korea?
Unlike what many people believe, or what the media may suggest, it is perfectly fine to take pictures and videos in North Korea. And while you may have stumbled across articles or youtube videos of people going to North Korea on a regular tour titled something along the lines of "Secret Pictures Sneaked out of North Korea," or "Rare Glimpse of North Korea," "Pictures North Korea do not want you to see," "Secret Footage of North Korea," etc, the truth is that opportunities of taking pictures in the DPRK are abundant.
Video of KTG's Tim "on the go in North Korea"
There are however some rules we have to follow when taking pictures or videos in the DPRK. We will fully brief you before the tour, but here are some of the main rules that are to be followed.
No pictures of the military
As is the case with many countries, you cannot take pictures of military facilities, soldiers, vehicles, etc in North Korea. The strictest places are military check-points. When we leave Pyongyang we will go through several military check-points. Our Korean guides will remind us not to take pictures and to not even show our cameras / phones, in case soldiers may think that we are trying to snap away.
There are of course some exception. At the DMZ for instance we will be able to take pictures of and, if they are in the mood, with soldiers guiding us there. Having said this, once we arrive at the DMZ, you will see several soldiers standing in the car park area. We should not take pictures of them.
Another special case is when we go to greet soldiers with locals at a military parade.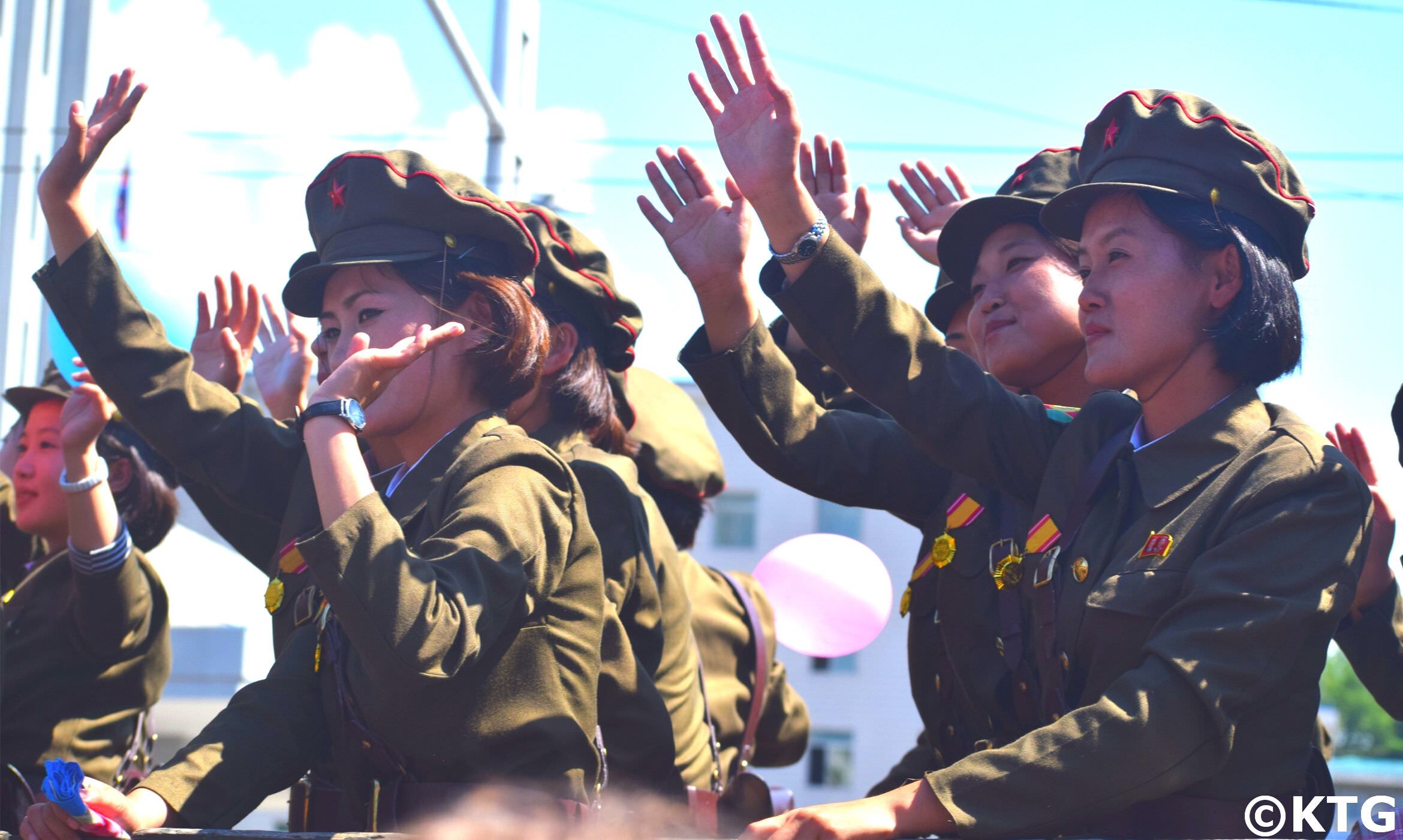 No pictures of construction sites
Soldiers are mainly involved in the construction of buildings, roads, etc. We should not take pictures of any of these sites.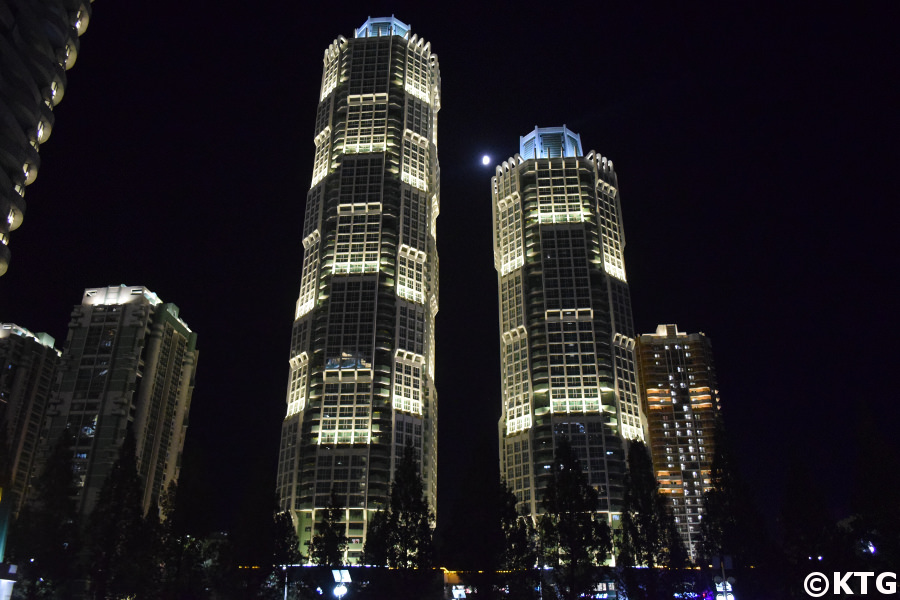 There has been a lot of construction taking place in Pyongyang in the past few years
No pictures allowed in certain places
We are asked not to take pictures in some specific places. This is the case of the Kumsusan Palace of the Sun which is the most sacred place in the DPRK. We actually have to leave our cameras in the cloakroom of the Palace and will be thoroughly frisked before proceeding.
It is ok for us to take pictures in the square of the Kumsusan Palace of the Sun, but pictures inside the building are strongly forbidden
We recommend not leaving the camera on the bus when going to the Palace of the Sun as we can take pictures of the main square outside after having visited the Palace. We simply go back to the cloakroom to collect our items. If you leave your camera on the bus, you will not be able to back on the bus and then move on to the square to take pictures.
Another example is the International Friendship Exhibition Centre. Cameras have to be left in the cloakroom and we cannot take pictures of the truly impressive gifts exhibited in these two buildings which are partly built into the mountain and underground. We will be able to collect our cameras to take pictures from the balcony of one of the buildings though.
The same applies with the National Gift Museum.
The next most notable example is the Korean War Museum. This was rebuilt and turned into a truly impressive museum in 2013.
Although it is perfectly fine to take pictures of all the military equipment (tanks, planes, helicopters, heavy artillery, etc) in the outdoors part of the museum and of the USS Pueblo Spy Ship, we are asked not to take pictures once inside the museum's main building.
Check our hi budget Youtube video of weapons in the outdoor section of the Korean War Museum:
The Metro Museum, which is not really visited much by foreigners (not the metro itself) also has restrictions regarding taking pictures and pictures can only be taken in some places of the museum.
This mural painting depicting President Kim Il Sung directing the construction of the Pyongyang Metro is one of the few places of the museum that we are allowed to photograph.
Pyongyang Metro Museum guide and Rayco, from KTG
There are too restrictions in some commercial areas, as is the case with many shops and stores in the West. So basically we are asked not to take pictures inside the Kwangbok Store, which is where we can use Korean Won in Pyongyang and buy local goods with Koreans. The same applies for Rason Market and in the Golden Triangle Bank in the special economic zone located in the extreme Northeast of the DPRK.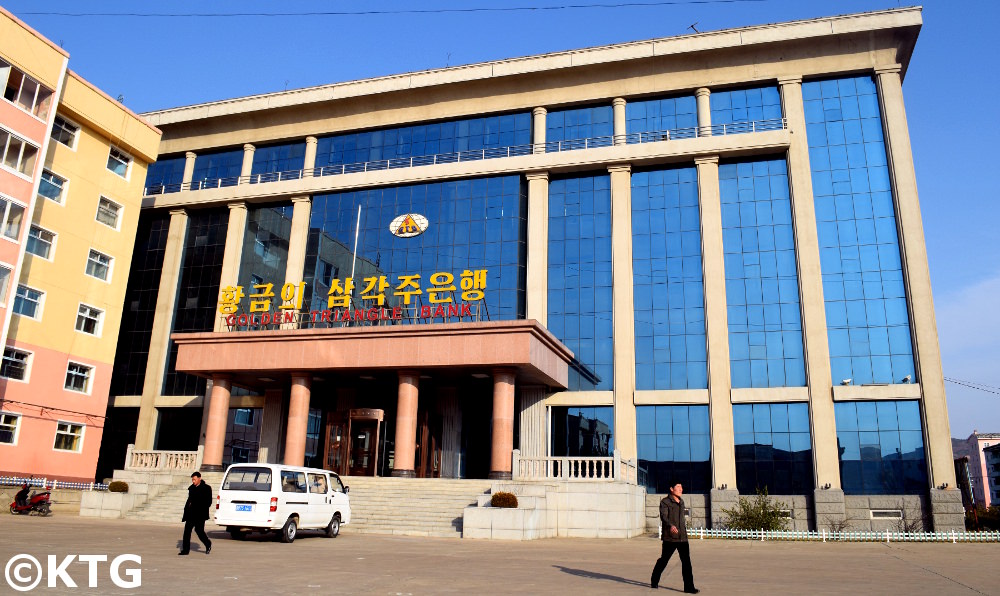 Whereas it is ok to take pictures in the vast majority of places we visit, you will be reminded before hand of places where it is not ok to do so.
Taking pictures of people
We can take pictures of people and, in fact, they may want to take pictures with us too!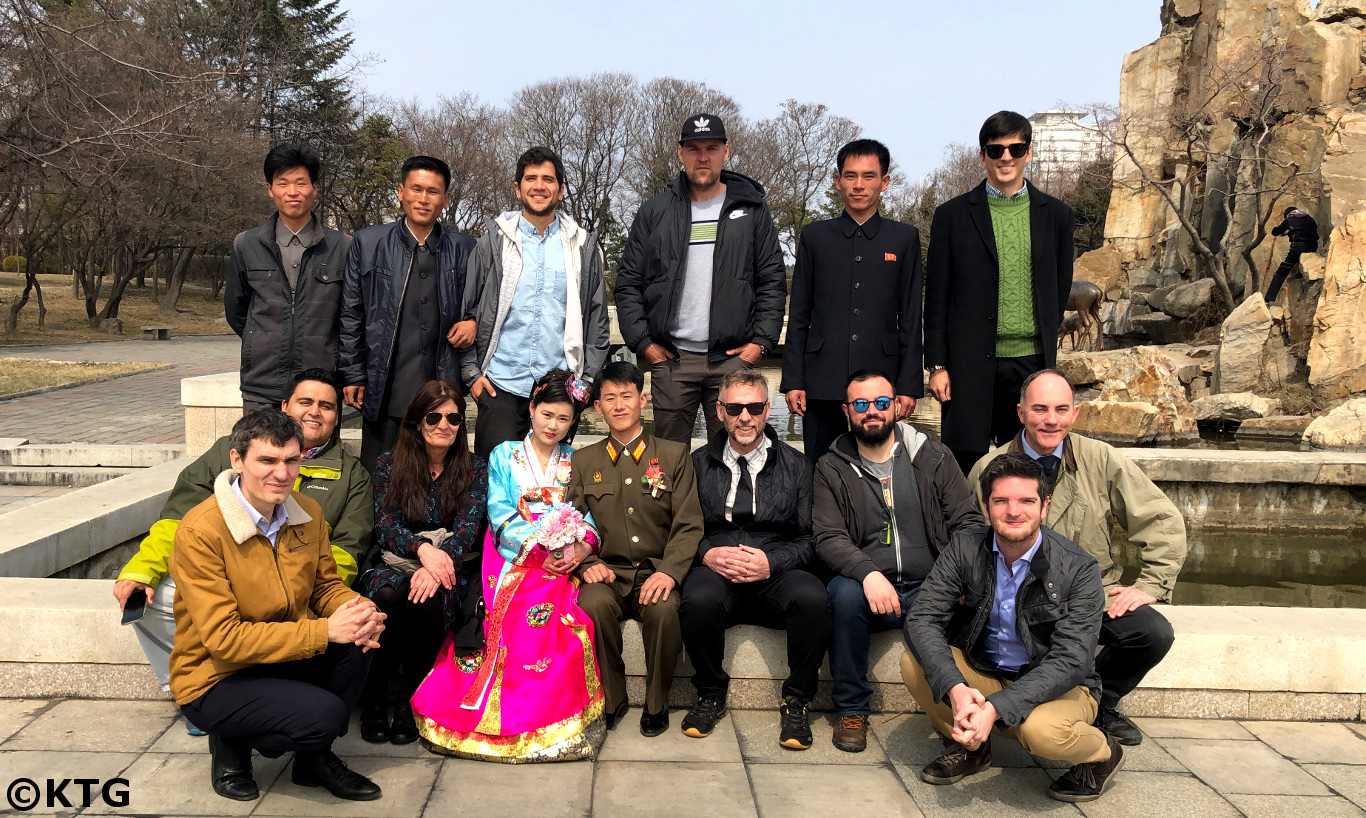 It is not uncommon to have people, including newly married couples, approach us for a group picture. This is another advantage of having small sized groups. It would definitely be much harder to have people approach a group of 25 or 30 people for example!
However, if you would like to take a close-up picture of someone we should always ask them or our guides to ask them. This is just common courtesy. We understand that travellers may get carried away when it comes to taking pictures in North Korea, but just imagine tourists in your own country snapping away close up pictures of you without your permission. Of course, if taking a picture of a crowd or large group of people then it's impossible to ask one by one, and it will be ok for you to take pictures so long as the other rules are followed.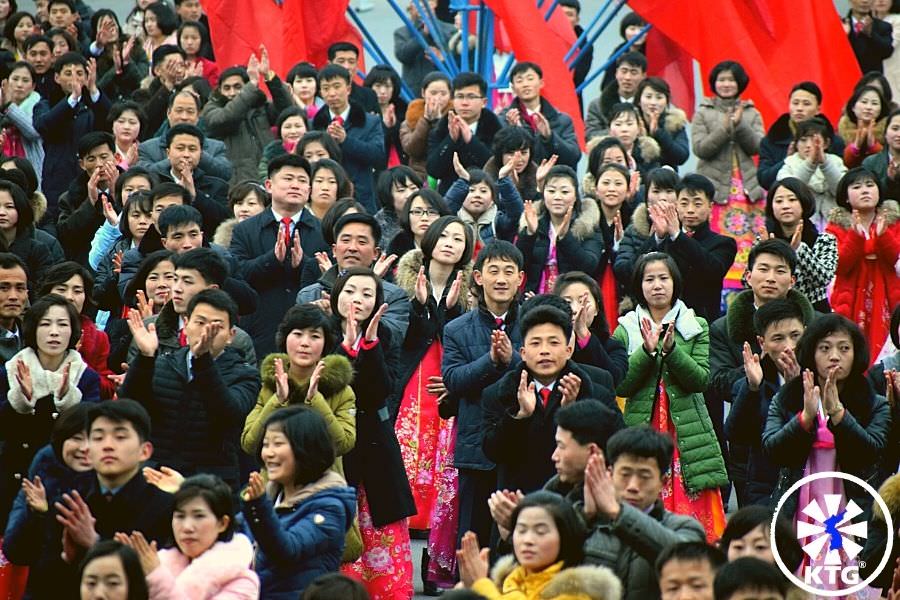 Please note too that Koreans are quite shy in general and not at all used to seeing many travellers. If someone denies your taking a picture of them, please do not take it personally. You will have many other chances. A good tip too is to show locals any pictures you have taken with them as it will allow for some good interaction and possible many laughs and smiles.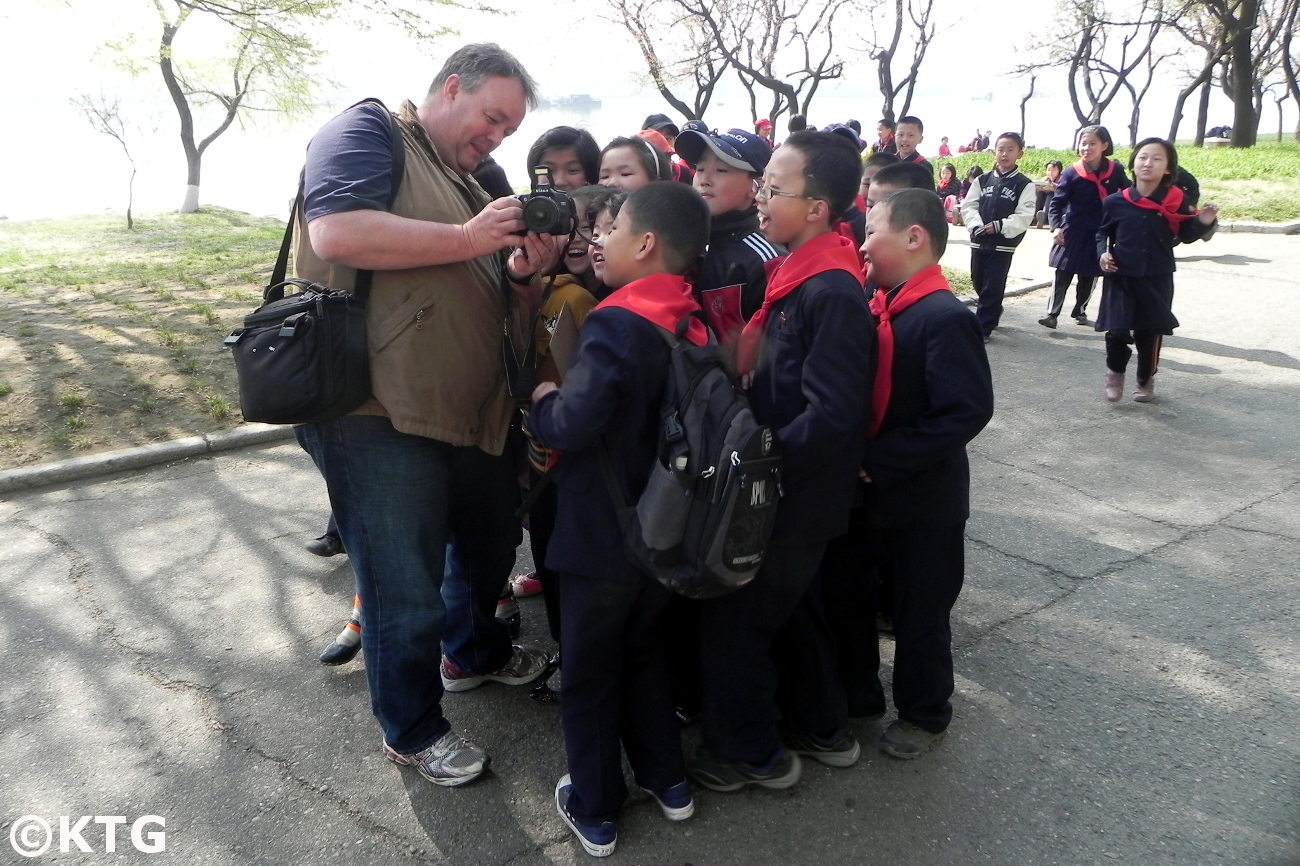 Images of the Leaders
When taking pictures of the statues of the Leaders, such as the Mansudae Grand Monuments we will be asked to take full framed pictures. We cannot cut out parts of the statues or divide the statues into two.
It is essential for travellers to understand that the Leaders of the DPRK are highly respected by Koreans. We should not run around the statues, imitate their gestures, make funny faces, jump, etc.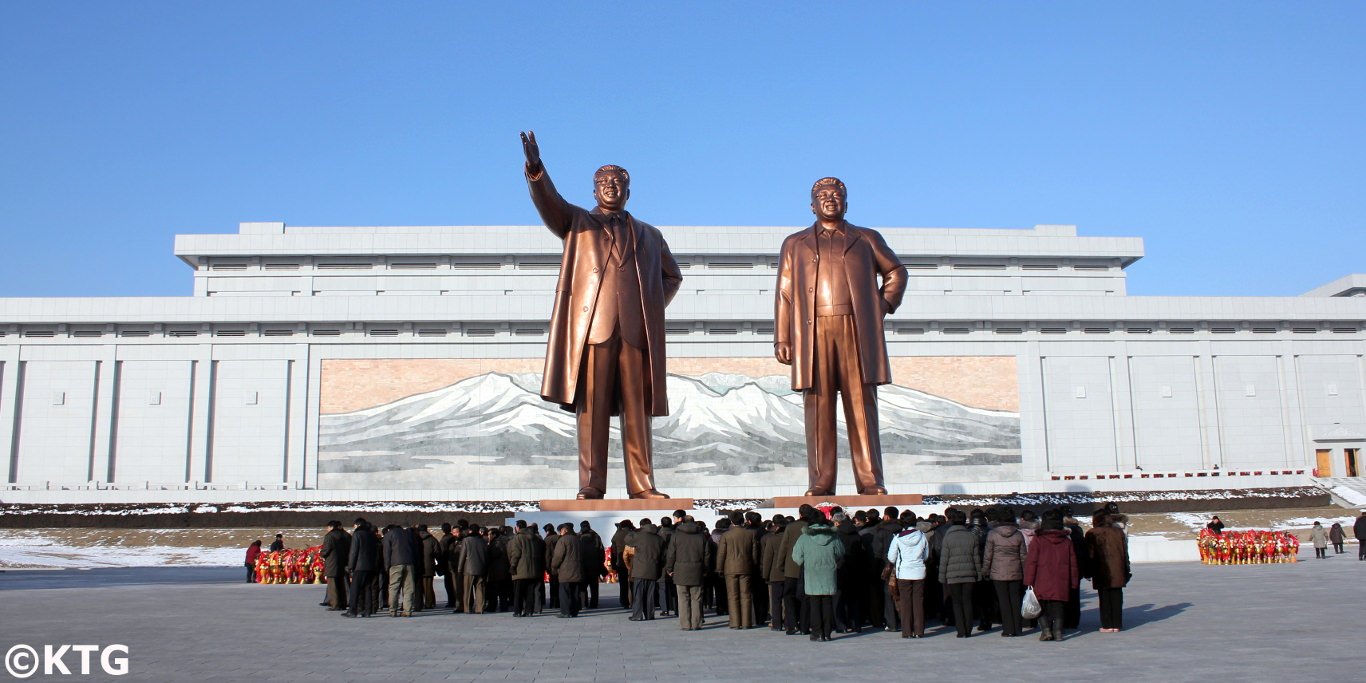 Grand Monuments in 2012
We should first show our respect by bowing as a group (we cannot wear hats, sunglasses, etc and will brief you beforehand), then wait for our guides to give us an explanation of the statues and, once they say it is ok, we can take pictures of them. You will notice that the Mansudae Grand Monuments are enormous. In order to be able to take the full image of the statues we have to move back several meters and then take a picture. Please DO NOT lean on the ground, kneel, etc in front of the statues. This is considered extremely offensive and disrespectful. You may feel that this is the only way to obtain a full image of them but if you move back several meters you will be able to do so fine.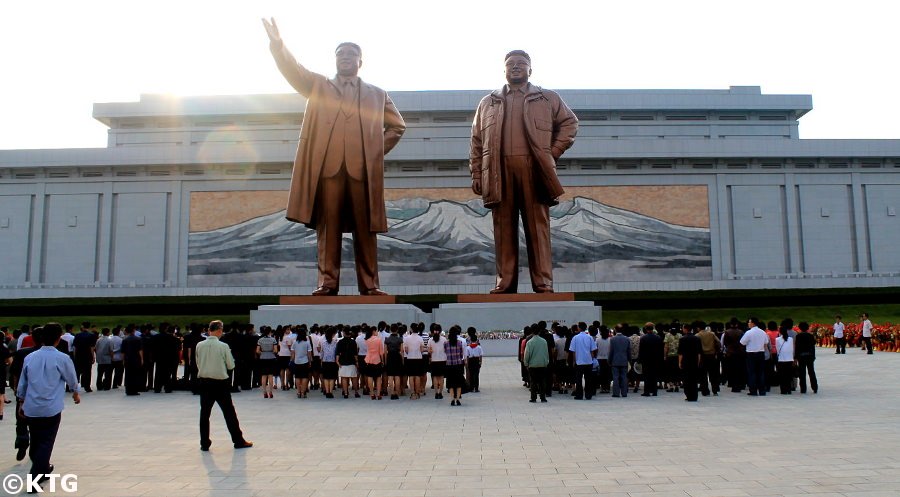 Notice the difference in the bronze statue of Chairman Kim Jong Il when compared to the picture taken in 2012 above. The level of detail is amazing.
We will drive by the Mansudae Grand Monuments when going to the Arch of Triumph. Please refrain yourself from taking pictures from the bus as you will not be able to obtain a clear full image of the statues (the staircases will cover part of the image and there are several cables too that will appear in front of them).
The Mansudae Grand Monuments are not a tourist place and rules here regarding our behaviour and taking pictures must be strictly followed. Please note that these rules follow when taking pictures of any images of the Leaders. For example when taking pictures of their portraits, their images on mosaics (e.g. in the metro) we should take clear pictures straight in front of them, avoiding having any branches, people, etc, in the middle.
Shows
In some shows, especially those which require a high level of performance and where we are close to performers we will be asked not to take pictures, for example at the Acrobatic Circus. Again, our guides will let us know beforehand.
It is ok to take pictures at the Mass Games
As for the Mass Games it is ok to take pictures and videos. We were, however, once, not allowed to take in any cameras or phones, as the Supreme Leader of the DPRK was present.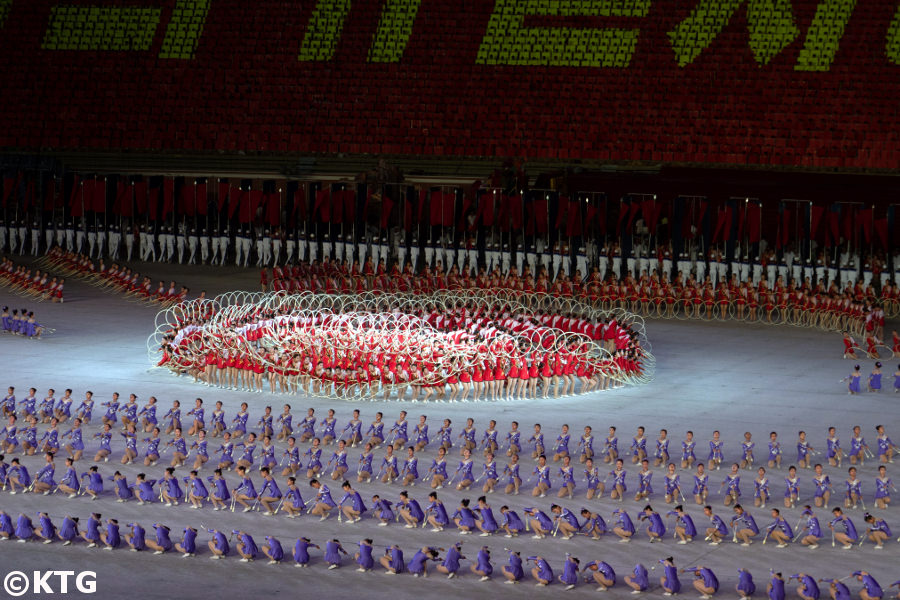 What if I take a sneak picture after having been asked not to do so?
It absolutely makes no sense do so. Travellers usually take several hundred and in some cases even thousands of pictures when on our tours. There are literally endless opportunities to take pictures. If our guides ask us not to take a picture at a certain place and we do so you will be asked to delete the picture. This will most likely make the guides distrust you and may even create some friction with them, and this is the last thing anyone wants when on a trip.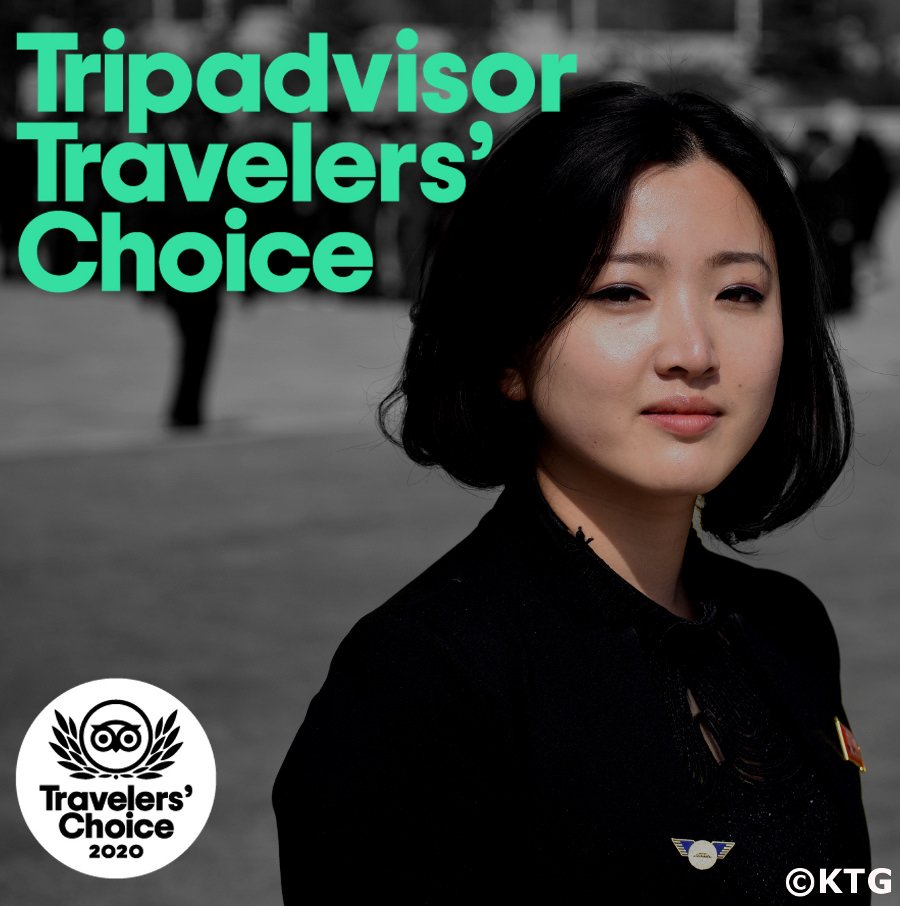 Guides may and will get in trouble or reprimanded if we take pictures when we are not supposed to. After all, we are under their responsibility.
We have been going to North Korea since 2008 and have not encountered any issues, but this does not mean that taking pictures that we are not supposed to take will not result in any problems for travellers themselves. Just follow the rules and you will have a great time!
Border Customs
Customs can and do check pictures when we leave. If there is a new customs officer being trained then pictures tend to be thoroughly checked. When there is a picture they do not like they will ask us to delete it. If they see several pictures they do not like, what usually happens is that they will check all other pictures thoroughly.
If they check a few pictures first and see that they are ok they may not bother to check the rest. Please note that although they sometimes do not check pictures at customs or just check one or two people's cameras, that this does not mean that your camera will not be inspected. They also check iPads, laptops, etc. Needless to say, we should not take any pictures at customs in North Korea and in China.
Advice regarding taking pictures in North Korea
We always tell travellers that the best thing to do always is to ask our Korean guides for permission when taking pictures. They will definitely appreciate your being concerned about the rules and regulations of their country.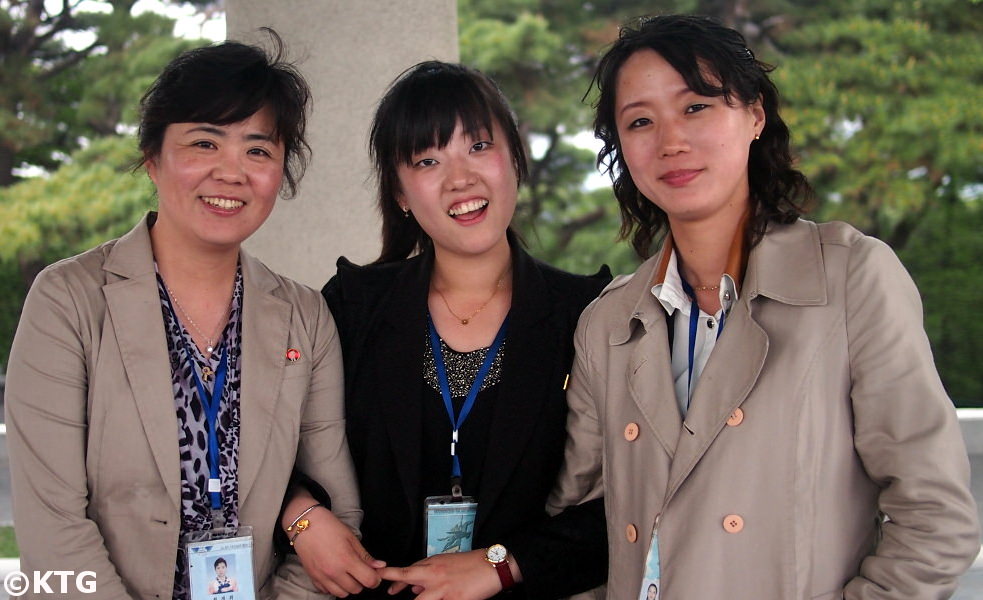 Being respectful is also key in guides trusting us more and building a better relationship with us which will inevitably lead to a greater experience for everyone! It may of course be hard to ask them if you are at the back of the bus, but do ask them once you get the chance to do so.
Do you have any questions about this article?
Do you have any questions or doubts that you'd like to share with us/ other travellers and readers? Post them here!