North Korea Climate
North Korea Climate - We hope that this section will help you when planning your visit to North Korea! A common question we get is "when is the best time to visit North Korea?" If being in the DPRK during one of the main national holidays is not a priority for you, then this page may be of help!
There are four distinctive seasons in the DPRK and the landscape can change dramatically between each season. Below is a description of what the country is like in each season together with some suggestions regarding what clothing you should take with you. Please note that when visiting the Kumsusan Memorial Palace, which is the most sacred place in the DPRK, travellers are kindly asked to wear formal clothing. You may contact us for more details regarding this.
North Korea Climate in Winter
Winter can be very cold and days are shorter but it is nevertheless and interesting time to be in Korea as so little foreigners visit the country then. Snow storms are common and access to certain areas not available as roads can be completely covered in ice.
Season National Holidays - Though Christmas is not celebrated in North Korea, celebrations do take place on December 24th as it is the birthday of the national heroine, Kim Jong Suk (mother of Chairman Kim Jong Il and wife of President Kim Il Sung). It is also the anniversary of the announcement of Chairman Kim Jong Il Il as Supreme Commander of the DPRK Military Forces. The Birthday of Chairman Kim Jong Il (16th February) is a main national holiday in the DPRK.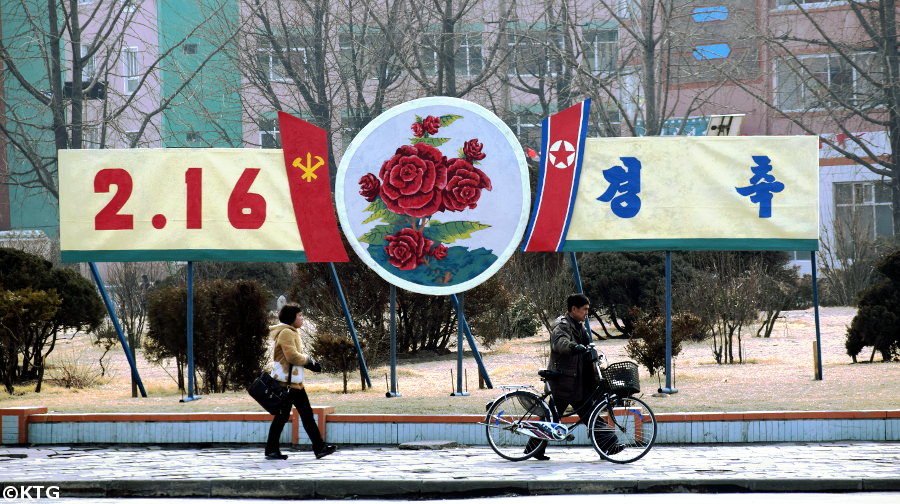 Kaesong city in Winter - 16th February is a major holiday in North Korea; the Birthday of Chairman Kim Jong Il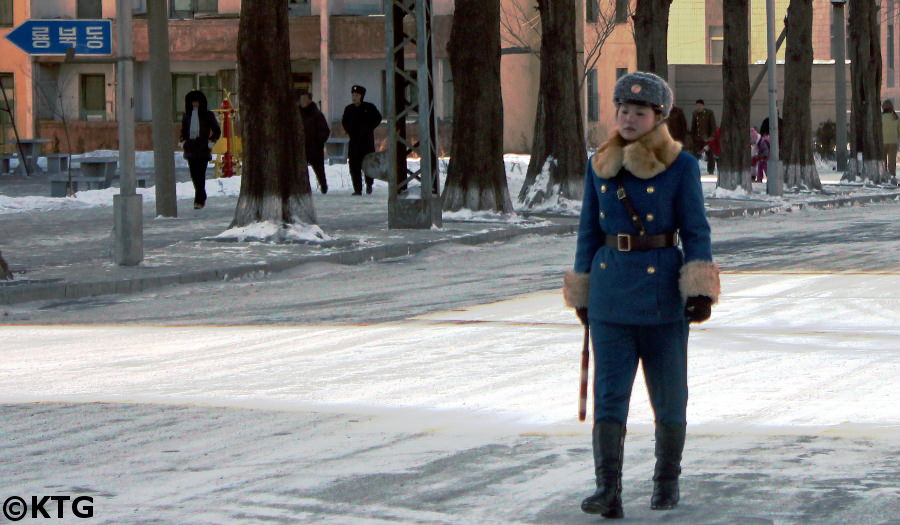 Directing traffic in winter
The Northern areas have the coldest winters though bitterly cold winter days can also be experienced in Pyongyang, with temperatures below ranging from just below 0 ℃ (32 F) down to around -15 ℃ (5 ℉). Although hotel rooms will have heating and will be warm, common areas such as lobbies, restaurants, will be chilly.
Please see our North Korea hotels section for a brief description of various hotels in the DPRK.

Countryside in North Korea on a winter day
The landscape is definately different to what one is used to seeing and if you would like to be one of only a handful (if that) of foreigneirs in the whole country, then winter is the time to go!
Recommended clothing: jackets, thick long johns, gloves, woolly hats, scarves, thick socks, warm footwear, ear-muffs
Winter period - mid/late November to mid-March / early April can still be chilly.
North Korea Climate in Spring & Autumn
In terms of weather, spring and autumn are generally considered the most pleasant times to visit North Korea, though the landscape tends to be less impressive than in the lush summer and early autumn period or the white winters. It can get chilly at night and in the morning so bringing some warm layers is highly recommended.
Recommended clothing - coats, sweaters, thin long johns, lighter clothing for the day time.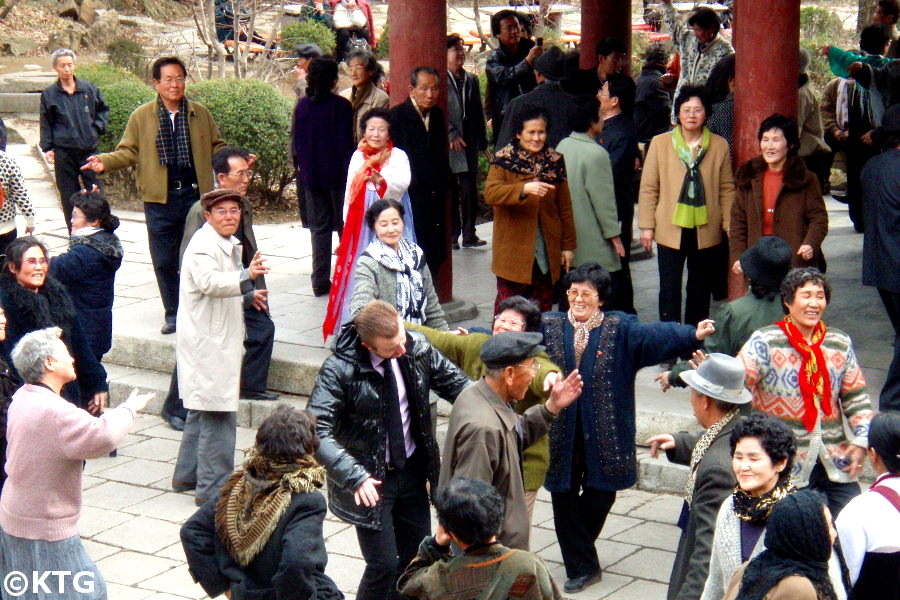 One of our travellers dancing with locals in early April
Season National Holidays - There are several important national holidays in Spring and Autumn, such as the Eternal President Kim Il Sung's, Birthday also known as Day of the Sun (15th April).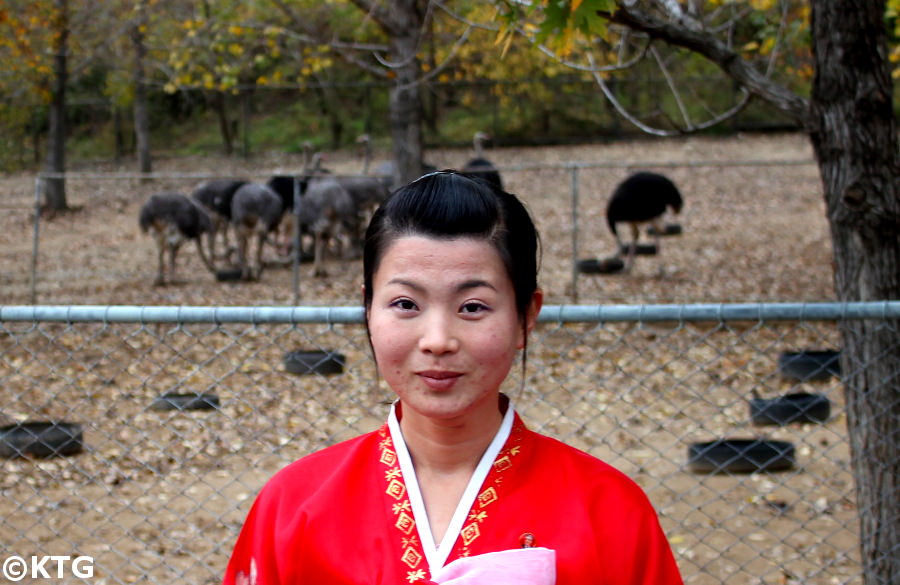 North Korean lady in an ostrich farm on an autumn day
Season National Holidays - The Anniversary of the Foundation of the Workers' Party (October 10th). The Mass Games were usually aslo extended until late September to early to mid October (this was only usually confirmed in late September). Please note that there a period of 5 years between 2013 and 2018 in which the Mass Games were not held. This article is being updated in December 2020, the Mass Games were held in 2018 and 2019. The country has been closed to tourism because of covid since January 2020 until the time of this update.
North Korea Climate in Summer
Most of the rain in North Korea takes place in the summer. This period tends to be hot and humid, with temperatures ranging from 20 to 30 ℃ (68 ℉ to 86℉). It is also when several of the country's most important celebrations take place such as Victory Day, Liberation Day and National Day. The landscape tends to be green and lush until the end of September when drier fields start to dominate the general landscape.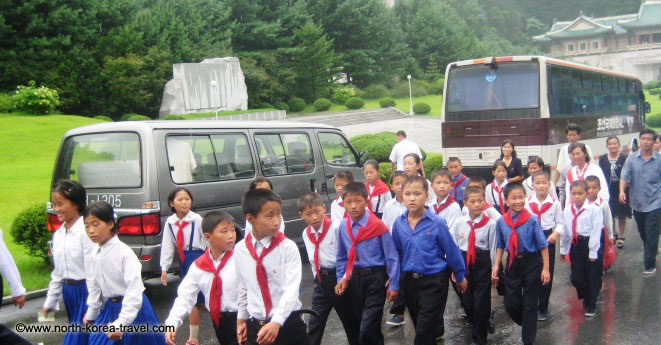 North Korean children on a school trip
The climate alters between rainy spells and bright blue skies.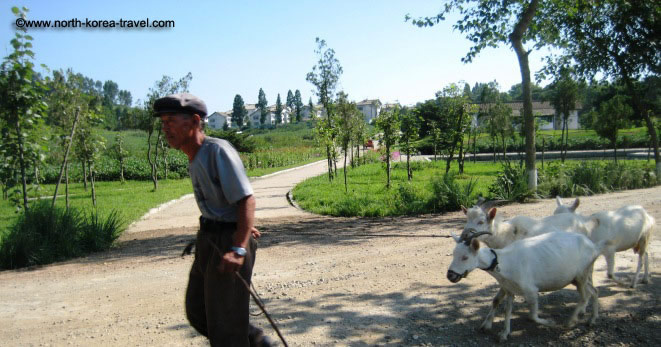 Sunny summer day in a local goat farm
Recommended clothing - short sleeved shirts, shorts, raincoat, trainers (sneakers), sandals and flip-flops. Please note that sandals and flip-flops are not to be warn at the Kumsusan Palace of the Sun or at the Grand Monuments. Trainers, shorts, sandals and flip-flops are not to be warn at the Palace either (we go back to our hotel after our visit here to get changed).
North Korea Weather Forecast
If going to the DPRK in the coming days, you may want to check the weather forecast for North Korea below:
Go to our North Korea Climate section to our North Korea Tourism page for information on departures to the DPRK.