The KTG DPRK Travel Guide is out!
KTG DPRK Travel Guide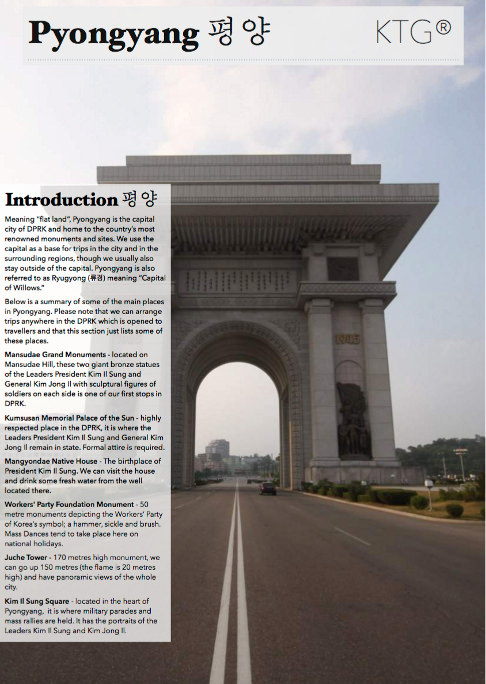 We are glad to say that the KTG® DPRK travel guide is finally out!
Want to see where to go for a drink in Pyongyang? Fancy knowing what it is like hiking in North Korea? What about the different hotels in the country? Look no further! Our guide is here!
For more detailed information about DPRK tourism there we recommend you to browse our website, an ongoing project that has taken us over the past 8 years all over the DPRK and the Chinese border areas.
If you would, however, like to have a compact DPRK Travel Guide based on our first hand experience in North Korea, then we recommend you to check our online North Korea travel guide.
The KTG® North Korea Travel guide is divided into sections covering an introduction of of the tours we provide (group tours, private tours and specialty tours), a brief introduction of the country's philosophy; Juche and then sites to see in Pyongyang including restaurants, coffee shops and nightlife.
We then have a detailed description of each region in North Korea (eastern, western, southern part of Pyongyang and northern region). Each section is subdivided clearly into different cities, towns and areas in each region. Following this is a section regarding our extension tours both in DPRK and in China. Want to know about the Korean Autonomous Region in China? Check our detailed Yanbian Korean Autonomous Prefecture section in our guide or on our website. We have travel information of each city and county there.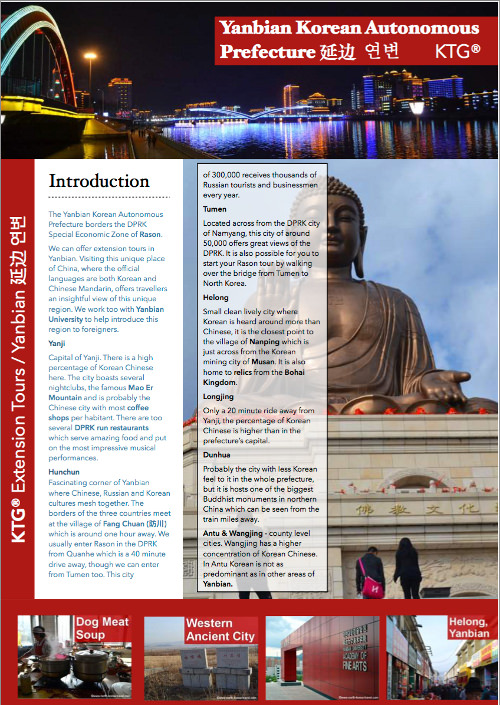 The final part of the guide explains how to book a trip with us to Korea including our terms and conditions.
Want to be in the DPRK on a major national holiday? Then check our important dates section in our travel guide.
We also include practical information on how to travel to North Korea and handy tips to take into account when going to Korea.
Please note that we will fully brief in China before you go to the DPRK and that this will help you make the most of your stay in Korea.
We have almost a decade of experience in this country and go in regularly with our monthly departure groups, meaning that our first hand experience not only allows us to know the country inside out but it also means that we have established a long lasting friendship with the guides who we we work with.
We truly hope that you enjoy reading our DPRK guide! We certainly did enjoy writing it all up and putting it together in one piece!