North Korea Food & Drinks Guide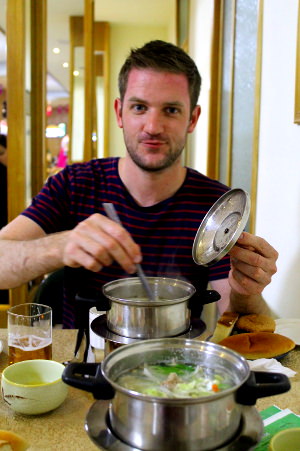 North Korea food options available to travellers - There are several types of foods available to people visiting North Korea and, yes, to the shock of many, hamburger joints and pizza restaurants as well as Western coffee shops are available in North Korea, though my no means common!
Below is a list we have gathered of some of the most known restaurants in North Korea. If you have visited any and have any comments, please feel free to leave to drop a message below.
Okryu Restaurant - judging by its size and architecuture you may guess, looking from the outside, that this may be a national museum of some sort, but in fact it is a nationally known cold noodle restaurant. Extremely popular amongst locals (you will usually see dozens of people waiting outside), it will give you the chance to try an array of different types of cold noodles, a main dish in the DPRK.
Pyongyang Number Duck Barbeque Restaurant - normally visited by travellers on their last night in North Korea. The delicacy here is, as the name suggests, barbecued duck. Grilled slices of duck an assortment of spices and vegetables wrapped up in lettuce leaves.
Lamb barbecue restaurant - used sometimes as a farewell dinner alternative, the lamb barbecue restaurant offers lamb skewers.
Chongryu hotpot restaurant - travellers can enjoy their individual hotpots here together with several other individual dishes including pork chops and fish.
Yanggakdo Hotel - as is common knowledge for any DPRK travel enthusiast out there, and there are a few, the Yanggakdo hotel has a rotating restaurant at the top. Ideal to spend an early evening seeing the whole capital of North Korea.
Tongil (Unification) Restaurant - located in Kaesong, the city right before the DMZ, this restaurant is known for its array of covered dishes, an iconic symbol of traditional North Korea food. The more dishes you have, the higher your status would have been in ancient Korean society!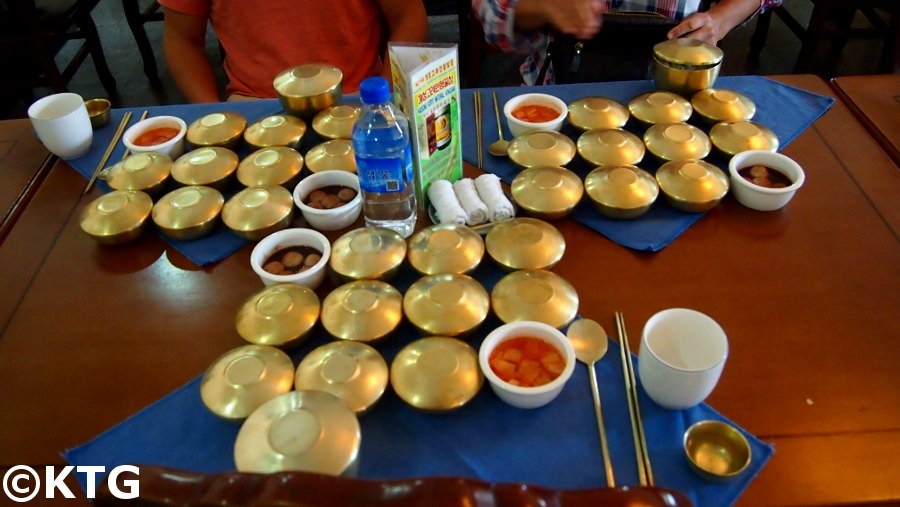 Kaesong Insam (Ginseng) Restaurant - dishes served are as the ones in the Tongil Restaurant. This restaurant is smaller and the bottom floor has a whole shop selling Ginseng products. Kaesong is known for producing the best ginseng in the DPRK (North Korea is considered the provider of some of the best ginseng in the world).
Pyongyang Coffee Shops
Helmut Sacher's Kaffe (Austrian coffee shop) - also offering good quality coffee and dessert, the Austrian coffee shop in North Korea is right next to Kim Il Sung Square and has views of the Taedong River and Juche Tower. Indeed, views you rarely have the chance to enjoy when having a coffee break!
Cafe Pyolmuri - close to the Koryo Hotel, this Swiss hotel not only serves freshly ground coffee, but it has, like many restaurants and coffees shops in North Korea, a retro decoration.
Munsu Waterpark - this water park has a great coffee shop with views of the indoor swimming pools.
DPRK Fast Food
Chongnyon Hotel Burger Restaurant - not serving the typical North Korea food one would imagine, this fast food burger joint located next to the Youth Hotel is great for those looking for a break of local cuisine. The burgers there are tasty, if not small. Apart from chips (fries) , burgers, ice cream and all sorts of beverages, waffles are also served here.
Pizza restaurants - there are two main pizza restaurants in Pyongyang. If you fancy a kimchi break in a relaxing atmosphere near the Taedong River then having a pizza in Pyongyang might be what you are looking for. There is now too a pizza restaurant in the newly opened Scientist Street.
Ostrich Farm - not quite Western fast food, but we will include it this section! If you do not end up feeling attached to the ostriches after seeing them in the North Korean ostrich farm, then you may be tempted to have a bit of their rich meat, barbecued and marinated.
If you have visited North Korea and have any comments on any of the restaurants above or any other place in the DPRK please feel free to write about your thoughts regarding the place! You can also grade the restaurants.
Have you been to any Restaurants in North Korea?
Do you have a great story about this or any reviews? Please share these with us!