Okryugwan 옥류관 | The Temple of Pyongyang Cold Noodles
"Cold Noodles anyone?"
"Who would like cold noodles instead of rice as the staple dish?" This is a question our guides ask us during our meals. After a bit of confusion, you can tell by travellers' looks on their faces that they are thinking "who on Earth would fancy some cold, left over noodles?", we explain that cold noodles are a speciality of DPRK, noodles served in a cold broth, not left over noodles, and that they are delicious!
KTG traveller enjoying some Pyongyang cold noodles.
Okryu Restaurant | the best Pyongyang cold noodles in the world
So, where is the best place in town amongst locals to grab some delicious Pyongyang cold noodles? Without a shred of a doubt it is the Okryugwan i.e. the Okryu Restaurant.
Built in 1980 and renovated in the 2008, this is the place to go for the best Pyongyang cold noodles.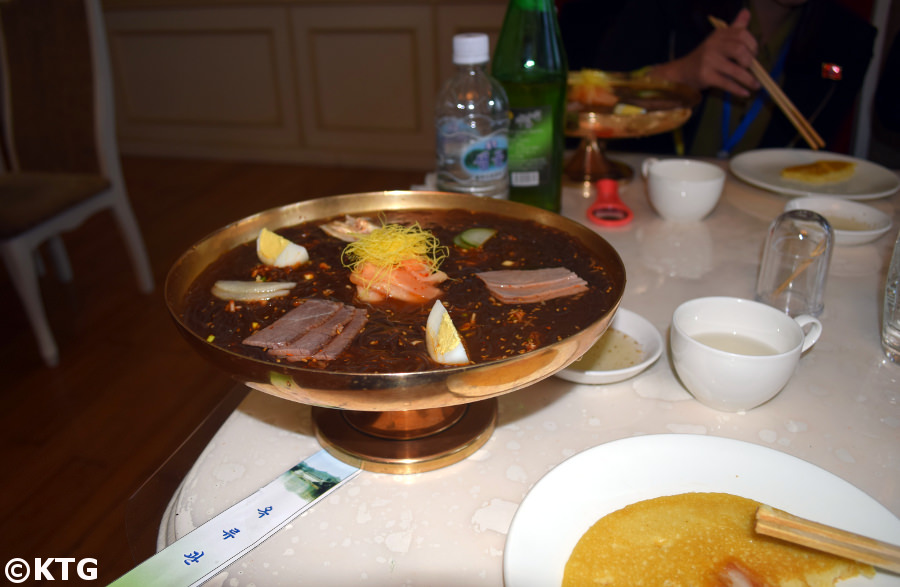 The Okryu restaurant is located on the west side of Pyongyang, by the Okryu Bridge next to the Taedong River and Moran Park.
The restaurant is a huge traditional Korean styled building made of Korean granite and with green roofs that looks more like a museum from the outside which, not surprisingly, can host over 2000 customers. A visit to this restaurant can be arranged on one of our private tours.
Standard Menu at the Okryu Restaurant
A standard menu consists of a green bean pancake as a starter, followed by delicious Pyongyang cold noodles in a beef broth and vanilla ice-cream for dessert.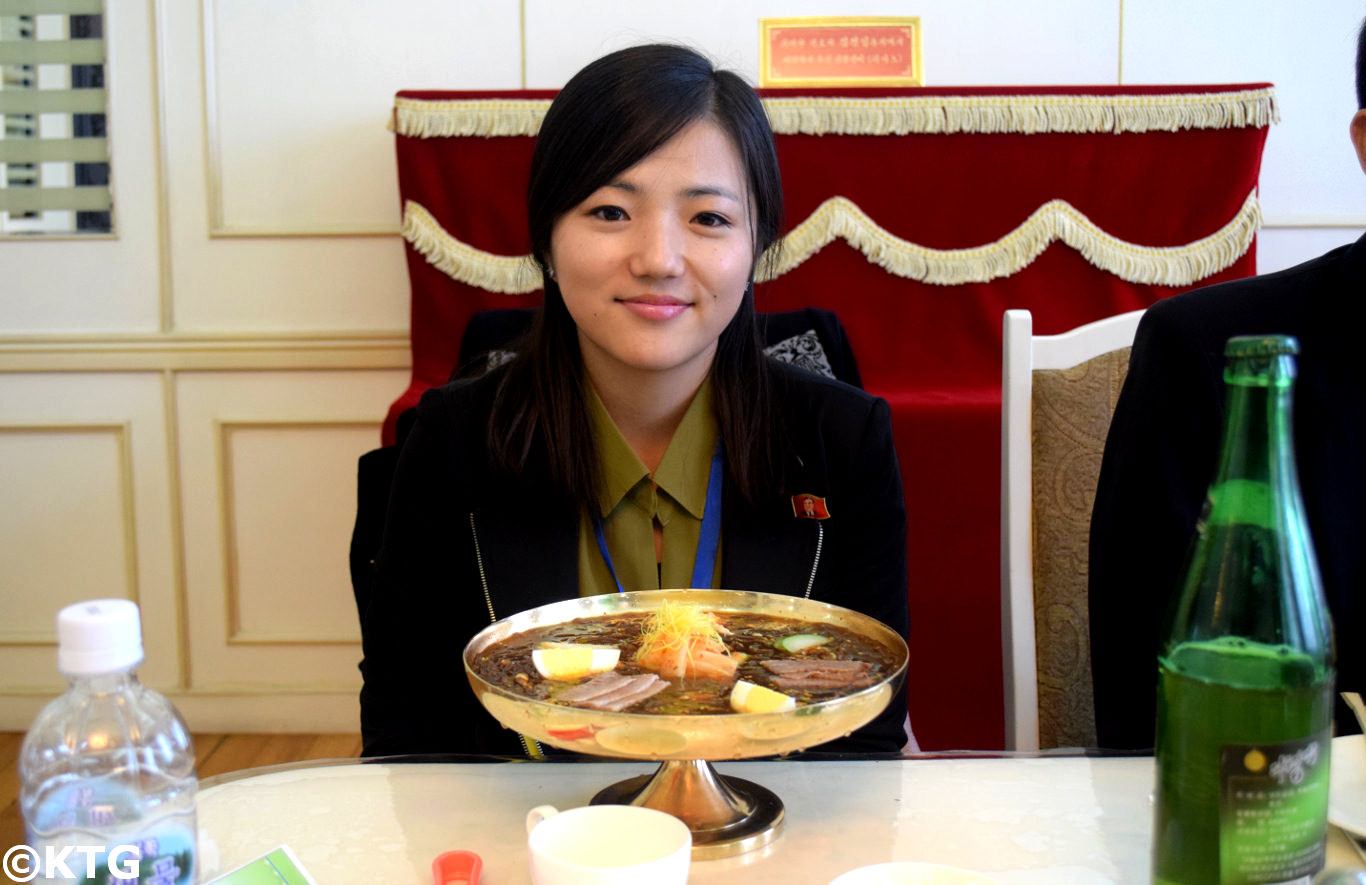 Our friend and top DPRK guide, Kim Sung Mi, at the Okryu Restaurant
You mix this up with different ingredients including mustard, vinegar and soy sauce. Warm tea is also provided throughout the meal and we recommend you try some local Teadonggang beer too. Other dishes that you can order here include fish soup, beef-rib soup and green bean pancake.
Noodle Diplomacy
You may have actually seen this restaurant in the news, when Leader Kim Jong Un and South Koren president Moon Jae In had lunch together in 2018, something many in the Western media called noodle diplomacy:
Can you get Pyongyang cold noodles outside of the DPRK?
There are DPRK run restaurants in many countries around the world. These include several Okryu restaurants. Many, if not all, have had to send their workers back to the DPRK because of UN sanctions not allowing DPRK citizens to work abroad. However, Pyongyang cold noodles are something you can try abroad if going to the DPRK is not an option for you. You can even find family businesses in South Korea serving Pyongyang cold noodles.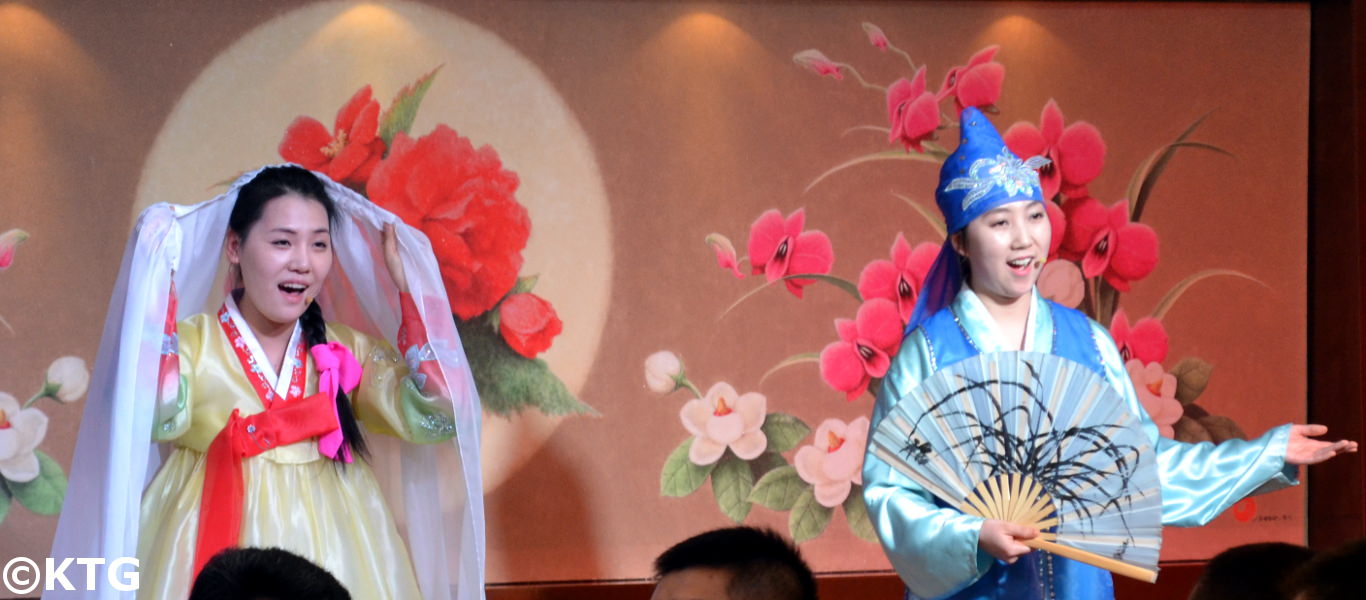 Waitresses from Pyongyang at a DPRK restaurant in Yanji, China
So do you just eat cold noodles in summer?
No. Although it is refreshening to have a delicious bowl of cold noodles in summer, they are eaten all year round. In fact, the most popular dish during the hottest summer days in Korea is spicy dog meat soup, which is served hot.
In the picture below you can see dozens of Pyongyangers queuing up outside the Okryu restaurant in Pyongyang in the freezing cold waiting for their cold noodles. This restaurant's food is so tasty that it is very common to see dozens of people queuing outside all year round.
The cold bitter weather does not deter locals from queuing outside the Okyru Restaurant.
Interesting - cold noodles, whether they be from Pyongyang or from Hamhung are usually associated with the DPRK, but did you know that the Korean Prefecture of Yanbian in China have their own type of cold noodles?
Please click on Yanbian page for information about the Korean Autonomous Prefecture in China.