Yanji
Yanji, pronounced Yongil in Korean of "only" 400,000 people is the capital of the Korean Autonomous Region in China, Yanbian. A fascinating Chinese Korean city where just under half the population is of Korean ethnicity; Chinese-Koreans. We usually use Yongil as a base before heading to Rason in North Korea. Please check some of our Rason tours for some sample itineraries we offer in this DPRK Special Economic Zone.
Introduction of Yanji
In the past years many of these Chinese citizens who tend to be bilingual in Chinese and Korean have gone to South Korea re-investing in the city. The economic and cultural influence this has had in this city is obvious at first sight.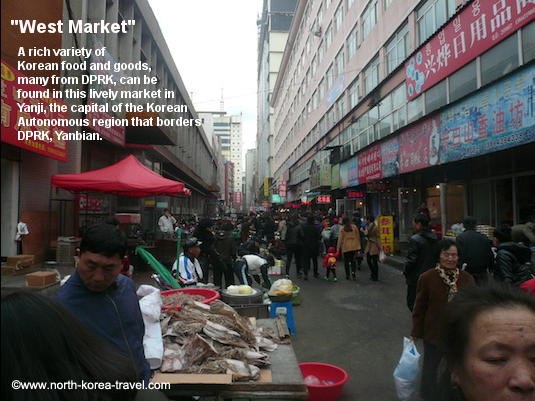 South Korean styled coffee shops and restaurants have taken over the city; a city where it is common to hear people talking in the street in Korean and where Korean signs are literally everywhere given that the official languages of Yanbian Autonomous Prefecture (of which Yongil is the capital city) are both Chinese and Korean.
Coffee Shops in Yanji
The city is full of coffee shops so here we simply highlight some of the must visit places if you are in Yanji. Below we provide a list of some of our top picks.
Hands Coffee - A well established coffee shop chain in Yanbian. You can find Hands Coffee shops all around the city and basically all over Yanbian. Hands Coffee are known to be the company that brought the coffee culture to Yanbian. They are small, cozy, have excellent coffee, usually offer free cookies made by themselves and were opened by some university graduates on YUST (Yanbian University of Science & Technology). You can check their stores accross from from Yanbian University, by Jin Da Lai Square and in the West Market (西市场). Their rates are low too and it is possible to refill coffee (into Americanos) for free. UPDATE: Hands Coffee opened a restaurant chain called Hands Cook, in 2015. They offer excellent Western food and usually have a small coffee shop inside or and Hands Coffee close by.
Rotti Bunn - This chain started opening its shops in 2014 has been a great success in the city. They offer a variety of their trademark bunns and their motto is "Don't bite or you'll love me." Rotti Bunn also offers something we have not see other coffee shops in the area offer, which is an indoor playground for children. The shops are not solely targeted towards families though as they offer too "business meeting rooms" for those interested in talking shop. They have shops on the second floor of Yi Hua Square. This building is located in Ai Dan Road (爱丹路) just across from the bus terminal Lao Ke Yun Zhan (老客运站). The building can be clearly seen as the Communications Bank of China (交通银行) is on the ground floor. There is a DPRK run restaurant in this building and two other coffee shops; Kacao and Najia.
Kacao Coffee - Located on the 13th floor of Yi Hua Square this new coffee shop has amazing views of the city. You do pay for the cost of the views and the relatively quick internet connection with your drink as coffees here range from the top 20 RMB to low 30 RMB. The coffee shop has a huge terrace which is always a great place to relax on a summer day.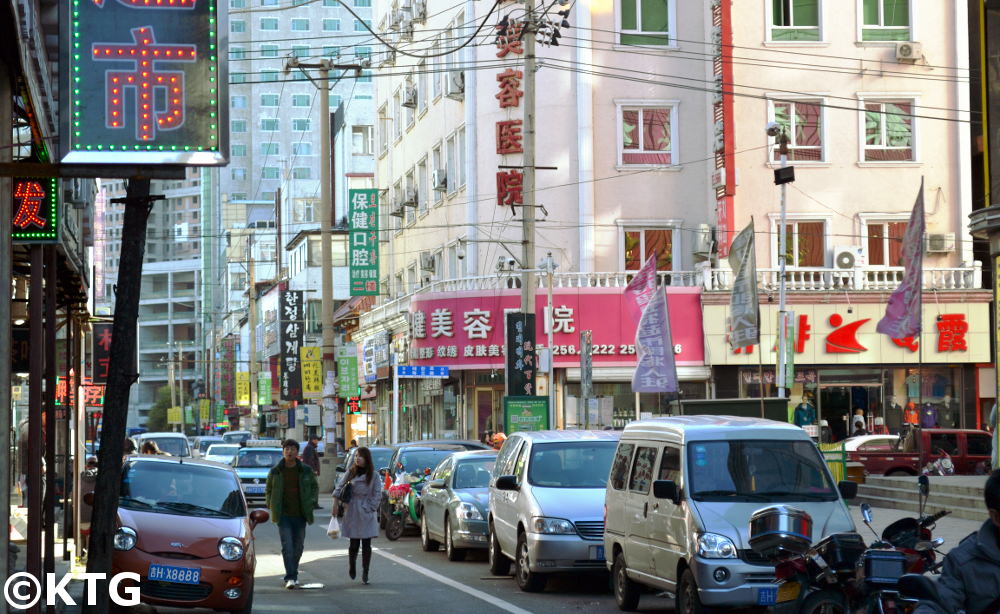 Mon Coffee - Located on Gong Yuan Lu (公园路) literally just across the street from the main entrance of Yanbian University, this coffee shop takes up a whole floor of the building. Offering coffee at relatively low rates, this coffee shop has good views of Yanbian University. The internet connection can be a little slow at times. This is one of the most popular coffee shops in the area for people playing cards. One of its main advantages for non-smokers is that the smokers' section of the coffee shop is completely cut off by glass doors from the non-smoking area. UPDATE: Mon Coffee had an internet cafe section built in 2015 and no longer has the terrace available for you to drink your coffee outside. It is also, as a result of the internet cafe, much smaller than before.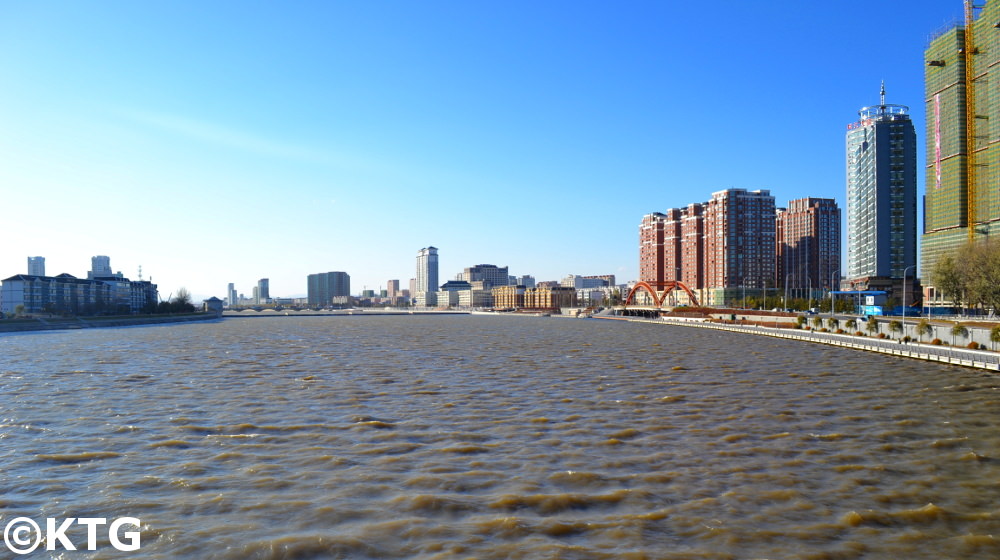 Benne Caffe - The South Korean coffee branch is located too just across Yanbian University. Well known in Yanji for its quality and probably because of its popularity in South Korea, this coffee shop is many people's favourite despite its relatively higher rates (a cup of coffee usually costing more than 30 RMB).
Najia Coffee - On the second floor of the same building where Kaca Coffee is located, the coffee here is good, rates lower than in Kaca Coffee (bottom 20 RMB for a cup) and the internet tends to be relatively speedy too. It tends to be quite quiet compared to other coffee shops, so a good option if you are looking for a place to concentrate or do some work. On the the downside there is no terrace and it can occasionally get a little smokey. They also have a chain by Henan Guo Mao.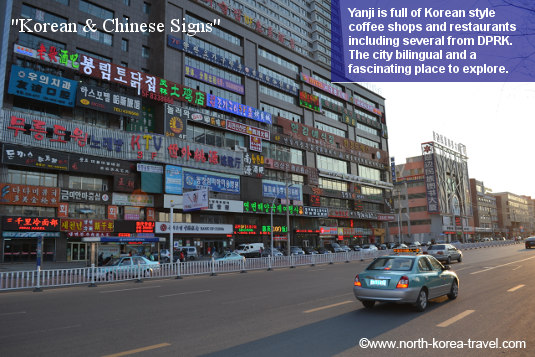 Population
There are Korean schools and Chinese schools in this region for the local population in Yanji China. Most ethnic Koreans receive their primary and secondary education in Korean whereas most Han receive theirs in Chinese. However, sometimes Chinese-Korean families sign their children up to Chinese schools and some Han families decide to have their children receive their primary and secondary education in Korean.
Restaurants & Nightlife
There is also influence from the DPRK with a number of North Korean restaurants in the city. Yongil has too a lively nightlife scenery with South Korean styled bars and clubs all over the city.
Did you know that many South Korean stars and music groups go to Yanji to perform? Something indeed not common in small Chinese cities…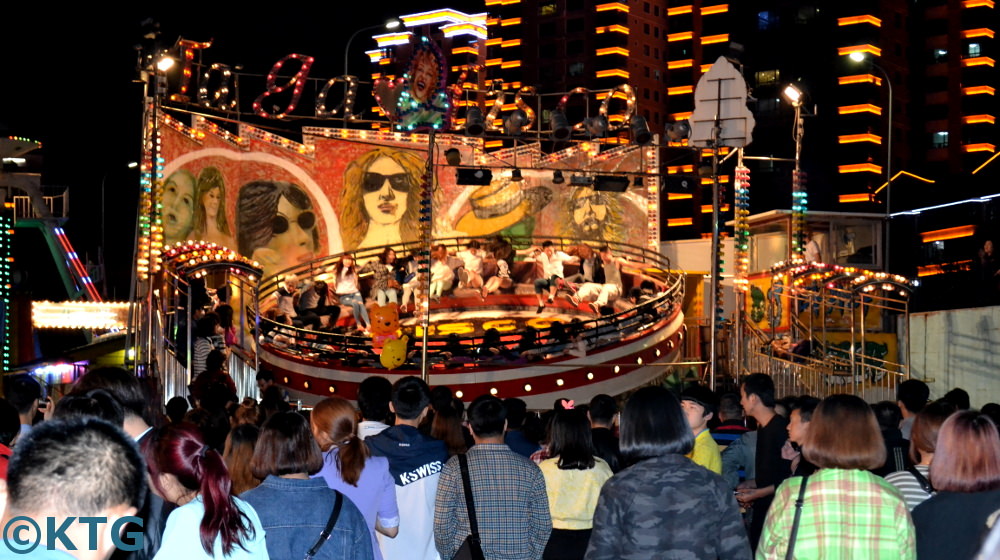 Interesting fact - most Chinese-Korean households have Korean TV in Yanji, mainly South Korean channels, though local Korean channels are available too.
Nearby area
About one hour away by bus / train from Yanji is a smaller city just separated from the DPRK by the Tumen River; Tumen. At KTG we are able to arrange entries in to the DPRK via Tumen where you can cross over the bridge into the Korean city of Namyang and then move from here to Northeastern parts of North Korea such as Mt. Chillbo, Hoeryong, Rason and other areas in the region that are slowly opening up to tourism. Please do contact us if interested in this option.
Our team knows Yanji inside out. Please feel free to ask us any questions you may have regarding this unique Chinese-Korean city.