Transportation in North Korea
"What are the different means of transportation in North Korea like?" Is a question we get quite often.
Cycling is a very common means of transport for North Koreans all around the DPRK. We are glad to say that we now offer you the chance to explore the streets of Pyongyang on two wheels, whether going on a group tour or individually. Please check our Youtube video below to have a glimpse of what you would experience!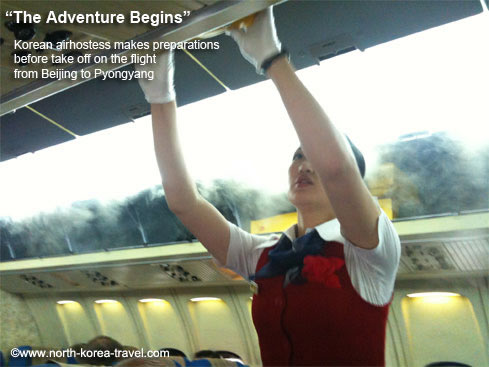 Air Koryo and Air China fly into and out of North Korea.
Many travellers see the Air Koryo flight as a key part of the beginning of their DPRK experience and this is tangible as soon as they step on the aircraft. Listening to propagandistic music, seeing the retro decoration and mystical fog and reading a copy of the Pyongyang Times stating the recent achievements of the DPRK while enjoying some kimchi is the ideal way to the begin this adventure!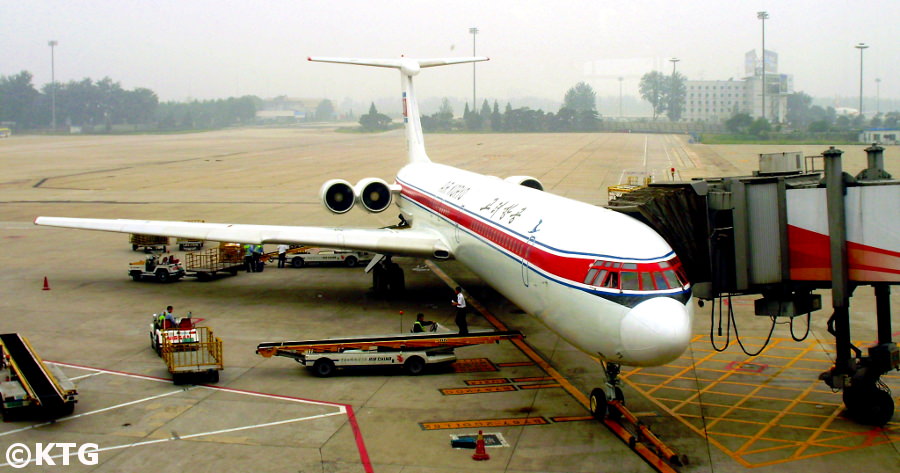 If you have the chance to either enter or exit by train, we strongly recommend to hop on and enjoy the ride! The train ride to and from China is around 25 hours but not as daunting as it sounds! The overnight leg of the ride is spent in China, meaning that travellers have the chance to ride through second tier cities, counties and villages in North Korea seeing parts of the country that are completely sealed off to tourists and allowing them have a glimpse of life in some of the more isolated areas of North Korea.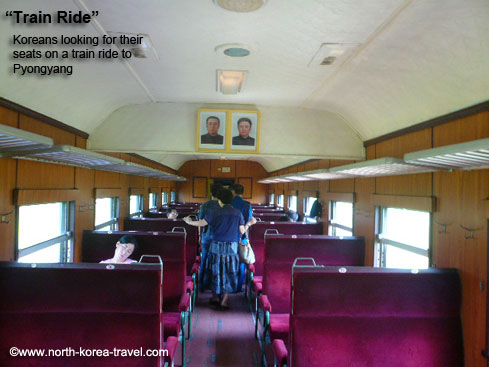 Please note that we will have a bed on the train
Taking pictures from the train was initially not permitted, although there has been some slight flexibility regarding this. Train stations are considered military stops so pictures should not be taken of these outside of Pyongyang. Pictures will be checked by border guards when you exit North Korea and they will not hesitate to delete any pictures they find inappropriate. We will fully brief you regarding taking pictures and behaviour in North Korea before your trip, regardless on whether you go with a group or individually.
You will actually have a sleeper berth on the train. We always point out that taking the train offers an excellent chance to be able to mingle with North Koreans of all walks of life who will be going to or returning from China. Having small sized groups too also means that the chances of sharing your compartment with local North Koreans are much higher which offers a unique chance to make North Korean friends!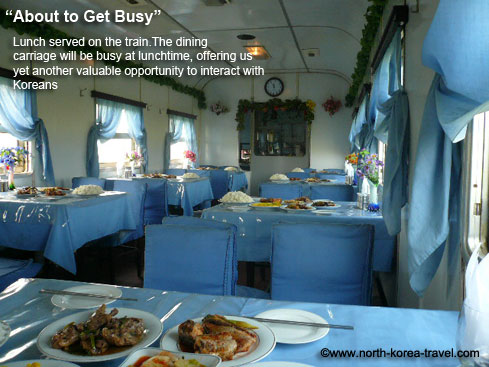 Insider's tip: Once on the train on the way back to China a Korean train staff member will ask if you will like lunch sent to your compartment. If you would like to be completely surrounded by North Koreans, and don't mind a bit of a smoky environment, kindly ignore the lunch request and directly go to the canteen in the Korean train carriage! Meals cost around 60 RMB (about 8 Euros) but don't go too late after noon as they may have sold out. You will be surrounded by North Korean soldiers, families, people getting off on the way... trains are a common means of transportation in North Korea.
The train's dining carriage back in 2008. It has now been renovated and the tables and chairs are fixed to the train's floor.
The train's dining carriage in January 2020 just after New Year's
We can also take the 30 hour long train from Pyongyang to Rason. Check our blog post for more information!
Heading to the far northeast - Train ride from Pyongyang to Rason
If going on a private trip and only consist of one or two people you may be assigned a car for your local transportation. Please note however that sometimes these are not available and you may end up using a coach even if only one traveller!
Car used for one traveller on a private trip in North Korea. The building in the background is the Three Revolutions Exhibition Centre in Pyongyang.
KTG bus parked by Kim Il Sung Square, Pyongyang
Our group sizes tend to be relatively small, with an average of less than 10 people. However, it is not uncommon for us to be offered larger buses regardless of the amount of travellers in a group.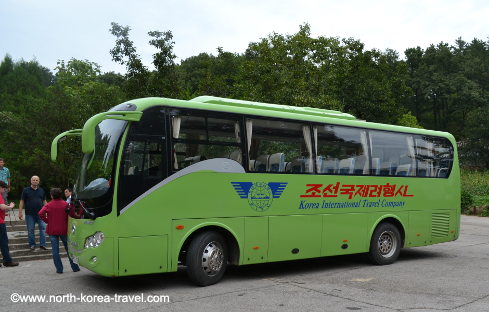 Above are two images of the largest buses used for tourism in North Korea. We use usually use them for larger groups, eg. 10 people or more, though they are sometimes used for smaller sized groups. Our group sizes in general are small.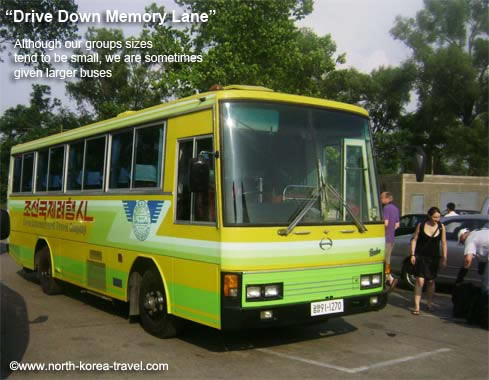 Above a former East Germany bus. It has been a while since we have used one of these, as there are now newer buses. We used this type of bus for groups of no more than 8 travellers. They are from former East Germany, giving the trip an extra retro touch to it.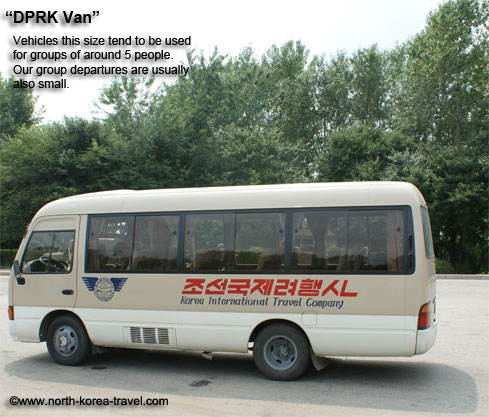 This kind of coach is usually used for a group of 5 to 6 travellers.
You will have the chance to get on the metro with locals and enjoy a ride in one of the the world's deepest subway systems. We offer extended rides which allow travellers to see and explore several metro stops. Please check our Pyongyang Metro section for more details regarding this.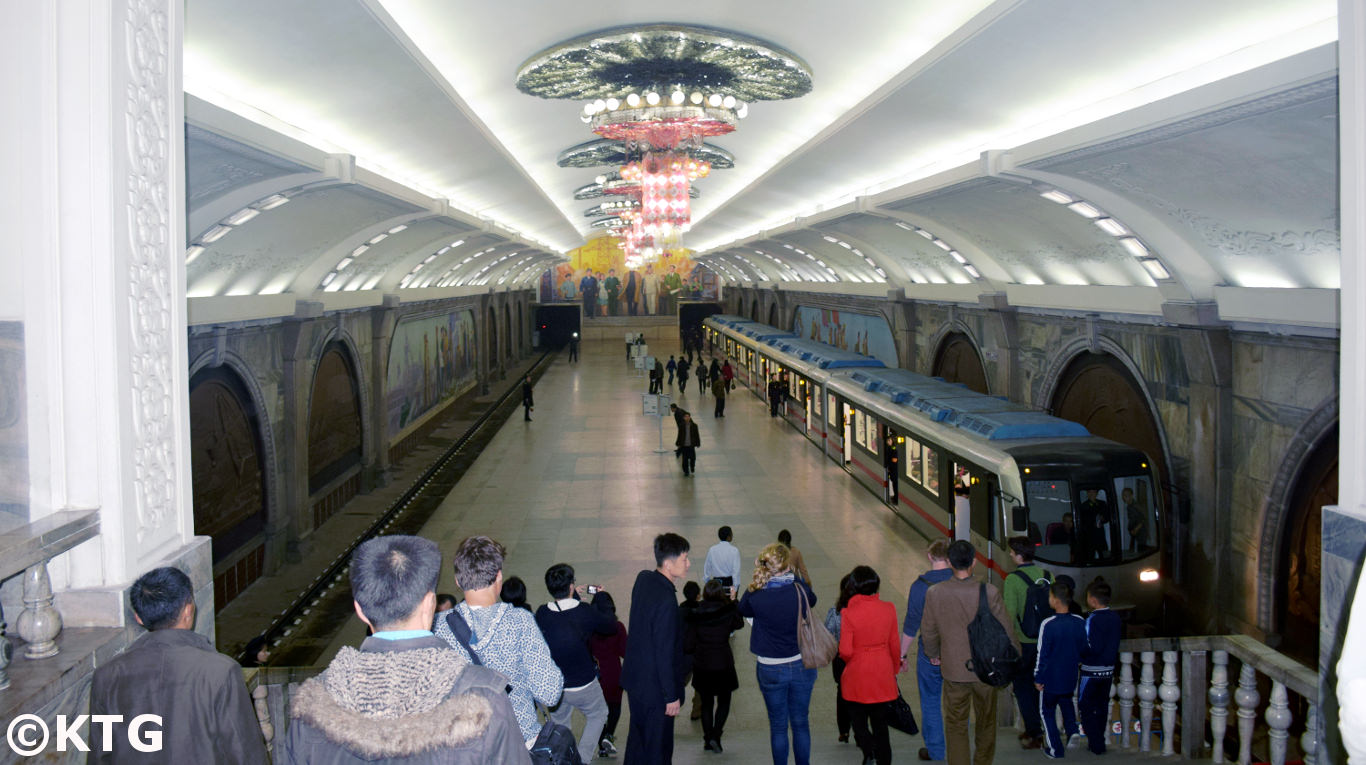 These are very common means of transportation in Pyongyang. We are able to charter trams and trolley buses in Pyongyang. If interested in these options please contact us.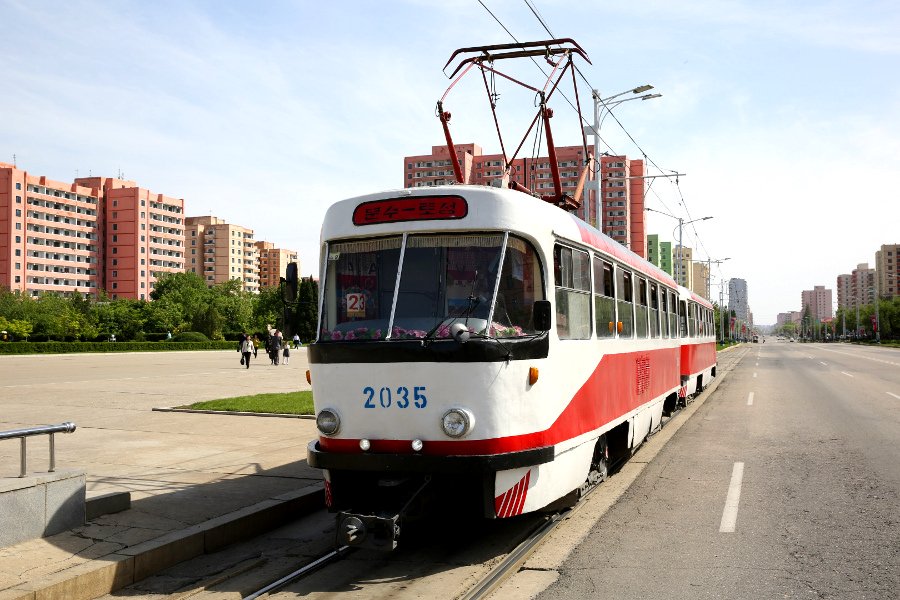 The trolley bus route is from Pyongyang Central Train Station to the Arch of Triumph. If interested in taking the tram this runs from Mangyongdae to the Central Train Station.
We first started noticing these in Pyongyang in 2012. They are by far the most expensive means of transport for locals, but nonetheless very popular.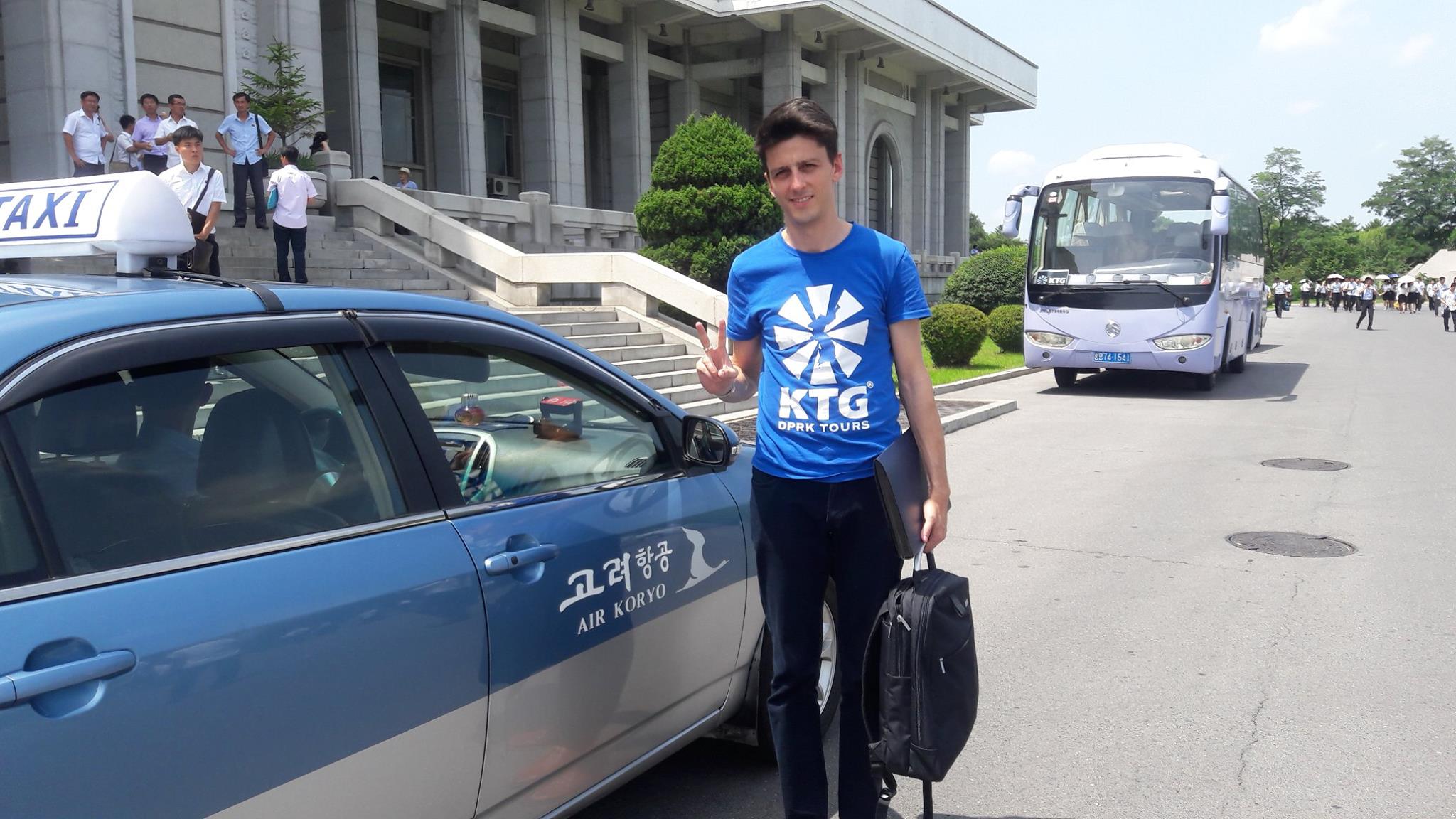 Air Koryo are one of several companies offering taxi services in North Korea. We took this picture just outside the Grand People's Study House.
Former Korean guide and now manager, Song Sim, with Rayco from KTG Tours taking a taxi through Kim Il Sung square.
At the time of writing, taxis have a base fare of 2 USD and the 0.50 cents per kilometer.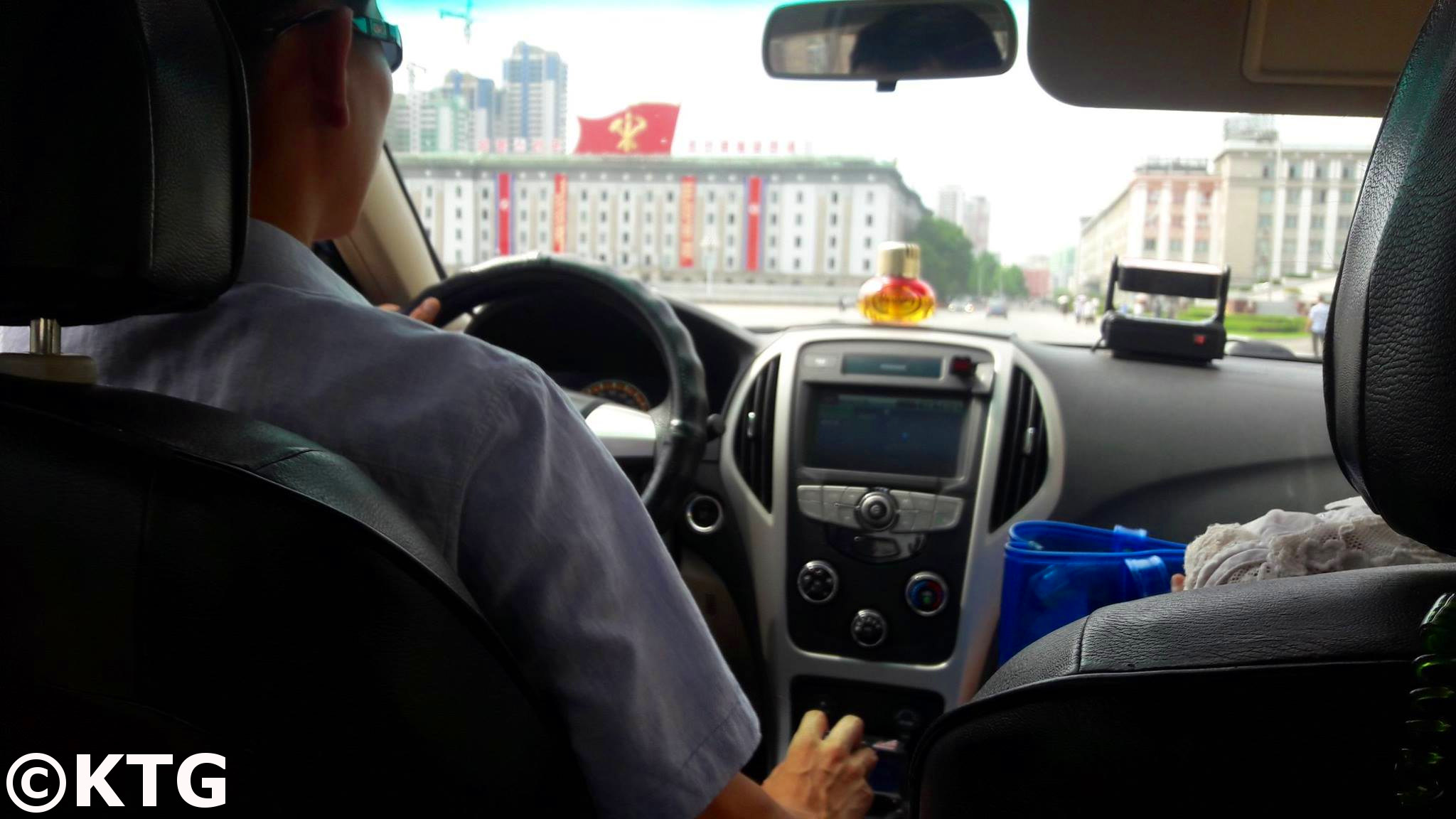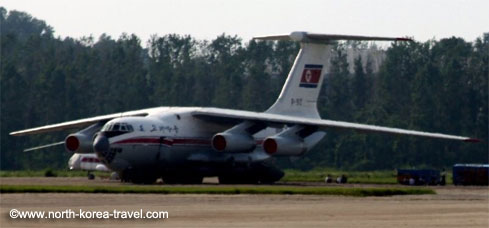 If going to Mt. Paekdu or Chilbo you will take a charter flight with Air Koryo. Before we needed to have a minimum number of travellers these options but are glad to say that there are regular domestic flights in North Korea now! Please contact us for more information if this option may be of interest to you.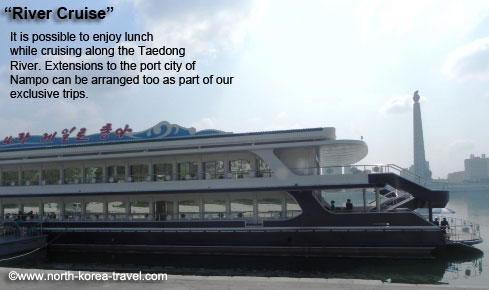 Boats are not the most common form of transportation in North Korea, but it is possible to take a boat ride around the Taedong River, cruising through the middle of Pyongyang. Restaurant boats are available. This is used as part of exclusive tours in North Korea. Please do let us know if you may be interested in this option! We can also arrange cruise trips in the Northeast part of the DPRK. Please do let us know if you would like more information regarding this.
Go from our Transportation in North Korea section to our North Korea Tourism page for information on departures to the DPRK.