Air Koryo Flight Schedules for 2020
Air Koryo is the national airliner of the DPRK (North Korea). They schedule flights regularly between Beijing and Pyongyang, Shenyang and Pyongyang and Vladivostok and Pyongyang. Flights from Shanghai and southeast Asia are scheduled, though not on a regular basis.
Below is the Air Koryo flight schedule. Air China also schedule flights between Beijing and Pyongyang. Their flights are on Mondays, Wednesdays and Fridays, though flights on Wednesdays are not scheduled before April or after October and flights are sometimes not scheduled during some winter days. If interested in flying with Air China do please let us know beforehand so that we can check that a flight will be scheduled on your desired departure date.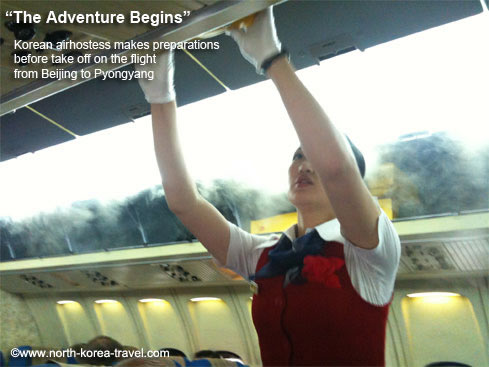 Business Class - it is possible to upgrade to business class. If interested in this option do please notify us beforehand.
Train Option
Please note that we strongly recommend travellers to experience the train on at least one leg of their trip as it has much more to offer than flying. It gives us the chance to meet Koreans, know more about their country, drink and eat with them, etc. There are usually students, workers, sports delegations on the train. It is also common to meet Chinese business people there who can tell us more about their experience in North Korea.
We also literally see more of the DPRK as we ride through second tier cities and rural areas not opened to tourism.
Air Koryo Beijing - Pyongyang 2020 Flight Schedule
| | | | |
| --- | --- | --- | --- |
| Days | Flight | Departure Time | Arrival time in Pyongyang |
| Saturdays & Tuesdays | JS 152 | 13.05 | 16.05 |
| *Mondays & Fridays | JS 152 | 12.00 | 15.00 |
| Thursdays | JS 252 | 14.00 | 17.00 |
*Monday flights operate from April to October
Friday flights operate from July to October

Pyongyang - Beijing 2020 Flight Schedule
| | | | |
| --- | --- | --- | --- |
| Days | Flight | Departure Time | Arrival time in Beijing |
| Saturdays & Tuesdays | JS 151 | 09.00 | 10.00 |
| *Mondays & Fridays | JS 151 | 09.00 | 10.00 |
| Thursdays | JS 251 | 10.35 | 11.35 |
*Monday flights operate from April to October
Friday flights operate from July to October
Shenyang - Pyongyang 2020 Flight Schedule
| | | | |
| --- | --- | --- | --- |
| Days | Flight | Departure Time | Arrival Time in Pyongyang |
| Wednesdays | JS 156 | 13.55 | 16.10 |
| Saturdays | JS 156 | 13.55 | 16.10 |
Pyongyang - Shenyang 2020 Flight Schedule
| | | | |
| --- | --- | --- | --- |
| Days | Flight | Departure Time | Arrival Time in Shenyang |
| Wednesdays | JS 155 | 11.50 | 12.00 |
| Saturdays | JS 155 | 11.50 | 12.00 |
Vladivostok - Pyongyang 2020 Flight Schedule
| | | | |
| --- | --- | --- | --- |
| Days | Flight | Departure Time | Arrival Time in Pyongyang |
| Mondays | JS 272 | 12.20 | 13.00 |
| Fridays | JS 272 | 12.20 | 13.00 |
Pyongyang - Vladivostok 2020 Flight Schedule
| | | | |
| --- | --- | --- | --- |
| Days | Flight | Departure Time | Arrival Time in Vladivostok |
| Mondays | JS 271 | 08.30 | 11.00 |
| Fridays | JS 271 | 08.30 | 11.00 |