Koryo Hotel
The Koryo Hotel is located very close to the main railway station in Pyongyang. Being right downtown Pyongyang, staying here means that you will be surrounded by lots of sites and will be able to see locals going on about their daily lives in the capital of North Korea.
The Koryo Hotel has two 44 story twin towers which are connected by a bridge on the 37 floor. On the top floors you will find two revolving restaurants with excellent panoramic views, perfect to simply sit back and relax overlooking Pyongyang. On the lower floor you can enjoy the swimming pool, the spa where you can have a massage and the karaoke area where you can put your singing skills to test whether it be with western songs or patriotic North Korean ones!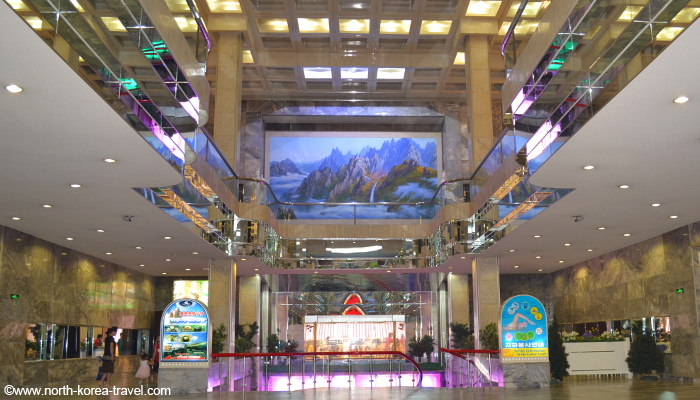 Koryo Hotel Rooms
You can see a short clip of one of the hotel rooms and the views offered in our youtube video below.
Exclusive rooms are spacious with two king size single beds. From the rooms' large windows you will be to see the city come alive in the morning. The rooms also have an open alcove and a separate reading area with great views. Each room has a mini-bar where you can chill your own drinks and a kettle. There is also number of international TV channels for you to choose from including the BBC, Al Jazeera, CCTV Chinese channels, Russian channels, as well as local North Korean channels. Please click on our North Korea TV page for more information regarding DPRK TV channels.
Other than the top revolving restaurants there are two main dinning halls. Breakfast is usually served on the 3rd floor where you will have a good variety of both Western and local Korean food. Western breakfast includes fried or boiled eggs, toasts, butter, jam, sponge cake, milk, soya milk, fruits as well as tea and coffee. Fish, soup and rice is also served.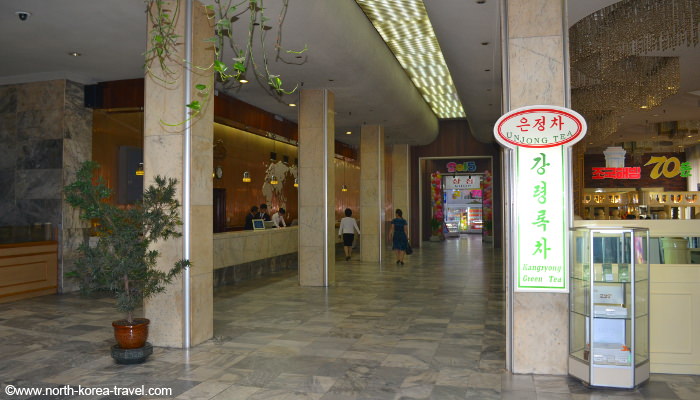 You will find a number of bars with very friendly staff on both the first and second floors. The lounge-bar right beside the lobby serves great light and dark draft beer brewed in the DPRK. We highly recommend you try these if you are feeling thirsty after a long day of travelling around the country!
There is also a small supermarket with both local and imported products, including French wine. The bookshop on the first floor (marked as the third floor in the elevator) has a good variety of Korean books, some written by General Kim Jong Il, translated into English and other foreign languages. You can also purchase pins, badges, postcards and other products which will make excellent North Korean souvenirs for friends back at home. If you wish you can send postcards from the mailing centre also on this floor.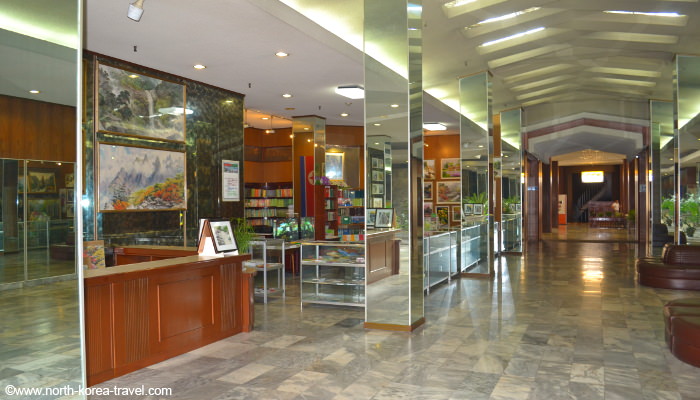 This floor has too a communications centre where you can make international phone calls, send faxes, etc.
Golf fan? There is a bar with a several pool tables on behind the souvenir shop. Koreans usually hang out here. If you fancy a game of golf there is too a golf machine next to the pool tables!
Have any reviews / questions about this hotel?
Do you have any reviews, stories and/or questions regarding the this hotel? Share them!