Pothonggang Hotel
The Pothonggang Hotel is a deluxe hotel with 9 floors and 161 rooms located in a quiet, green and relaxing surrounding in Pyongyang by the Pothong River. It was built in 1973 and renovated in 1998. We mainly use this hotel for exclusive private tours in North Korea.
Location
The hotel is located by the Pothong River (Gang means river in Korean) in the Phyongchon District, very close to the Central District of Pyongyang. Close by you will find the Ice Rink, the Changgwang Health Complex, the Pyongyang Indoor Stadium as well as the Chongryu Restaurant and the Ragwon Department Store. Please note that we can arrange visits to stores in North Korea as well as casual walks in cities whether you are going with groups (our groups tend to be small) or on a private trip to the DPRK.

Facilities
The hotel has an impressively large lobby where you will find the international communications centre from which you will be able to access the internet. The hotel also has a post office from which you can send mail and postcards to friends and family back home, which we are sure that they will love receiving.
Rooms
Rooms are very spacious with their own balconies from which you can see fishermen in the morning as well as North Koreans doing early morning exercise. The rooms are divided into different categories. The First Class Exclusive rooms provide guests with their own private office and living room.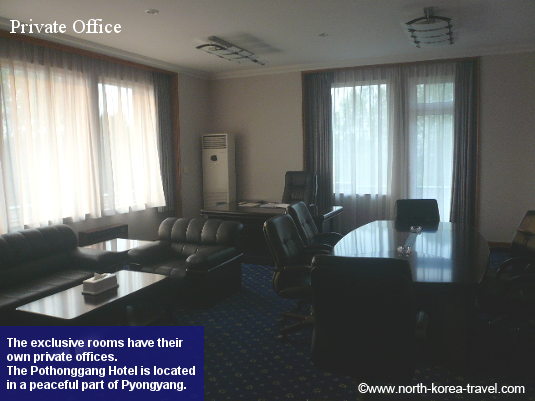 Exclusive rooms in the Pothonggang Hotel come with their private offices. The hotel is located in a tranquil part of Pyongyang
Room at the Pothonggang Hotel in Pyongyang
Bathroom in one of the rooms
International TV channels include the BBC, Al Jazeera and Russian channels. You will of course be able to see local Korean TV.
Restaurants
There are different dining rooms offering dishes from a variety of countries.
Have any reviews / questions about this hotel?
Do you have any reviews, stories and/or questions regarding the this hotel? Share them!