North Korea Budget Travel - Myohyang International Friendship Exhibition Centre
North Korea Budget Travel - The International Friendship Exhibition Centre is a 6 floor building located amongst lush mountains by the river Myohyang with presents from all across the world sent to President Kim Il Sung (Eternal President of the DPRK). The building looks like it is wooden from the outside and that it has several windows, but in fact it is made of concrete and is windowless. The main door which is guarded with two soldiers, shiny rifles in their arms, weighs no less than 16 tons. You will have a chance to pull it open. Presents range from cars to stuffed alligators and pistols. A 3 ton chandelier hangs in one of the hallways, the staircases and floor are made of marble and granite.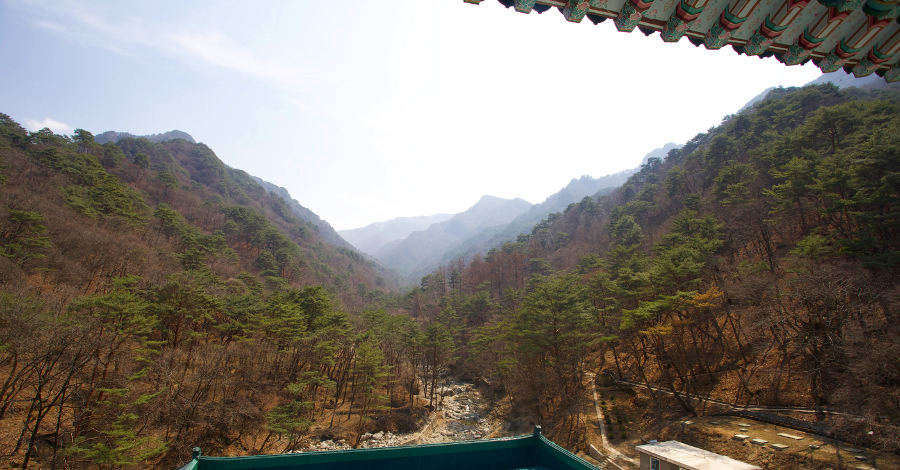 The building is as luxurious as it is impressive. Locals Koreans line up neatly in order to see all the presents their Great Leader has received. Ladies do so in colourful traditional Korean dresses and men in black, navy blue or brown outfits, everyone with a pin of the Leaders. You might spot some visitors crying as you leave the building and will surely get some surprised glances from North Koreans as you walk by them.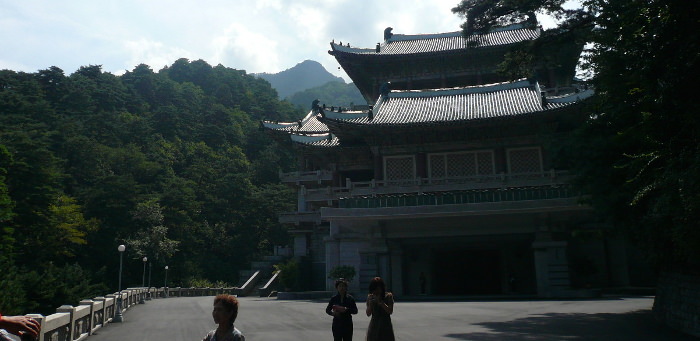 Across from the 6 storied building lies another building that goes into a mountain. This (bottom image) has 3 floors and gifts presented to Kim Il Sung's son; General Leader Kim Jong Il (when we initially wrote this in 2008 General Leader Kim Jong Il was often referred to as the Dear Leader). Maybe you can notice from the image that the building actually goes into the mountain being much bigger that what it looks from the outside. Presents here received from South Korea include computers and mobile phones.
Visitors are requested to take their shoes off while in the buildings and cameras are handed in and locked up until the visit is over. There are over 160,000 presents and according to the guides it would take a whole year to see one present at the time.
UPDATE: this was initially written in 2008. Back in 2015, for the first time in our many trips to the International Friendship Exhibition Centre we were not requested to cover up our shoes.