Kumgangsan 금강산 (Mount Kumgang)
Meaning Diamond Mountain, Kumgangsan (Mount Kumgang) is located on the east coast of North Korea. Consisting of protruding rock formations, steep cliffs, waterfalls, valleys and natural pools, this area is ideal for natural landscape lovers and hiking enthusiasts.
The region's highest peaks reach no less than over 1600 metres above sea level and form breath-taking sceneries.
The whole region spreads 40 km from east to west and 60 km form north to south. South Korean tourists were actually allowed to visit Mt. Kumgang for some years until 2008. South Koreans could also visit the old town of Kaesong until the same year.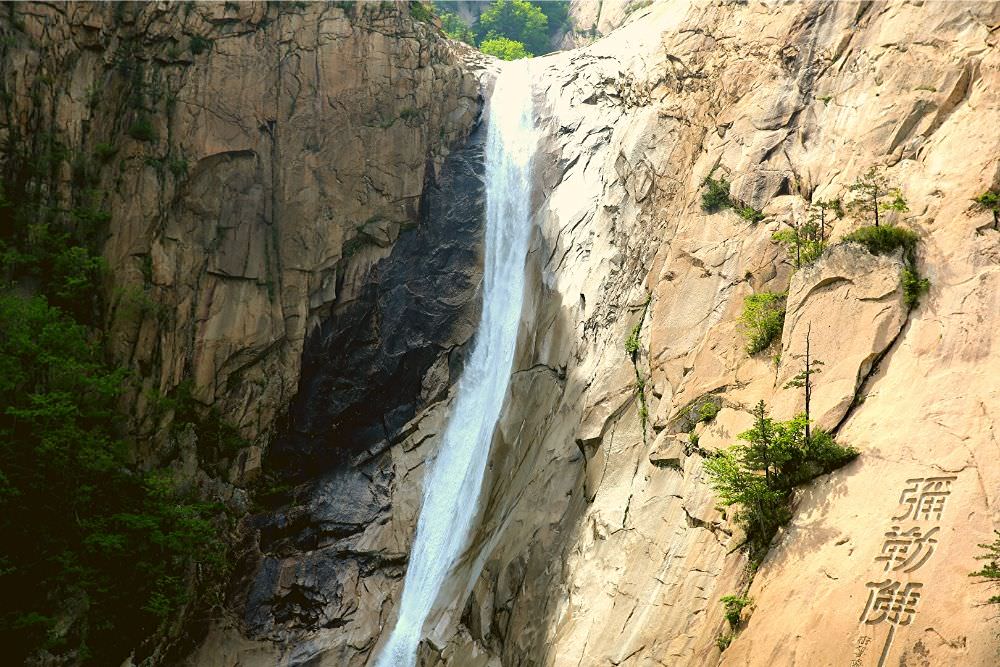 Main Sites in Kumgangsan
The Kuryong Falls
Located in Outer Kumgang, in the Kuryongyon District, these are one of the most renowned waterfalls in the DPRK and is one of the highlights of Kumgangsan. We usually arrange a hike around this beautiful area which offers us the chance of visiting a variety of other waterfalls and pools.
Sangpal Pools
Also spelled Sangphal, according to Korean tales, fairies from heaven flew down to play in this area of Korea. After a hike around here there is nothing like lunch by the natural pools formed by the waterfalls surrounded by mountains.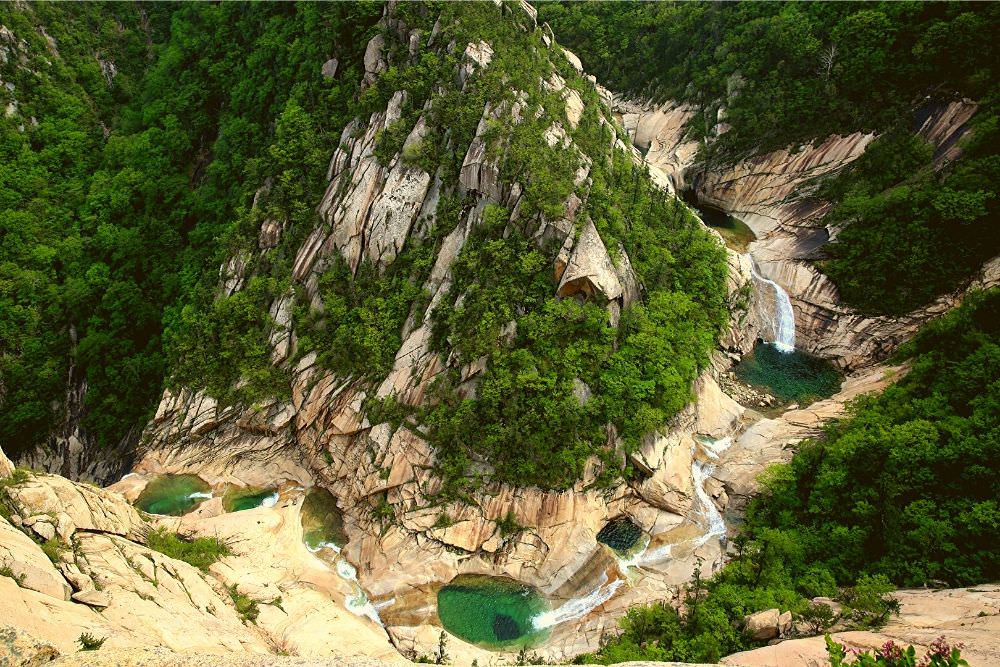 Samil Lagoon
This is considered one of the most beautiful scenic spots in the east part of the DPRK. Reaching depths of up to 13 metres, it is the deepest lagoon in Korea and was formed as a result of rock formations blocking a bay of the East Sea of Korea (referred to by Japan as the Sea of Japan; a term not used on the Korean Peninsula) where the River Nam approaches. You can see a picture of Lagoon Samil on the top of this page. The whole circumference of the lagoon is just under 6 km long.
Inner Kumgangsan
This area offers a combination of natural beauty with historical sites and temples. This area of the Diamond Mountains spreads across the southwestern part of the Kumgang area. You can see a description of some of the main sites here in our hiking programs below.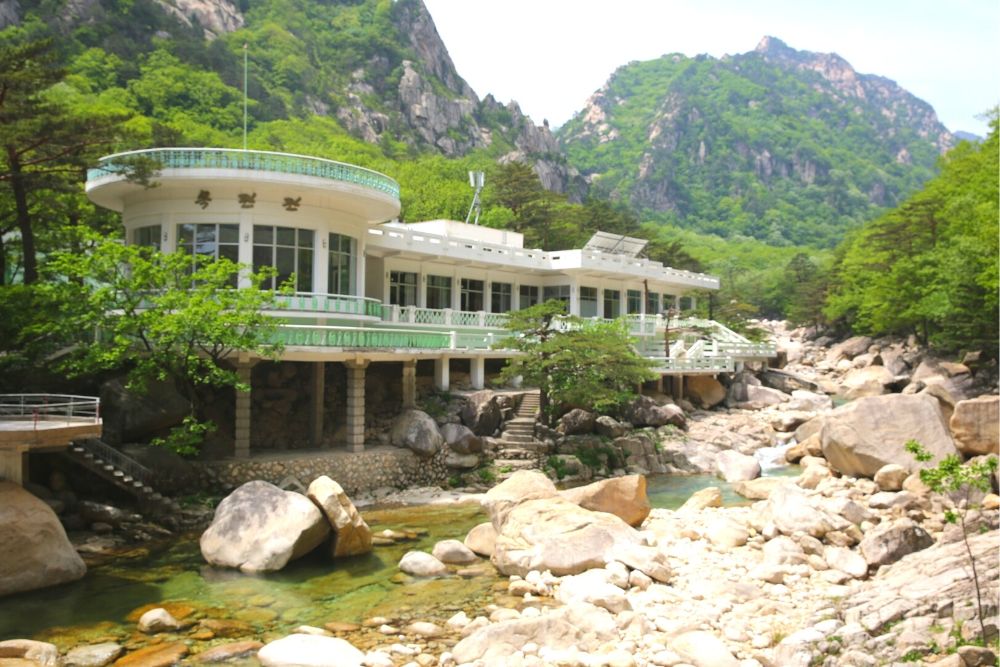 Hiking Routes in Mt. Kumgang
We can arrange day long hikes in this region. The sample itineraries we use for both Outer and Inner Kumgang are as shown below. Please note that these are long specific hiking tours and that Kumgangsan can be visited without having to hike in the area if you would rather not do so.
Inner Mt. Kumgang Hiking Route
AM
Sambul Hermitage
Pyonhun Temple - originally built in the year 670 and having had up to 20 buildings at one time, this temple was rebuilt in the late 1770s and consists of 6 halls and pavilions. It is surrounded by lush mountains in a tranquil location.
Jongyang Temple - built in the year 600, it still conserves relics of the Silla, Koryo and Choson Dynasties.
Manpokdong
Hukryong Pool
Hwaryong Pool
Paekun Pavilion
Myogil Statue- a 15 metre high and over 9 metre wide buddhist statue carved on a mountain in the Koryo Dynasty.
Podok Hermitage - literally suspending off a 20 metre cliff in the Manphok Valley in Inner Kumgangsan, this one room hermitage was initially built in the Koguryo Dynasty and then re-built under the Choson Dynasty the 17th Century.
PM
Lunch
Anmujae Peak
Chail Peak
Miruk Peak
Paekma Peak
Ryongwon Rock
Ryonhwa Pond
Myonggyong Pavilion
Jangan Temple Site
Total Hiking Distance: 28 km
Outer Mt. Kumgang Hiking Route
AM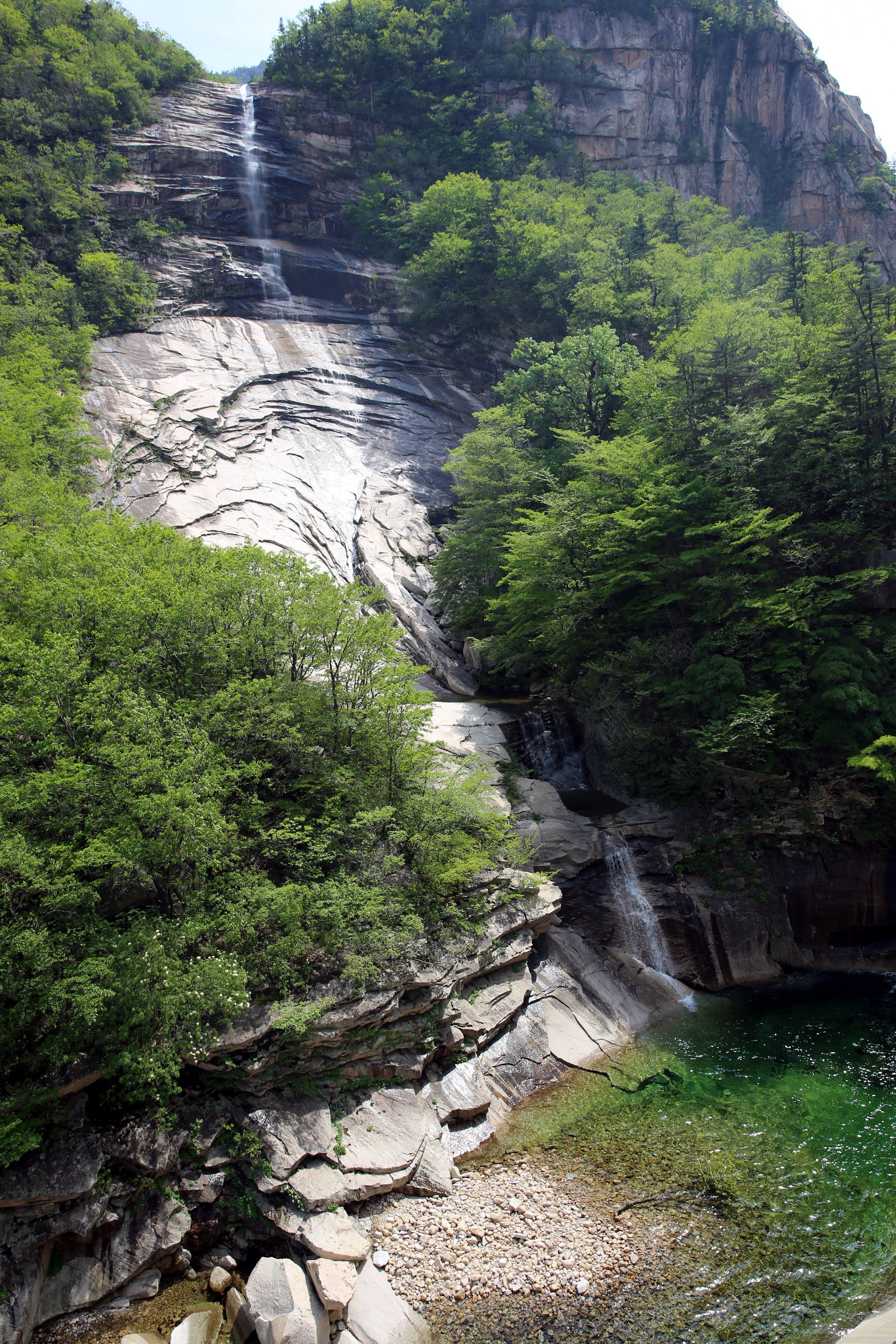 Singye Temple site
Hoesang Pavilion
Okryo Pool
Sangpal Pool
Kuryong Waterfalls
Pisa Gate
PM
Lunch
Ilchul Peak
Janggun Peak
Sejon Peak
Dongsok Valley
Total Hiking Distance: 24 km