The Children's Traffic Park in Pyongyang 어린이 교통 공원
Location: The Children's Traffic Park in Pyongyang 어린이 교통 공원 is located in Ryonmot-dong in Pyongyang, DPRK.
Inauguration Date: 2 July 2017.
The first foreigner ever at the Children's Traffic Park in Pyongyang!
Every year, usually towards the end of the travel season and when are not scheduled to go to the DPRK with one of our groups, we get invited over to Pyongyang by the DPRK tourism authorities to explore new tourism opportunities in the country.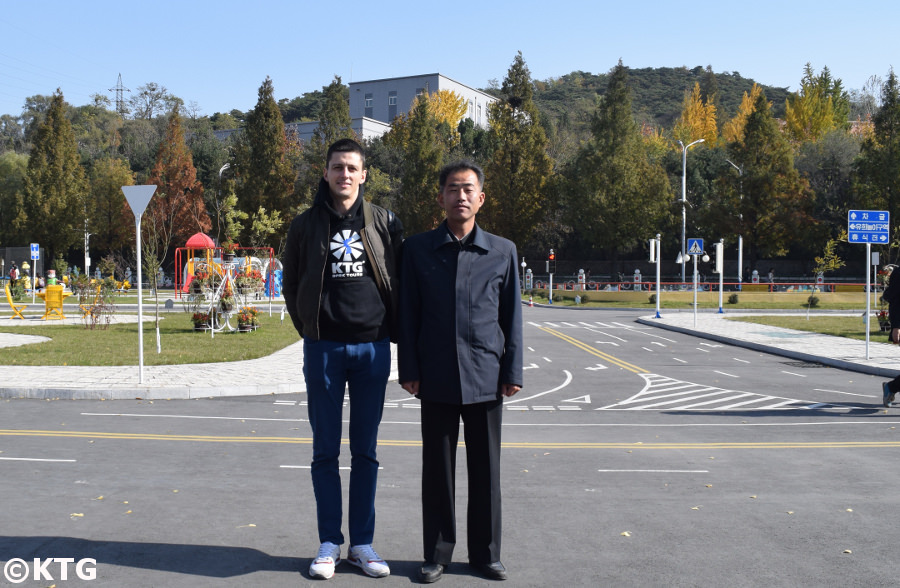 Claim to fame. KTG's Rayco was the first foreigner to go to the Children's Traffic Park in Pyongyang
Back in 2017 my main goal was to explore the 30+ hour train ride from Pyongyang to Rason, bordering Russia and Yanbian in China, to see how feasible it would be to offer this to our travellers, but I was also asked by Pyongyang to check out the newly built Children's Traffic Park.
So off we went. After registering upon arrival the park's director came out to greet us and show us around. As I shook hands with him he smiled and told us that I was the first foreigner to visit this park. Wow! That's our claim to fame in DPRK tourism! If you are an avid reader of matters regarding North Korea tourism you may have noticed that agencies tend to, and rightfully so, boast about being the first to do certain activities or to go to certain places. But being the first to go the Pyongyang Traffic Park? There's no beating that! True explorers indeed.
On a more serious note, the traffic park was built in 2017 and its purpose is to familiarise children with traffic rules. There has been a sharp increase in traffic in Pyongyang these past few years; long gone are the days of almost empty roads in the capital when we could literally count from the Yanggakdo Hotel's revolving restaurant on the 47th floor a handful of cars around the entire city. And this has led to the creation of this park.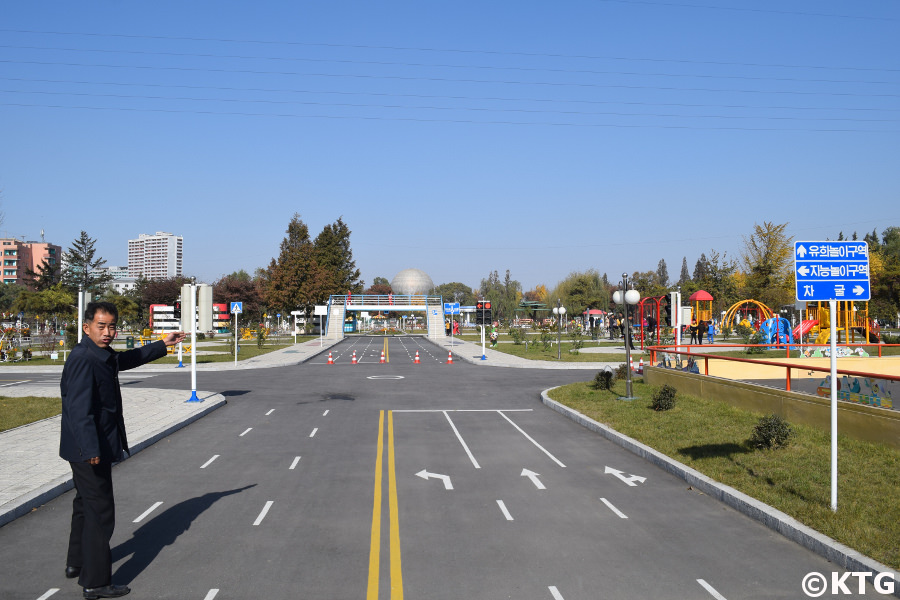 Outdoors of the Pyongyang Children's Traffic Park
The outdoors part of the park consists of fully signalised mini roads with traffic lights, roundabouts, overpasses, zebra crossings, etc where children happily drive small toy cars.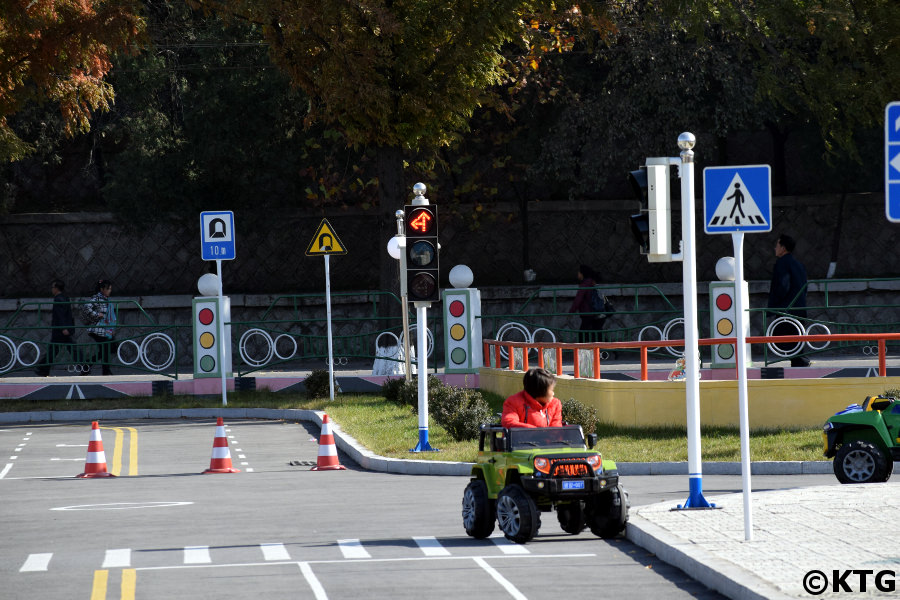 They have too a lot of fun facts that will allow kids, and adults too, learn a lot.
Did you know when the first traffic lights in the world were installed? The first electric traffic lights were installed on 5 August 1914 but before then, back in 1868, the first ever traffic lights were installed in London, ran on petrol and consisted of two lights only. Kids who have been to the Pyongyang Children's Traffic Park probably can tell you. After further research online I found out that this traffic light only lasted one month as it exploded causing serious injury to the police officer operating it.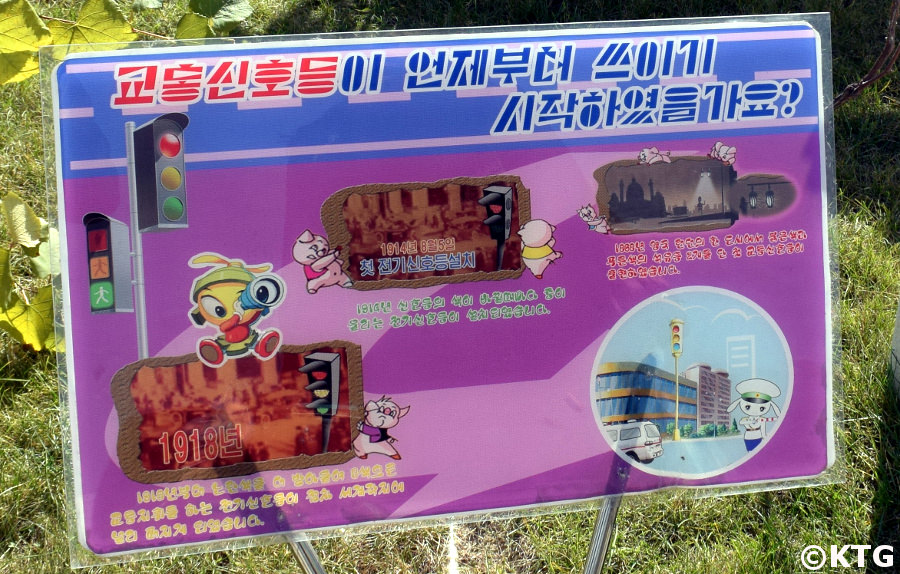 A brief history of traffic lights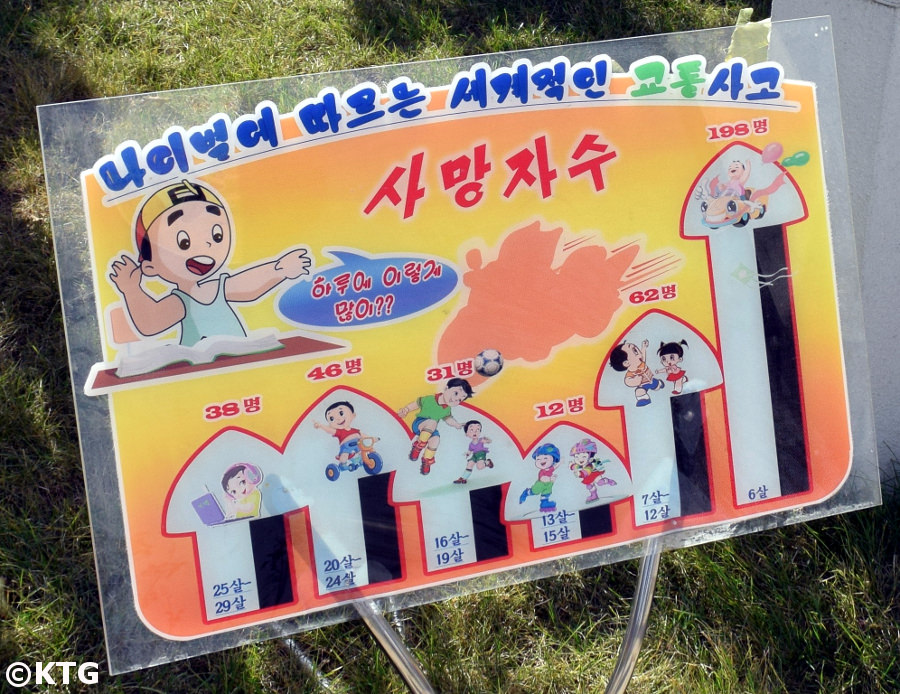 Sign explaining how many people die from car accidents around the world per day according to different age groups
Sign explaining that CO2 emissions contributes to weather anomalies and typhoons
No fine for crossing a double yellow line?
Indoors
Inside the building children can practice switching gears on car simulators. They have too classrooms with computers explaining traffic rules as well as a cinema styled lecture room. Corridors are decorated with traffic signs.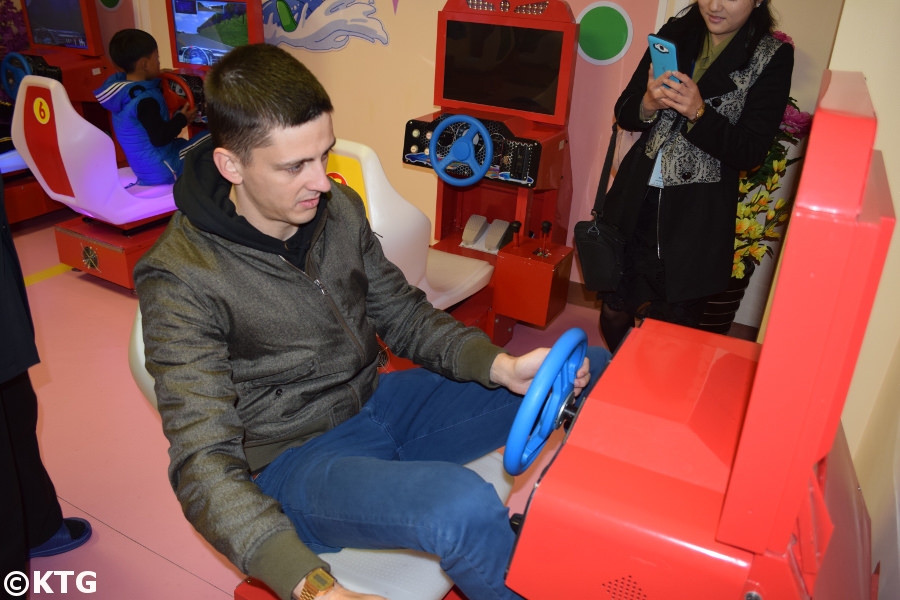 Not the best of drivers
Notice the traffic lights lamps above
Indeed, this is a great place for kids to have fun and to learn and overall a fantastic idea. How many of us would have not loved having a mini city where we could drive around like adults?
Cinema at the Pyongyang Children's Traffic Park