2018 Extended North Korea May Day Tour
2018 Extended North Korea May Holiday Tour - The application deadline for this tour is March 20 2018.
Our North Korea May Day Tour combines 5 cities and one town in 6 nights in the DPRK: Pyongyang, Kaesong, Nampo, Sariwon, Pyongsong city and Mount Myohyang, a unique chance of covering much of the DPRK and being there for a major holiday.
In our humble opinion, we truly believe that May Day is one of the most fun times to be in the DPRK. Please check our Youtube video below recorded in 2018 and you will see why we love this day so much:
Day 0 - April 27 (Friday) for those entering by train

Those taking the train in meet our KTG staff downtown Beijing for our pre-tour briefing and take the train to Pyongyang together, arriving the following day in Pyongyang
Day 1 - April 28 (Saturday) for those entering by plane

Head to the airport and depart from Beijing at 13.05 flight JS 152 Terminal 2, Beijing Capital Airport
Arrive in Pyongyang at 15.35 (Pyongyang time)
PM
Arch of Triumph - impressive monument larger than the Arch of Triumph in Paris
Brief walk around the area - we will see the enormous mural showing an image of President Kim Il Sung's speech upon returning to Korea after the liberation of the country in 1945. The Kim Il Sung Stadium is located close by too, though we will see more of this on Sunday
Drive by Chollima Statue - built to reflect the DPRK's official policy to reconstruct the country after the Korean War at the speed of the Chollima Horse
Hotel check-in: Yanggakdo Hotel, Pyongyang
Welcome Dinner: KITC Restaurant, Pyongyang
Overnight: Yanggakdo Hotel, Pyongyang
Day 2 - April 29 (Sunday)
AM
Breakfast: Yanggakdo Hotel
Kumsusan Memorial Palace of the Sun - we start the main day of our North Korea May Day tour with an early departure to the mausoleum where the leaders Kim Il Sung and Kim Jong Il remain in state. Please note that this is one of the most important places in the DPRK. You are kindly asked to dress in formal attire (please contact us for more information regarding this).
IMPORTANT The Kumsusan Palace of the Sun only opens on Thursday and Sunday mornings to the public and is usually closed from May until July. In 2018 it was closed on 30 April and no tourists in the country were able to go. Our partners in Pyongyang have told us that they expect it to be opened on 29 April 2018 but we find it necessary to let all travellers know about the possiblity of it being closed at the end of April.

Revolutionary Martyrs' Cemetery - located near the Kumsusan Memorial Palace in the outskirts of Pyongyang, views of the whole city are offered
PM
Lunch: City restaurant, Pyongyang
Drive to the port city of Nampo on the west coast of the DPRK
Chongsanri Cooperative farm - we will have the chance to see where farmers live and work. A visit to a farmer's home or to a school located within the farm premises will be arranged. This is an opportunity to see a unique characteristic of the DPRK which was common in communist states; a cooperative, that is a farm where groups of farmers work and live. It will also allow you to see how people work and live in the farm.
West Sea Barrage - 8km long barrage that separates the Taedong River and the West Sea. This is a source of national pride in the DPRK. It has helped reduce floods in Pyongyang and also provides energy in the local area. You will have a view of the whole project which also lets you see a variety of ships off the DPRK coasts.
Drive back to Pyongyang
Kwangbok Supermarket - this is the only place where foreigners can exchange foreign currency for Korean won and purchase goods with Korean won. This place is usually packed with locals and we are allowed to wander around by ourselves. The bottom floor consists of a supermarket which mainly consists of local goods. The first floor is where clothes is sold as well as other goods such as watches, home equipment. The top floor is where we can buy snacks and meals and it is where hundreds of people tend to gather with their families for some food!
Dinner: Local restaurant, Pyongyang

Overnight: Yanggakdo Hotel, Pyongyang
Day 3 - April 30 (Monday)
AM
Breakfast: Yanggakdo Hotel, Pyongyang
Depart to Kaesong (Panmunjom, the DMZ) - we depart early in the morning for this 2.5 hour drive. As we approach Kaesong we will be able to see the Kaesong Industrial Complex on the left hand side of our coach and the train station with the railway connecting North and South Korea which symbolises hope of reunification.
38th Parallel (DMZ) - chance to enter the famous blue negotiation rooms where talks between North & South Korea have taken place. A KPA Officer will join us on our coach and we will be guided around Panmunjom. The officer with us tends to ask us questions regarding our views about Korea and it is fascinating to be able to interact with them

Koryo Museum in the old part of the city - unlike most of Korea, Kaesong was not destroyed during the Korean War
Stamp shop - chance to purchase a rich variety of DPRK stamps, post cards, artwork, etc. This is just outside of the Koryo Museum and we usually make a quick break here.

PM
Lunch at Tongil Restaurant (Kaesong) - dishes are served in small covered golden plated bowls. The number of smalle dishes served symbolised in ancient times the status of the person eating, 12 dishes being the highest number.

Drive to Sariwon, one of the largest city in the DPRK
Walk around Folk Street - We drive back to Sariwon city centre after Mt. Changbang and explore what the city has to offer. Opportunity to walk around one of the busiest streets in Sariwon and stop by a local "Sul Jib" (meaning wine house or bar) to try some of the local delicacy; makoli, a traditional Korean drink (with low levels of alcohol). Sariwon is renowned for having the best makoli in the DPRK.
Check local models of ancient pavilions and have an explanation of ancient Korea - apart from seeing models of Korean ancient pavilions and maps of the ancient Korean peninsula, one of the main highlights here is that there are usually Koreans playing games such as shooting targets (corks used as bullets). Not many travellers visit this city and we are always welcome to have a chance at the game!
Walk up the hill - the whole city of Sariwon and beyond can be seen from here. The walk itself is not that long, around 5 to 10 minutes, but the views give you a chance of not only seeing people getting along with their daily lives around the city but also the landscape stretching miles away into the horizon. You can see our Youtube video below to see what Sairwon looks like:
Stop at the Reunification Monument - chance to have some pictures taken at these giant monuments
Drink at local bar - pre-dinner drinks at the Taedongang Number 3 Brewery Bar before our May Day Tour Farewell Dinner
Dinner: Pyongyang No.1 Duck BBQ Restaurant, Pyongyang
Overnight: Yanggakdo Hotel, Pyongyang
Day 4 - May 1 (Tuesday) May 1st National Holiday (International Workers' Day)
AM
Breakfast: Yanggakdo Hotel
Korean War Museum - the newly restored museum shows the DPRK version of the Korean War. The sheer size of the museum and amount of detail put into it is truly amazing.
USS Pueblo - US Spy ship captured by the DPRK in 1968, it sits in North Korea as trophy shown to locals and foreigners alike.
Taesong Park - sporting and dancing events are held here. You will be able to wonder around by yourself in the park and join in the fun with the Koreans! Interacting with Koreans is a highlight of our North Korea May Day tour and something that we encourage as much as possible in all of our trips. Having small groups enhances the chances of this greatly. Please check our short Youtube video:
PM
Lunch: Picnic lunch at local park or lunch at local restaurant
Ride on Pyongyang Metro - visit several stops as part of this extended ride on one of the busiest days in Pyongyang!
Moran Park - chance to celebrate with locals on this National Holiday. You will be able to join in the singing and dancing. Thousands, and this is no exaggeration, of people gather here today. The spirits are high and the atmosphere is incredible. Although a capital city, Pyongyang does not receive many Westerners, meaning that you will be treated as a special guest by locals who usually have limited chance to interact with foreigners given that there are not many in the country.
Mansudae Grand Monuments - giant bronze statues of the Leaders Kim Il Sung and Kim Jong Il.
Juche Tower - stunning views of Pyongyang are offered from the top of this 150 metre tall tower (170 including the flame!)
Workers' Party Monuments - if Mass Dances are held you will be able to attend, though this will only be confirmed on May 1st. Thousands of Koreans gather and dance (women wearing traditional Korean outfits and men suits) in a synchronised way. You will of course be more than welcome to join in!
Dinner: Hotpot Restaurant, Pyongyang

Local funfair - even if you do not want to go on the rides, this is a great time to see locals have fun on a National Holiday and they will be with no doubt very curious at the sight of foreigners. Rides are 1 to 3 Euros per person but you do not need to try any of them if you would rather simply walk and look around the park, which itself is an experience!
Overnight: Yanggakdo Hotel, Pyongyang

Day 5 - May 2 (Wednesday)
AM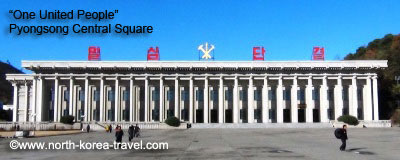 Breakfast: Yanggakdo Hotel
Pyongyang Film Studios - see where movies are produced in the DPRK
Depart to the mining city of Pyongsong - This city is known as a Satellite City of Pyongyang given its proximity to the capital of the DPRK. The site of foreigners here is even rarer than that of other areas in the country.
Pyongsong Central Square - there is a giant bronze statue of a young Kim Il Sung and a history museum with the party symbol in between the slogan "One United People's Heart" (referring to one united country going in the same direction).
Paeksongri Revolutionary Site - place where the Kim Il Sung University was moved to in the Korean War
PM
Lunch: Jangsusan Hotel, Pyongsong
Pyongsong Number 1 High School, Kim Jong Suk high school - The school's headmaster will show us around the school where we will be able to join in a lesson and interact in English with the students as there tend to be extra lessons on Saturdays
Paeksong Food Factory or Taedonggang Textile Factory - rare chance to see a DPRK factory (please note a visit here is only confirmed once in the DPRK as it will depend on whether the factory is opened to visitors or not those days).
Drive back to Pyongyang
Dinner: Local Restaurant, Pyongyang

Overnight: Yanggakdo Hotel, Pyongyang
Day 6 - May 3 (Thursday)
AM
Breakfast: Yanggakdo Hotel, Pyongyang
Drive further north to Mount Myohyang in the northern interior of the DPRK
International Friendship Exhibition Hall - this holds presents given to the Leaders of the DPRK by leaders and personalities from all over the world. Koreans from all corners of the DPRK also come here and it is not uncommon to see military personnel come visit here either. You will be able to share your impressions of the place at the end of your tour, from a balcony with views of the surrounding peaceful sights. Please note that this is a highly respected place. We used to be asked to cover our shoes with a fold handed to us at the entrance so as to keep the marble floor clean.
Pohyon Buddhist Temple - famous temple initially built in 1042, it used to be the centre of buddhism in the region.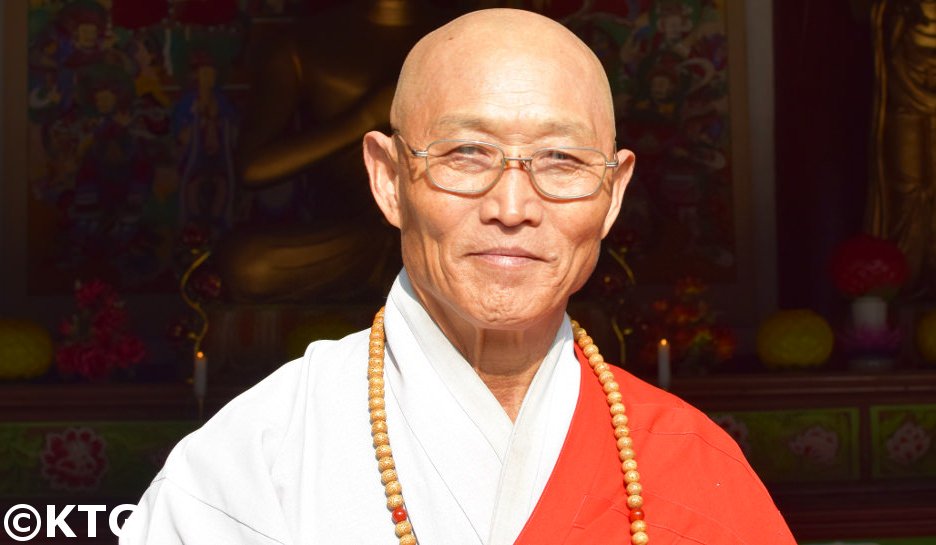 PM
Lunch: Chongchon Hotel, Mount Myohyang
Drive back to Pyongyang
DPRK Art Studio - see where different forms of art are produced in North Korea. These include paintings, statues, ceramics, etc. We will meet some of the artists and are able to purchase artwork if we wish.
Golden Lane Bowling Alley - have a bowling and / or pool game and hang out with locals enjoying their Sunday evening. There is too a section of lates 1980s early 1990s arcade games.
Dinner: local restaurant, Pyongyang
Optional: Diplomat's Club - chance to have some drink at this diplomat hangout place and relax after an intensive trip around North Korea
Day 7 - May 4 (Friday)
AM
Breakfast: Yanggakdo Hotel
10.10 am Train to Beijing - Please notify us if you would rather fly out of Pyongyang.
PM
Stopover at Sinuiju train station bordering China where DPRK customs takes place (customs officers will come on the train to proceed with formalities). We then cross the bridge over the Yalu River back into China.
Overnight: train
Day 8 - May 5 (Saturday)
AM
Arrival at the Beijing train station. The expected arrival time is 8.38 am
End of our Extended North Korea May Holiday Tour
Please go to our North Korea Tourism page to see more information on other tours that we offer other than our North Korea May Day Tour.