North Korea Trip Review - July 2012
by Heimo
(Austria)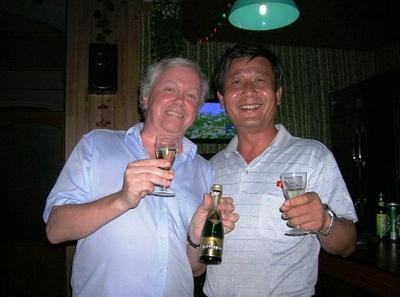 Having a drink with our guide at the end of the day!
I already knew some socialist countries from the time before 1989 – and some had been quite strict! – but I have never been to a really stalinistic country like the DPRK! In the early fifties, when USSR and brother-countries where still stalinistic I did not live, in the seventies (China) and eighties, when there had been some countries like this in Africa (Angola, Mozambique, Benin...), Asia (Vietnam, Cambodia, Laos) and even one in Europe (Albania) I had not enough money to travel to such expensive countries (because, as today still in the DPRK, everything had to be organised in advance and individual trips were not possible).

In 1991 only one country like this was left worldwide: the DPRK. Austria was occupied by USA/F/GB and the stalinistic USSR from 1945-1955 – so it could have happened that I would have had also to live under such a system, if they would not have left Austria 6 years before my birth... Therefore I always wanted to see it – to see, what we Austrians have missed.

This trip was really was as bizarre as imagined, in some things even more bizarre: mass games, mass dancing,...

I really liked the people we met (in restaurants...) they were extremely friendly, including our guides and the driver. And the landscape was more beautiful than expected. Even the food was very varied and well-tasting.

It was good that it was possible to meet at least our guides in a private atmosphere in the hotel-bars; following what I had read in my guide-book (from 2007) I did absolutely not expect that!

I also enjoyed taking pictures nearly everywhere...I'm now curious to see the South and revisit the North in 2 or 3 years...

I would recommend others to go with KTG to the DPRK – your groups are smaller as the groups of the British company; that's especially in a country like the DPRK is much better! And you are cheaper as for example German tour-organizers. You just should inform people about the need to get a visa from their own embassy if they want to have a stamp in their passport. In other respects: keep on doing in the same good way!





Join in and write your own page! It's easy to do. How? Simply click here to return to Trip reviews.