Avis sur KTG
Lisez ce que nos voyageurs ont dit sur leurs voyages en Corée du Nord avec KTG.
Nous avons commencé à organiser des voyages en RPDC en 2008 et espérons que vous trouverez ces témoignages utiles.
TripAdvisor
Nous avons finalement été répertoriés sur TripAdvisor en 2017, même si nous organisons des visites depuis 2008. Veuillez cliquer sur le widget ci-dessus pour être redirigé vers notre page chez TripAdvisor. Veuillez faire défiler vers le bas pour voir les commentaires à notre sujet sur Facebook.
Avis sur Facebook et notre site
Nous avons commencé à utiliser les avis Facebook en 2016. Des avis plus anciens de nos voyageurs ont été écrits sur notre site. Vous pouvez consulter les avis datant de 2008.
Si vous avez été avec nous en RPDC, n'hésitez pas à écrire vos commentaires sur votre expérience avec nous dans notre section ci-dessous. Vous pouvez également télécharger vos photos!
En ce qui concerne les avis écrits directement sur notre site (les avis les plus anciens ci-dessous), veuillez noter que les étoiles qu'un avis peut avoir sont des notes que ce commentaire spécifique a reçues de nos lecteurs et non la note que le voyageur a donnée à son voyage.
Avis Facebook 2020
Avis Facebook 2019
Avis Facebook 2018
Avis Facebook 2017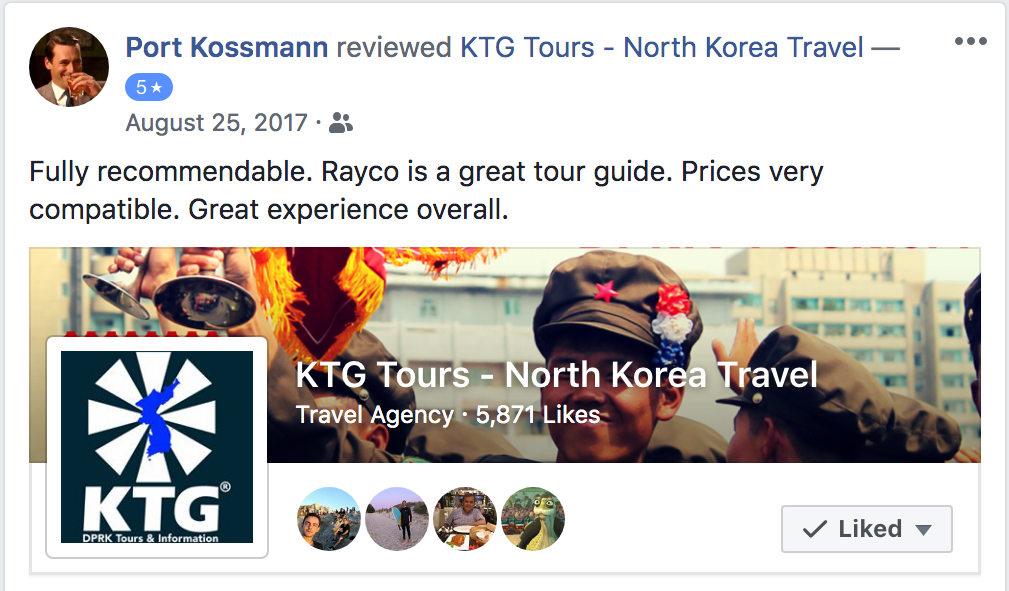 Avis sur notre site 2017
Avis Facebook 2016
Avis sur notre site 2016
Avis 2015
Avis 2014
Avis 2013
Avis 2012

North Korea Trip Review - June 2012 Group Tour Not rated yet
When contemplating a trip/tour to North Korea, you confront a range of probably well founded apprehensions and emotions. From a question of simple personal …
Avis 2011
Avis 2010
Unique experience in North Korea!

I went to the DPRK in Oct 2010. I really enjoyed my trip and came home definitely satisfied by the experience! The whole thing was actually even better …

Great trip to North Korea! Not rated yet
Thanks! Out of all the trips I ever made - quite a few - the trip to North Korea was undoubtedly a highlight. Some of the surreal stories I heard before …
North Korea Private Tour Not rated yet
Dear Rayco,

Thank you very much for everything! It's been a while since our last email. As you can imagine, having come back home after a relatively ...
DPRK Trip - September 2010

Definately one of the best trips I've ever had and to one of the most amazing countries. Preconceptions about safety and security are overcome as soon …
Korea Trip September 2010

Very interesting trip. You get a much better idea about the country and the system. Rayco and KTG had organized the trip very well. The trip was …

Un increible viaje dificil de olvidar

La experiencia en Corea del Norte ha sido muchísimo más intensa de lo que imaginábamos. La valoración del viaje es muy positiva, puesto que hemos aprendido …
May Day Trip Not rated yet
A truly fantastic trip. Guides were excellent and we all got on on a personal level. We were allowed much freedom for pics etc and they were honest with ...

2010 May trip

Hello! I just wanna say many, many thanks to you to fulfill my dreams! Everything was just perfect, even the weather :) Guides were friendly, …

DPRK Easter Tour 2010

Party in the DPRK! Five days I will never forget. This tour in the DPRK was wonderful! Not much trouble for an American to get in anymore but, remember, …
Amazing trip - April 2010

I went on the April 1 trip a month ago, and had a blast. What a strange, but fascinating experience. The guides were wonderful, as were activities and …
Avis 2009
A Surreal Experience Not rated yet
Not rated yet
Hi guys,

We certainly did enjoy the trip! It was almost a surreal experience (it certainly felt that way after we got back to Beijing). North Korea ...