DPRK Liberation Day Tour II
15th August is the anniversary of the Liberation Day of Korea; a date celebrated both in North and South Korea. This date marks the independence of Korean from Japanese colonial rule. The Korean Peninsula was under Japanese control for over 35 years and independence from Japan is celebrated on both sides of the 38th Parallel on the Korean Peninsula.
Our groups tend to be small in size (on averages less than 10 people per departure), a fact that we believe gives our travellers the chance of being able to get along well with the local Korean guides and to have greater flexibility once in the DPRK, something simple not possible with large groups. However, August and September are busy periods in terms of North Korea tourism. We kindly ask you to please apply by the deadline, July 12 2018, so as to ensure that your transportation means can be booked with enough time in advance. If you apply after the deadline we will be able to notify you within one working day if it will be possible for you to join the trip.
This trip is a very complete one and will allow to explore a wide set of aspects of life in North Korea. You will see all the highlights of Pyongyang, the Northern interior of of North Korea, head south to the DMZ and stay near the border overnight and to top it all up we will literally drive across the DPRK travelling through smaller cities and counties until you reach the east part of the country.

Day 1 - August 14 (Tuesday)
Depart from Beijing at 13.05 flight JS 152 Terminal 2, Beijing Capital Airport
Arrive in Pyongyang at 15.35 (Pyongyang time)
PM
Arch of Triumph- gigantic arch built to commemorate President Kim Il Sung's speech upon returning to Korea after the colonial rule of Japan.

Brief walk around the area, see the enormous mural showing the Leaders Kim Il Sung giving his famous speech upon returning to Korea after the liberation of the country from Japan.
Hotel check-in: Yanggakdo Hotel
Welcome Dinner: KITC Restaurant, Pyongyang
Overnight: Yanggakdo Hotel, Pyongyang
Day 2 - August 15 (Wednesday) - Liberation Day of Korea
Today is the 73rd Anniversary of Korea's Liberation from Japanese colonial rule

AM
Breakfast: Yanggakdo Hotel, Pyongyang
War Museum - see the North Korean version of the war. This museum contains original vehicles and weapons used during the Korean War. The new War Museum is an impressive building with all kinds of details regarding the Korean War.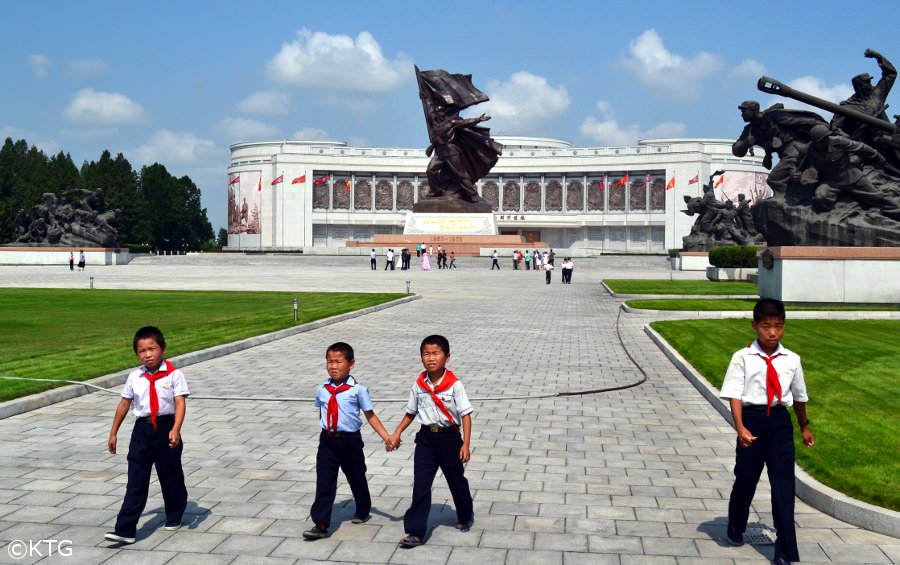 USS Pueblo - US spy ship captured in 1968. The only US vessel held by a foreign country, it is displayed to this day in the DPRK as a trophy.
Kim Il Sung Square - walk around one of the most famous places of the North Korea; point 0 of the DPRK. Right in the heart of Pyongyang, this is the square we see on TV when parades and mass rallies are held.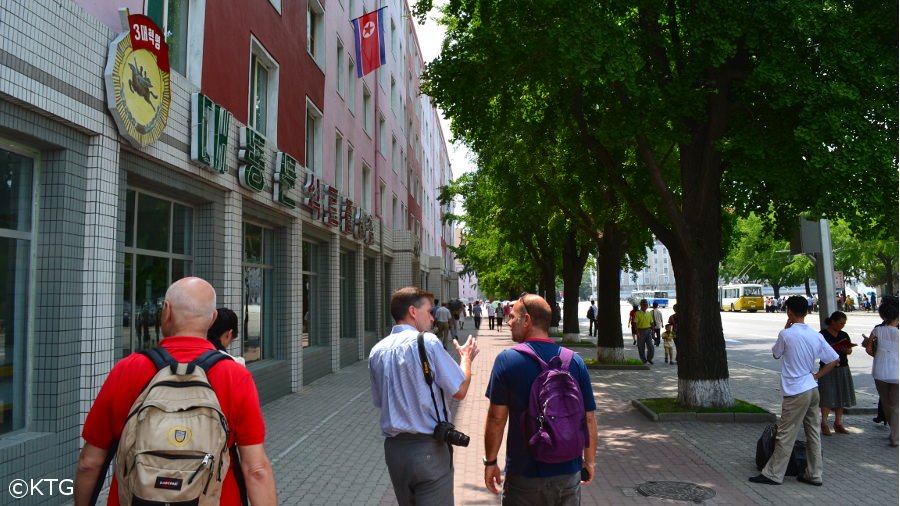 DPRK Foreign Language Bookstore - we walk from the square to this shop. We will have the chance to read and purchase North Korean books that have been translated into several languages such as English, German, French, Spanish, etc. We can also purchase samples of the newspaper The Pyongyang Times in English (or Korean if you prefer!)
PM
Lunch: Local restaurant, Pyongyang - chance to see locals celebrate a national holiday
Fountain Park - we will have a walk here. There are fantastic views of the city centre.
Mansudae Grand Monuments - Giant Bronze Statues of the Leaders Kim Il Sung and Kim Jong Il
Views of Chollima Statue - a symbol of the domestic policy that followed the Korean War and consisted of reconstructing the country at great speed
Ride on Pyongyang Metro (extended ride) - at an average of 100 metres below ground we will take a ride with locals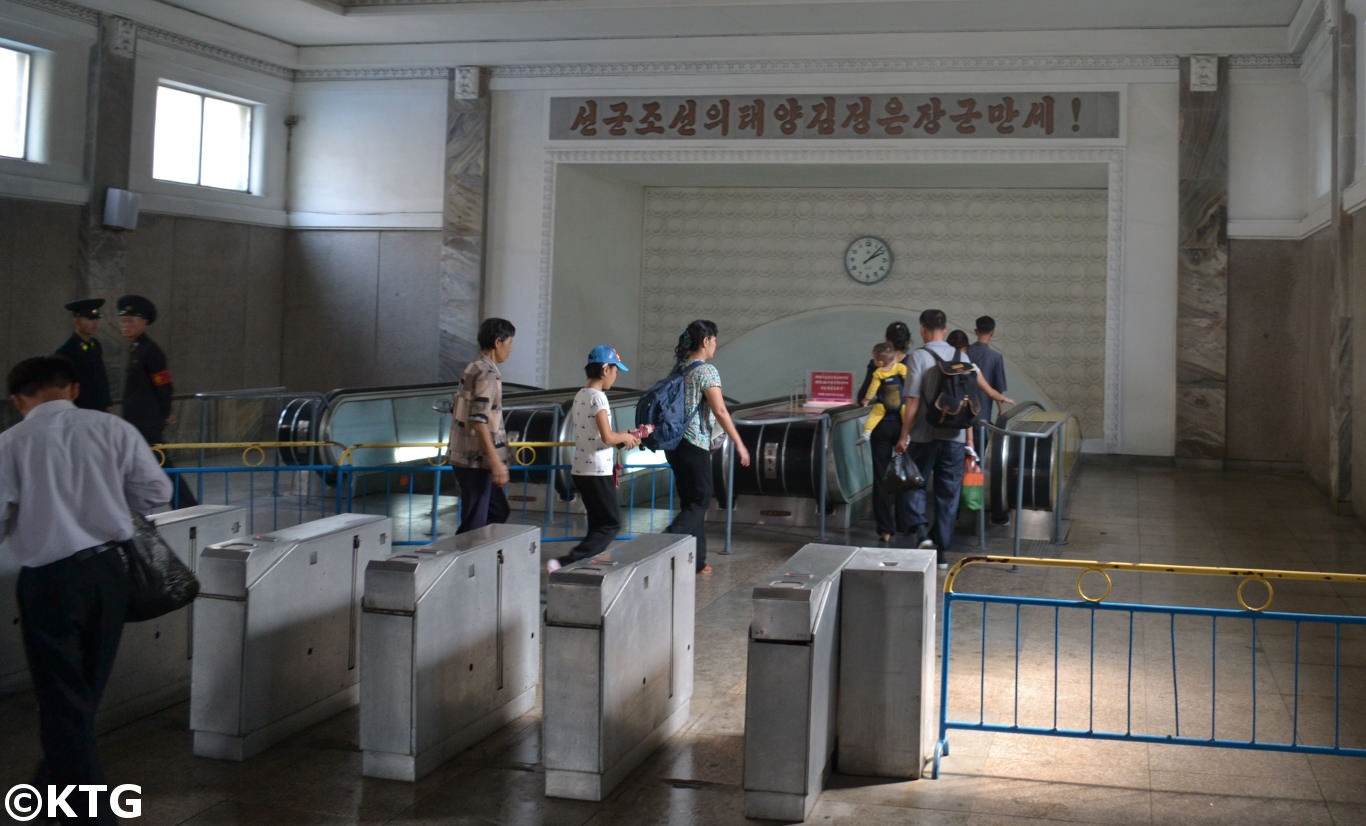 Moranbong Park - where locals gather on national holidays. Chance to see locals celebrating, singing, eating and having fun on a national holiday. You will more likely than not be asked by curious and friendly Koreans to join in the fun!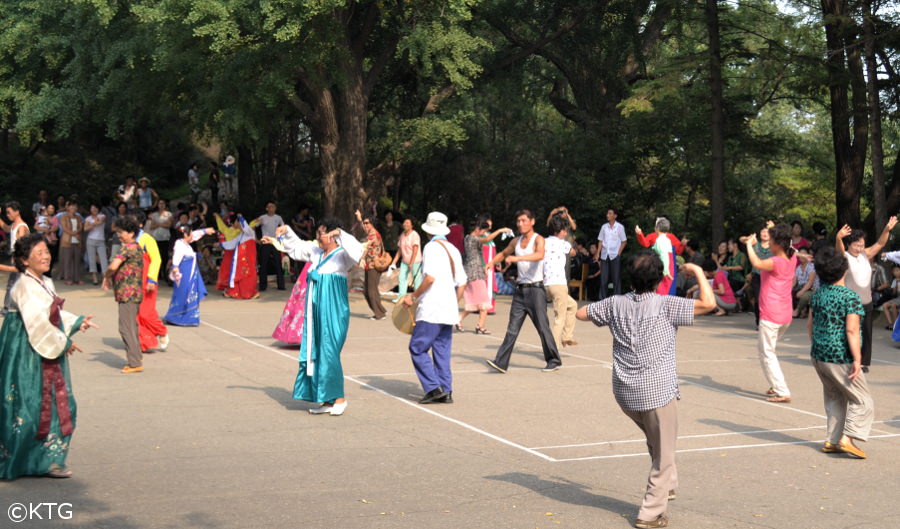 Party Foundation Monuments - consisting of a hammer, sickle and brush
Expected Mass Dances - Chance to dance with North Korean university student during the celebrations of this National Holiday. Hundreds of women wear traditional Korean dresses and men suits while they dance in a synchronised way. These are not guaranteed to take place and if they do we will be able to attend and will be notified that day.
Juche Tower - if you decide to go up the tower you will have a panoramic view of the whole of Pyongyang by going up 150 metres (the tower is 170 metres tall including its flame). The entrance fee is 5 Euros. If you would rather not go up you can wait the few minutes that this takes by the riverside. It is also very pleasant to sit on the steps and see locals
Drinks at a local bar - The Taedongang Number 3 Beer Bar is one of our favourite ones not only because the beer is brewed there but also because it is a major hangout place for locals.
Dinner: Local restaurant, Pyongyang
Local funfair - after dinner - you can take rides with locals, but even if you'd rather not, this is a great opportunity to join Koreans during their celebrations and to mingle with them. Rides cost from 1.5 to 5 Euros and are optional.
If there are any celebrations such as a firework display in the evening we will be able to attend these.
Overnight: Yanggakdo Hotel, Pyongyang

Day 3 - August 16 (Thursday)

AM
Breakfast: Yanggakdo Hotel, Pyongyang
Kumsusan Memorial Palace - Most sacred place in the DPRK; it is where the Leaders Kim Il Sung and Kim Jong Il remain in state. Please note that this is the most sacred place in the DPRK and that there is a dress code to follow. We should also be on our best behaviour when here. You will be fully briefed in Beijing regarding how to behave in the DPRK in order for you to make the most out of this, for many, once in a lifetime journey.
PM
Dinner: local restaurant, Pyongyang
Drive to Sariwon City - this is a lively city located in North Hwanghae Province and is one of the largest cities in the DPRK

Migok Cooperative Farm - see how farmers and their families live in this model cooperative farm, typical of communist countries. We will be able to see the fields and visit a farmer's home and meet the whole family and/or the farmers' children school. These are all located within the farm.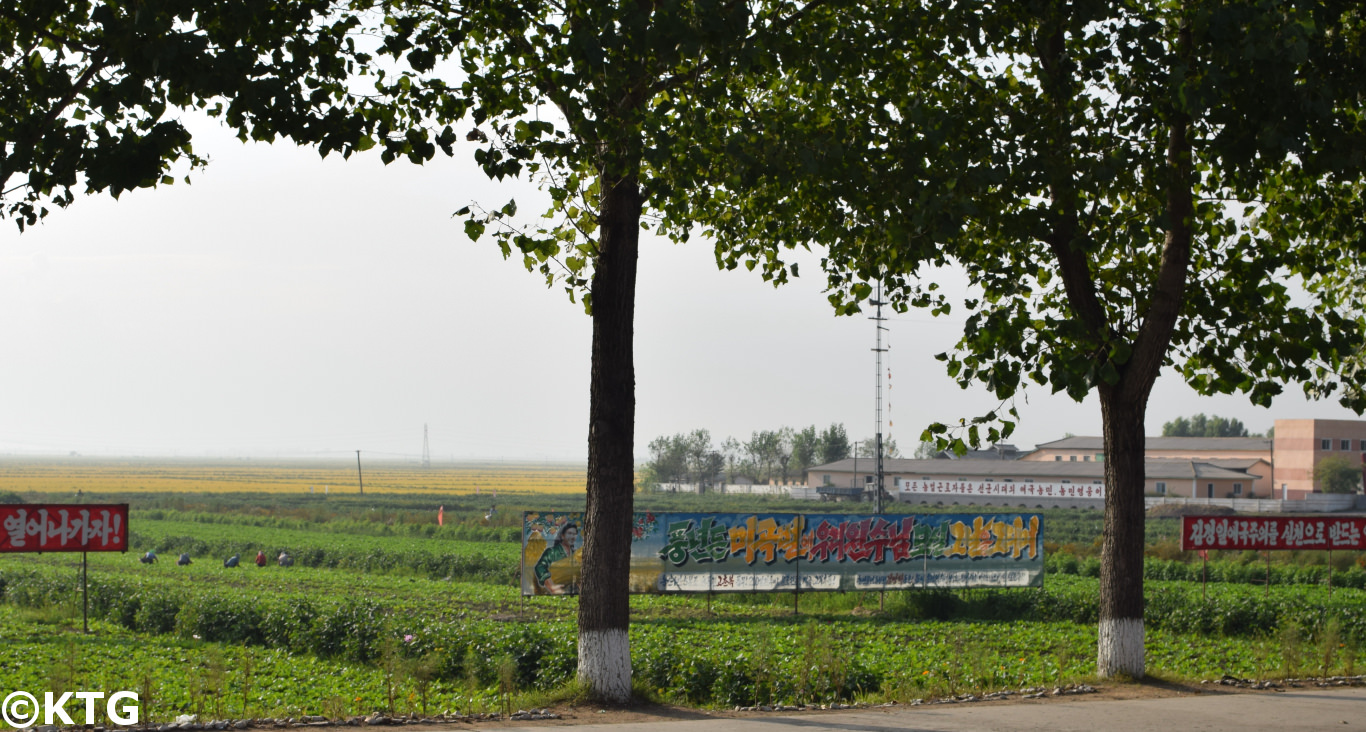 Folk Street & Ancient Model Pavilions - we will see how Koreans lived in ancient times and check some model pavilions of times past in Korea
Walk up Mt. Kyongnam - the walk itself is only 5 to 10 minutes but we will have views of the whole city and of the surrounding region.
Folk Street - we will walk around this street and may have the chance to check a local Sul-Jib (alcohol house) and try some delicious Makoli (Korean rice wine with very low levels of alcohol). The walk around here is always interesting. There are usually street games and activities too where we can of course join in!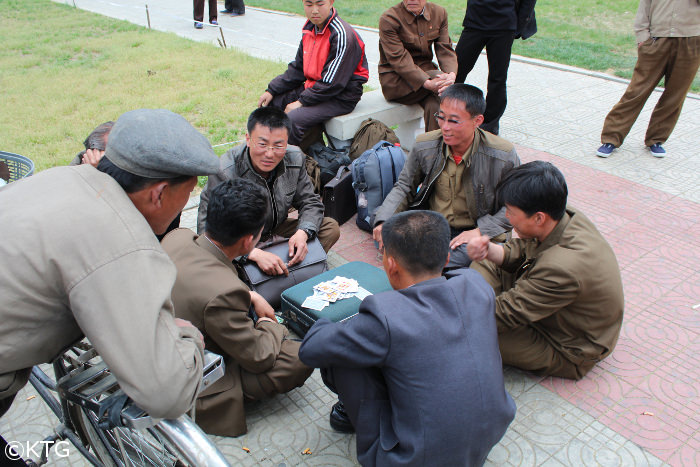 Mt. Chongbang Fortress - medieval fortress built in the 1100s under the Koryo Dynasty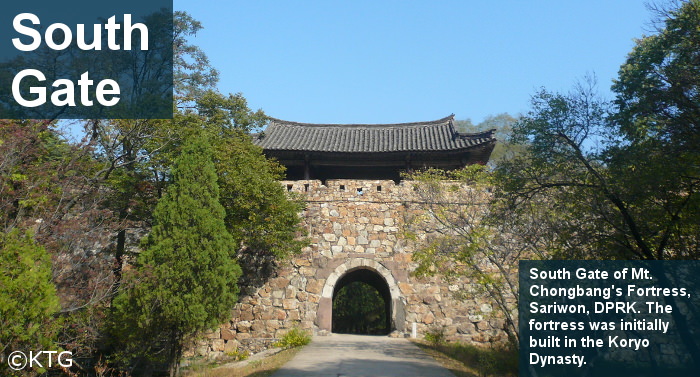 Songbul Temple - we will visit this medieval temple in Mt. Chongbang that attracts local painters because of its landscape. A local monk will guide us around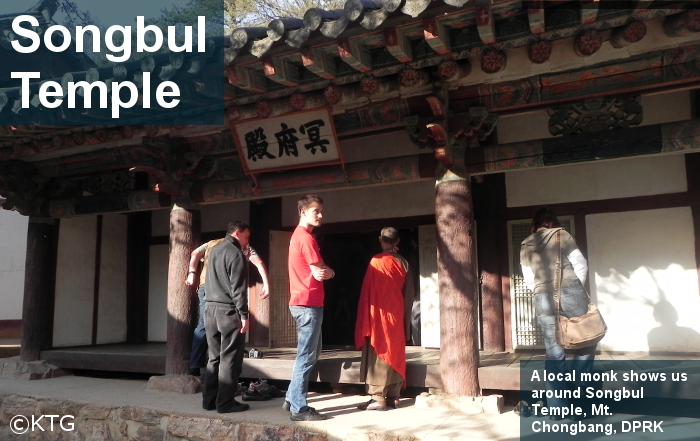 Drive to Kaesong City - we will visit Panmunjom (the DMZ) the next day

Hotel check-in: Janamsan Hotel, Kaesong City
Dinner: Janamsan Hotel, Kaesong City
Overnight: Janamsan Hotel, Kaesong City
Day 4 - August 17 (Friday)
AM
Breakfast: Janamsan Hotel, Kaesong City

Tomb of King Kongmin and his wife - A UNESCO World Heritage site since 2013, these tombs are extremely well conserved. They have gone through little restoration. On the way there we will drive by some generals' tombs which remain in their original states.
38th Parallel (DMZ) - chance to enter the famous blue negotiation rooms where talks between North & South Korea have taken place. If the houese are closed we will still walk very close to them. We will be escorted by a KPA soldier on our bus which provides us with a great chance to interact with a DPRK soldier. It is not uncommon for them to ask us questions regarding our views about Korea and the Korean War.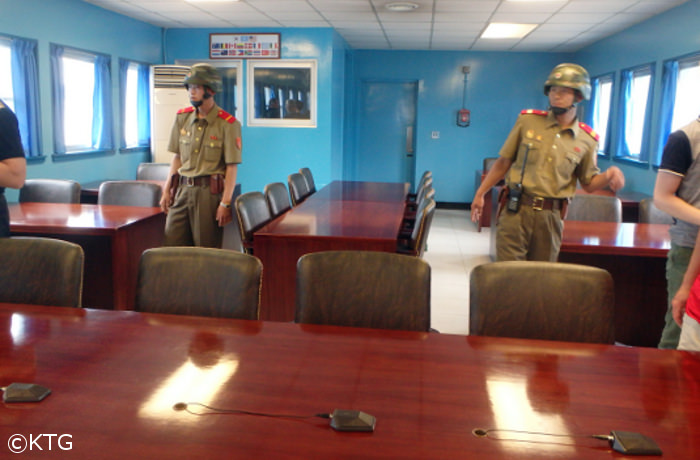 Technically in the South - Korean soldiers prepare to leave the negotiation rooms as we exit. The microphones shown on the table mark the diversionary line between North & South
Koryo Museum (Kaesong) - also a UNESCO World Heritage Site, it dates back to the 900s and shows what life was like in Korea in the past. It was initially a university.
Kaesong Stamp Shop - a variety of stamps can be purchased as well as other souvenirs such as books and paintings. This is located just by the museum and will therefore not consume much of our time.
PM
Lunch at Tongil Restaurant (Kaesong) - Meaning Reunification restaurant. Dishes are served is small gold plated bowls. With up to 12 small bowls per person, there is plenty of variety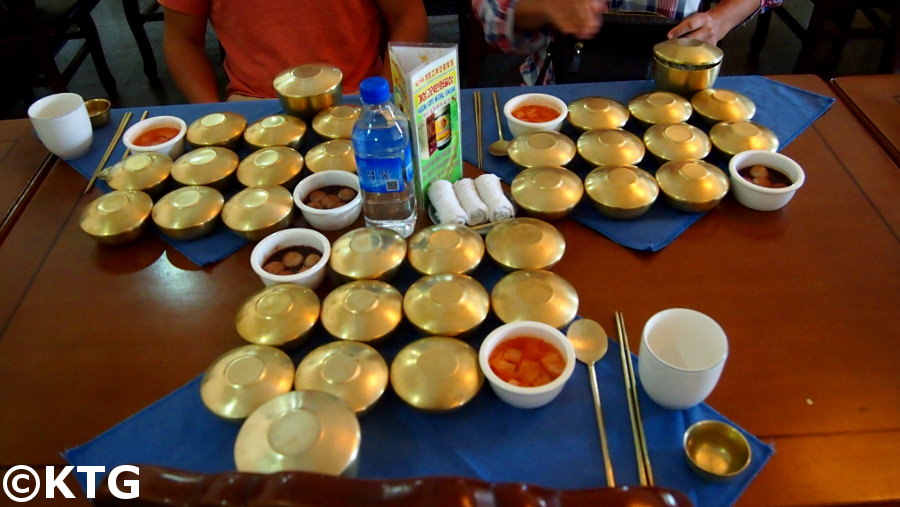 Local Supermarket - we will visit the only place in Pyongyang where foreigners can exchange foreign currency for Korean Won and buy goods together with locals. The Kwangbok Department Store's bottom floor has a supermarket, the first floor is where clothes is sold and the top floor is where we can try some local snacks. The site of Westerners in North Korea is not that common, so be prepared to see some surprised faces!

Dinner: Number 1 Pyongyang Duck BBQ Restaurant. Fresh sizzling duck! Options for vegetarians are also available for all of our meals.
Overnight: Yanggakdo Hotel, Pyongyang
Day 5 - August 18 (Saturday)

AM
Breakfast: Yanggakdo Hotel
Drive to Mount Myohyang - we head to the Northern interior part of the DPRK to one of its most secluded and beautiful spots; Mount Myohyang (meaning fragrance mountain).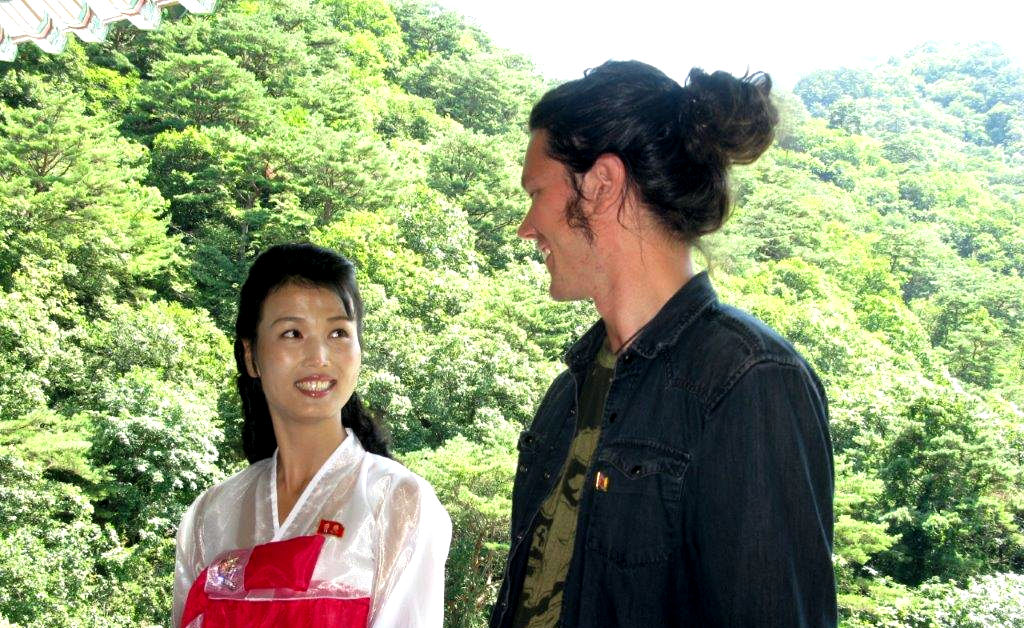 International Friendship Exhibition Centre - No other area better portrays how much the leadership of the country is revered than this place. The two buildings, built into the mountains and consisting of endless corridors and several floors, show thousands of gifts given to the leaders Kim Il Sung and Kim Jong Il and Comrade Kim Jong Suk (wife of President Kim Il Sung and mother of General Kim Jong Il). There is now a section too for the current leader Kim Jong Un.
Pohyon Temple - initially built in 1042, it used to be the centre of Buddhism in the region.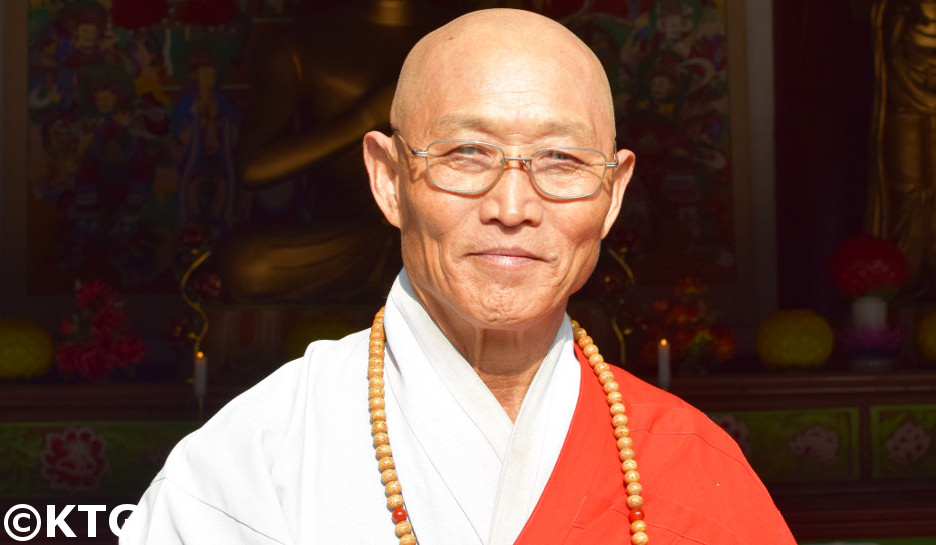 PM
Lunch: Hyangsan Hotel - one of the most luxurious hotels in North Korea
Grand People's Study House - you will be able to see Koreans studying. When going into the English classroom some curious students may try to practice their language skills with you. The views of Kim Il Sung Square are stunning from here!
Farewell Dinner: Local restaurant in Pyongyang
Overnight: Yanggakdo Hotel, Pyongyang
Day 6 - August 19 (Sunday)
AM
Breakfast: Yanggakdo Hotel
10.10 am train to Beijing - if interested in flying back please contact us
PM
Stopover at Sinuiju train station bordering China - DPRK customs will be carried out on the train and there is no need for you to exit it
Day 7 - August 20 (Monday)
Arrive in Beijing at 08:38 am
End of tour our North Korea Liberation Day Tour II