The Ryonggang Hot Spa Hotel | Nampo
A Guarded Compound, Hot Salty Water Baths and Petrol Clam BBQ
When staying overnight in Nampo, we will do so at the Ryonggang Hot Spa Hotel
Location of the Nampo Ryonggang Hot Spa Hotel
The Ryonggang Hot Spa hotel is located in Onchon county, about a 30 minute drive from downtown Nampo.
Click on the map above to go to our DPRK interactive map.
Arriving There
We drive through narrow, bumpy dirt roads in the middle of rural North Korea, going by fields and places not usually visited by foreigners. After a while we approach a gated compound that seems to have appeared out of nowhere. An armed soldier checks our group's documents and then salutes us as he lets our bus/car in.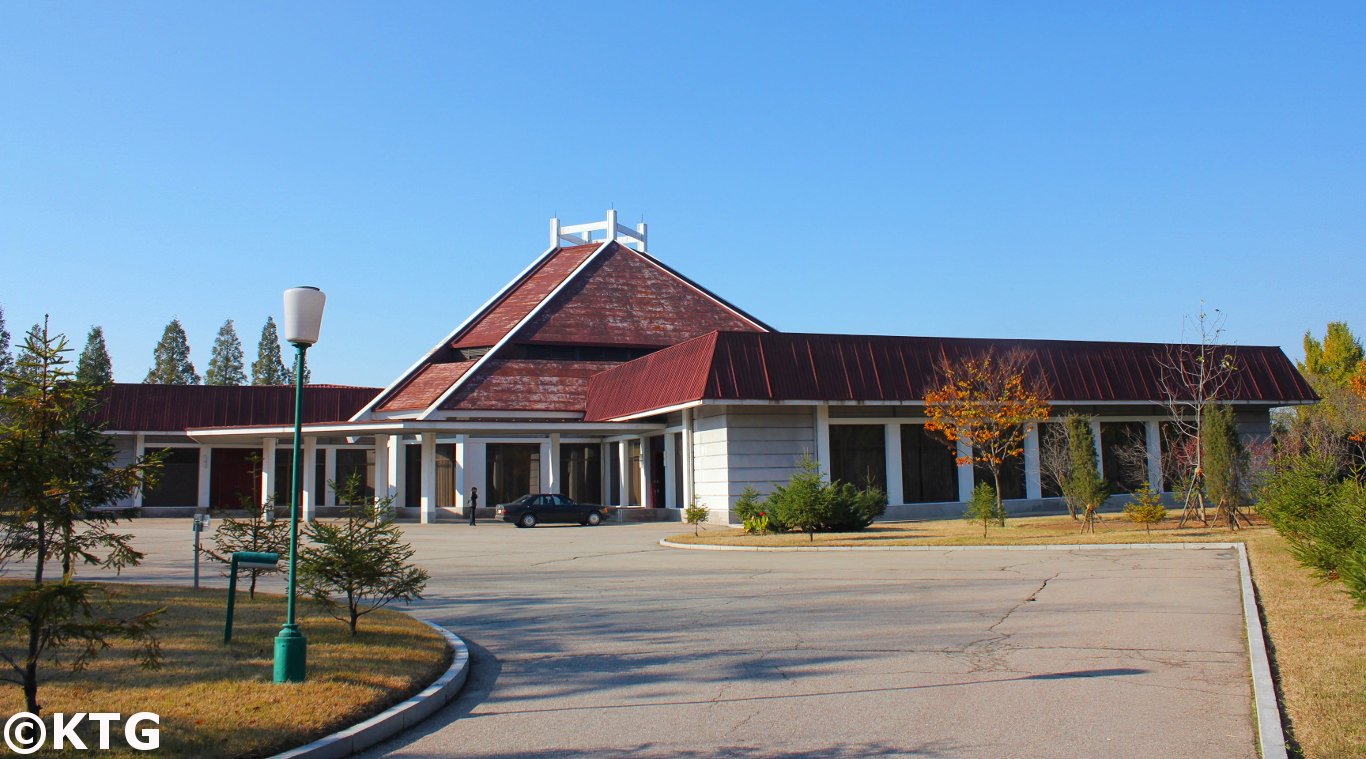 It is actually common for drivers to get lost on the way here as it is not a typical destination, but this really just adds to the experience.
Layout
The compound used to be a resort for high ranking DPRK officials. Once we arrive we are all given keys to our rooms which are located in one of the many villas the resort has.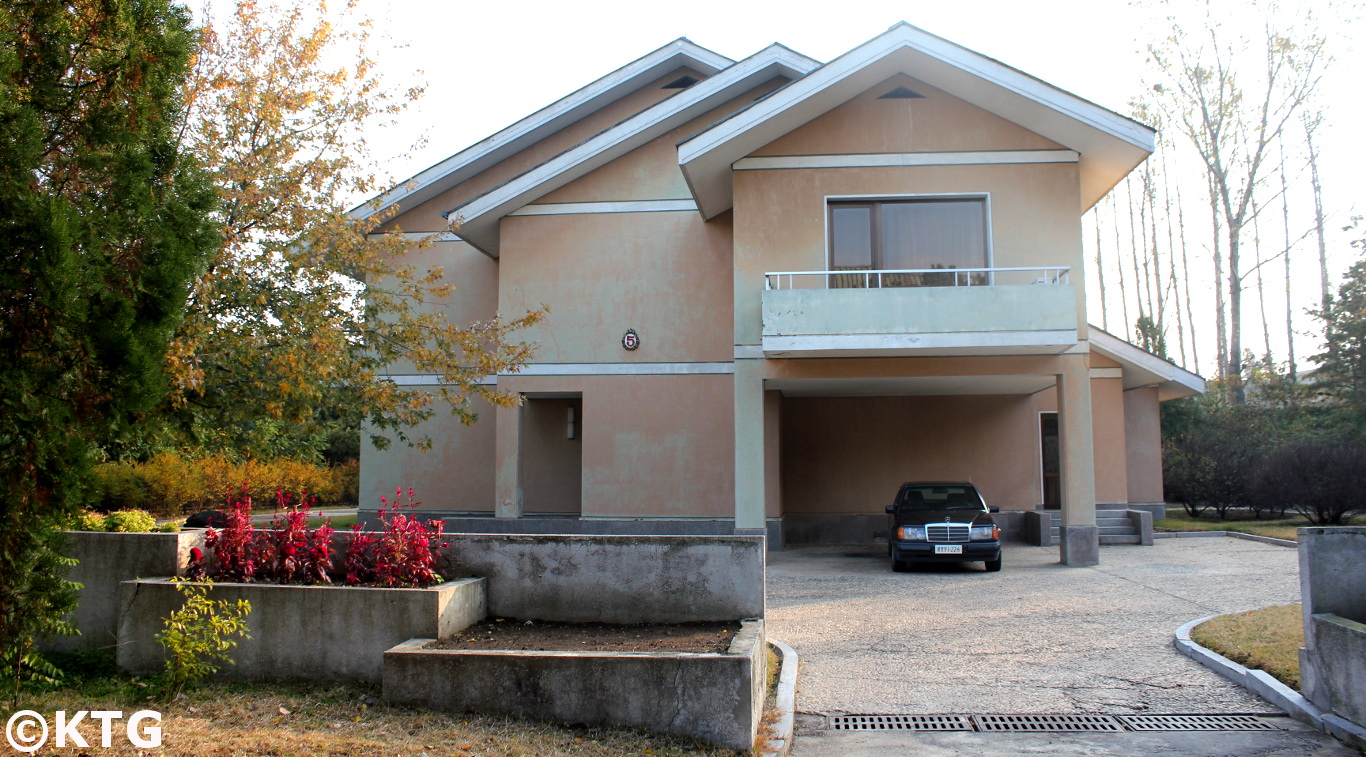 The rooms at the Nampo Ryonggang Hot Spa Hotel are located in a villa
There is a main reception building where we meet for dinner.
It is important that you remember the way from the reception building to your villa as it can be confusing, especially when it is dark. Remember that this is a remote rural area of North Korea and it is basically pitch black here once the sun sets.
Rooms
Each villa has several rooms and there is a sitting area with beverages at the entrance of your villa where you can sit and chat to others.
Rooms are big and very, very retro.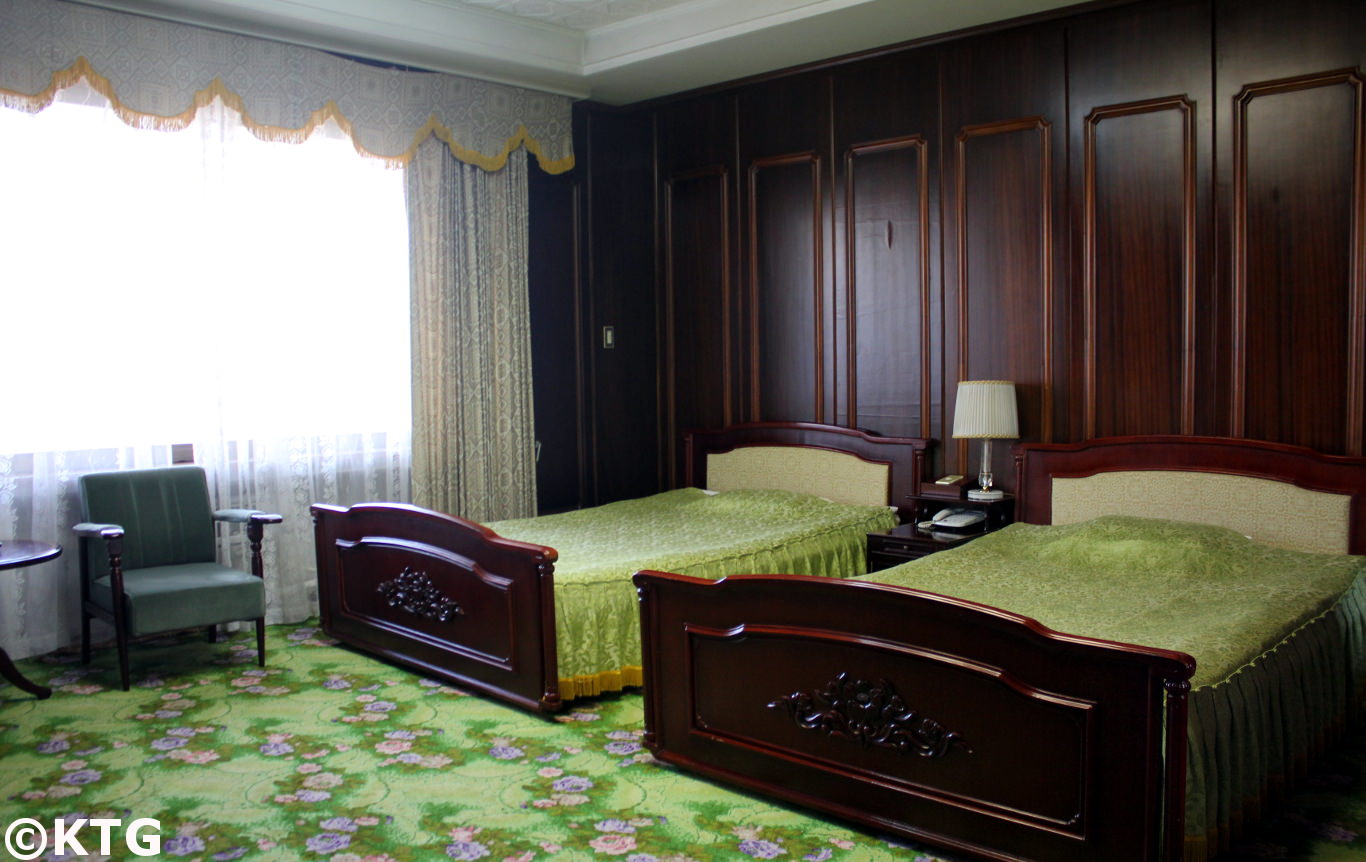 Very Retro - The Ryonggang Hot Spa Hotel used to be a resort for high ranking officials
Each room has a bathroom with a big bathtub and this, ladies and gentleman, is the famous spa.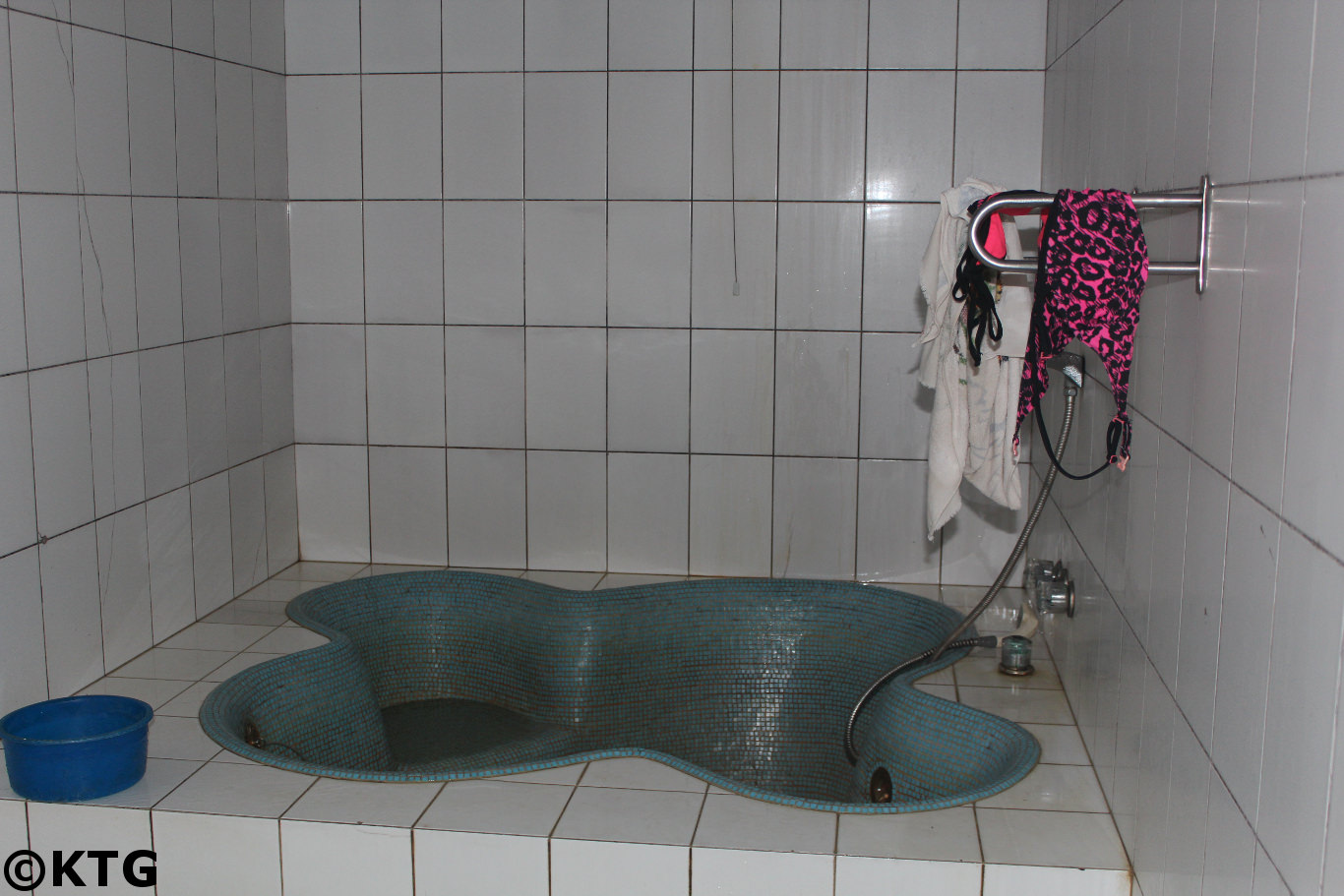 Nowhere near as glamorous as it may sound, the spa consists of a bathtub which has water coming directly from the water table under the ground. Please note that although the water is salty that it does not come from the sea.
According to our Korean partners, the water has a myriad of benefits to one's health, in fact too many for us to list! However, they urge us not to stay in the hot salty water for more than 15 minutes and that we should rinse with non-salty water after this timeframe.
Petrol Clam Barbecue
Each villa has an area outside where we can have a clam barbecue after dinner. We all usually meet at one villa for this optional meal and drinks. Having the bbq is optional and usually costs from 5 to 7 EUR per person.
So how does it work?
Well, it is actually a petrol clam barbecue. That's right! Our driver uses petrol (gas) from our vehicle, pours it all over some fresh clams from Nampo set in a neat circle, lights the whole thing on fire, waits for the clams to be cooked and voilà! Enjoy your fresh Nampo clams delicacy!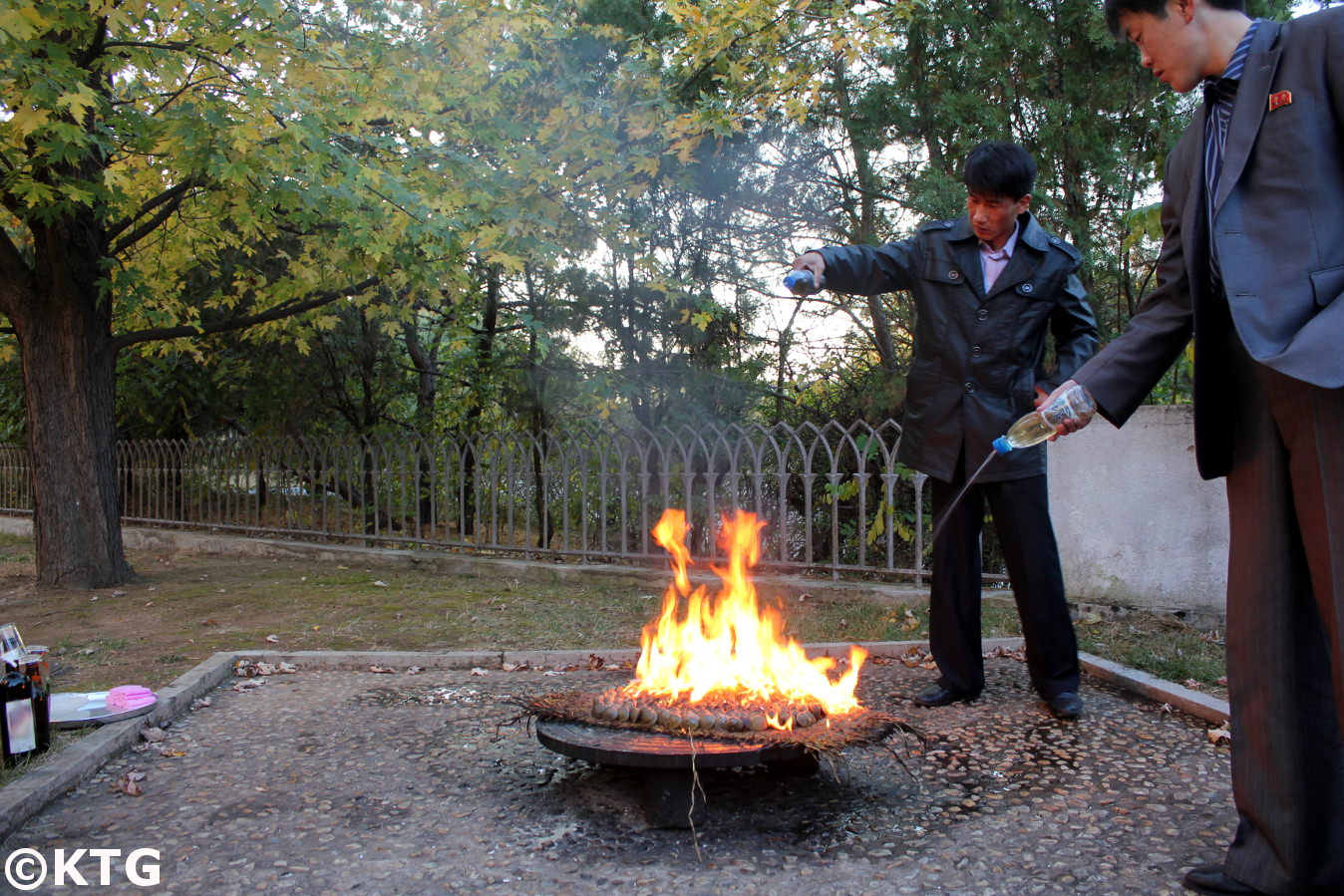 That's right! Gasoline is poured all over the clams!
Should I try some?
It is tasty, BUT if you have a weak stomach or are prone to getting sick when trying something new, we strongly recommend you to just watch the fun and stay away from any fresh seafood.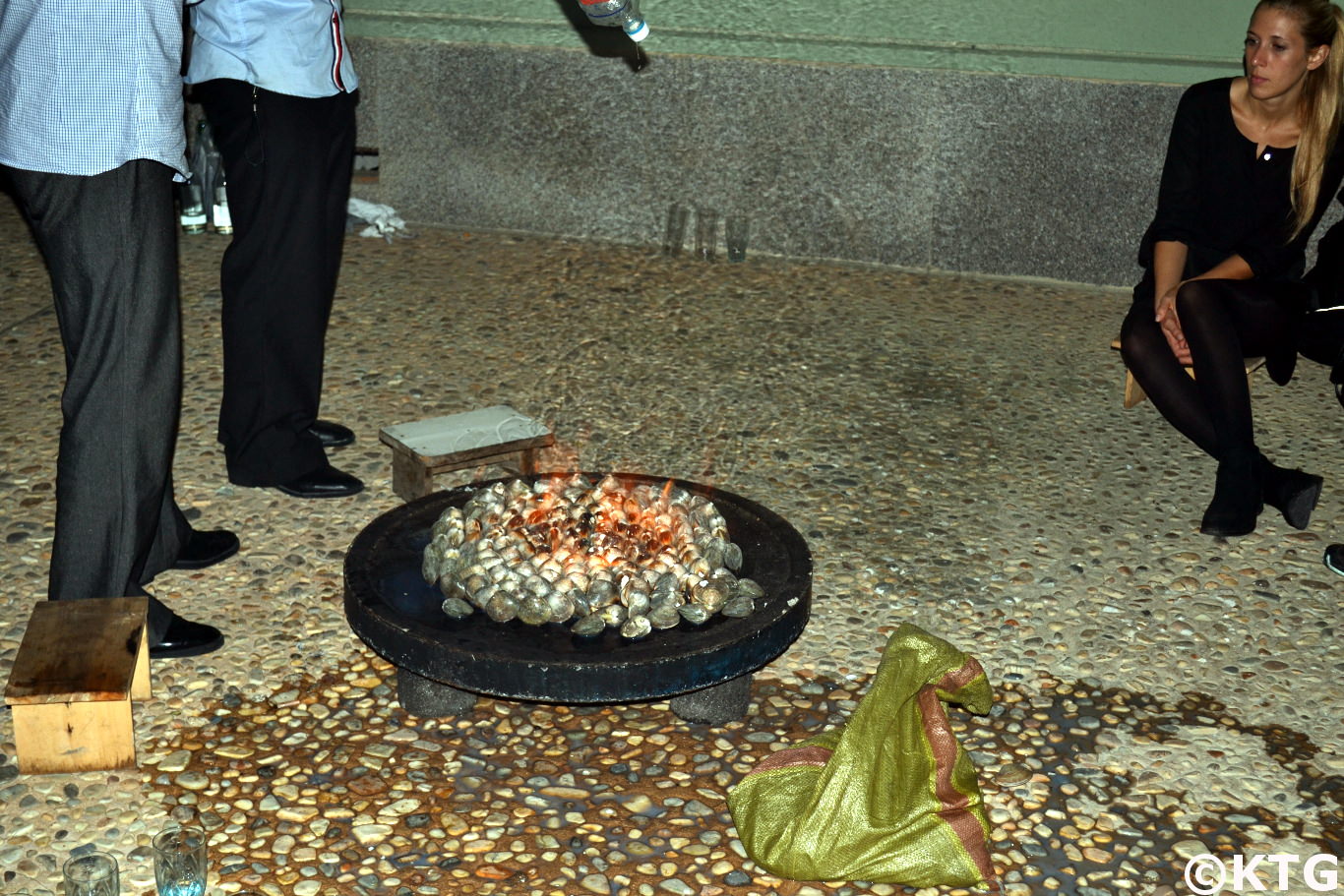 Thinking about it. KTG traveller observes as our driver pours petrol on clams.
It would be a shame to be sick for the rest of your DPRK tour. If you are feeling brave and would like to have some then our Korean partners will ask you to down the clams with some Korean soju, a rice liquor (usually around 23% alcohol in DPRK), in order to "keep your stomach clean." And pretty much everyone we have had petrol BBQ clams with in DPRK (guides, drivers, directors of the DPRK tourism authorities and even university students) have all told us this.
Yummy! Petrol Clam BBQ
In any case, if you decide not to go for the clams, hanging out, relaxing and chatting to the guides is a great way to get to know them even better.
Entertainment
The compound has a pool room, table tennis room and, for those of you feeling a brave, a karaoke room.
Be warned! Most Korean guides are excellent singers and table tennis players. Do remember this before accepting any challenges from them!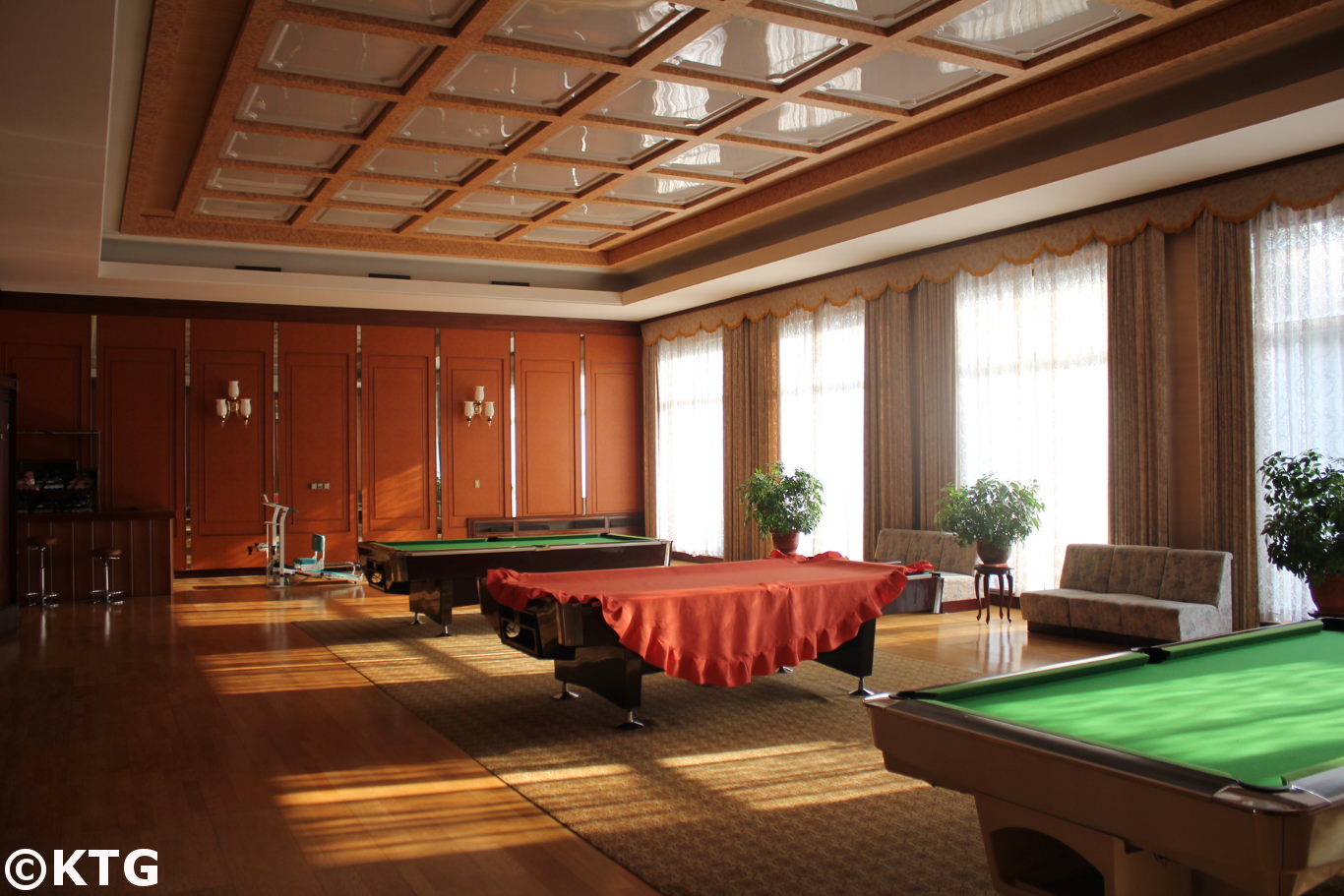 Downsides
Power cuts are common here, though they power the villas with generators and blackouts are less frequent than before.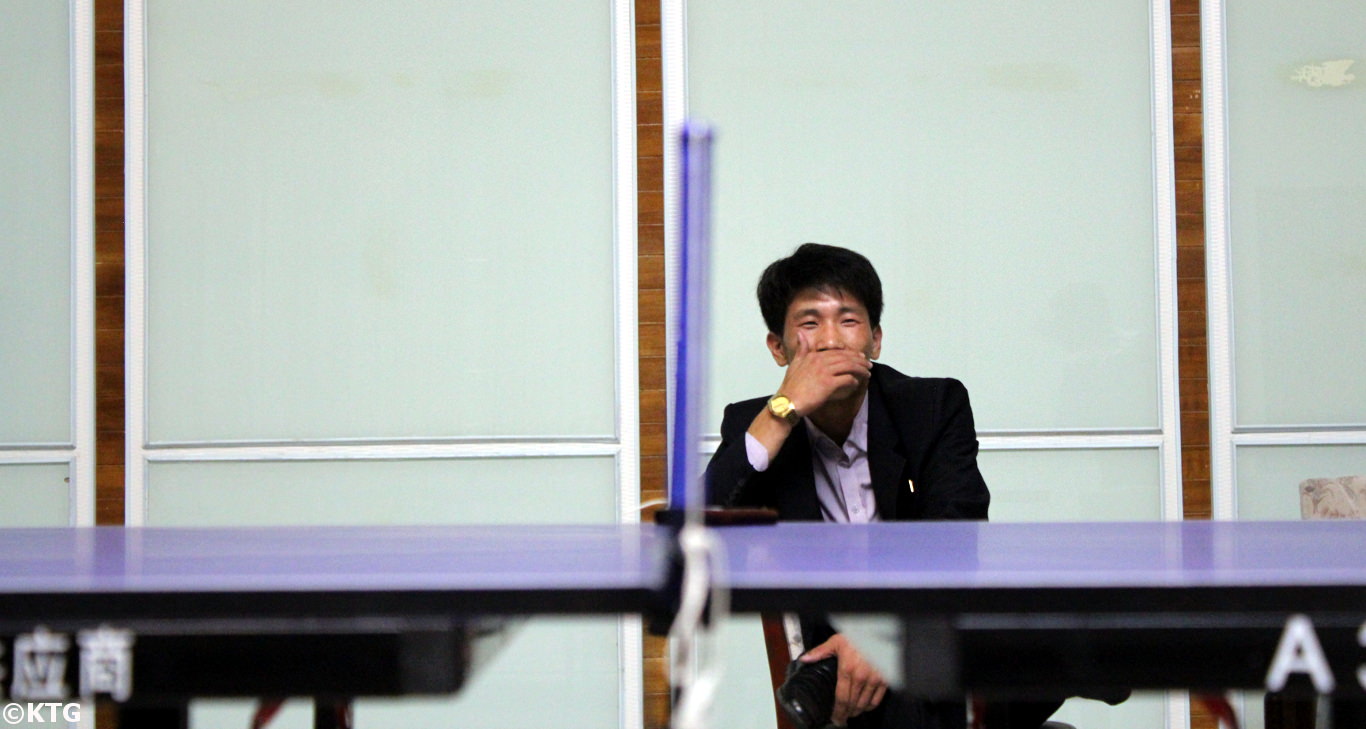 "Don't tell anyone, but..."
Working the hot spa may require some patience, one knob lets out cold water, another hot fresh water and one hot salty water. If you are unable to make the salty water come out please let our Korean guides know and they will try their best to sort it out for you. We have had travellers fail when trying to have any hot water come out, so please bear in mind that this may be a possibility!
Interesting
The fact that the hotel is in the middle of nowhere means that there is 0 light pollution. If there when there are clear skies, stargazing is the thing to do at night!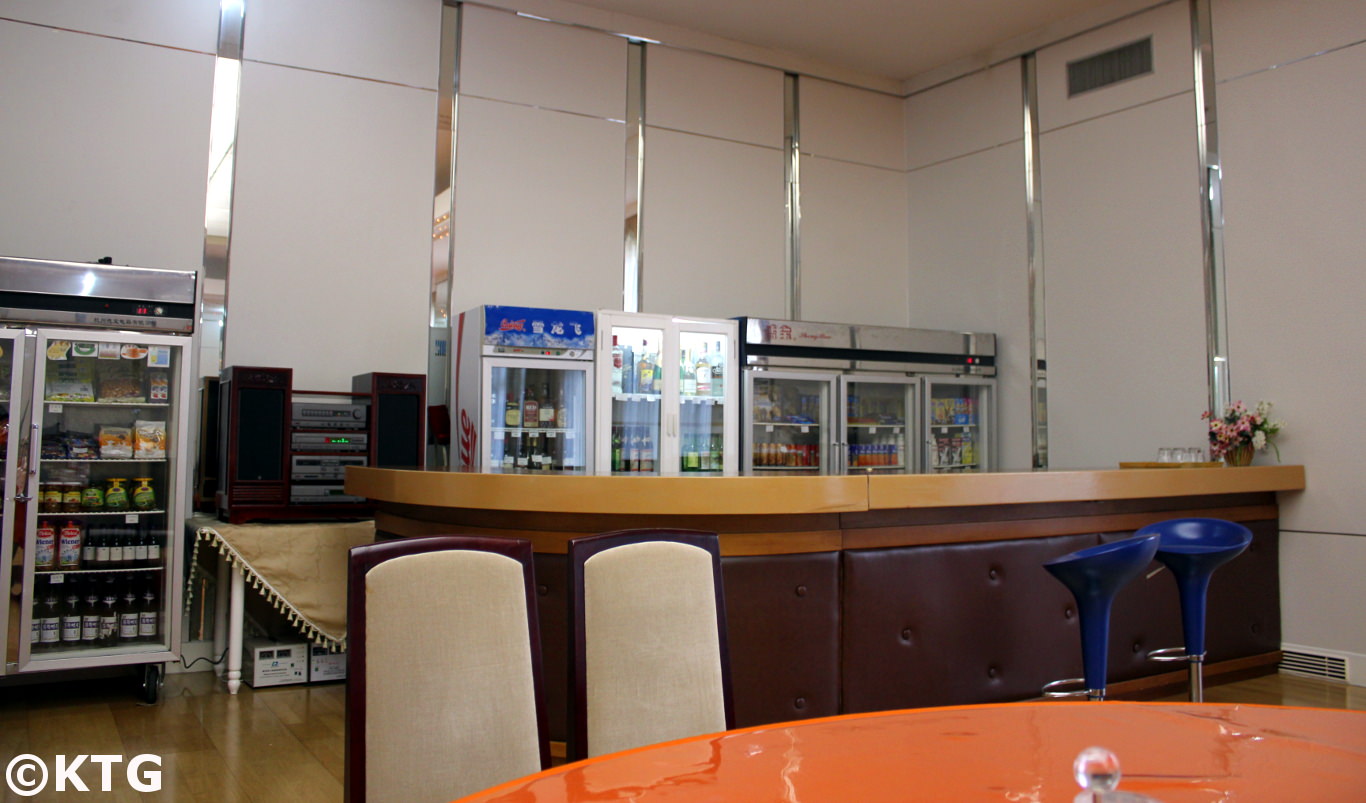 Bar at the restaurant of the Nampo Ryonggang Hot Spa Hotel
There are many cranes and other birds free in the compound. Check out the trees when you wake up to observe them.
To Sum Up
Do not expect any luxury when going to the Ryanggang Hot Spa Hotel despite it's pompous name. Blackouts are possible as are the chances of not having hot water. If the latter occurs, do please let your Korean guides know and they will try to fix this for you.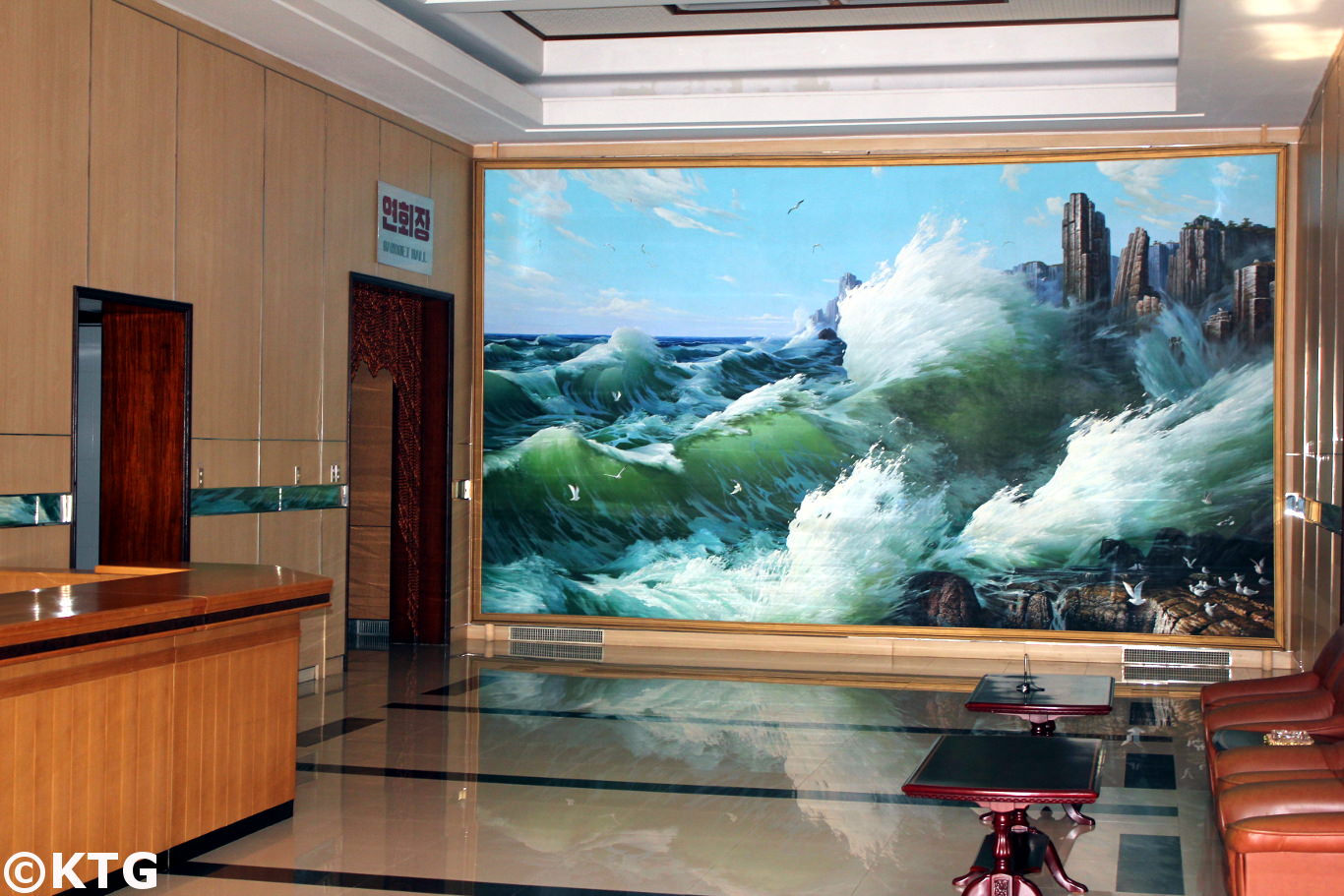 The road leading here is bumpy but on the other hand you will be able to see remote rural places rarely visited by foreigners.
North Korean university student from Kim Il Sung University trying some water at the Kangso mineral water bottling factory, near Nampo city
Staying here overnight will allow you relax and have some fun with the rest of the group and/or guides outdoors at night. Having a hot salty bath is also relaxing.
To sum up, be aware of the drawbacks of staying here in order to fully enjoy your stay the Ryanggang Hot Spa Hotel.
Have any reviews / questions about this hotel?
Do you have any reviews, stories and/or questions regarding the this hotel? Share them!