Pohyon Temple
Pohyon Temple is a buddhist temple located in Mount Myohyang. Mt. Myohyang is one of the six most renowned mountains in the DPRK.
360 ° Image of Pohyon Temple

Feel free to navigate the image in all directions to see around the temple! If you click on the volume image you will be able to listen to the noise of the area when we took the image.
Location
A 2.5 hour drive northeast of Pyongyang takes us to this beautiful corner of North Korea. Surrounded by lush pine tree forests and the fresh, clear streams, Mount Myohyang is known for being home to the International Friendship Exhibition Centre and this buddhist temple.
Brief History
The temple was initially constructed in 1042 AD and then rebuilt 399 years later before undergoing reconstructions again in 1765.
The centre of buddhism north of the Chongchon River, it was the largest temple in the area and originally boasted over 20 buildings and pagodas, the most famous of which is with no doubt Sokka Pagoda.
Like many historical sites in Korea, this temple was burnt during the Korean War.
Mount Suyang
Local monks can be seen at the temple and they usually give us an explanation of its history. It is possible for us to make a prayer there while lighting some incense.
Walking around this quiet temple, with the sound of birds chirping and water flowing in the background, is a relaxing experience. It tends to be quite quiet and exploring its huge gates, pagodas and temples offers us the chance to see a different aspect of the DPRK.
Sokka Pagoda
The most known icon of this temple, which perhaps you recognise from pictures online, is the Sokka Pagoda. This octagonal pagoda consists of 13 storeys and and stretches over 8.58 metres high. Each level of the pagoda has bells hanging.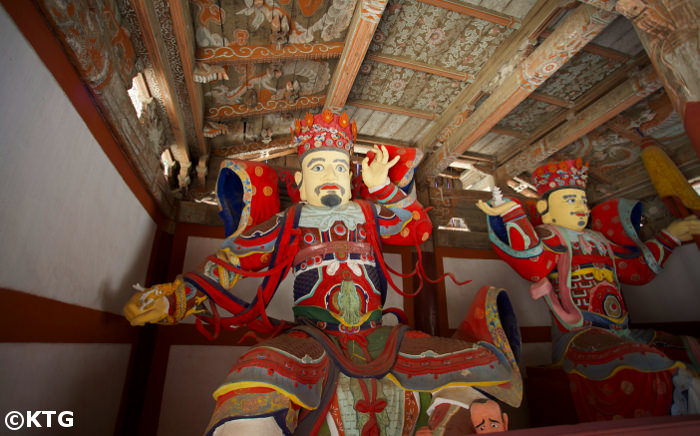 Buddhist Scriptures
80,000 buddhist wooden scriptures are kept in the temple facilities showing the advanced typing history of Korea. When going to the Koryo Museum down south in Kaesong you will notice the lady at the museum show samples of these scriptures proudly pointing out how typing was introduced in Korea earlier than in Europe. She will mention where the original scriptures are located and the place she mentions is precisely Pohyon Temple.
Buddhism in the DPRK
Another place where you can visit a buddhist temple in North Korea is Mount Jongbang in Sariwon. There too you will have the chance to see a local monk explaining the history of the temple and the role buddhism plays in the DPRK.