Extended North Korea Summer Tour 2021
Extended North Korea Summer Tour 2021 - check out the DPRK when there are very few Westerners in the country. The application deadline for our Extended North Korea Summer Tour is May 8th 2021. If interested in extending your tour please send us an e-mail stating how long you would like to extend for and if there are any specific places you would like to visit.
Accommodation
We will stay at one of the best hotels Pyongyang has to offer; The Koryo Hotel. Unlike other hotels such as the Sosan Hotel, Ryanggang, Haebansan, etc, this Deluxe Hotel is not a budget hotel and offers some of the best hotel facilities in Pyongyang.
We will also stay overnight at the Minsok Traditional Korean Courtyard Hotel in Kaesong city, near the DMZ which borders South Korea. This hotel that stretches to the footsteps of Mount Janam is in the old part of the city and the rooms were actually homes used by locals until 1989 before it was turned into a tourist complex.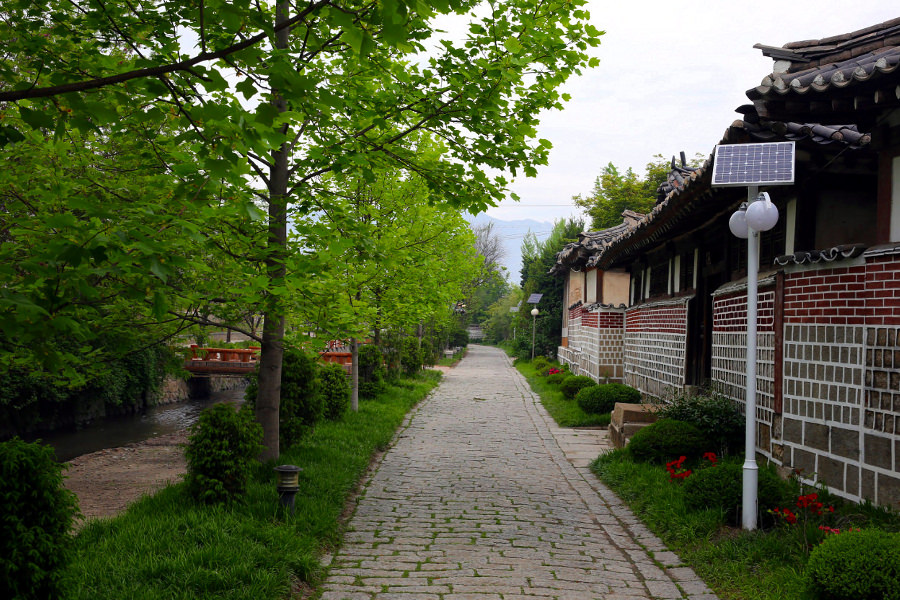 Group Size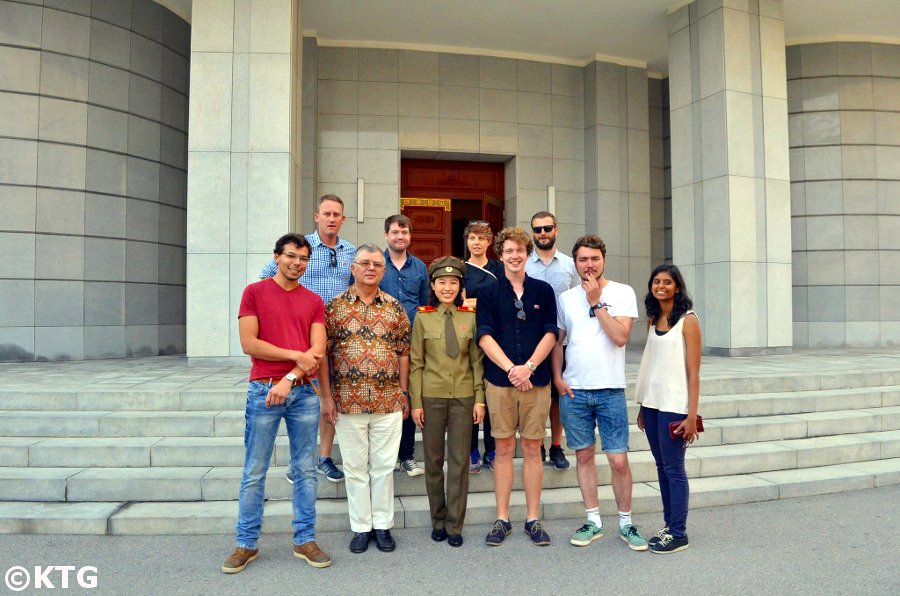 Our groups usually consist of 10 people or less. We strongly believe that having small sized groups helps us to get to know our local guides in Korea personally and have a deeper understanding of the DPRK, something not feasible with large sized groups. Our Western staff members go in frequently with groups to Korea and we know the guides very well.
We believe that having large groups of say over 20 people does not allow travellers to get to know the guides that well, whereas smaller sized groups allows for more interaction and flexibility once in the DPRK.
In the unlikely case of having 19 people, we will divide the group into two completely separate groups, each with their own guides, vehicle and driver.
Route and Map
Check the places that you will visit on this trip on the map below and hover over each place for more details.
Pyongyang is marked with the big red star.
Dandong and Sinuiju are just transit spots where we go stop by for Chinese and Korean customs. We do, however, offer extension tours in both cities so do please let us know if you would be interested in either option.
Tour Outline
You will spend 6 nights / 7 days in the DPRK plus one or two nights on the train depending on your means of entry and exit. You will explore Pyongyang, go to the famous DMZ, staying overnight at a traditional courtyard hotel in Kaesong city, see Sariwon city, head to the northern interior of the country and visit the secluded and beautiful area of Mount Myohyang and then cross the Korean peninsula reaching the east coast where you will stay overnight at the port city of Wonsan.
You can also join this tour by train. The tour cost will be lower in this case. Please notify us if interested in this option.
Highlights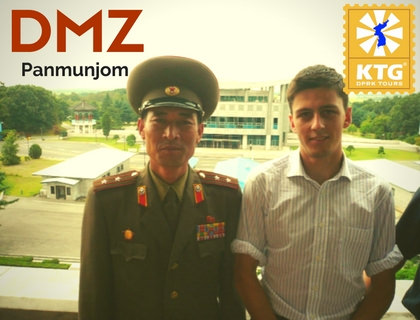 The DMZ where the Korean War Armistice was signed and where soldiers from North and South Korea face each other.
The ancient city of Kaesong.
Visiting a local cooperative farm.
Travelling across the DPRK all the way to the east coast where you will be able to swim with locals at the beach, check a summer camp and much more!
Detailed Itinerary
Please note that itineraries are always subject to change based on circumstances in the DPRK.
Day 0 - June 28 (Monday) for those entering by train
Those taking the train in meet our KTG staff downtown Beijing for our pre-tour briefing and will then take the train to Pyongyang, arriving the following day in Pyongyang
Day 1 - June 29 (Tuesday)
PM
Depart from Beijing at 13.05 flight JS 152 Terminal 2, Beijing Capital Airport
Arrive in Pyongyang at 16.05 (Pyongyang time)
Arch of Triumph - drive through the city centre of Pyongyang ending at this majesteuse monument which, by the way, is taller than its Parisian counterpart. As of April 2016 it is possible to go up the Arch of Triumph (this is optional and has a cost of 3 Euros). This offers great views of the city centre of Pyongyang including Kim Il Sung Stadium
Brief Walk around the area by the mosaic of President Kim Il Sung
North Korea Summer Tour Welcome Dinner: KITC Restaurant, Pyongyang
Hotel check-in: Koryo Hotel
Overnight: Koryo Hotel, Pyongyang
Day 2 - 30 June (Wednesday)
AM
Fountain Park - walk around here before heading to Mansu Hill. Families and friends usually come here for pictures
Mansudae Grand Monuments - Giant bronze statues of the Leaders Kim Il Sung and Kim Jong Il. Please note that this is not a tourist area and it is a very important place for Koreans. We kindly ask people to be respectful and on their best behaviour here.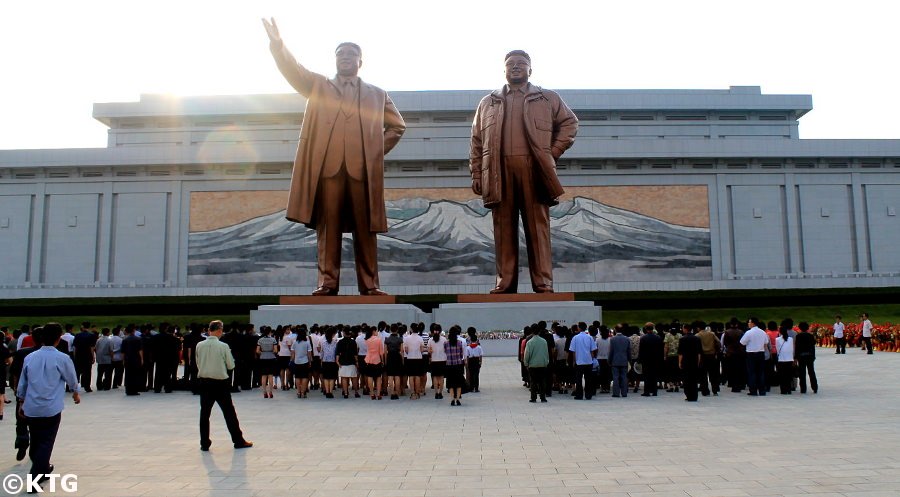 Views of Chollima Statue - representing the policy used by the DPRK government after the Korean War. The aim of this policy was to reconstruct the country at the speed of the mythical Chollima Horse
Victorious Fatherland Liberation War Museum (Korean War Museum) - the War museum has been now moved to the building next to where it used to be. It is usually described by our travellers as the largest museum they've ever visited. Please check our Youtube video of some of the US weapons shown in the museum:
USS Pueblo - US spy ship captured in 1968. The only US vessel in possession of a foreign country. This is kept in the DPRK as a trophy and proudly shown to North Koreans and foreigners alike.
Party Foundation Monument - monument consisting of a 50 metre high hammer, sickle and brush
Juche Tower- chance to go up the 150 metre tower (170 metres including the flame) that offers a panoramic view of Pyongyang. Please check our short Youtube video about the Juche Tower below:
PM
Ride on the Pyongyang Metro - one of the deepest in the world. Take an metro ride through various stops with locals and have a chance to experience Pyongyang at its busiest time!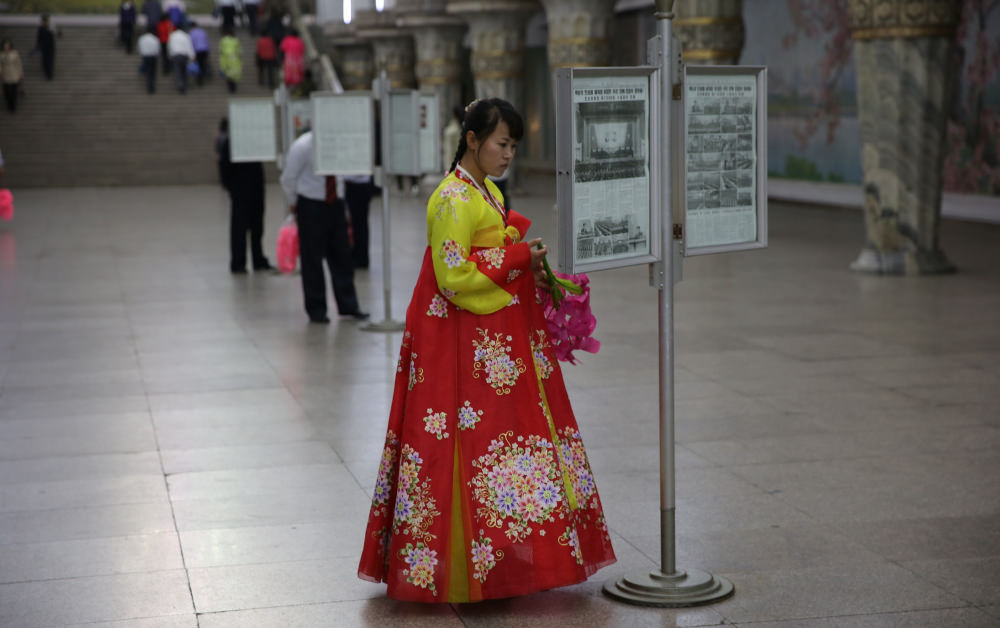 DPRK Bookstore - you will be able to purchase DPRK books published in English and other languages. DVDs and the Pyongyang Times newspaper are also sold here.
Drive to Kaesong - we head down the virtually empty Re-unification highway. As we drive toward Kaesong we will be able to see the Kaesong Industrial Complex (albeit at a distance) and the train station that was built with the railtrack that unites North and South Korea and awaits to be frequently used some day.
Check-in Minsok Hotel - traditional Korean courtyard hotel. Quietly located in the old part of Kaesong. Viewing the giant bronze statue of Kim Il Sung lit up at night and standing in the horizon from this hotel is an experience. You will be able to sit and eat on the floor as per Korean traditional style.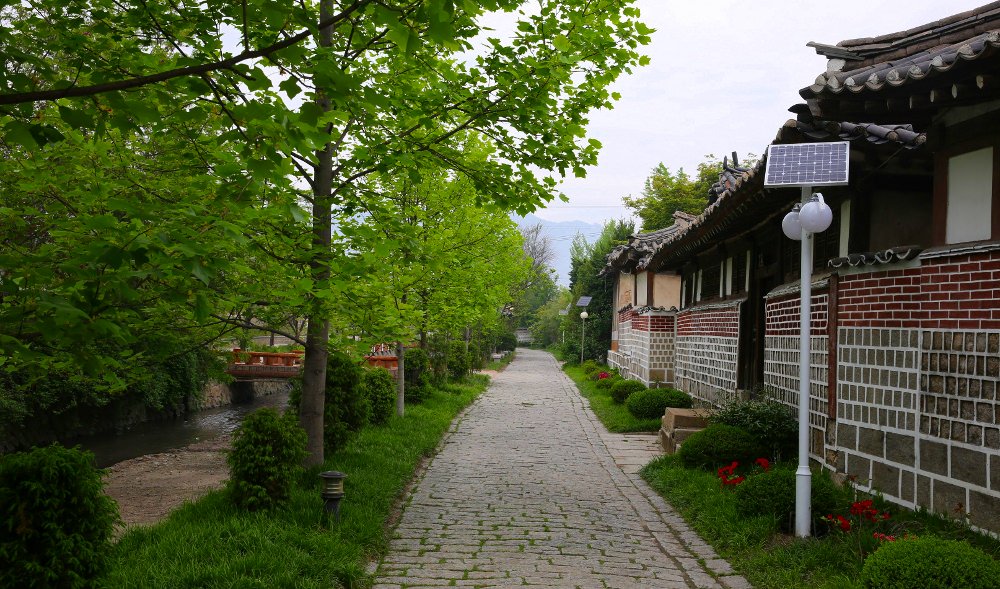 Overnight: Minsok Hotel, Kaesong
Day 3 - July 1 (Thursday)
AM
Breakfast: Minsok Hotel
Walk in the old part of town - we will have a brief walk going past the main gate of town in the old area of town leaving from our hotel.
Panmunjom (DMZ, aka 38th Parallel) - one of the highlights of our North Korea Summer Tour. You will have the chance to enter the famous blue negotiation room where talks between North; South Korea have taken place if they are opened to travellers, if not you will get close to them. You will also see where the War Armistice was signed and have tour of Panmunjom.
PM
Lunch at Tongil Restaurant (Kaesong) - dishes are served in no less than 12 small covered bowls per person.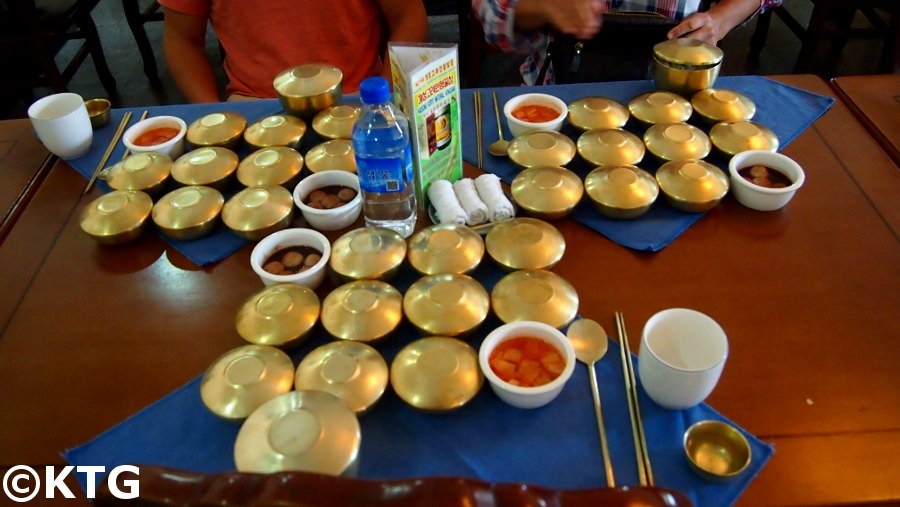 Koryo Museum (UNESCO World Heritage site) - the first university of the Korean peninsula. This building dates back to the 900s when Kaesong was capital of the Koryo Dynasty.
Kaesong Stamp Shop - just located outside the museum. You can also purchase souvenirs in Pyongyang if you wish.
Drive to Sariwon City - this lively city is located in North Hwanghae Province and is one of the largest in Korea.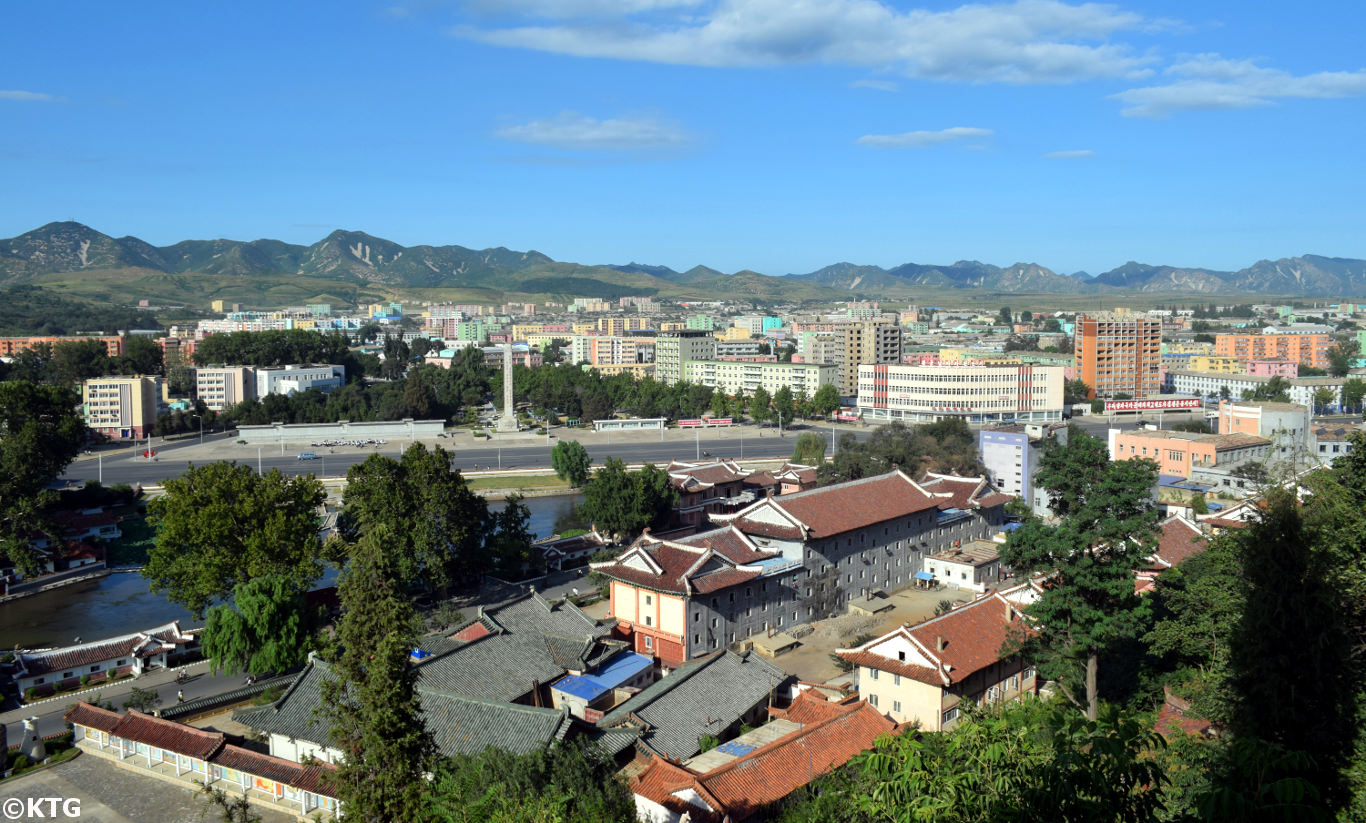 Ancient Model Pavilions - we will see how Koreans lived in ancient times and check some model pavilions of times past in Korea
Walk up Mount Kyongnam - this walk is not as daunting as it may sound! It takes around 5 to 10 minutes to walk up to the main pavillion where we will have fabulous views of the whole city of Sariwon and of its surrounding areas. You can see a short video of the main street we walk around in Sariwon and of the views from Mount Kyongnam in our video below (feel free to visit KTG's Youtube Channel for more videos):
Transfer to Pyongyang
Three Charters Reunification Monument - consisting of two ladies that represent the reunification of the Korean Peninsula
Dinner: Pyongyang Number 1 Duck BBQ, Pyongyang
Evening Funfair (optional) - rides cost from 1 to 5 Euros. We recommend going here to check out the lively atmosphere
Overnight: Koryo Hotel, Pyongyang
Day 4 - 2 July (Friday)
AM
Breakfast: Koryo Hotel, Pyongyang
Drive to Mount Myohyang - "Fragrance Mountain", we head north to a beautiful part of northwestern interior of North Korea
International Friendship Exhibition Centre - exposing thousands of presents given to President Kim Il Sung, his son General Kim Jong Il and his wife Comrade Kim Jong Suk. There is now too a section for the current leader Kim Jong Un.
Pohyon Buddhist Temple - first built in 1042, it was restored in the 1500s and 1700s and after the Korean War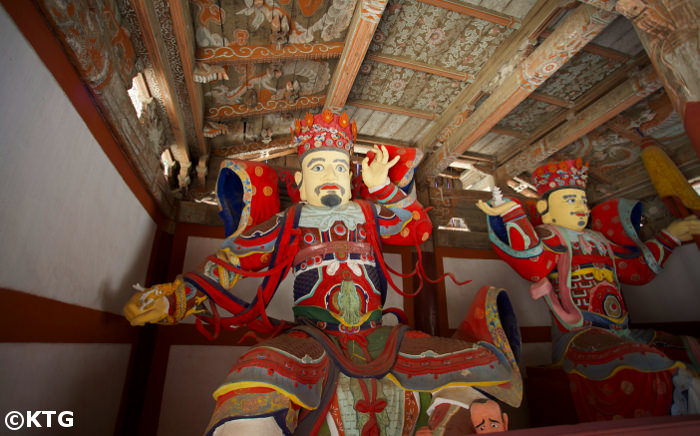 PM
Lunch: Hyangsan Hotel, Mount Myohyang - one of the most luxurious hotels in the DPRK
Drive back to Pyongyang
Grand People's Study House - more than just a library, this huge building is also a study centre and has amazing views of Kim Il Sung Square
Kwangbok Supermarket - this is the only place where foreigners can exchange foreign currency for Korean won and purchase goods with Korean won. This place is usually packed with locals and we are allowed to wander around by ourselves. The bottom floor consists of a supermarket which mainly consists of local goods. The first floor is where clothes is sold as well as other goods such as watches, home equipment. The top floor is where we can buy snacks and meals and it is where hundreds of people tend to gather with their families for some food!
Dinner: Local Restaurant, Pyongyang
Overnight: Koryo Hotel, Pyongyang
Day 5 - 3 July (Saturday)
AM
Drive to the coastal city of Wonsan (east coast) - cross the DPRK from all the way to the east coast, a very rare occasion to see towns and life in these isolated areas of the country
Stop at Sinpyong Guest House - relaxing views. Time for a refreshment before carrying on our journey to the other side of the DPRK.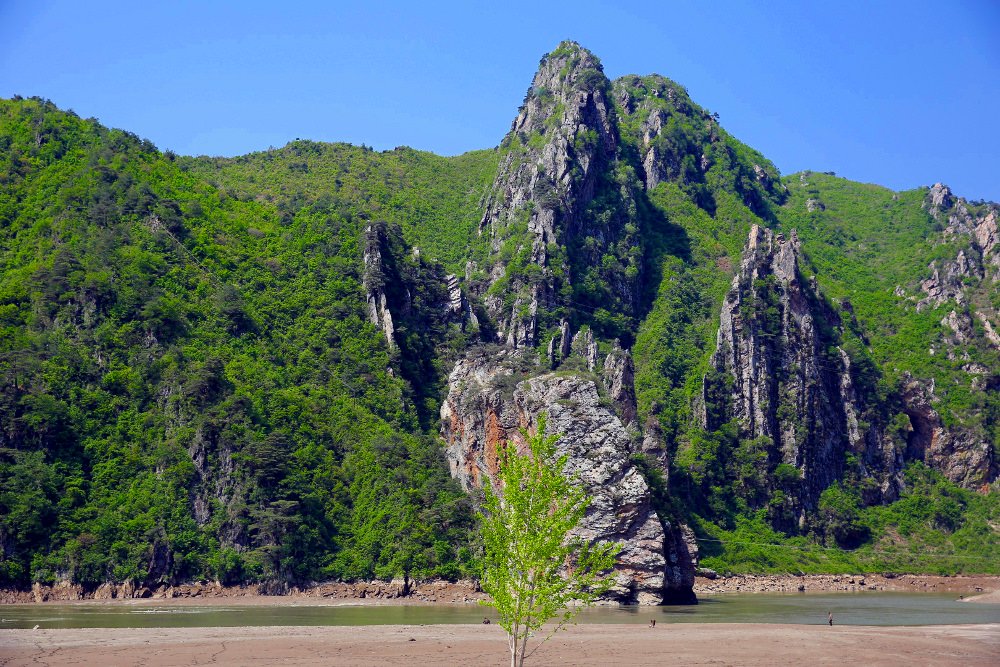 PM
Lunch: local restaurant
Chonsam Cooperative Farm - hance to see how farmers and their families work and live. We can visit a home and the school attended by the farmers' children. These are all located within the farm premises.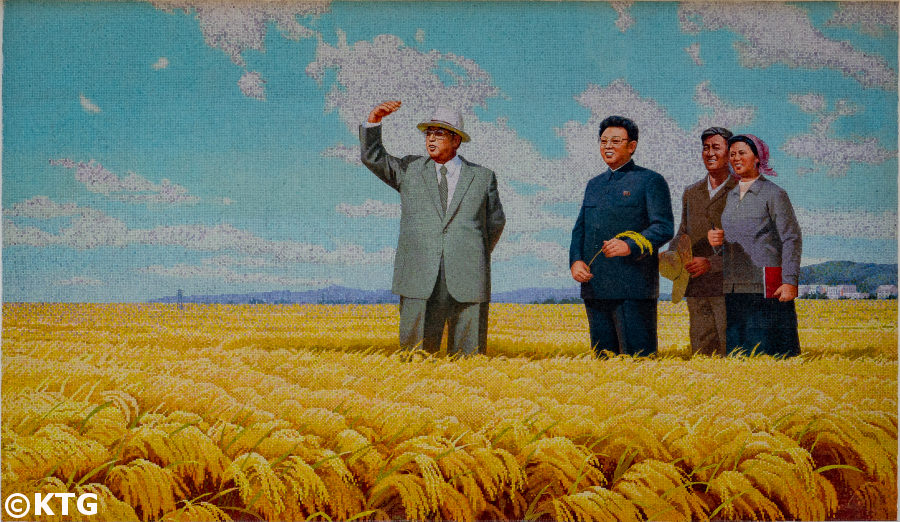 Wonsan Agricultural University - several famous Korean scientists and national heros graduated from this university. When riding here you will pass by several fields
Songdowon Beach - (chance to swim in the sea), optional sludge baths
Hotel Check-in: Tongmyong Hotel, Wonsan
Dinner: Local restaurant, Wonsan
Overnight: Dongmyong Hotel, Wonsan
Day 6 - 4 July (Sunday)
AM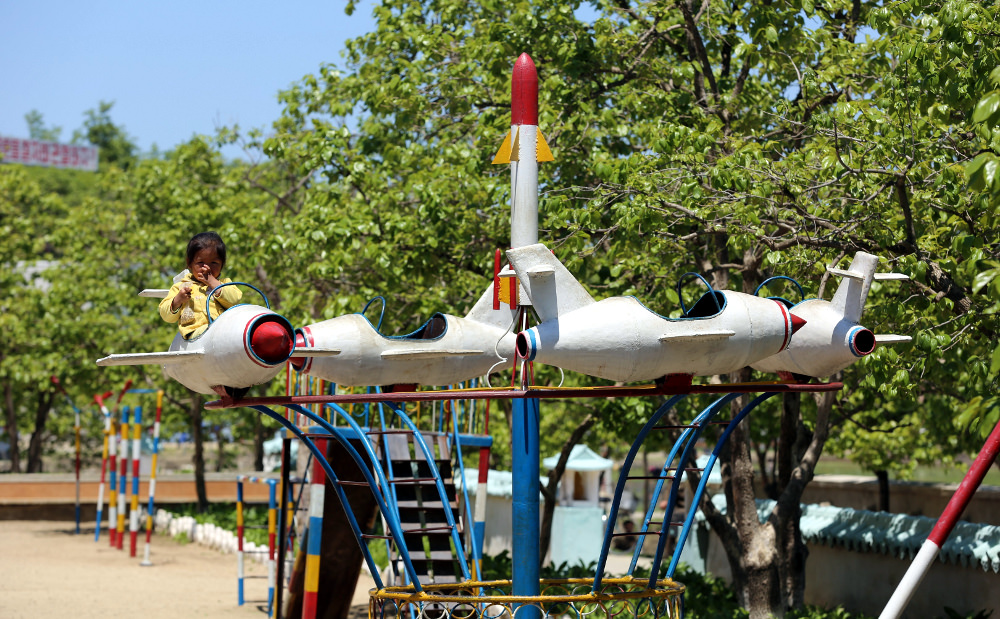 Walk to Jangdok Island - this offers views of the whole seafront of Wonsan
Walk around Wonsan City - Central Square and the pier - we can see locals getting along with their daily lives.
PM
Return to Pyongyang via the beautiful Ullim Waterfalls - (Ullim means echo in Korean). These were discovered by soldiers in 2001.
En-route picnic lunch / local restaurant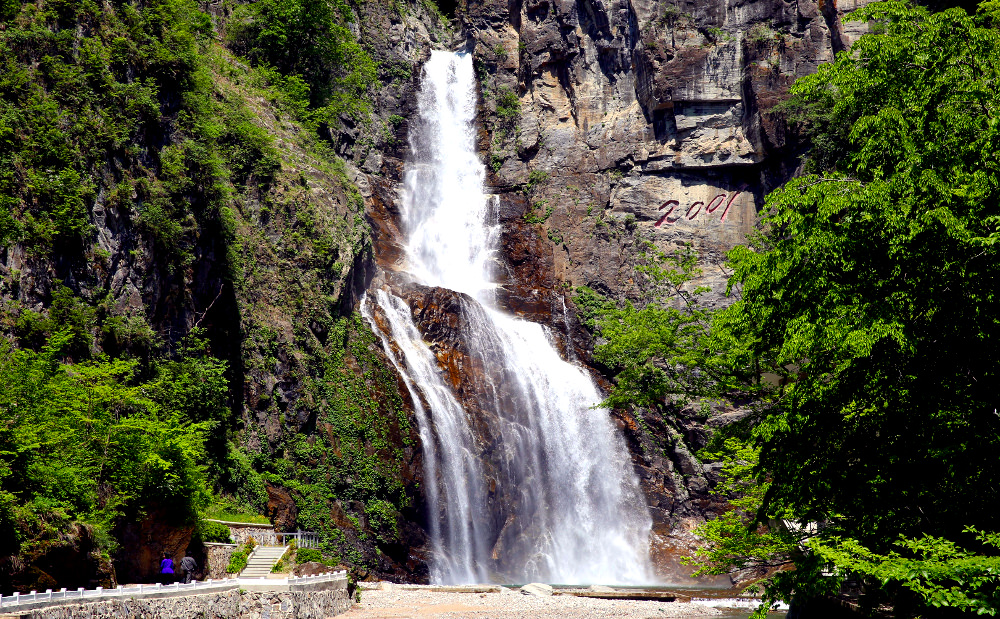 Arrival in Pyongyang
Evening walk around by the Taedong River in the centre of Pyongyang
Farewell Dinner: local restaurant, Pyongyang
Overnight: Koryo Hotel, Pyongyang
Day 7 - 5 July (Monday)
AM
Breakfast: Koryo Hotel
10.25 am train to China - if interested in flying back please do let us know
PM
Stopover at Sinuiju train station bordering China - customs procedures will be carried out on the train
Day 8 - 6 July (Tuesday)
Arrive in Beijing at 08:40 am
End of our 2021 North Korea Summer Tour 2021
Please go to our North Korea tourism page to see more information on other tours that we offer other than our North Korea Summer Tour 2021.