Korean War (1950 - 1953)
On June 25th 1950 the Korean War broke out. An armistice, not peace treaty, was signed on 27th July 1953, a very important date in the DPRK calendar; Victory Day. This day is usually celebrated with mass dances and, weather permitting, picnics and people in the park (July is part of the rainy reason in DPRK).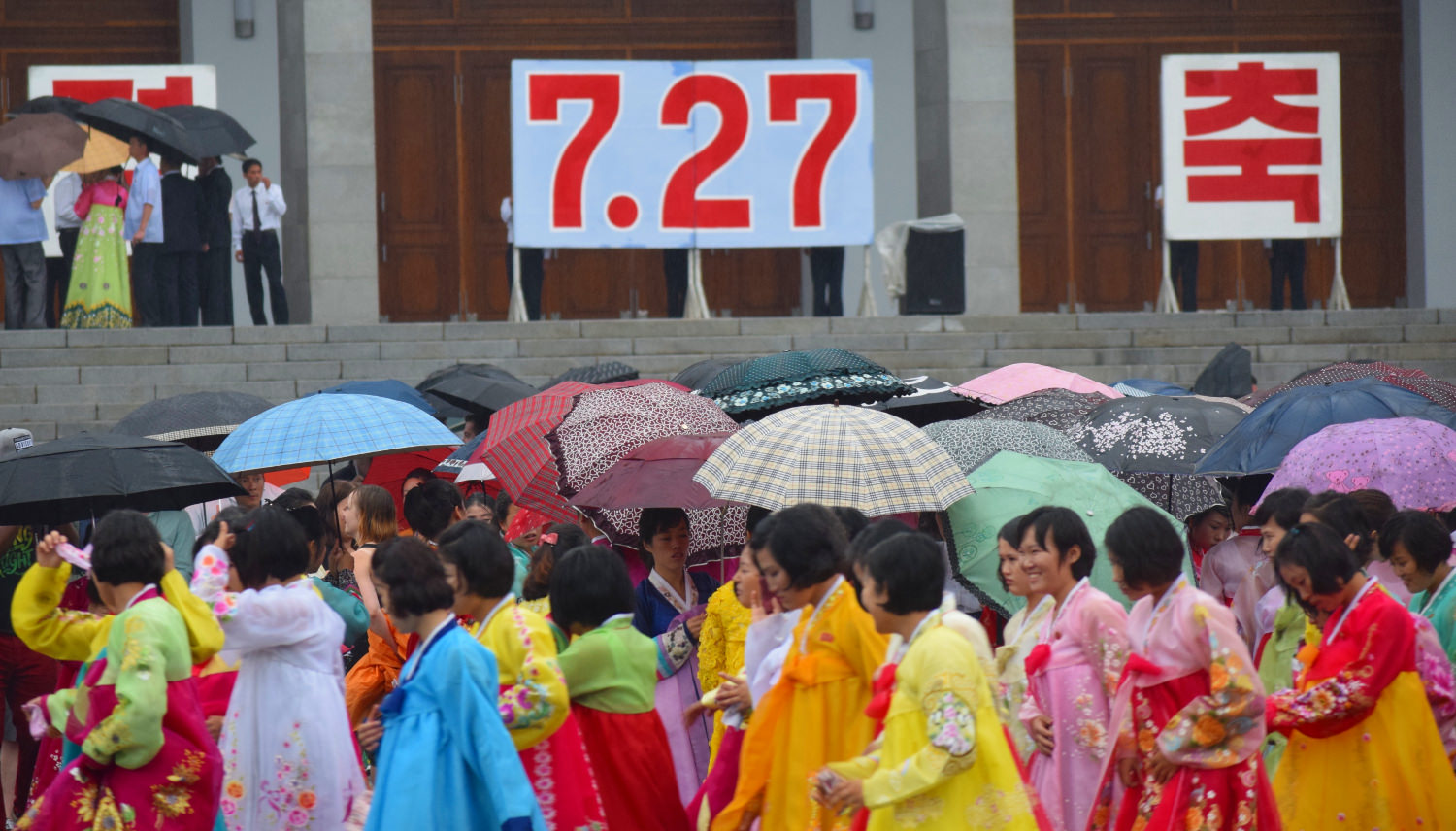 Three years of this war left the peninsula totally devastated and an estimated more than 3 million death casualties. The peninsula remained divided just south of the 38th parallel, with a capitalist south and a communist north.
The UN/US managed to cross the 38th parallel. Commanded by General Mc Arthur who wanted to take the war all the way to China's border, the US & UN forces took the fighting up north, across the demarcation line and into Pyongyang. Confrontation with Chinese soldiers was met, but the US ignored these and kept heading north towards the Chinese border.
The DPRK was heavily bombed by US forces; in the Pyongyang the ratio of bombs per citizens was roughly 1:1.
They soon saw themselves fighting not only against DPRK forces but against 300,000 Chinese troops. The North Korean & Chinese troops drove the US & UN forces south, who found this no easy task and had to fight their retreat given the large number of communist troops.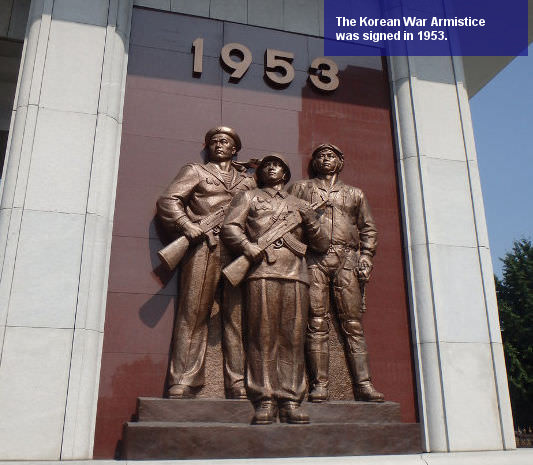 1953 is when the Korean War Armistice was signed
In July 1951, a year after the break of the Korean War, peace talks began as it became clear that military unification from either sides was not possible in the short-term. These talks where extended for 2 years, time during which the war continued and death and injury casualties of soldiers and civilians kept rising.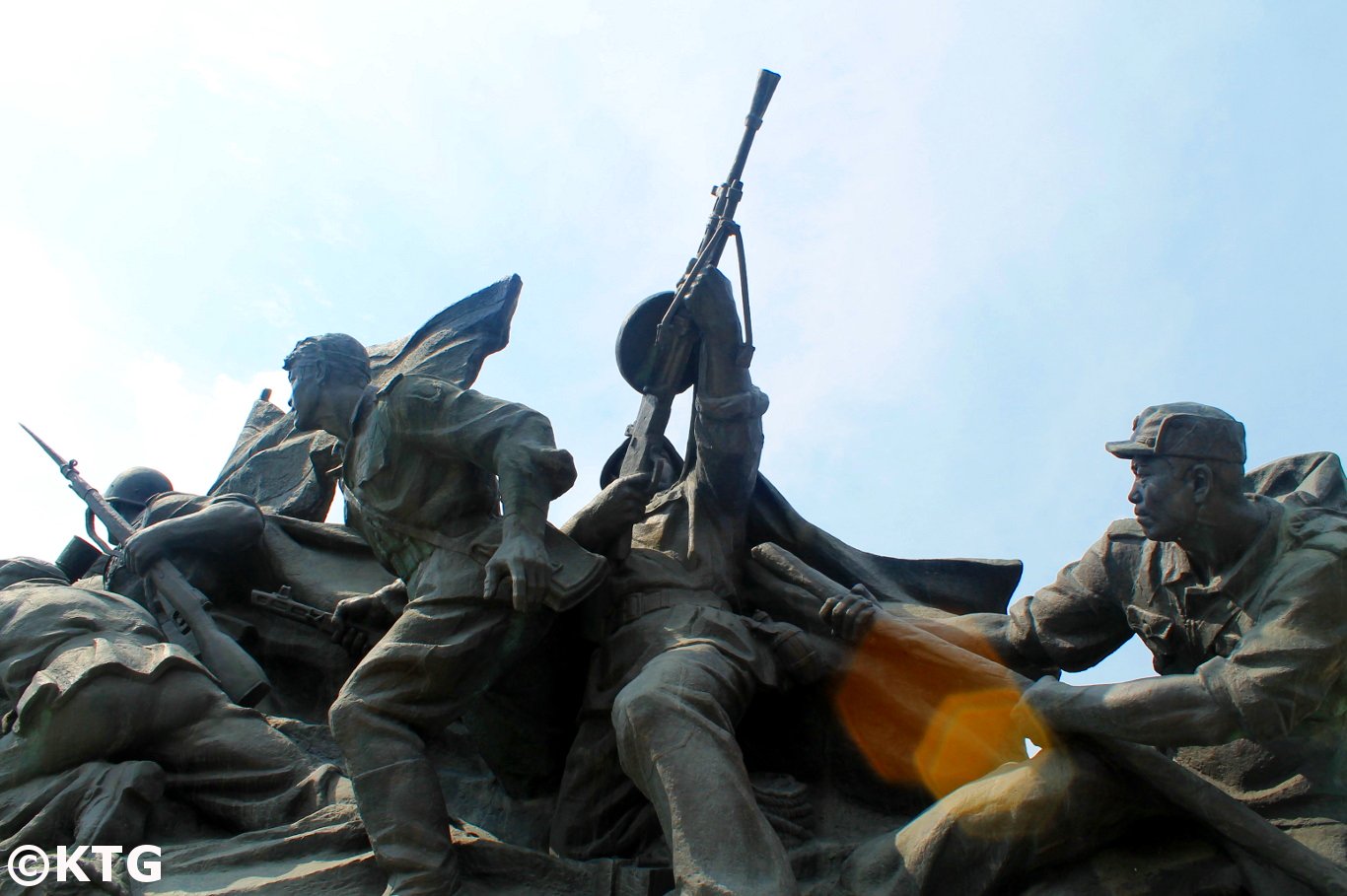 In the West the Korean War is sometimes referred to as the "Forgotten War" as it is one of the major armed conflicts of the 20th century but gets much less attention than other wars. In North Korea it is referred to as the "Victorious Fatherland Liberation War" and seen as a great national accomplishment against US aggressors. In South Korea there are several museums remembering this tragedy, such as in Pusan where there is a UN memorial cemetery.
In the DPRK the Victorious Fatherland's Liberation Museum explains the DPRK official version of the War and has weapons and scenes reconstructions. China also has museums remembering such conflict, such as the American Aggression Museum in Dandong, across the border from North Korea. The Military Museum in Beijing also has several US tanks that were captured then.
Please click on our our Koryo Dynasty page to read about when the whole Korean peninsula was under one centralised unified government or visit the page USS Pueblo to go from the section Korean Civil War to another major Cold War issue involving the DPRK and the US.