Moran Hill | 모란봉 | Pyongyang
Fun, Fun, Fun in the Heart of Pyongyang
Dancing, drinking, enjoying a bite or two with locals and celebrating national DPRK holidays in beautiful, lush parks packed with historical landmarks is not something that usually comes to mind when thinking of a trip to North Korea.
Check out KTG's Tim having the time of his life celebrating the DPRK's National Day (9 September) in Moran Park.
Welcome to Moranbong Park; the place where all the fun in Pyongyang takes place!
Introduction
Moran Park is the place to be in Pyongyang on Sundays and holidays. It will be absolutely packed on holidays in summer, spring and autumn. There are also usually people dancing here in winter on Sundays despite the freezing temperature.
Who says it's empty in winter? Locals dancing in late December at the lovers pavilion in Moran Park.
Holidays
Moran Park is packed on major DPRK holidays, especially in spring, summer and autumn. People also go there on winter holidays and throughout the year on Sundays.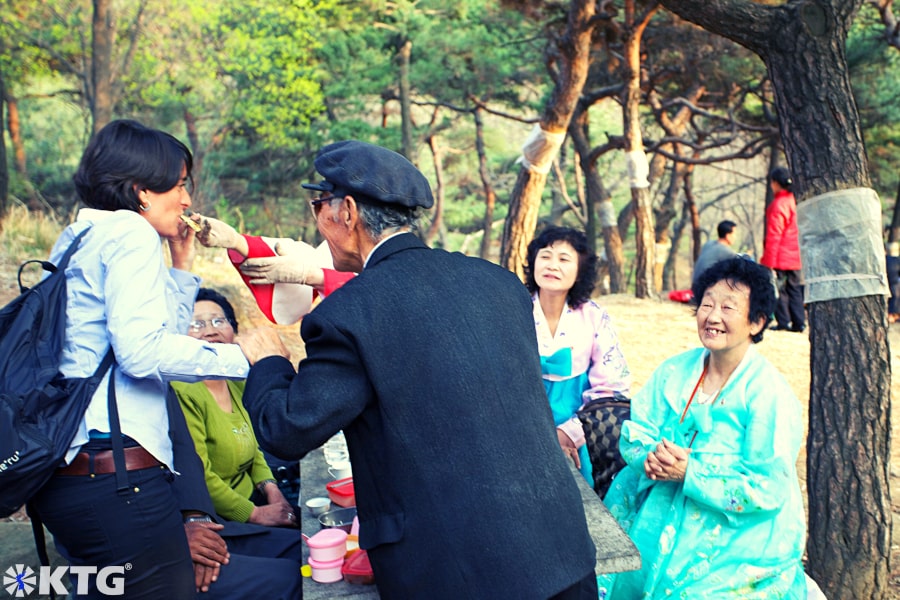 KTG traveller enjoying a picnic with locals in Moranbong Park
You will literally see thousands of people picnicking, dancing, drinking, playing games on holidays such as the Day of the Sun (President Kim Il Sung's birthday), May Day, Liberation Day, National Day, etc.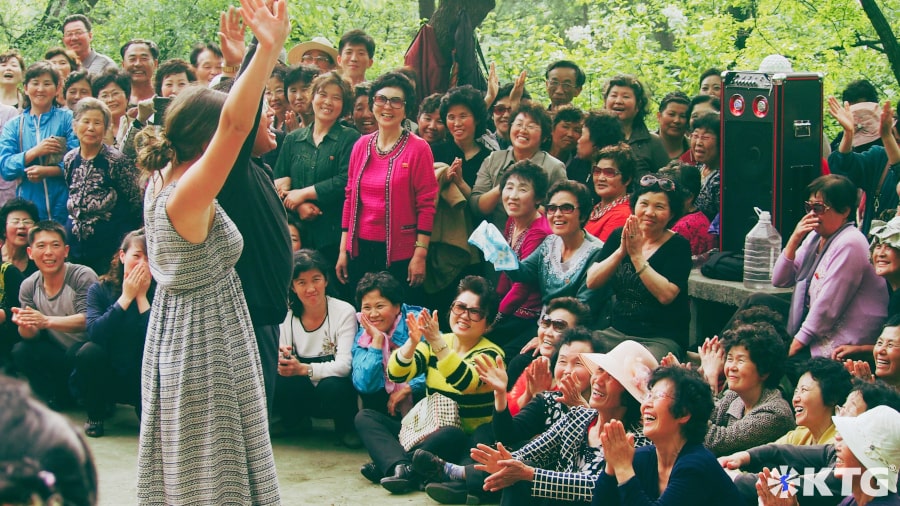 Location
Moranbong Park is located in central Pyongyang just across from the Arch of Triumph and there is an extensive list of famous modern sites there.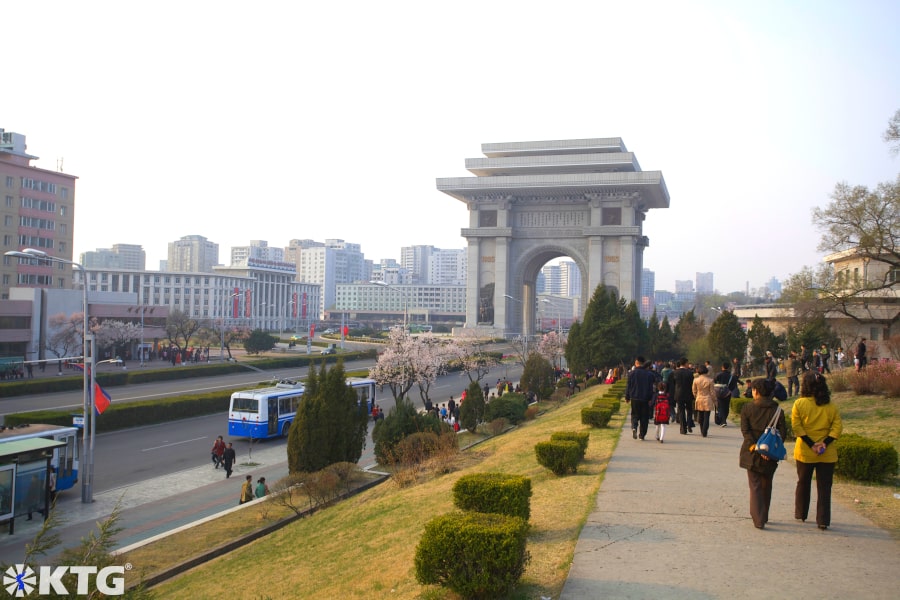 Views of the Arch of Triumph from Moran Park
Historical Relics
Visiting Moran Hill will not only allow you to have fun with locals, but it will give you the chance to explore several Korean historical sites.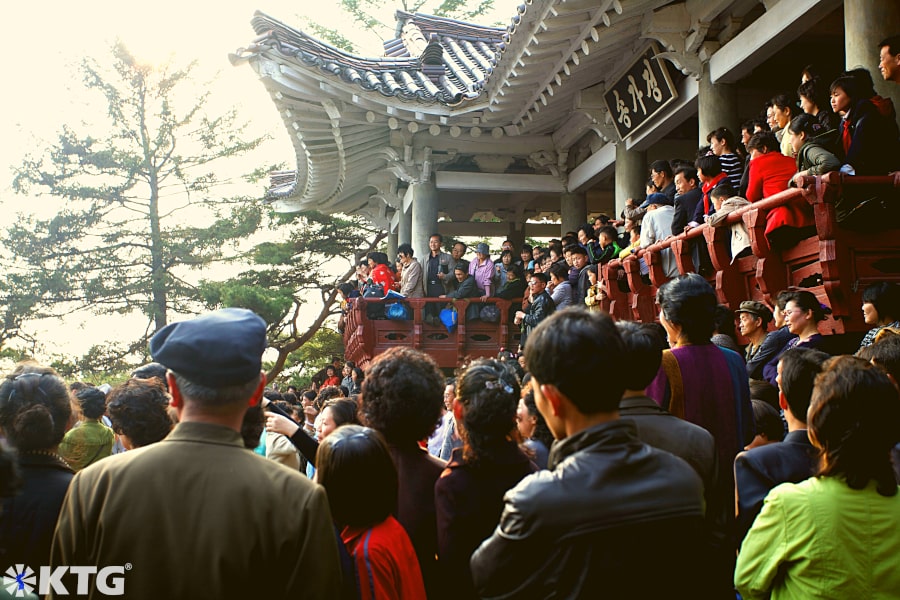 Specifically, there are many relics of the city wall surrounding Pyongyang built during the Koguryo Dynasty from 37 BC to 676 AD where many battles have been fought. Examples of these sites include the Ulmil and Choesung pavilions used to protect and watch out for the city. The Ulmil pavilion is known as being providing one of Pyongyang 8 most famous views in spring.
Its name comes from a legendary Ulmil fairy who was amazed by the beauty of the area and decided to descend from heaven to visit it. Another theory regarding this place's name is that it comes after General Ulmil who bravely defended the area in the Koguryo Dynasty.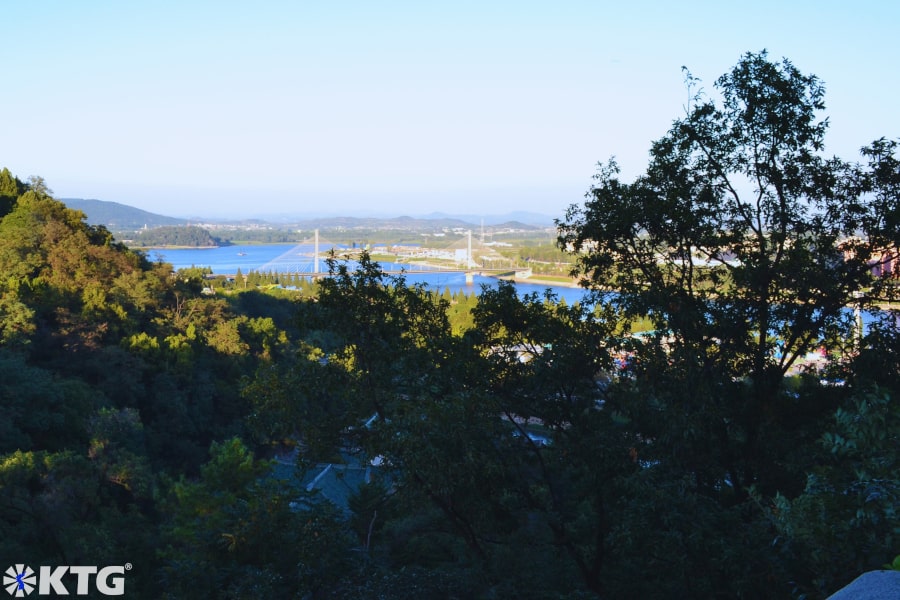 Views of Pyongyang from one of Moranbong's Park many pavilions
Most historical sites were destroyed by US bombs during the Korean War and the have undergone restoration.
Mass Dances just outside Moranbong Park. The Pyongyang Broadcasting Tower can be seen in the background
Other examples of the long list of historical remains in Moran Park include Pubyok Pavilion, originally called Yongmyong Pavilion as it was an extension of the Yongmyong Temple built in 393 AD and an Chongnyu Pavilion, and 8-sided, 5 story pagoda dating from the Joson Dynasty.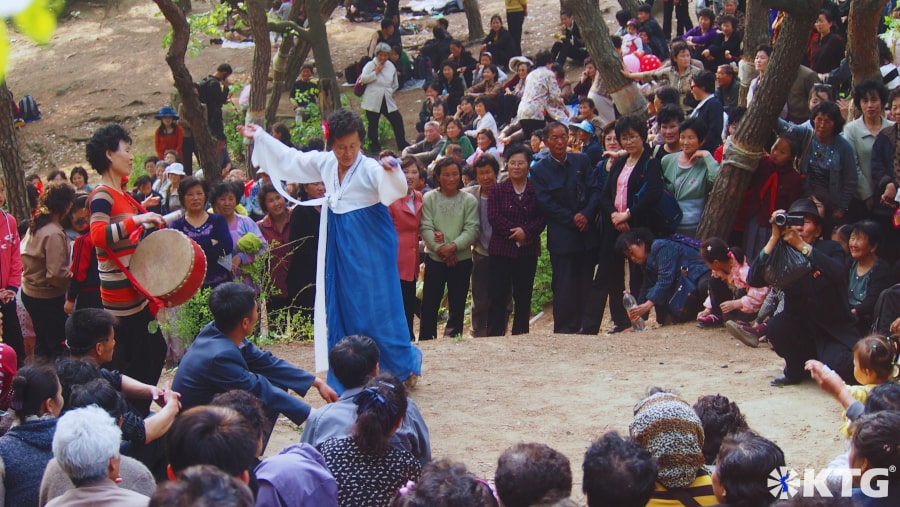 Another popular pavilion is "Lovers' Pavilion". Located in a lower part of the park, Aeryon Pavilion is not a defensive structure but it is one of the most popular amongst locals throughout the year, including the chilly winter months!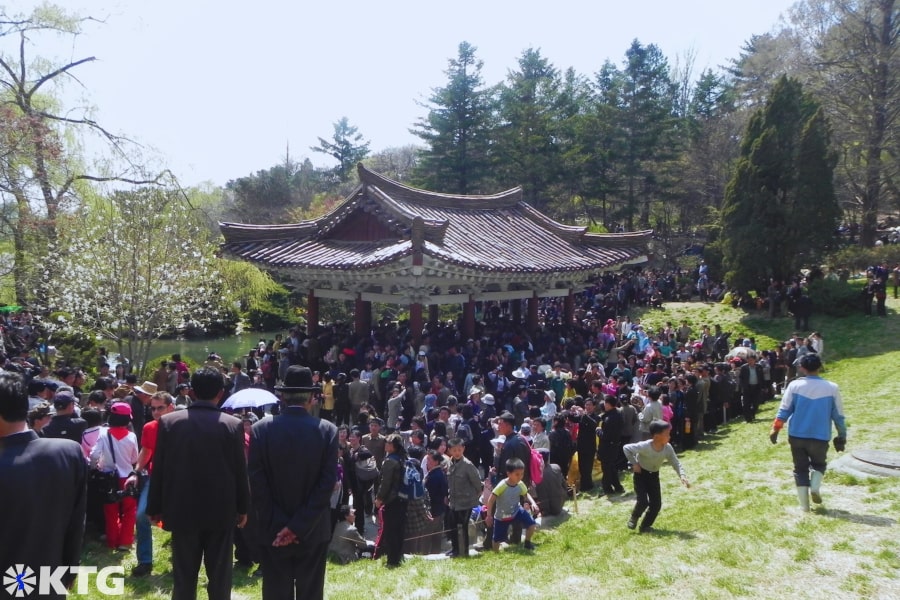 Locals dancing on May Day Pavilion
If you are looking forward to interacting with locals, this is the place to be! Be ready to be dragged into the fun!
Natural Relics in Moran Park
Moran Park is home to a natural gem dating from the Jurassic period; a 1.6 metre tall and almost 3 and half metre wide pine fossil.
Monuments and Buildings
Moran Park is home to several important modern buildings and landmarks.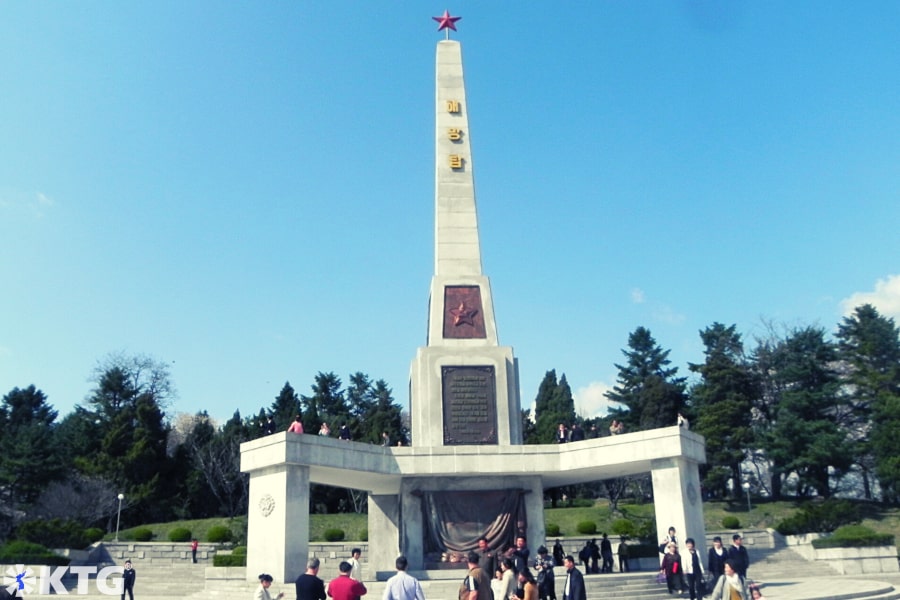 Liberation Tower conmemorates the efforts of USSR soldiers in helping liberate Korea from Japan
These include include Kim Il Sung Stadium, the Arch of Triumph (it is just across from the park), Kaeson Evening Funfair, the Pyongyang Broadcasting Tower, Moranbong Theatre, Liberation Tower (in memory of the USSR's contribution to the liberation of Korea) and the Friendship Tower in memory of the Chinese fallen soldiers in the Korean War.
Views of Moran Park from the top of the Arch of Triumph
When to Go
So, when is it best to go to Moran Hill?
Locals celebrating May Day in Moranbong Park
We definitely recommend going there on major holidays such as May Day, Kim Il Sung's Birthday, National Day, etc. The weather, as is the case throughout the whole country with the exception of the Mount Paektu area, is most pleasant in spring and autumn.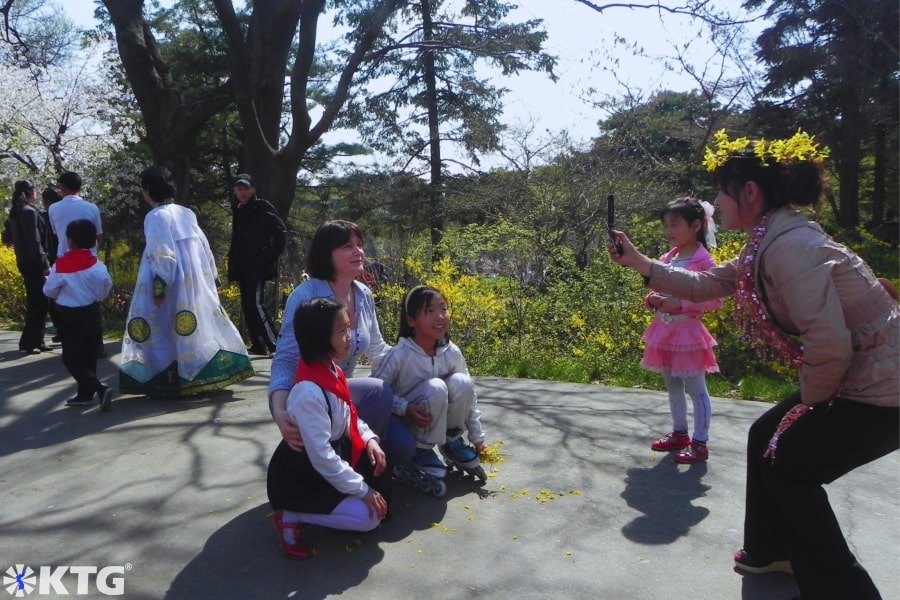 Whereas Kim Il Sung's Birthday is the most important date in the DPRK calendar, the weather is warmer and flowers will have bloomed by May Day. You will encounter thousands of locals on both holidays. Summer is great too, though hotter and more humid.