DPRK Liberation Day Tour I
15 August marks the anniversary of the end of Japanese colonial rule on the Korean peninsula. The application deadline for this tour is July 10 2021.
Accommodation
We will be based at one of the best hotels in Pyongyang, the Yanggakdo Hotel. We will also be staying at a traditional courtyard hotel in the old part of town of the ancient city of Kaesong near the DMZ.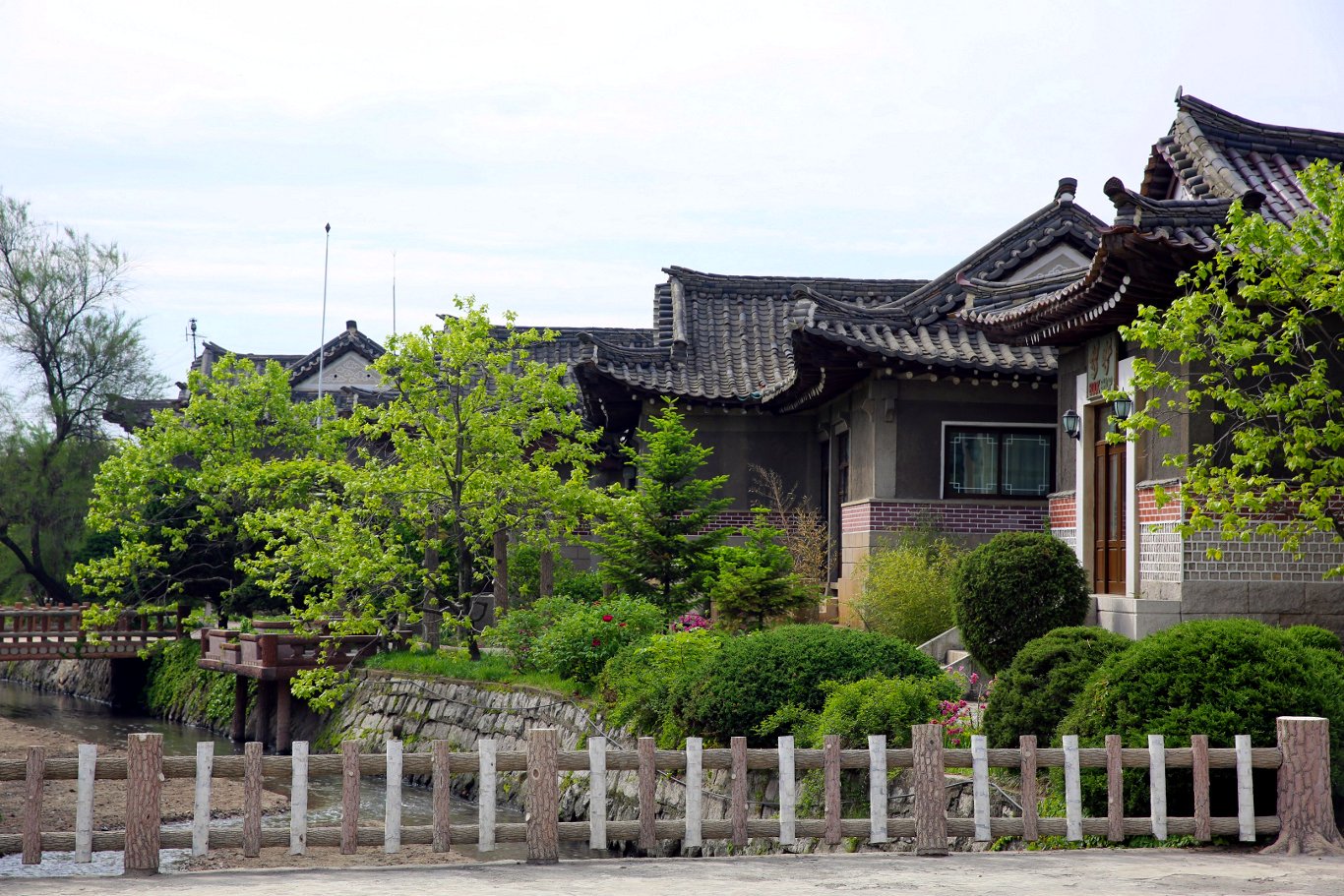 Group Size
Our group sizes tend to be small, with an average of less than 10 people. However, our August and September tours tend to be our busiest ones and we limit our group sizes to 19 people. In the unlikely case of having more than 19 people we divide the group into two separate smaller ones; each group with their own guides, private vehicle and driver. As this is the busiest period in DPRK tourism terms, we kindly ask you to apply by the application deadline as it can be hard to book any late plane and train tickets during this period.
Route and Map
Please check the places that you will visit on this tour, hover over the places marked for more information.
Pyongyang is marked with the big red star.
Please note that Dandong and Sinuiju are just transit spots where we go stop by for Chinese and Korean customs. We do, however, offer extension tours in both cities so do please let us know if you would be interested in either option.
Tour Outline
This tour consists of 4 nights / 5 days in the DPRK plus one night on the train (plane exit option is also available). This tour covers highlights and celebrations in Pyongyang, the lively city of Sariwon, the beautiful region of Mt. Myohyang, the ancient city Kaesong where we will stay overnight in a traditional courtyard hotel and of course the DMZ.
Highlights
Being in Pyongyang for any celebrations on August 15, Liberation Day!
Main highlights in Pyongyang including shopping with locals!
Possible Mass Games - this is not confirmed yet but if they are held we will attend them!
The DMZ where the Korean War Armistice was signed and where soldiers from North and South Korea face each other.
The ancient city of Kaesong.
Expected Mass Games (these have not been confirmed yet)
Staying overnight in a Korean traditional courtyard hotel, just a few miles away from the DMZ.
Visiting a local cooperative farm where farmers work and live.
Detailed Itinerary
Please note that itineraries can always be modified based on local circumstances in Korea.
If entering by train we leave Beijing on 11 August at 17.27
Day 1 - August 14 (Saturday)
Depart from Beijing at 13.05 flight JS 152 Terminal 2, Beijing International Capital Airport
Arrive in Pyongyang at 16.05 (Pyongyang time)
PM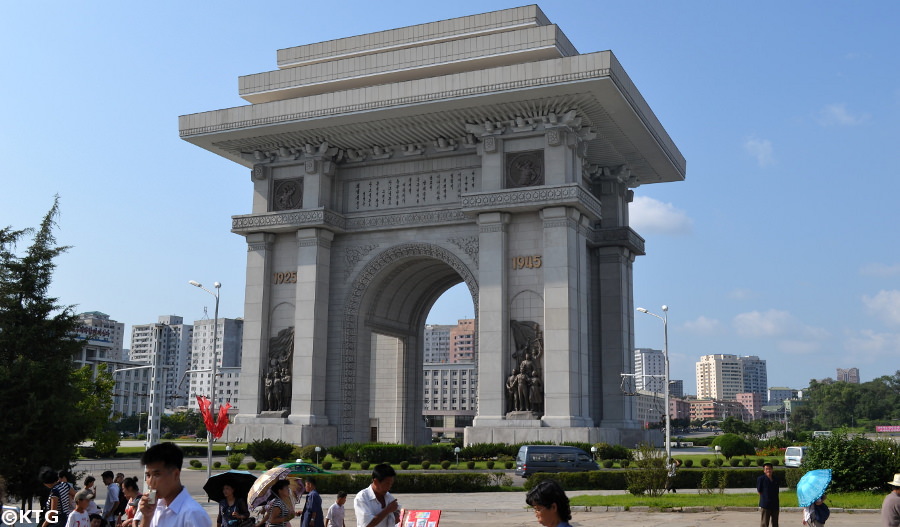 Arch of Triumph - gigantic arch built to commemorate President Kim Il Sung's speech upon returning to Korea after the colonial rule of Japan.
Brief walk around the area.
Hotel check-in: Yanggakdo Hotel
Welcome Dinner: KITC Restaurant, Pyongyang
Overnight: Yanggakdo Hotel, Pyongyang
Day 2 - August 15 (Sunday)
Today is the 76th Anniversary of Korea's Liberation from Japanese colonial rule
AM
Breakfast: Yanggakdo Hotel, Pyongyang
Kumsusan Memorial Palace (where the Leaders Kim Il Sung and Kim Jong Il lie in state). Please note that this is the most sacred place in the DPRK and that there is a dress code to follow. Please contact us for more information.
Revolutionary Martyrs' Cemetery - cemetery of anti-Japanese revolutionaries. There are rows of bronze busts of these national heroes. There are too great views of Pyongyang from here.

PM
Lunch: Local restaurant, Pyongyang - chance to see locals celebrate a national holiday
Moran Park - where locals gather on national holidays. Prepare to be asked to join in the dancing (and singing if you can)!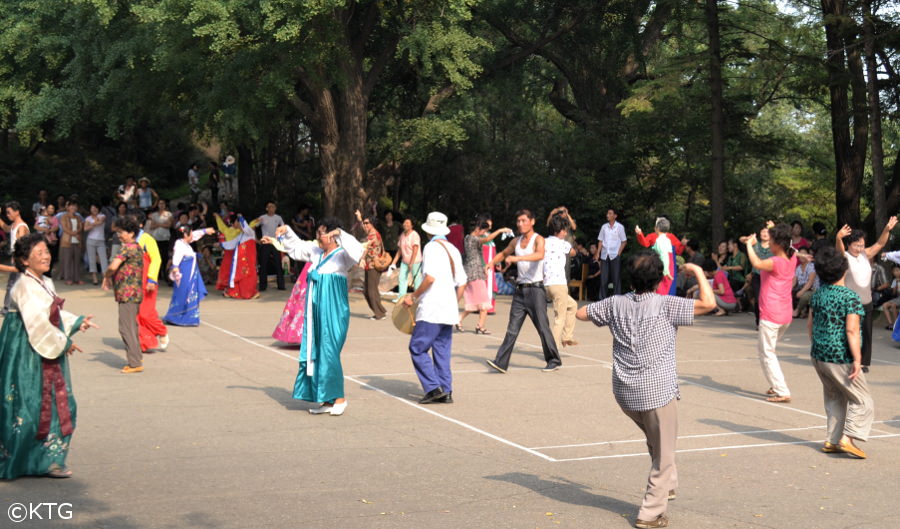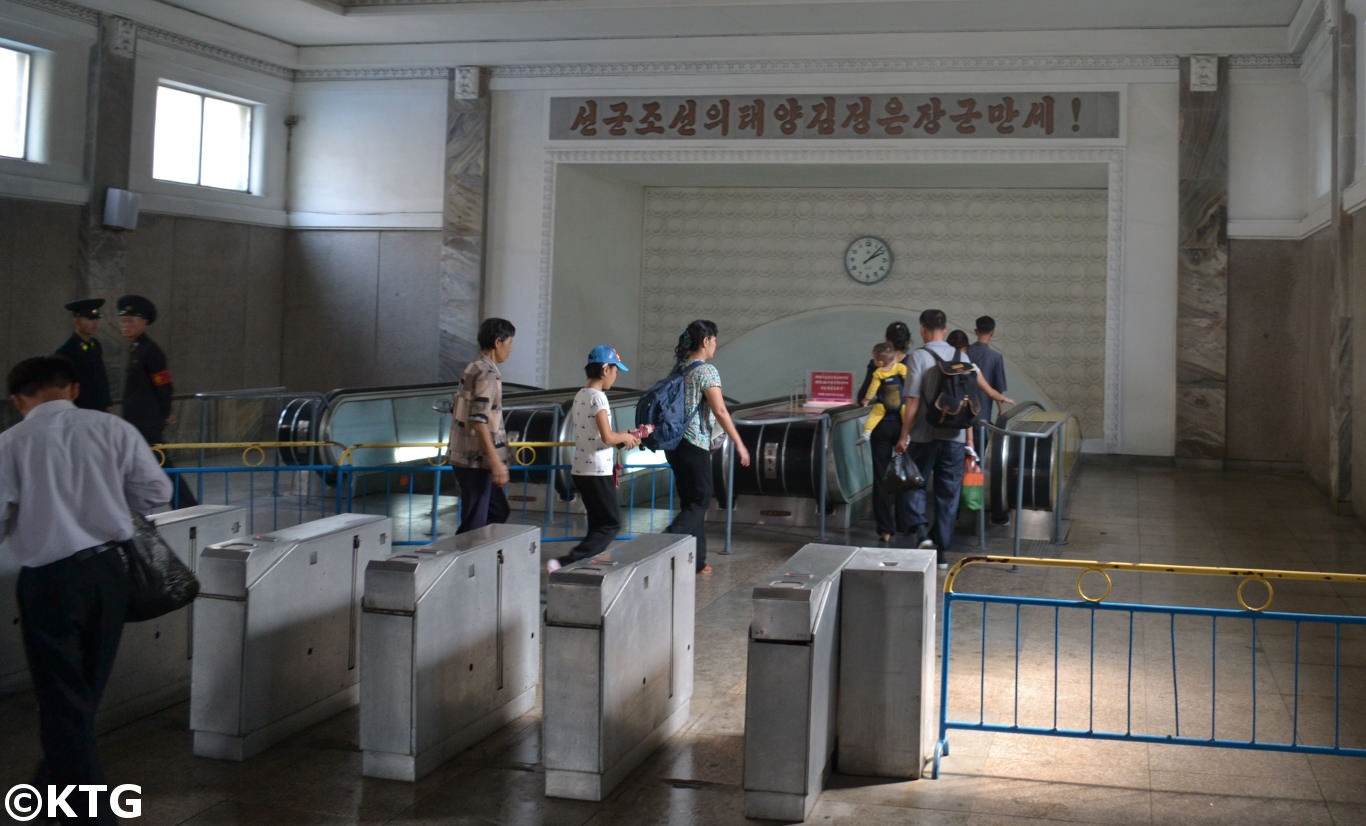 Pyongyang Metro
Party Foundation Monuments - consisting of a hammer, sickle and brush
Expected Mass Dances - Chance to dance with North Koreans during the celebrations of this National Holiday. Hundreds of women wear traditional Korean dresses and men suits while they dance in a synchronised manner. Please note that if these are held we will be notified there and then.
EXPECTED MASS GAMES - please note that these have not been confirmed yet. If they are held we will be able to attend.
Dinner: local restaurant, Pyongyang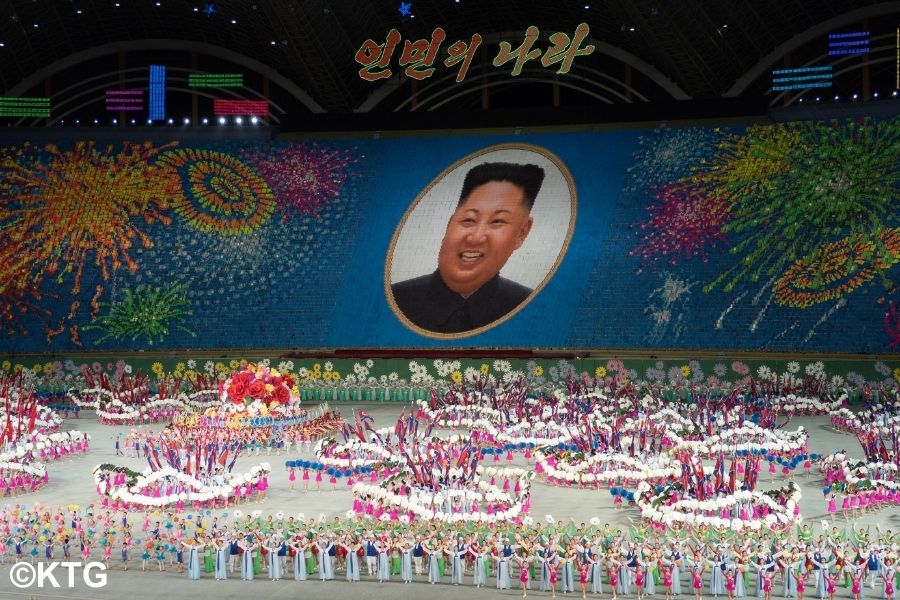 If there are any celebrations such as a firework display in the evening we will be able to attend these.
Overnight: Yanggakdo Hotel, Pyongyang
Day 3 - August 16 (Monday)
AM
Breakfast: Yanggakdo Hotel, Pyongyang
War Museum - see the North Korean version of the war. This museum contains original vehicles and weapons used during the Korean War. The new War Museum is an impressive building with all kinds of details regarding the Korean War.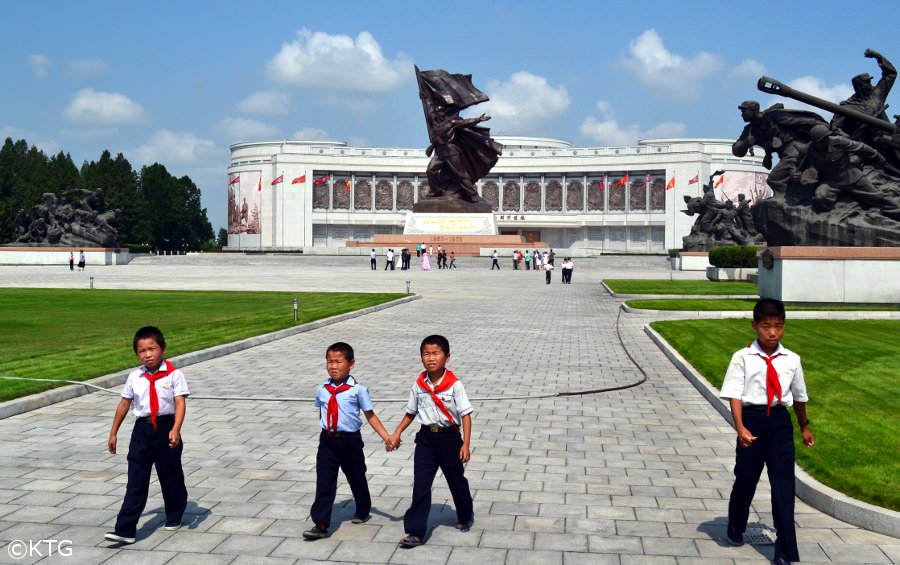 USS Pueblo - US spy ship captured in 1968. The only US vessel held by a foreign country, it is displayed to this day in the DPRK as a trophy.
Juche Tower - chance to see the entire city of Pyongyang by going up 150 metres (the tower is 170 metres tall including its flame). If you would rather not go up (the entrance fee is 5 Euros and not included) you can wait by the Taedong River bank which is too a pleasant experience.
Grand People's Study House - a giant library and study centre right in the heart of Pyongyang
Mangyongdae Native House - birthplace of President Kim Il Sung
PM
Lunch: Pyongyang
Drive to Sariwon City - capital of North Hwanghae Province, this is a lively city with a population of over 300,000.
Migok Cooperative Farm - see how Koreans work and live in this model cooperative farm.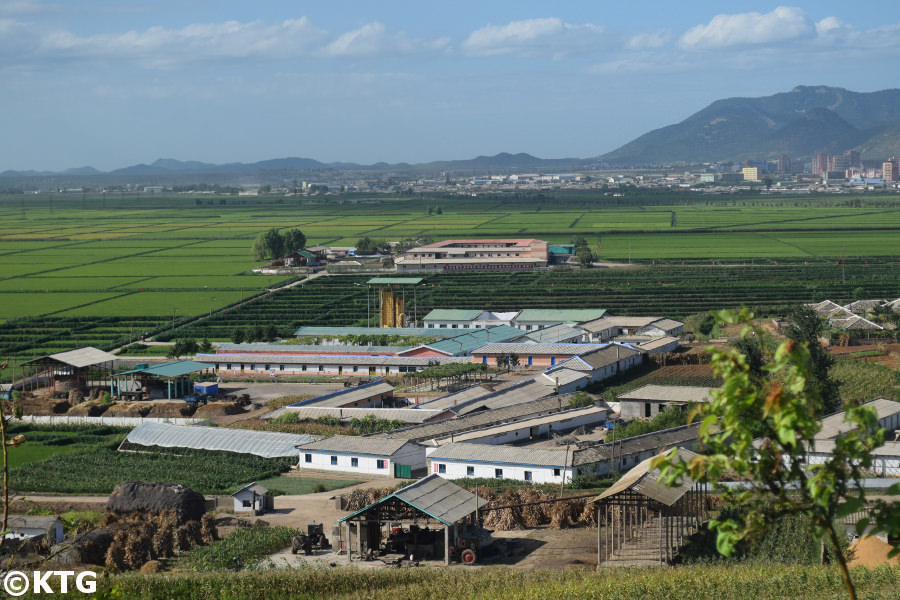 Views of Migok Cooperative Farm in Sariwon
Folk Street & Ancient Model Pavilions - we will see how Koreans lived in ancient times and check some model pavilions of times past in Korea. We will walk around this street and have the chance to check a local Sul-Jib (alcohol house) or a stand and try some delicious Makoli (Korean rice wine with very low levels of alcohol). The walk around here is always interesting. There are usually street games and activities too where we can of course join in!
Walk up Mt. Kyongnam - the walk itself is only 5 to 10 minutes but we will have views of the whole city and of the surrounding region.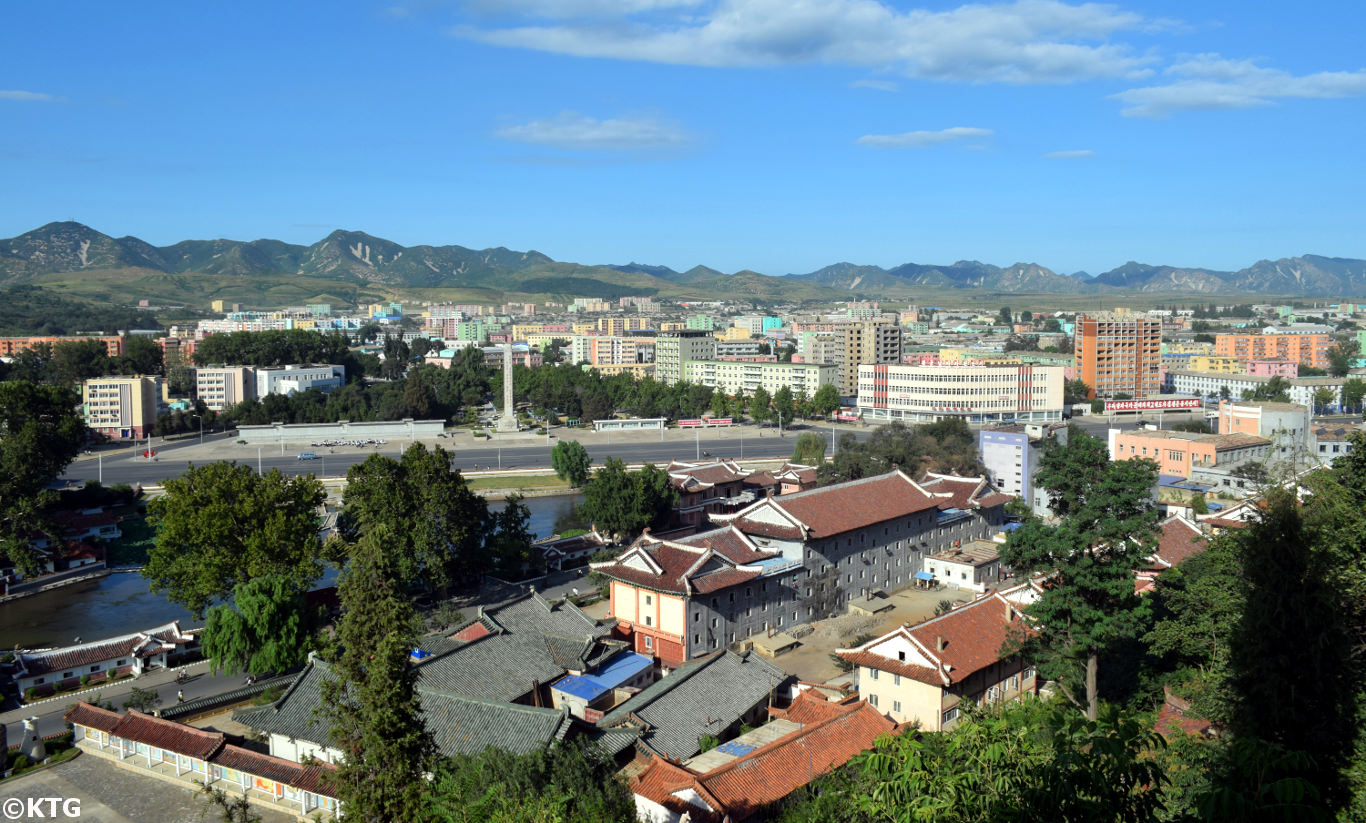 Views of Sariwon City from Mount Kyongnam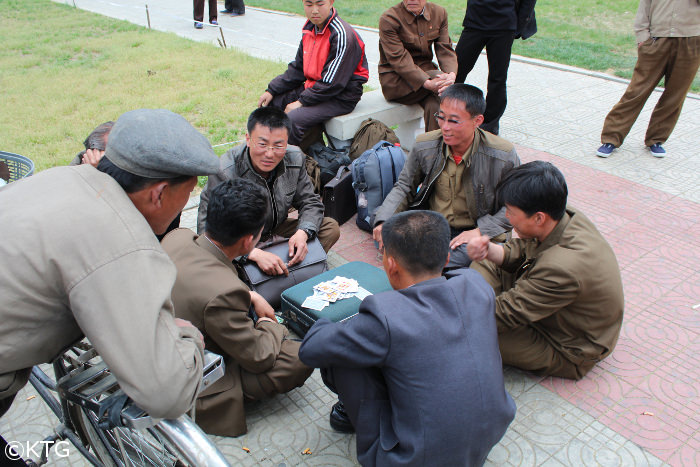 Walk around Sariwon City
Drive south to Kaesong city - ancient Korean city, it was the capital of the Koryo Dynasty, and conserves a lot of its old architecture as it was not destroyed in the Korean War.
Dinner: Minsok Folk Hotel, Kaesong. There is the additional option of trying dog meat soup and/or chicken stuffed with ginseng rice.
Overnight: Minsok Korean Traditional Hotel - this compound was actually part of the old area of Kaesong and was turned into a tourist resort in 1989. Many of the houses are from the Joseon Dynasty.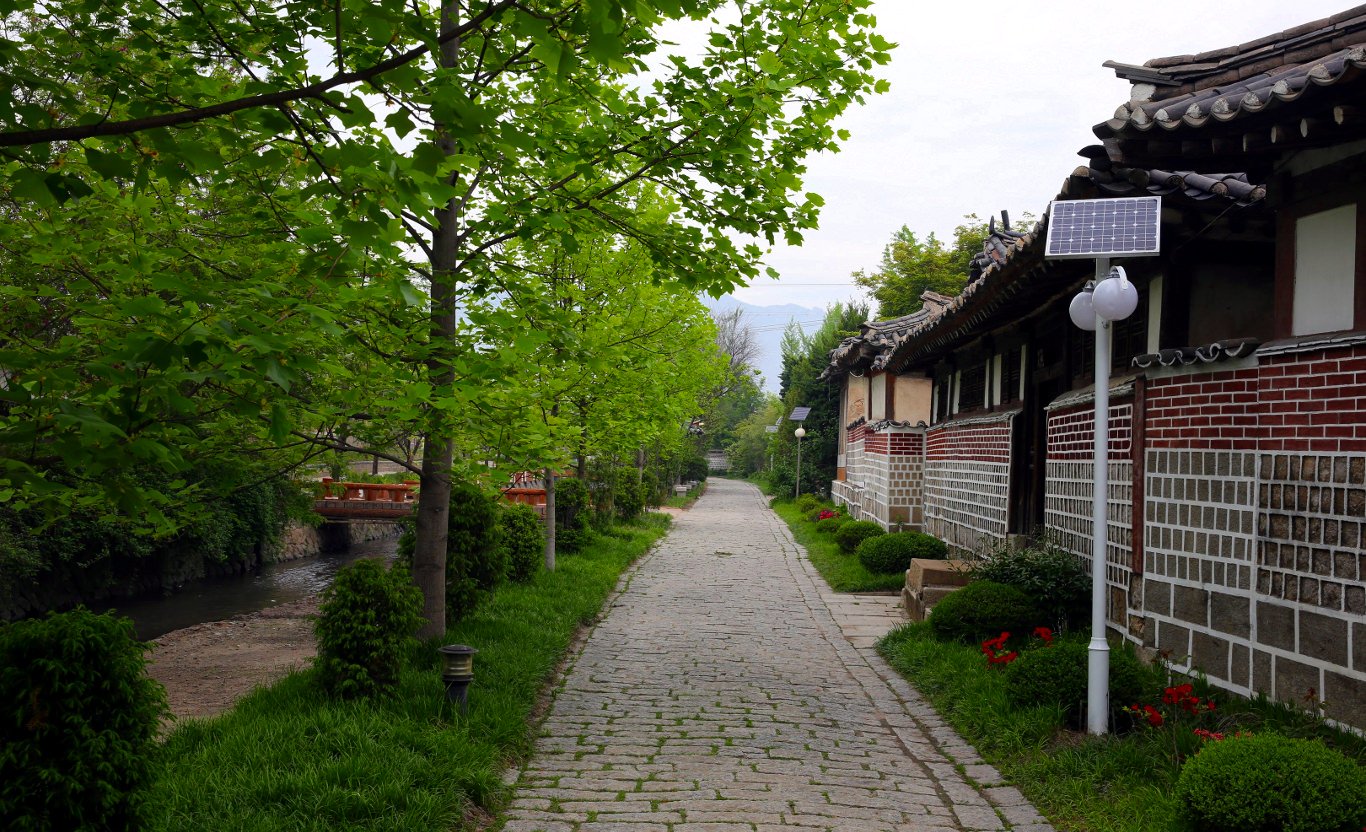 There is a small bar by the main restaurant where we tend to gather after dinner. Our Korean guides usually join us for the fun.
Day 4 - August 17 (Tuesday)
Breakfast: Minsok Folk Hotel
Walk by the old part of town to South Gate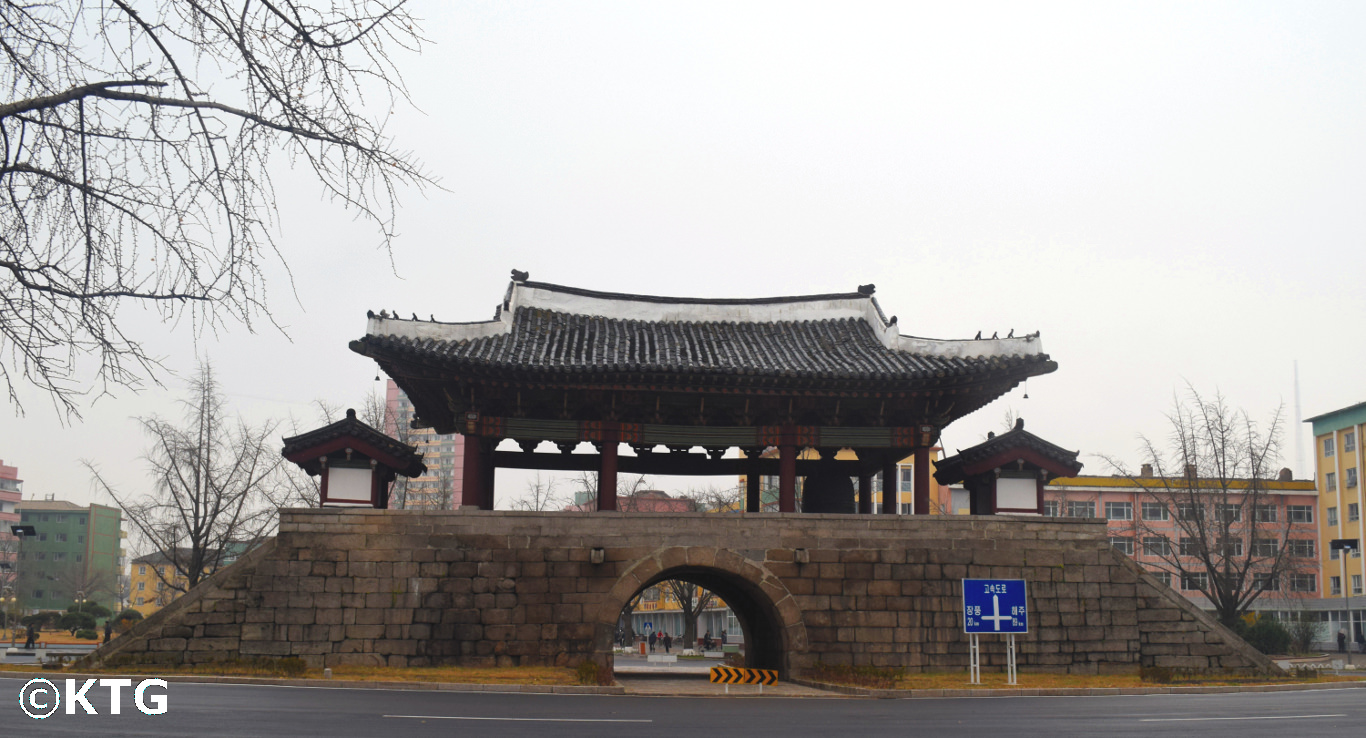 Janam Hill - great views of the old part of town and of the main entrance of the city.
Twin Tombs of King Kongmin - UNESCO World Heritage Site. These unique twin tombs (one for the king and the other for his Mongolian wife), from the Koryo Dynasty, have undergone relatively little restoration. They were listed as a UNESCO World Heritage site in 2013.
38th Parallel (DMZ) - chance to enter the famous blue negotiation rooms where talks between North & South Korea have taken place. These rooms are not always opened to the public. If this is the case we will still walk close up to them. We will also see where the Korean War Armistice was signed.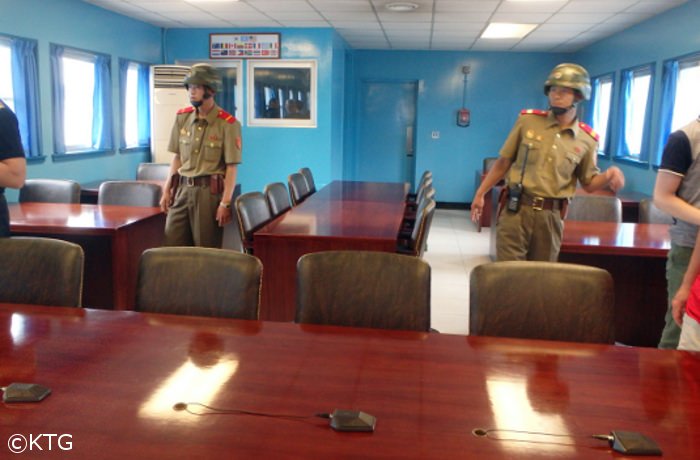 Technically in the South - Korean soldiers prepare to leave the negotiation room as we exit. The microphones shown on the table mark the diversionary line between North & South Korea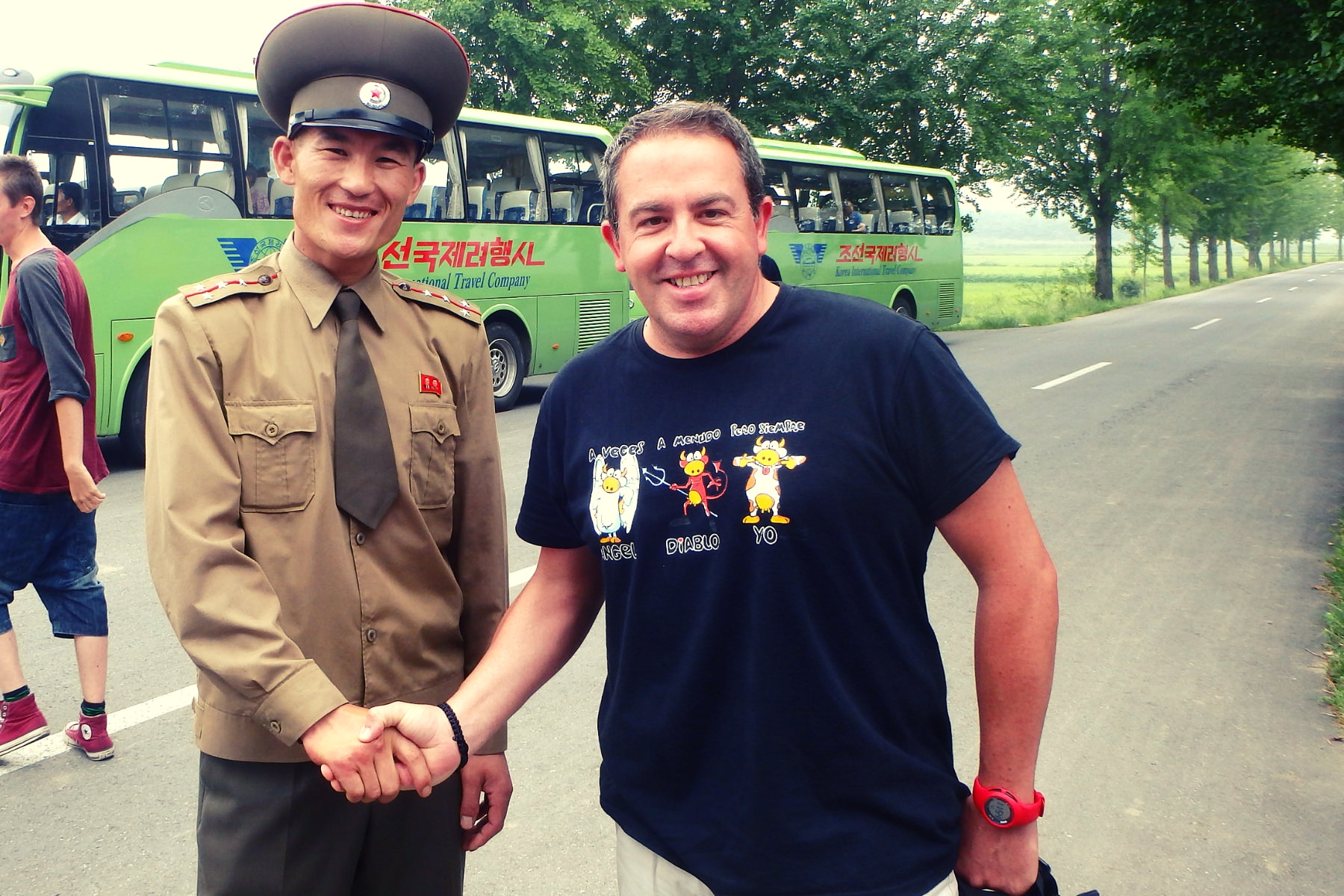 KTG Traveller and KPA Office shake hands at DMZ
PM
Lunch at Tongil Restaurant (Kaesong) - a variety of dishes served in gold plate covered bowls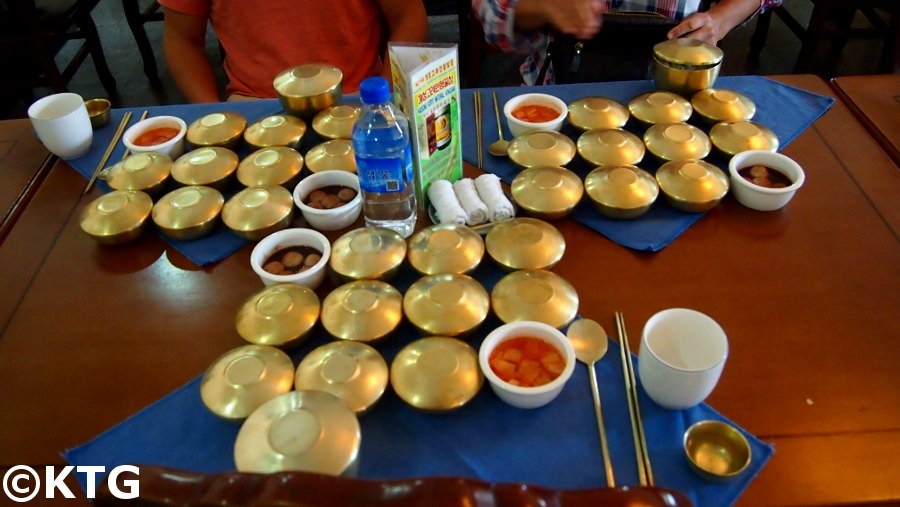 Koryo Museum (Kaesong) - this too is a UNESCO World Heritage Site and it is the first university on the Korean Peninsula it dates from the 900s. Kaesong was the capital of the Koryo Dynasty.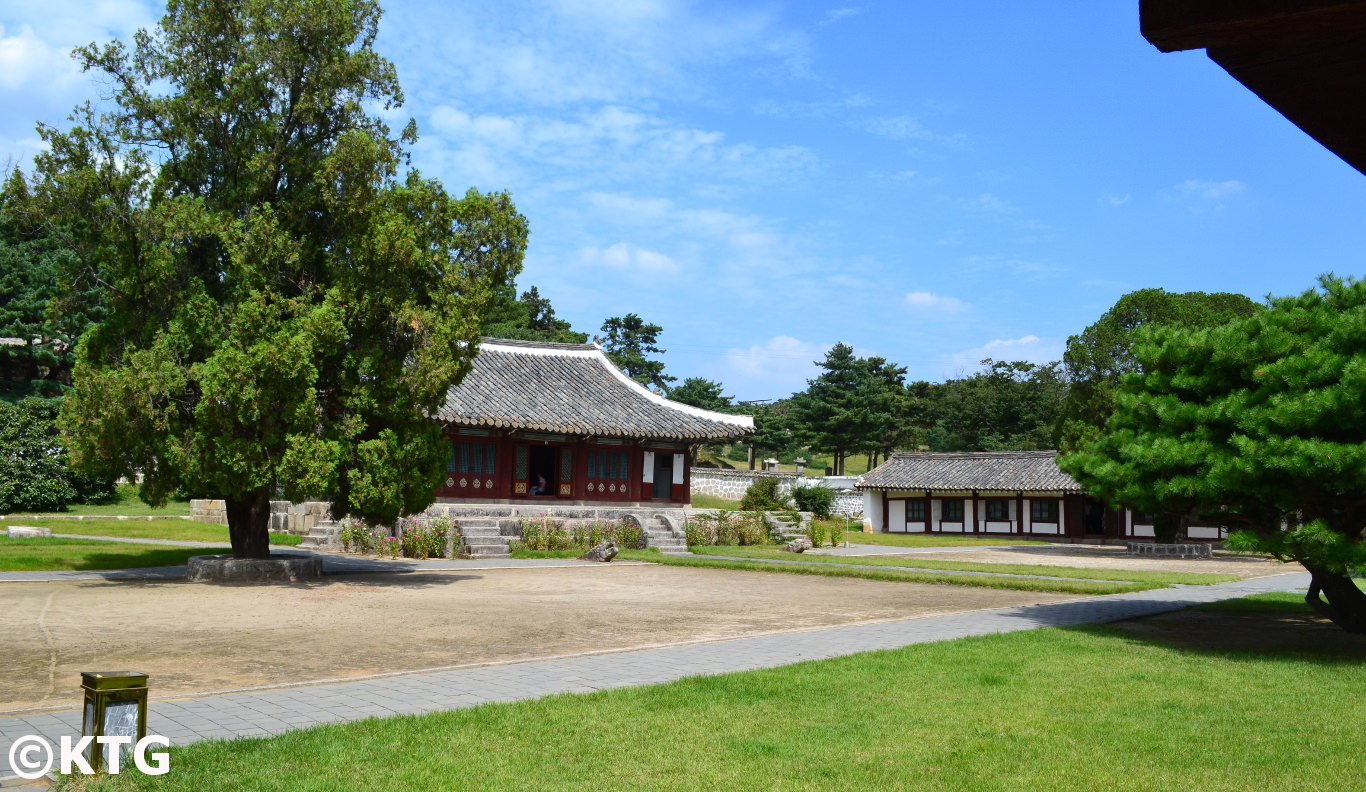 Kaesong Stamp Shop - chance to buy unique collections of stamps, postcards, paintings, etc. Even if not purchasing any, browsing around the material is always entertaining as the stamps vary considerably to what is offered in the West.
Please note that this shop is just located outside of the Koryo Museum and will therefore not take up much of our time.
Drive back to Pyongyang
Reunification Monument - great chance to take some pictures of this monument that symbolises re-unification of the Korean peninsula.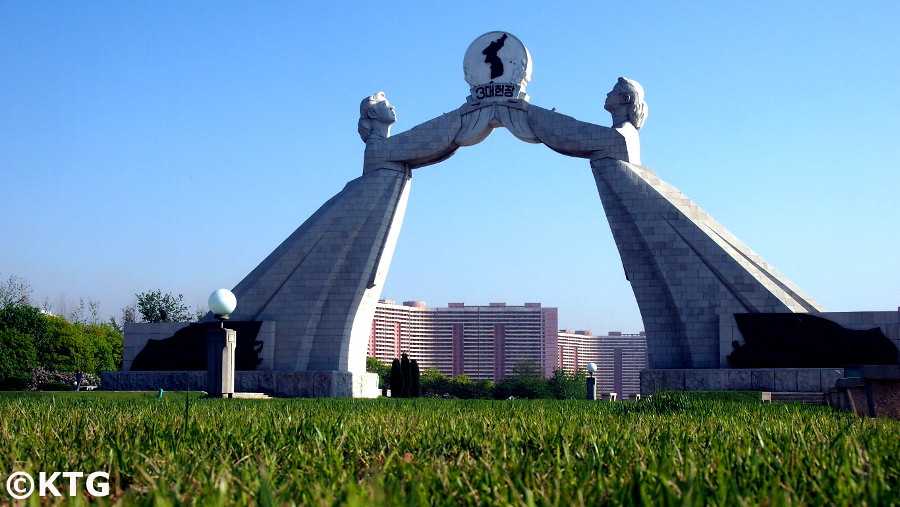 Children's Palace - extremely talented children carry out extra curricular activities here and usually have a show.
Kwangbok Supermarket - we will visit the only place in Pyongyang where foreigners can exchange foreign currency for Korean Won and buy amongst locals. The bottom floor consists of a supermarket, the first floor is where clothes is sold and the top floor is where we can try some local snacks. Be prepared to see many Koreans stare at you!
Beer bar - try some local North Korean beer
Dinner - Number 1 Pyongyang Duck BBQ Restaurant
Kaeson Funfair (optional) - if you still have enough energy you may want to check the funfair out! The entrance fee is around 2 Euros and rides then range from 1.5 to 5 Euros.
Overnight: Yanggakdo Hotel, Pyongyang
Day 5 - August 18 (Wednesday)
AM

10.25 am train to Beijing - please let us know if you are interested in flying back
PM
Stopover at Sinuiju train station bordering China for Korean customs
Day 6 - August 19 (Thursday)
Arrive in Beijing at 08:40 am
End of tour our North Korea Liberation Day Tour I