Hunchun
Hunchun is a melting pot of Russian, Korean and Chinese cultures. Located close to the Russian and DPRK borders, the influence of Korea and Russia can be seen all over this Chinese city.
The city fills up with Russian tourists, many of whom are attracted by the shopping the city has to offer, in the warmer months.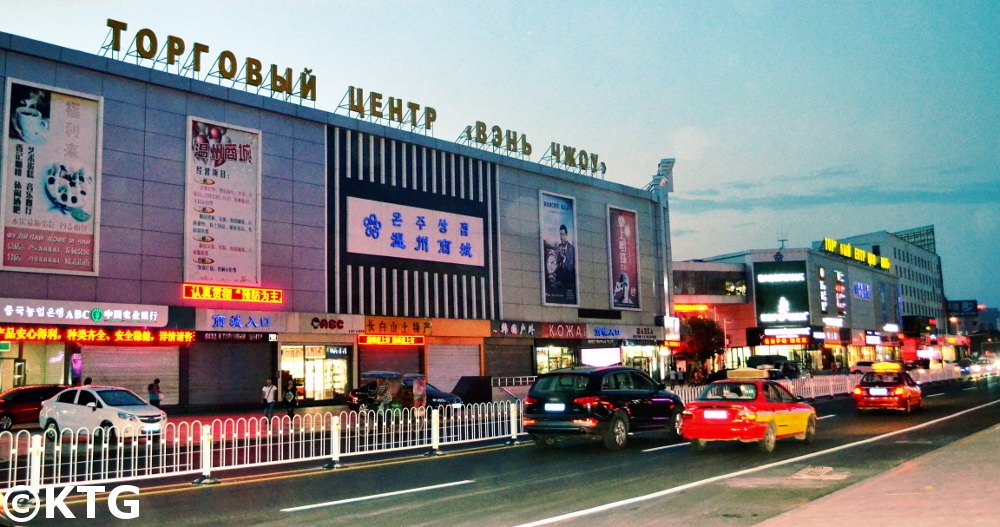 Shopper's Paradise - Many shops, hotels and restaurants and malls are aimed at the large number of Russian tourists who visit Hunchun
Walking around the city does make one wonder which country one is in as the city is full of signs in Russian, Chinese and Korean. Walking around the city does make one wonder which country one is in as the city is full of signs in Russian, Chinese and Korean. Local Chinese speaking mandarin and Korean and seeing so many Russians makes Hunchun different to any other Chinese city.
The Three Borders; Fang Chuan
One major attraction here is Fang Chuan; the point where the DPRK, Russia and China meet. This sliver of land is accessible from Hun Chun. When they day is clear one can see the East Sea of Korea (known in some countries as the Sea of Japan). Being driven on a Chinese road with North Korea on one side and Russia on the other does indeed give one the sense of being in a truly unique destination.
Hunchun city itself is well known for its large sized skewers; the famous Chinese "chuan'r" 串 in mandarin as the character image depicts. Russian restaurants and hotels catering mainly for Russians are also prevalent, and, for those football fans out there, many sports shops sell the Russian teams' football shirts.
Going from Yanji takes around one and half hours by coach costing around 38 RMB each way.UPDATE: as of 2015 it is possible to take the bullet train between both cities.
Bei Shan Hill
If you would like to catch a glimpse of the whole city we recommend you to go to Bei Shan hill. Taxis in Hunchun have a flat rate of 5 RMB, there is no metre and you will always have the same rate regardless of where you go within the city.
Food Street and Central Square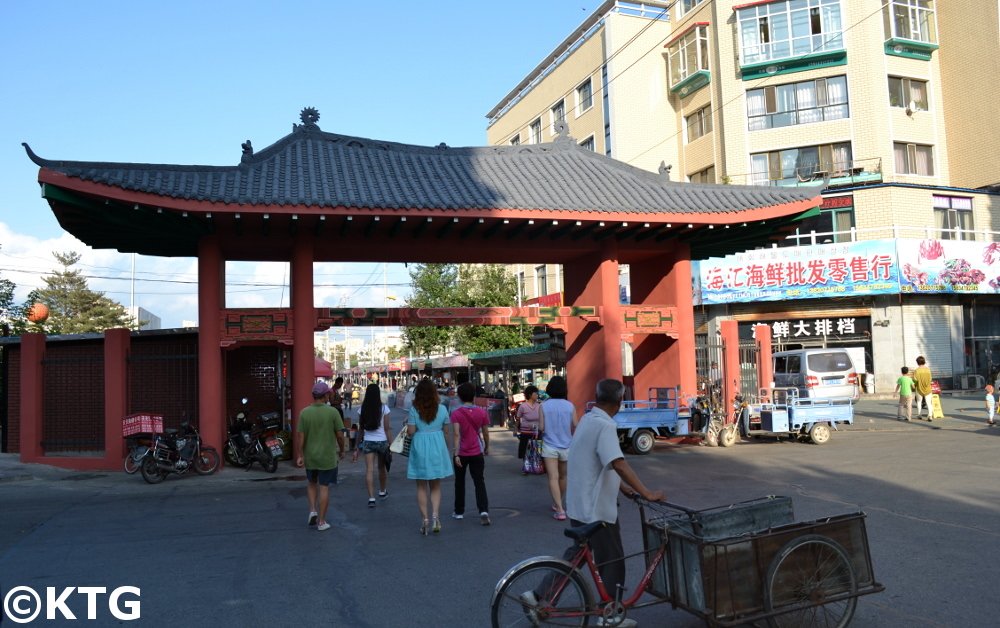 Food Street Entrance - The combination of Chinese, Russian and Korean architecture makes Hunchun a unique city
If feeling adventurous, you may want to explore the food street which is located by the main square. A variety of Chinese and Korean dishes are made on the spot and sold here. If you do not have a strong stomach you may consider just strolling around here to take in the lively atmosphere the street has to offer. In the evenings the square besides the food street is usually busy with locals dancing and skating (in the summer months of course).