Rason Tour: 2 nights / 3 days in the DPRK Itinerary
Note: the hotel shown below is now called the Imperial Hotel and Casino, Rason. The picture shown is an outdated and we would like you to see what it looked like before.
Rason Tour - this sample 2 nights / 3 days itinerary in the Free Trade Special Economic Zone will allow you see all the highlights of Rason in 3 nights only. Ideal for a quick trip to North Korea or an extension of a trip to the "DPRK mainland!"
Day 0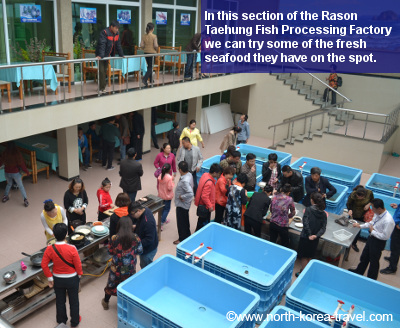 Arrive in Yanji, China. Our team has extensive experience in China as well as in the DPRK and knows this fascinating "little" city inside out.
We can help you book your flight or train ticket to Yanji and arrange your accommodation in a DPRK Hotel in Yanji if you wish
PM
Ryugyong Restaurant - DPRK restaurant in Yanji. All staff members are from North Korea. The food is truly delicious here, this comes from our customers and team members! There is a performance put on by the extremely talented North Korean waitresses.
Overnight: Ryugyong Hotel, Yanji
Day 1
AM
Breakfast: Ryugyong Hotel, Yanji
Early bus departure to Quanhe (泉河), border with the DPRK where will go through customs. Cross the border and enter DPRK. Your luggage will be thoroughly checked. We will fully brief you on the things that can and cannot be taken into the country before your departure to China and when we meet before the start of our Rason Tour.
Arrive in Wonjong and meet the local guides who will greet us there.
Transfer to the city of Rajin - drive on the Korean-Chinese Friendship road through the beautiful natural landscape. You will drive by farms, villages and a factory on the way to Rajin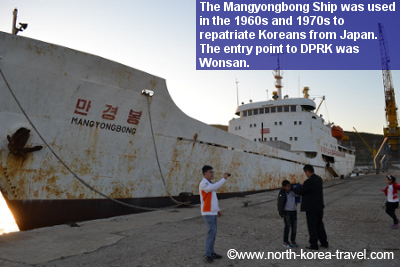 Lunch: Local restaurant, Rajin
Stroll around the city centre. We will see the Monument of the Sun. The Eternal President and founder of DPRK, President Kim Il Sung, is referred to as the Sun of the DPRK.
Golden Triangle Bank - unique opportunity to see a DPRK bank and locals there. There are several banks in Rajin, this is one is the biggest and very modern.

Rajin Port - chance to wander around the port. One of the unique aspects of Rason is that Chinese plated vehicles can be seen here.
The port is home to the Mangyongdae Ship which was that used in the 1960s and 1970s to repatriate many Koreans from Japan via Wonsan.
Children's Palace or Local Kindergaten - we will see an art performance set up by the local North Korean children of Rajin in a kindergarten.
Stamp Shop - opportunity to purchase a wide variety of DPRK stamps and books. These are available in foreign languages too
Rason Tour Welcome Dinner: Local restaurant
Overnight: Rajin Hotel, Rajin
Day 2
AM
Breakfast: Rajin Hotel
Walk around Sahyangsan - picturesque mountainous area
PM
Lunch: Local restaurant
Souvenir Shop
Art Gallery - a variety of artwork, including propaganda poster sytled pictures, can be found here
Kimilsungia and Kimjonglia Flower Exhibition - these flowers were named after the Leaders Kim Il Sung and Kim Jong Il. They actually sell seeds of these flowers here. Pictures of these flowers, together with the Magnolia (the national flower) can be seen all over the country in posters, pictures, carvings, etc.
Taehung Fish Shop - if you decide to buy fresh seafood here it can be cooked for you for dinner. Taking a look around here is also interesting.
Visit to a joint Venture - here we will be able to see the Rajin Shoes Factory and the Rason Textile Factory
Foreign Language School - great chance to meet the school staff and children and to give the students a rare opportunity to practice their English with a foreigner.
Walk by Rajin Beach Park - casual walk that will allow us see locals spend a leisurely evening.
Rason Tour Dinner: Local Restaurant

Overnight: Rajin Hotel, Rajin
Day 3
AM
Breakfast: Rajin Hotel
Today we depart to the Pipha area
Pipha Isle- connected to the mainland by a sliver of land we will be able to swim in the sea here or take a boat ride
We will see the famous Emperor Hotel on our way to Pipha Isle
Sightseeing on a boat (optional, 100 RMB) - the boat ride is around 1 hour long and we will see sealions. The water here is surprisingly crystaline. Those who decide to stay on the island can relax by the seafront
Rason Taehung Seafood Processing Factory - you can see how seafood is kept here before being sold. You can of course try some if you wish!
Sonbong Revolutionary Site - point of entry where the Leader Kim Il Sung re-entered Korea after Liberation from Japan. His journey then proceeded to Wonsan and from there eventually back to Pyongyang.

PM
Lunch: Local restaurant
Sungjondae - historical site dedicated to the heroic Korean Admiral Ri Sun Shin
Leave Rajin and head back to the Chinese border
Customs at Wojong
Drive back to Yanji
End of the 3 day Rason Tour