Dongrim Town
Dongrim was only opened to tourism in October 2014. We were scheduled to visit the town then, but because of the Ebola travel restriction that took place from the end of October 2014 to March 2015 we have only just explored this town now after our 2015 May Day Tours.
The town is located 48 km south of Sinuiju in North Pyongan Province and we are proud to announce that we offer tours here as an extension of any of our DPRK tours.
Our local guide from Sinuiju has a break as we hike around Dongrim
Please note though that US citizens cannot access this area as you need to leave Pyongyang by train in order to do so.

The drive here from Sinuiju takes around 1 and a half hours. After driving through villages and near farm fields that hardly ever encounter any foreigners we approach a newly built luxurious hotel located in a lush area of the country, Dongrim.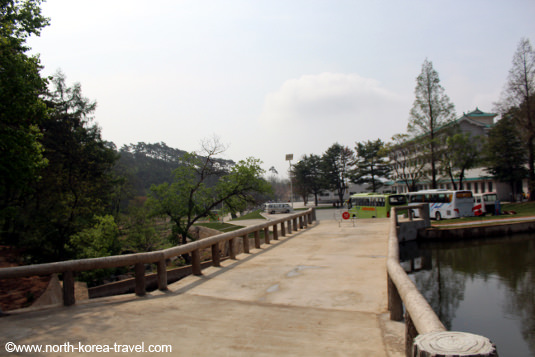 This area is well known for its waterfalls; Waterfall Number One and Waterfall Number 2. A one hour hike by the stream and lush surroundings takes us to the smallest waterfall (Waterfall Number 1).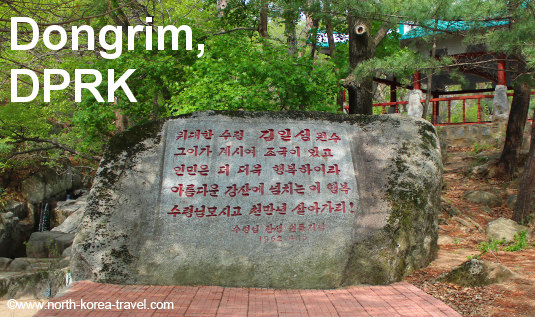 Sinamri Cooperative Farm
After leaving this town we head to one of the major rice producing fields in North Korea; Sinamri Cooperative Farm. This farm has acres of fields that can be seen spreading to the horizon from the farm's main pavilion. Unlike other farms we visit in DPRK such as when we approach Nampo or
Hamhung, this farm is not yet used to received travellers.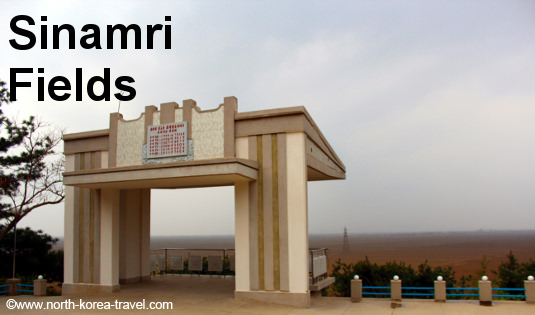 Dongrim Hotel
The hotel offers a series of luxurious facilities that are perfect after a long trip around North Korea and as a relaxing area just before ending your DPRK adventure.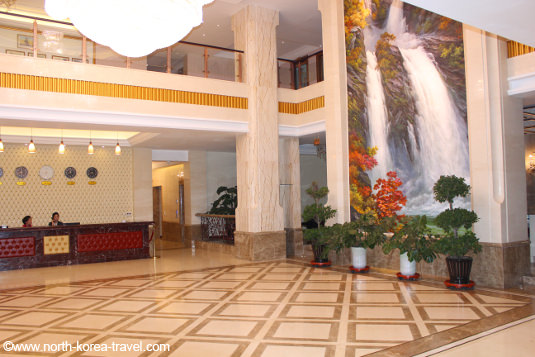 Rooms
There are 63 rooms (1 first class room, 2 second class rooms and 60 standard rooms). Please note that the standard rooms are of high standard too.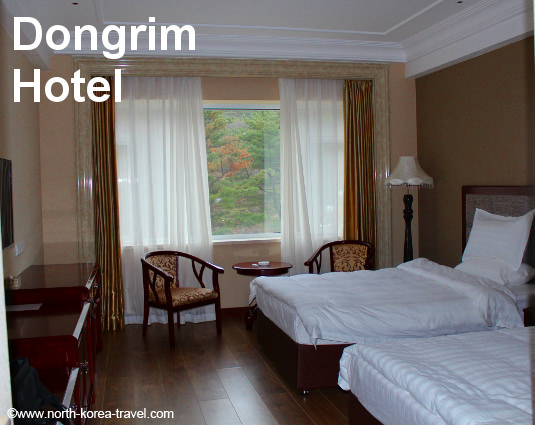 Rooms are all new and have plasma TV screens.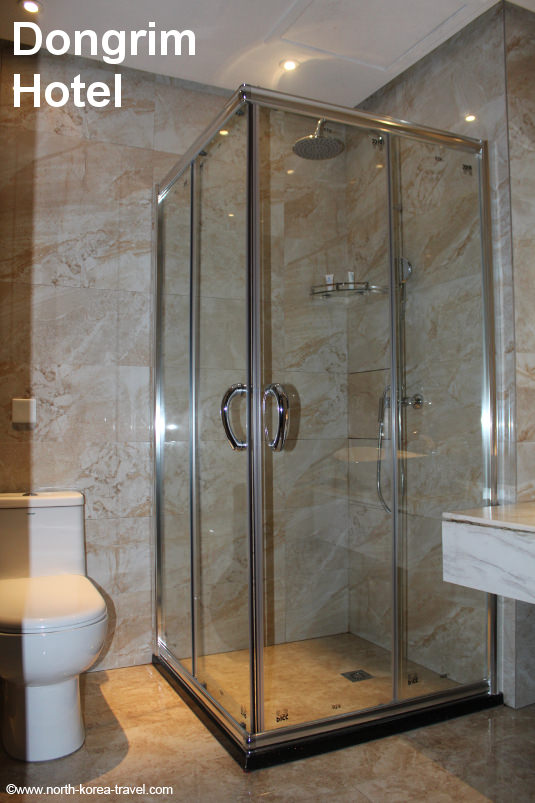 Coffee shops & Diners
As you enter the hotel there is a cafe bar right behind the lobby. Coffee and imported chocolate and liquor is served here.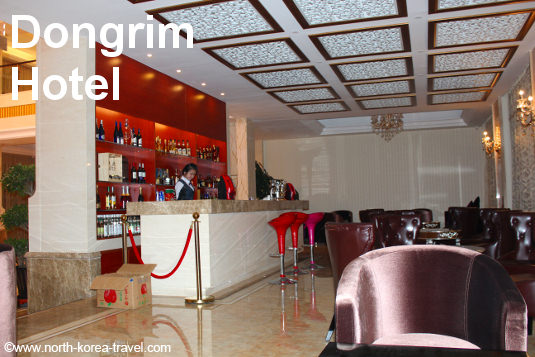 The main dining room is on the right hand side of the lobby. There is usually a performance in the evening which we can enjoy while having dinner. Because most of the people that go to Dongrim are either Chinese citizens who were born and raised in the DPRK or Chinese travellers, many of the songs are about the long-lasting friendship of the two countries and some are even sung in Chinese.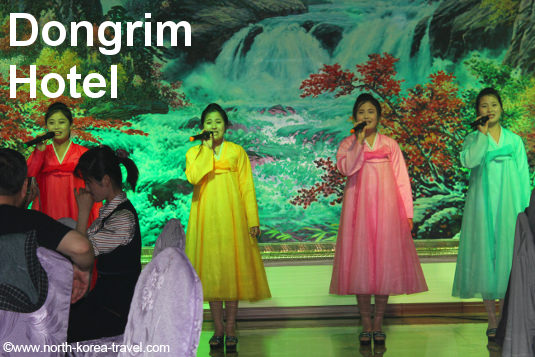 Interesting: there is a fountain in front of the hotel's main entrance. You can pick out a fish from the fountain and ask for it to be cooked for dinner.
Meat skewers - you can enjoy these outside of the hotel, on the left hand side of the entrance.
Leisure Facilities
On the left hand side of the the lobby there is a pong-pong entertainment area and a billiard room. These tend to get quite busy in the evenings with Koreans and Chinese therefore offering us a great chance to mingle with people living and doing business in North Korea.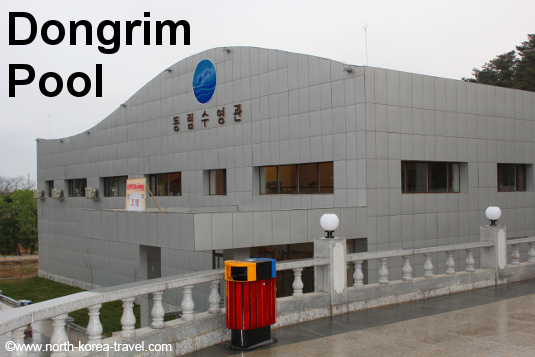 Right by the table-tennis area you can see the swimming pool. The water here is heated at 27 to 29 celsius. This part of the hotel offers too two saunas (dry steam and wet steam) and a pressurised shower where you can lay on.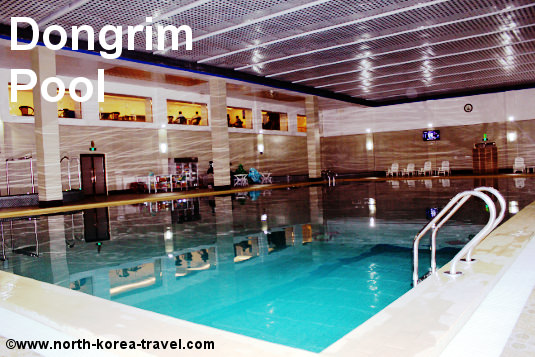 There are also massages facilities and a beauty salon where you can have a haircut and, of course, Karaoke rooms.
Staff
The staff in the hotel is extremely friendly. They all speak Chinese fluently and some staff members speak English (as for example in the swimming pool and table tennis areas).