Nampho West Sea Barrage
The West Sea Barrage is located 15 km away from Nampho city. Covering a length of 8 km across the estuary of the Taedong River, the West Sea Barrage was built by the Korean People's Army in 5 years by 1986 (Juche 75).
The observation platform, which is shaped like an anchor on the Pi Islet, allows a people enjoy a panoramic view of the barrage on which a motorway and railway run. The barrage links both shores of the Taedong River.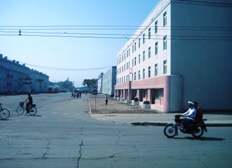 The West Sea Barrage has not only helped the economy of the area but has also turned the Taedong River in a man-made lake, separating it from the West Sea and therefore guaranteeing fresh water for agriculture, people's daily lives, etc. It avoids the risk of floods and allows ships to sail inland.
You will ride on the barrage on the motorway by the railway with the Taedong River on one side and the West Sea on the other.