Sinuiju North Korea Travel Extensions
Sinuiju North Korea Travel Update: We are extremely glad to announce were informed on by our partners in Pyongyang, with whom we have been promoting tourism in the DPRK for many years now, on November 8th 2014, that our DPRK border extension tours that we offer before leaving North Korea will now include a visit to Dongrim where we will stay overnight (instead of at the Amnokgang Hotel in Sinuiju).
As far as we know not many other agencies are offering
this option and Dongrim has yet to be visited by any
Western travellers!
If you leave DPRK by train you can have this one night two days extension from within DPRK with no need to
exit to China and re-enter North Korea.
Dongrim is 48 kilometres away from Sinuiju and it takes around 70 to 80 minutes to drive there.
Below is the itinerary we have sent from Pyongyang. Please note that this option is available for travellers
going on one of our group tours (our group sizes tend
to be small with an average of less than 10 people per group or individually:
Day 1
AM
End of your standard tour in North Korea and start of your Sinuiju Extension Trip!
Depart from Pyongyang at 10.25 by train.
We will ride through rural areas and second tier cities on this 5 hour trip.
PM
Lunch: We strongly recommend you not to have lunch in your compartment but to check-out the lunch wagon as it tends to be busy with Koreans from all sorts of different backgrounds.
Arrive in Sinuiju North Korea at 15.45 (Pyongyang time)
Main Square - a very lively square it has the bronze statue of President Kim Il Sung and Chairman Kim Jong Il.
Revolutionary Museum - this museum has material used by the Leaders Kim Il Sung and Kim Jong Il on their on the spot guidance activities
Drive to Ryongchon - we head inward North Pyongan Province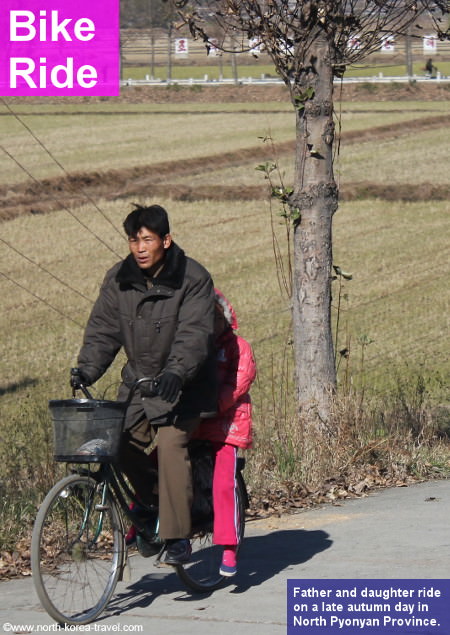 Sinamri Cooperative Farm - see how Koreans work and live in this hardly ever visited area of the DPRK. This farm is one of the most important rice producers in the DPRK.
Drive to Dongrim - be amongst the first Westerners to visit this place!
Dongrim Waterfall
Hike around the local area
Overnight: Dongrim Hotel. A perfect way to relax on your last night in the DPRK after several days of travelling around the country.
This deluxe hotel was only just opened on October 2014. It has 63 rooms and an amusement centre which includes a swimming pool, billiards room, table-tennis room, karaoke, barbers, beauty salon, massage centre, coffee shops, etc.
Day 2
AM
Drive back to Siniju
Cosmetics Factory - chance to see a North Korean factory. See how soap, tooth paste and cosmetics are made in the DPRK as you walk around the factory.
Eternal Life Tower- erected in memory of the President Kim Il Sung and Chairman Kim Jong Il, it is located across the street from the giant portraits of the leaders.
Folk Park - see locals spend a leisurely morning. The site of westerners travellers is extremely rare here. This place is popular for weddings.
History Museum - we can see both prehistorical and historial relics found in the area. This hotel was opened in 1947 and is a major educational facility in the area.
PM
Lunch - local restaurant, Sinuiju. We usually have lunch at the local agency's restaurant which located by the Anmok River (Yalu River in Chinese) right by the Friendship bridge that connects both countries.
North Pyongyan Province Art Studio - chance to see a variety of artwork and to meet the artists. It is also possible to purchase some DPRK art if you wish or to have your portrait sketched by a local artist (this has a cost of 20 RMB). The artwork is truly fascinating as it has a rich variety of propaganda posters of the leaders as well as of scenes of modern day DPRK.
Ponbu Kindergarten - opportunity to see the school facilities and kids here. There is usually a musical performance too.
Departure to China through border bridge at 17:20 by bus / car - unlike when exiting on the standard tours from DPRK, we do not exit by train, but by coach or car although over the exact same bridge. Please note that the DPRK is one hour ahead of China. We can take our connecting train to Beijing at 18.31 Beijing time (which is 19.31 in North Korea).
End of our Extension Trip
Please contact us if you may be interested in our Dandong extension tours where we offer top-notch English speaking guides to show you around this Chinese city and its surrounding areas which border North Korea.