North Korea Leader - Kim Jong Il
North Korea Leader - Kim Jong Il. This section briefly describes Kim Jong Il's transition to power after the death of his father in 1994.
By the 1980s Kim Jong Il's senior position is well established in the party. He is already referred to by Koreans as the "Dear Leader." There is little doubt abroad that he would lead the DPRK after President Kim Il Sung states in 1980 that Kim Jong Il will replace him in the future. National devotion for him is tangible.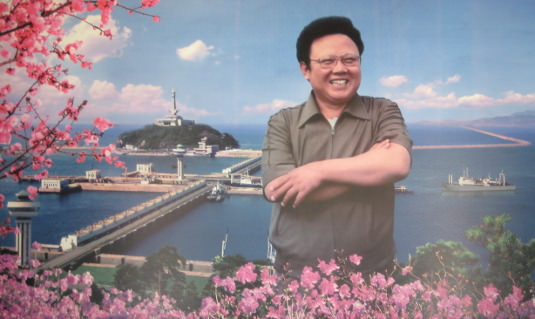 Image of the Leader Kim Jong Il with the West Sea Barrage which was built in the 1980s under his supervision.
In 1992, a year after Kim Jong Il is proclaimed Supreme Commander of the DPRK Armed Forces, Kim Il Sung publicly announces that his son is in charge of all national affairs.
On July 8th 1994 President Kim Il Sung passes away and the Leader Kim Jong Il is turned into the Supreme Leader of the DPRK (though the title of Eternal President is attributed to Kim Il Sung 3 years later). While hardly making any national public speeches, Kim Jong Il frequently visits factories, farms and workers throughout the country, encouraging them to increase productivity and giving them advice and on the spot guidance.
A lot of the North Korean media focuses on him and his achievements.