2020 Kim Il Sung Birthday Tour
Join KTG for our 2020 Kim Il Sung Birthday Tour! The application deadline for this tour is 5th March 2020.
The Day of the Sun is one of the most important days in the DPRK calendar and being in Pyongyang for the occasion of the birthday of the founder of the DPRK will allow you to join in the celebrations.
Our extensive experience in DPRK over the years allows us to come up with enriching itineraries that we have come to improve over the years based on our travellers' feedback after their trips.
Day 1 - April 14 (Tuesday)
Head to the airport and depart from Beijing at 13.05 flight JS 252 Terminal 2, Beijing Capital Airport


Arrive in Pyongyang at 16.05 (Pyongyang time)
PM
Arch of Triumph - marking the period spent by President Kim Il Sung fighting the Japanese and his return in 1945 to Korea, this collosal monument is larger than its Parisian counterpart.
Brief walk around the area - you will see the enormous mural showing an image of President Kim Il Sung's speech upon returning to Korea after the liberation of the country in 1945. The Kim Il Sung Stadium is located close by too, though we will see more of this on Sunday
Kim Il Sung Square - you will walk around one of most known places of North Korea, the square that hosts military parades and mass rallies
Welcome Dinner: KITC Restaurant, Pyongyang
Hotel check-in: Yanggakdo Hotel, Pyongyang
Overnight: Yanggakdo Hotel, Pyongyang
Day 2 - April 15 (Wednesday) National Holiday: 108th Birthday of President Kim Il Sung
This is one of the most important dates in the DPRK calendar.
Kumsusan Memorial Palace of the Sun - where the Leaders Kim Il Sung and Kim Jong Il remain in state. This is a sacred place in the DPRK and we kindly ask you to wear your smartest clothes when going. This is one of the highlights of the Kim Il Sung Birthday Tour.
Fountain Park - great views of the city centre
Mansudae Grand Monuments - giant bronze statues of the leaders
PM
Picnic lunch: Moran Park, chance to mingle with locals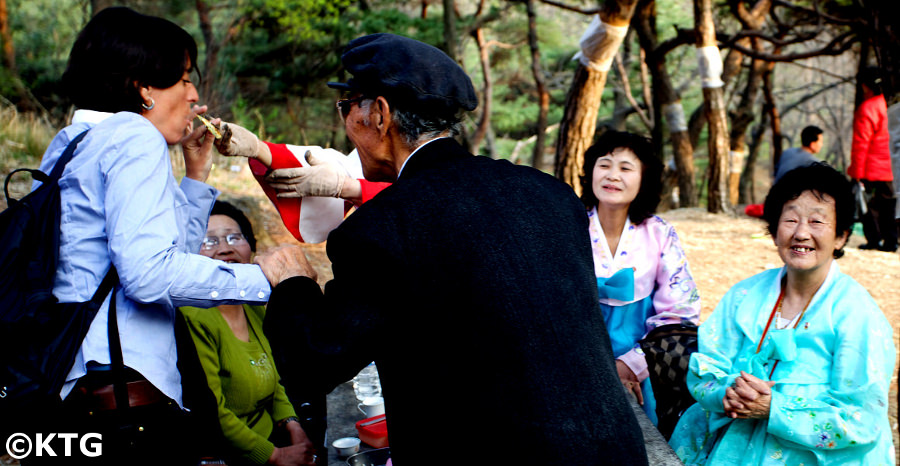 Walk by Moran Park - nothing like an afternoon promenade by the park where thousands of locals sing, dance, drink and enjoy a picnic on one of the major days in the DPRK calendar. Do expect to be asked by locals to join them in the drinking and dancing!
Kimilsungia and Kimjongilia Flower Exhibition - literally thousands of Koreans will be here today seeing the flower stands presented by different work units to the leaders. The centre consists of two floors and it will be literally packed. You will be able to see of course the flowers presented by KTG!
Ride on Pyongyang Metro - one of the deepest in the world - you will go on an extended ride with locals, having several stops that will allow you see one of the busiest aspects of life in Pyongyang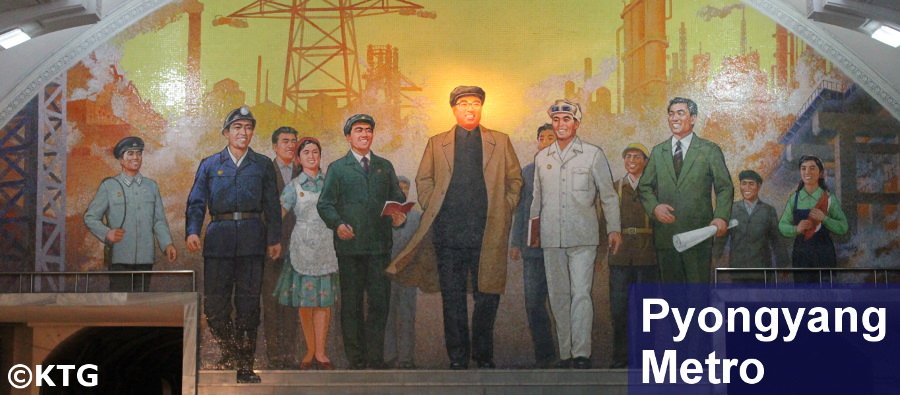 Juche Tower - opportunity to go up the 150 metre tower (170 metres including the torch) that offers a panoramic view of Pyongyang.
Party Foundation Monument - 50 metre tall hammer, sickle and brush dedicated to the founding of the Korean Workers' Party

Expected Mass dances - thousands of students and workers dance in a synchronised way. Feel free to join in the fun! Please note that these are just confirmed on the same day.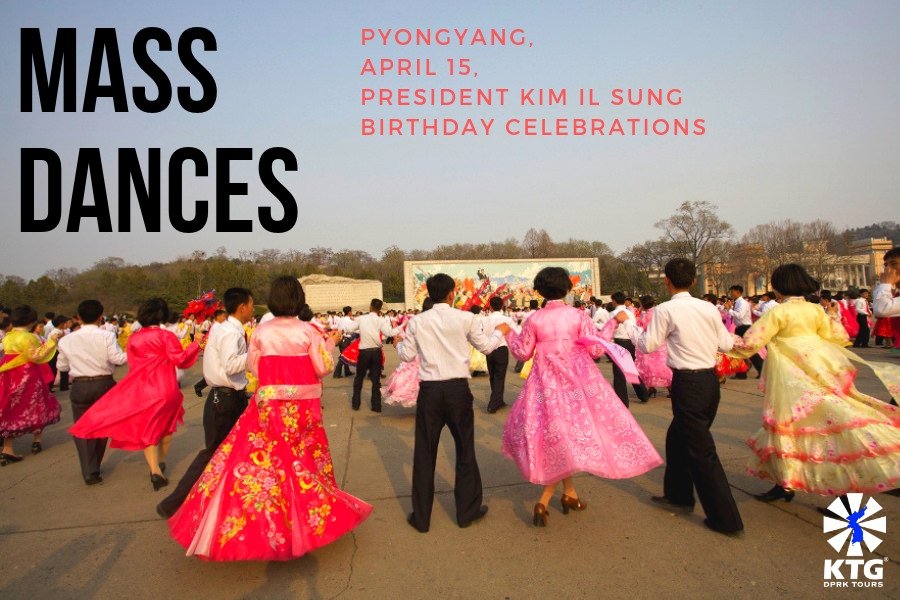 Possible optional activities include going to the Acrobatic Circus or seeing the Orchestra (entrance fee is 20 Euros). These will be confirmed once in Pyongyang.
Dinner - Local restaurant, Pyongyang
Evening Funfair (optional) - you can go on the rides if you like (these cost from 1.5 Euros to 5 Euros) but the main reason we arrange a visit here is to be able to see and join in with hundreds of Koreans, both children and adults. The entrance fee to the park is 2 Euros per person.
Firework Display - we expect these to be held at around 8 pm. We will have confirmaiton once in Pyongyang if these will be held.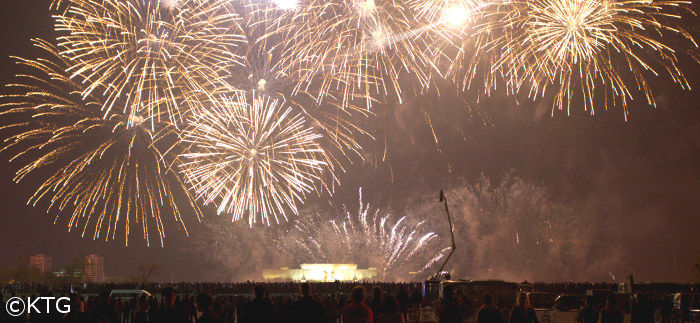 Overnight: Yanggakdo Hotel, Pyongyang
Day 3 - April 16 (Thursday)
Breakfast: Yanggakdo Hotel, Pyongyang
Drive to Mount Myohyang - in northern interior of the DPRK lies a secluded and beautiful spot of Korea; Mount Myohyang (fragrance mountain).
International Friendship Exhibition Centre - It is safe to say that no other place, other than the Palace of the Sun, better portrays how much the leaders of North Korea are revered in the DPRK. There are two windowless buildings, built into the mountains and consisting of endless corridors and several floors, showing thousands of gifts given to the leaders Kim Il Sung and Kim Jong Il and Comrade Kim Jong Suk (wife of President Kim Il Sung and mother of General Kim Jong Il). There is now a section too for the current leader Kim Jong Un.
Pohyon Temple - initially built in 1042, it used to be the centre of Buddhism in the region.
PM
Lunch: Hyangsan Hotel, one of the most luxurious hotels in DPRK
Korean War Museum - this War Museum was rebuilt only last year and is now an impressive complex, unique in its kind. It explains the DPRK view of the href Korean War. An extensive collection of vehicles and weapons can be seen. We will be guided around by a very friendly local guide.
USS Pueblo - American Spyship captured in 1968. The crew stayed in the DPRK for 11 months. This is the only US vessel in posession of another country.
Dinner: Local restaurant, Pyongyang
Overnight: Yanggakdo Hotel, Pyongyang
Day 4 - April 17 (Friday)
AM
Breakfast: Yanggakdo Hotel, Pyongyang
Drive to Kaesong (Panmunjom, the DMZ) - we leave Pyongyang early in the morning for this 2 and half hour drive south. As we approach Kaesong we will see the Kaesong Industrial Complex on the left handside of our coach as well as the train station which leads to South Korea and represents the reunfication of the country.
38th Parallel (DMZ) - we will see the famous blue negotiation rooms where talks between North & South Korea are held. If not opened you will get a close up look. A Korean People's Army Officer will hop on our coach and us on our coach and guide us around Panmunjom. This is a great chance for us to interact with a KPA officer as they tend to ask us questions regarding our views on the Korean War or impressions about their country. If the rooms that go into South Korea are not opened we will get close to them always under the guidance of the soldier.
Koryo Museum (UNESCO World Heritage Site) in the old part of the city - unlike most of Korea, Kaesong was not destroyed during the Korean War. This museum was the first university in the Korean Peninsula. It is also quite common to see newly weds celebrating their weddings here.
Stamp shop - chance to purchase a wide variety of DPRK stamps, post cards, artwork, etc. This is just outside of the Koryo Museum and we usually make a quick break here.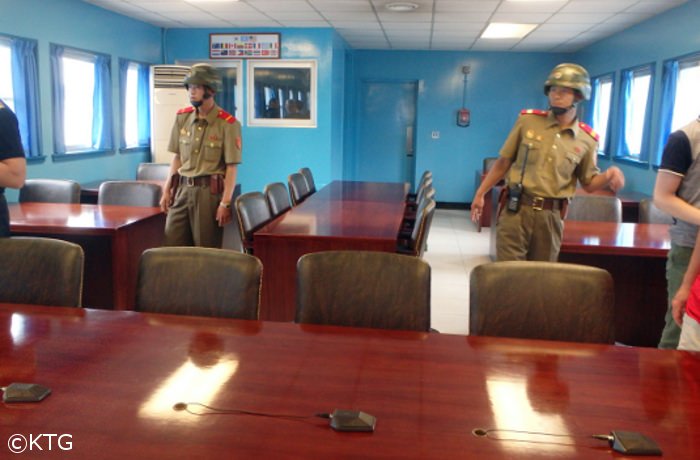 PM
Lunch at Tongil Restaurant in Kaesong - we will be served a variety of dishesin small covered golden plated bowls. The number of dishes used to symbolise in ancient times the status of the person eating, 12 bowls is the largest amount served.
Drive to Sariwon City - this lively city is located in North Hwanghae Province and is one of the largest in Korea
Folk Street - chance to try some delicious Makoli (Korean rice wine with very low levels of alcohol). The walk around here is always interesting. There are usually street games and activities too where we can of course join in!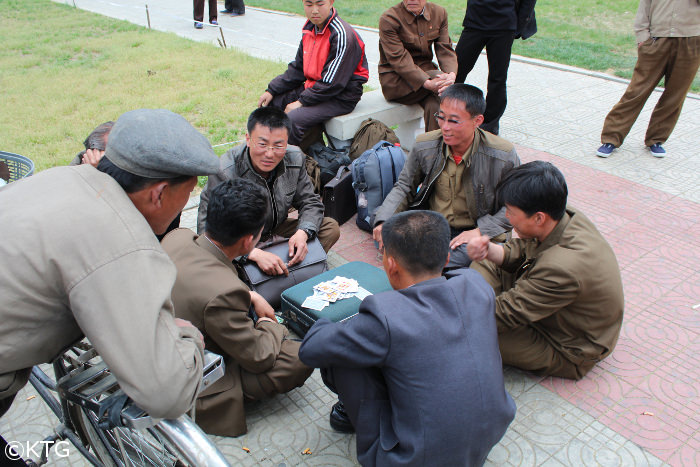 Ancient Model Pavilions - we will see how Koreans lived in ancient times and check some model pavilions of times past in Korea
Walk up Mount Kyongnam - this walk is not as daunting as it may sound! It takes around 5 to 10 minutes to walk up to the main pavillion where we will have fabulous views of the whole city of Sariwon and of its surrounding areas. You can see a short video of the main street we walk around in Sariwon and of the views from Mount Kyongnam in our video below (feel free to visit KTG's Youtube Channel for more videos):
Three Charters Reunification Monument - consisting of two ladies that represent the reunification of the Korean Peninsula
Kwangbok Supermarket - this is the only place in Pyongyang where foreigners can exchange foreign currency into Korean Won and buy things with locals. The supermarket consists of three floors. We are left to explore it by ourselves.
Farewell Dinner: Pyongyang Number 1 Duck BBQ restaurant, Pyongyang
Overnight: Yanggakdo Hotel, Pyongyang
Day 5 - April 18 (Saturday)
AM
Breakfast: Yanggakdo Hotel
10.25 am train to China - please contact us if interested in flying out.
PM
After crossing the Yalu River by train into China we will arrive in Dandong China, where we will get off the train and have a one hour break before continuing to Beijing. We will have the chance to see the giant statue of Mao Ze Dong.
Day 6 - April 19 (Sunday)
AM
Arrival at the Beijing train station. The expected arrival time is 8.40 am
Please click on our DPRK Tourism section to see more information on other tours that we offer other than our Kim Il Sung Birthday Tour.