Future Scientists Street (Mirae Scientists Street | 미래과학자거리)
Futuristic but retro; welcome to Mirae Future Scientists Street in Pyongyang!
Introduction
Welcome to what we like to call the "Dubai of Pyongyang", where high rise, atom-shaped buildings and contemporary futuristic architecture starkly contrast with the traditional soviet style buildings that dominate the capital, where retro-futurism and socialism blend into one.
Biking through Mirae Street
Check our bike ride through Mirae Street in our Youtube video below!
Location
The street is located by the west bank of the Taedong River in Pyongyang. It is actually very close to the Yanggakdo Hotel which is where we tend to stay on our group tours.
Views of the west bank of the Taedong River from the overpass at Mirae Street
History
Construction of Mirae Scientists Future street started in 2014 and the street was inaugurated in 2015, built at was has been dubbed "Pyongyang Speed." Slogans referring to speed where first used in North Korea in the 1950s after the DPRK was rebuilt from scratch following the Korean War.
KTG travellers walking on Mirae Street
It was referred to as "Chollima Speed". Similar slogans have been used in North Korean culture such as "Masikryong Speed" in reference to the quick construction of the Masikryong Ski Resort.
Layout & Facilities
It consists of a 6 lane street, with skyscrapers, cultural facilities such as an e-library and cinema, stores, bars and restaurants, including an Italian food restaurant. Mirae street also boasts a nursery, kindergarten, primary school and middle school.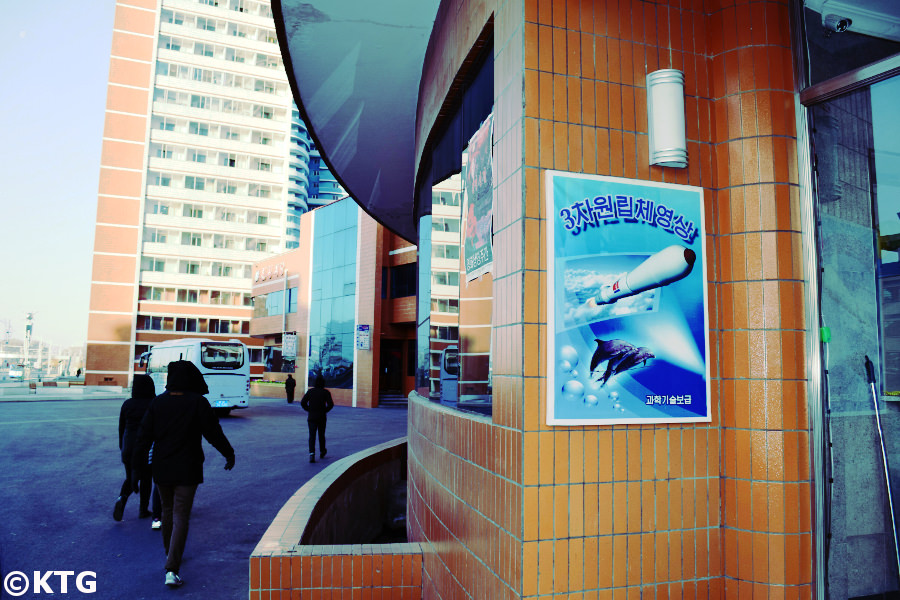 Dolphins & Rockets
The apartments mainly house teachers and scientists from Kim Chaek University of Technology.
Atoms symbols are almost omnipresent in Future Scientists Street
Flats are spacious, with 4 to 5 bedrooms and ranging from 130 ㎡ to 200 ㎡.
Kim Chaek University of Technology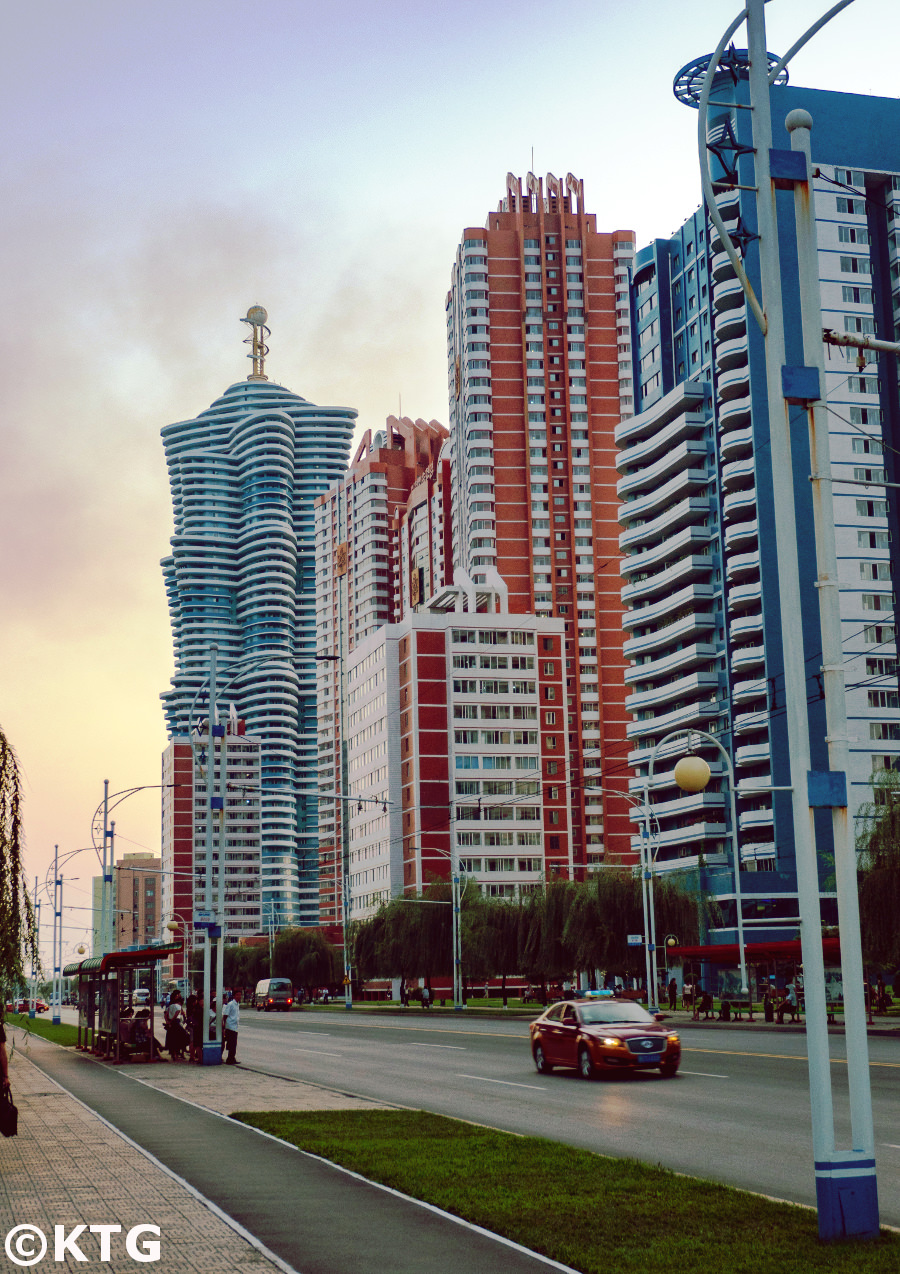 The high rise buildings house professors and scientists from the nearly located Kim Chaek University of Technology, named after General Kim Chaek. This university is home to over 2000 staff members and 15,000 students and 40 undergraduate degrees. The university runs too distance education programs with 24,000 enrolled students.
Faculties include mechanical engineering, physical engineering, applied chemical engineering and electronics and the university has been awarded several international prizes.
A predominant theme of Future Scientists Street is that of atoms.
Over 1,100 of over 2,000 flats house professors and educators from this university. Flats house scientists too.
Educators and scientists in North Korea are seen as patriots who devote their lives to the education of future generations and therefore the prosperity of the DPRK.
Galaxy Tower | Unha Tower 은하 타워
Without a doubt, the most iconic building of Mirae Street is the 53 story Unha Tower. Galaxy tower, shaped as a stretched atom, dwarfs anything surrounding it as it rises 150 metres high up the skies of Pyongyang.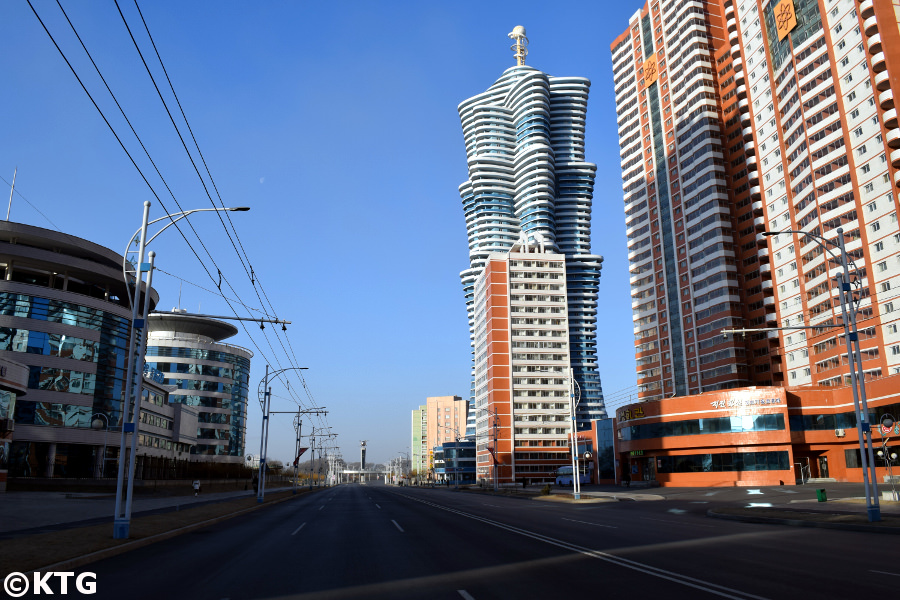 Best Place to take Pictures
The Mirae overpass at one end of the street is the best spot to take pictures within the street itself.
The overpass has a tower with an atom at the top, a recurring theme in Mirae Street.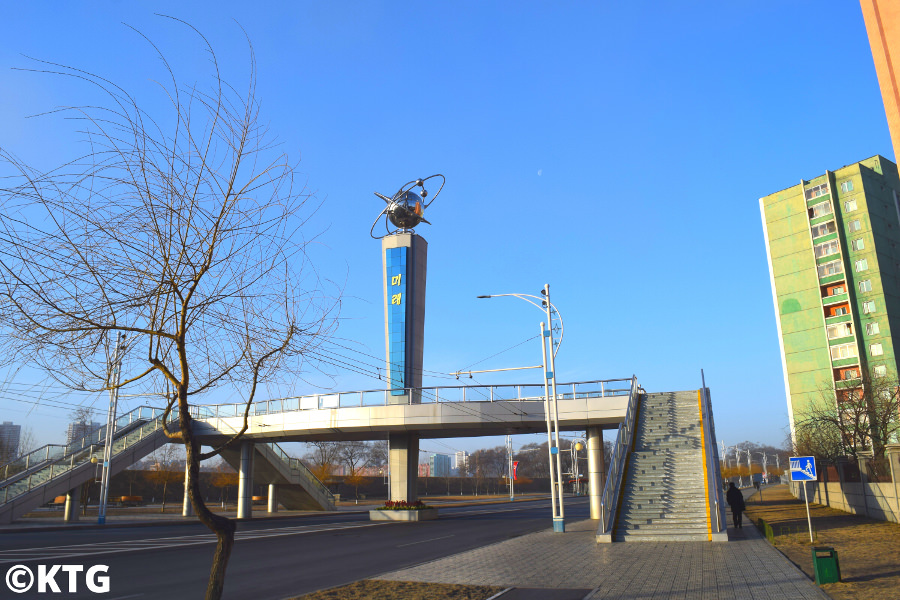 미래 overpass is the best place to take picture of Future Scientists Street
Going There
We can arrange a stroll around Future Scientists street any time as we usually stay close by at the Yanggakdo Hotel.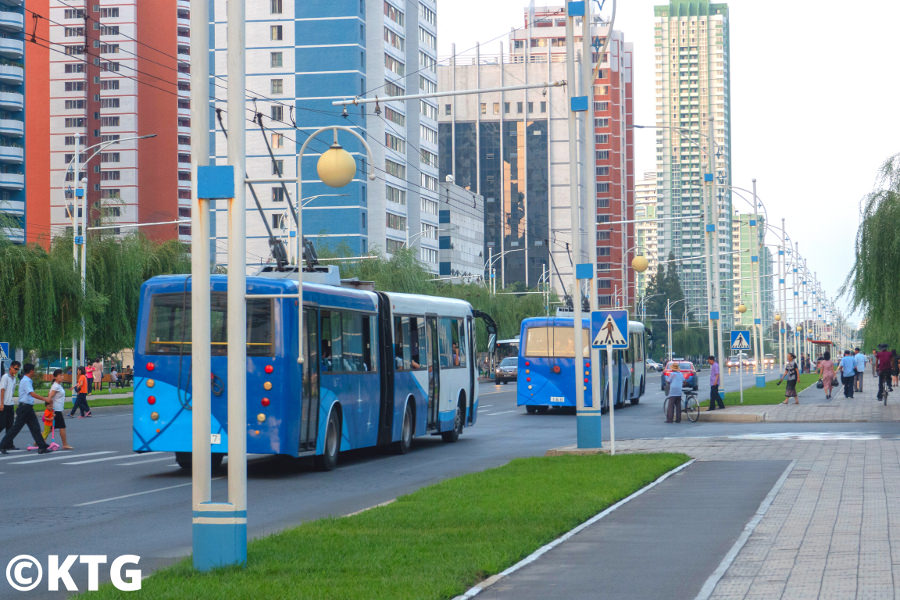 Whether going early in the morning as it the city wakes up, in the late afternoon as locals finish work and start to unwind or when the street is brightly lit up at night, a walk or even drive through Mirae Future Scientists Street definitely adds a new dimension to your DPRK experience.