Chongnyon Hotel North Korea aka The Youth Hotel

The Chongnyon Hotel (or Youth Hotel) was built in 1989 and is a first-class hotel. However, do bear in mind that first-class hotels are not the highest rated hotels in North Korea unlike deluxe-class North Korean hotels like the Yanggakdo International Hotel and the Koryo Hotel.

bubble
Please feel free to ask any questions, leave any reviews or upload any pictures regarding the Chongnyon Hotel in the section at the bottom of this page so that other readers can see what to expect if staying here. Scroll to the bottom of the page to see any reviews posted!

Location

It is located in Mangyongdae District on Kwangbok Street. This is about a 15 minute drive west of Pyongyang's city centre. Close by you will find Pyongyang Circus, Chilgol Revolutionary Site, as well as the Hyangmanru and Chongchun restaurants.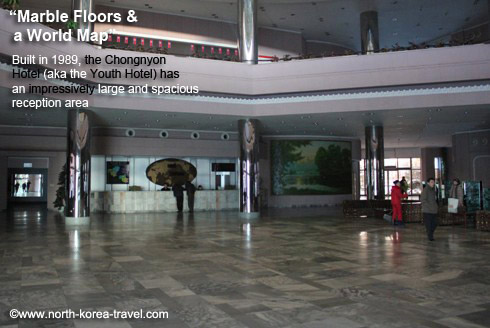 Interesting Facts
There is a burger joint right by the hotel. Please note that fast food restaurants are a rarity in North Korea. Please check our North Korea Food options page for a list of restaurants in the DPRK.
Another, though perhaps not as interesting, fact to point out is that The Air China ticketing office is located in the Youth Hotel.
Handy Tips & Facilities
The Youth Hotel has an outdoor swimming pool with a slide. So if you come during the summer months make sure you do bring your swimming trunks. You will find that many of the pool guests are North Koreans who have paid to use the pool for the day, which makes it more interesting as you will have the chance to mingle more with locals.
On the second floor of the hotel there is a
souvenir shop
and a
bookshop
. Other entertainment facilities inside the hotel include
billiards
,
karaoke
and
table tennis
rooms and an
indoor sauna
with a
massage parlour
.
Rooms

The Chongnyon Hotel has 30 stories and 465 rooms. As you enter the hotel you will see a very large reception area. This is where tour groups usually met up with their tour guides in the mornings before setting off for the day. Like most other hotels, rooms here clean, have a fridge and a TV.
Restaurants

There is a bar and a restaurant on the first floor which serves Western breakfast (toast, eggs, jam etc). But if you are craving for Western food after a few days in North Korea, then why not pop in the fast food burger restaurant just outside the hotel as well as a snack shop open until late at night?
Have any reviews about the Chongnyon Hotel?
Do you have any reviews or stories about the Chongnyon Hotel (Youth Hotel)? Please share them!
What Other Visitors Have Said
Click below to see contributions from other visitors to this page...