North Korean Anti-US Propaganda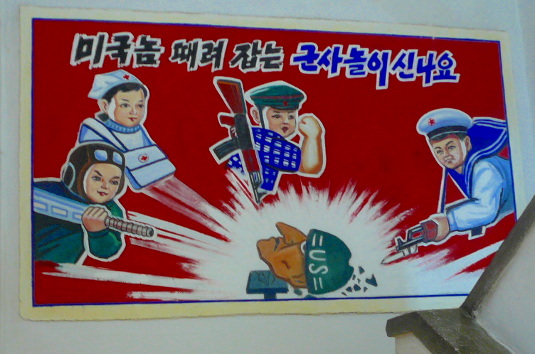 Anti US propaganda poster. We took this picture in a kindergarten stairway.
North Korean Anti-US propaganda is prominent in the DRPK. The USS Pueblo incident was seen as evidence of US imperialist aggression and hostile policy towards North Korea. It is currently used as a tourist attraction and also for educational purposes. Commercial adverts are very rare in North Korea (two car billboards have appeared in the past few years in Pyongyang), but political propaganda as well as images of the Leaders Kim Il Sung and Kim Jong Il as well as of Kim Jong Suk (referred to as Mother Kim Jong Suk as she was Kim Jong Il's mother) are very common in the DPRK.