Majon Bathing Resort: Basic but a lot of Fun!
The Majon Bathing Resort has very basic conditions, but on the upside it offers you a great chance to have fun with locals staying there.
Location of the Majon Bathing Resort
The Majon Bathing Resort is located on the east coast in the district of Hungnam which is part of the DPRK's second largest city, Hamhung city. Hamhung is the provincial capital of South Hamgyong province. We usually stay here when arranging a visit to Hamhung. Please remember that Hamhung only opened up to western tourists in 2010 and that not many travellers head to this part of the country.
Click on the map above to go to our DPRK interactive map.
People & Beach
The hotel is in an ideal location right on a 1,200 m long clean sandy beach. Here you will be able to sit back, relax and have the chance to mingle and interact with Koreans in a way you would not have even imagined as everyone on the beach is in a festive mode! The only purpose of their being here is to enjoy themselves as much as possible.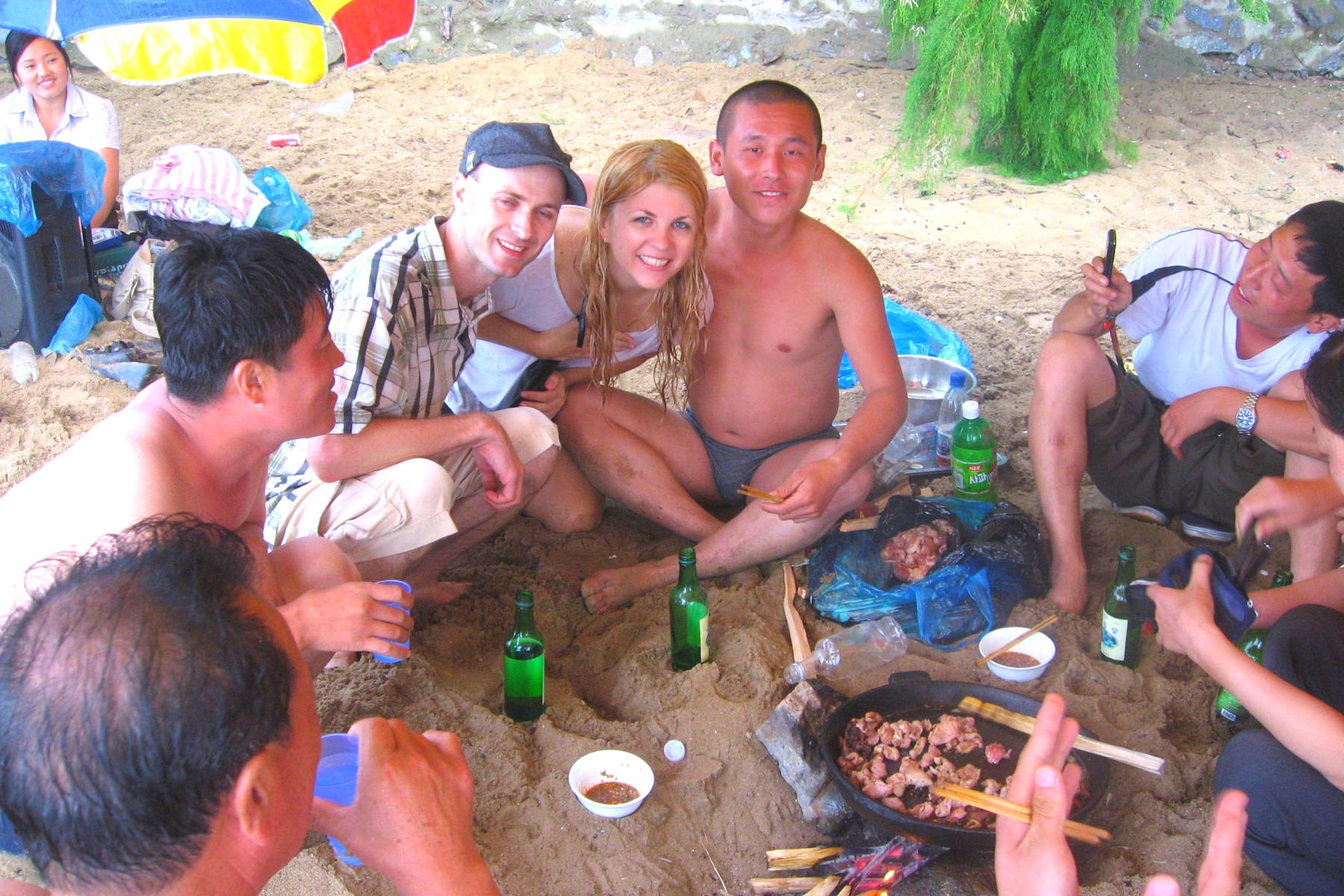 Soju Time! - KTG travellers having a blast with Koreans at the Majon beach
It is common, especially during national holidays, to see Koreans having barbecues on the beach, drinking, singing and dancing. As this part of the country opened relatively late to tourism, locals tend to be even more inquisitive about foreigners than in other areas of North Korea. As pretty much all North Koreans, locals here are very friendly too! Don't be surprised if you are invited to join in and have something to eat, drink (usually Soju) and dance with Koreans on the beach. You will also find young people playing ball games like volleyball and may be invited to join in on many occasions.
Relaxing - Koreans at the beach at the Majon Beach Resort
Resort
Layout of the Majon Bathing Resort
The resort itself is composed of 20 individual beach-houses or bungalows right on the beach.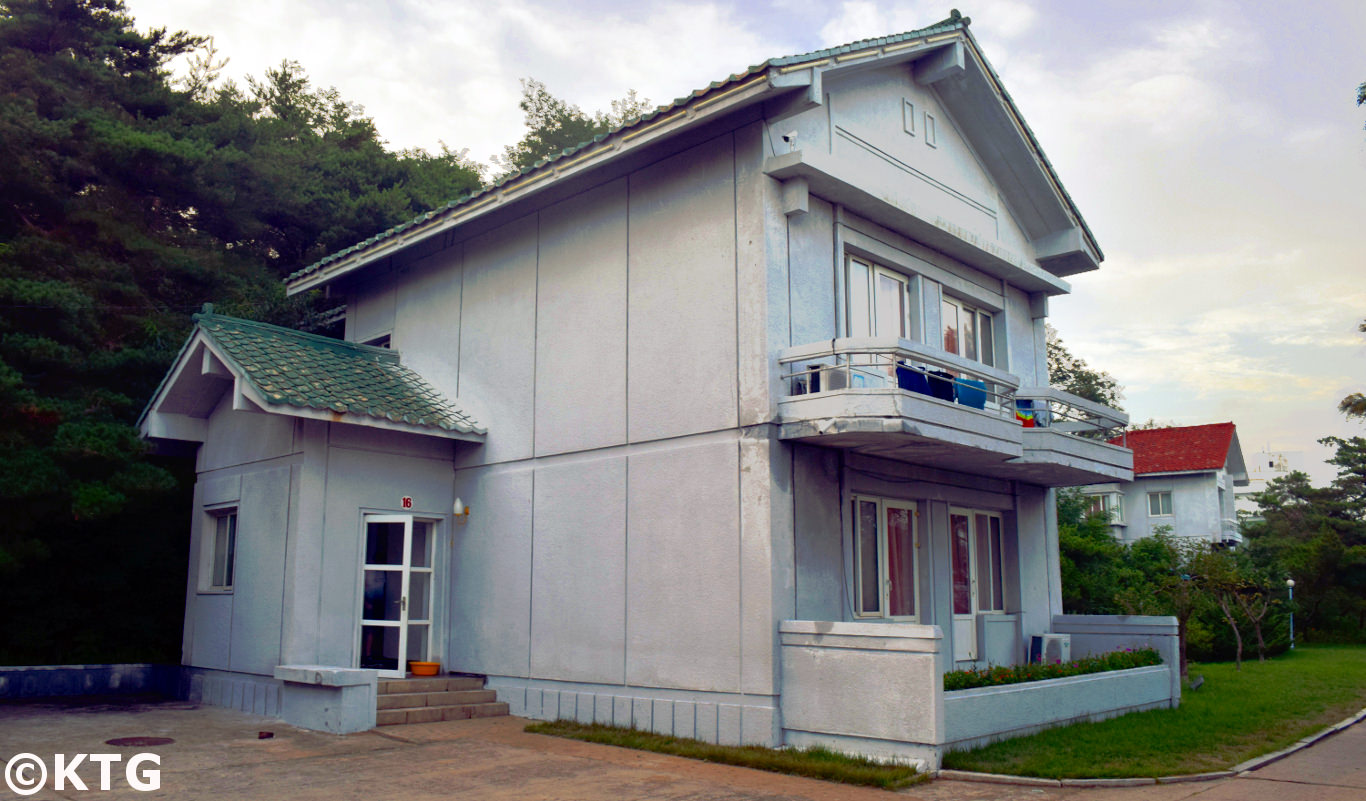 Villa at the Majon Beach Resort
There is also a central building where you will find the restaurant where you will have breakfast and dinner, bars, shops, pool tables on the top floor and karaoke rooms.
Beach time! There is a shop in the resort's main building where you can buy beach gear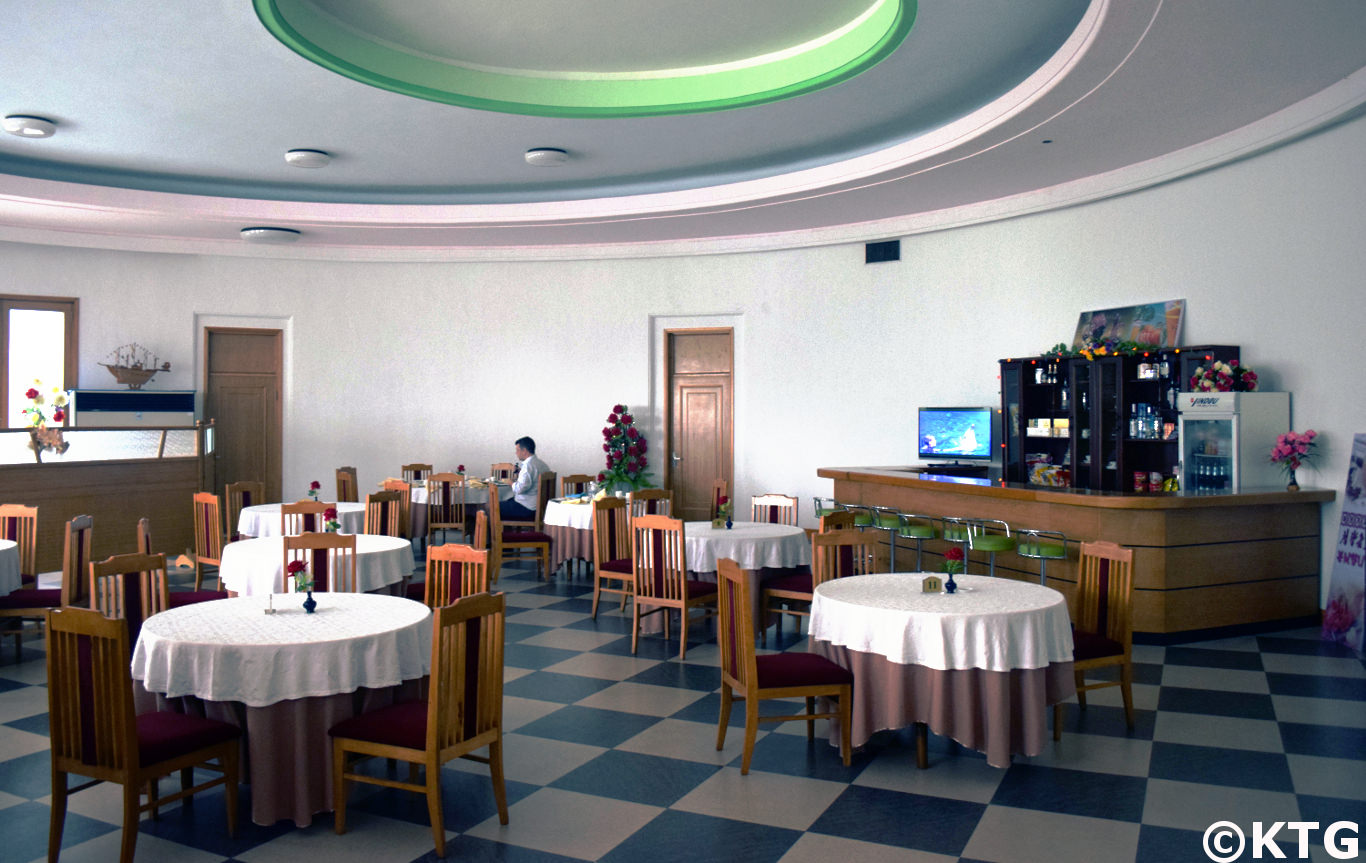 Rooms
Each villa has two floors with double bedrooms with their own bathrooms and a small balcony.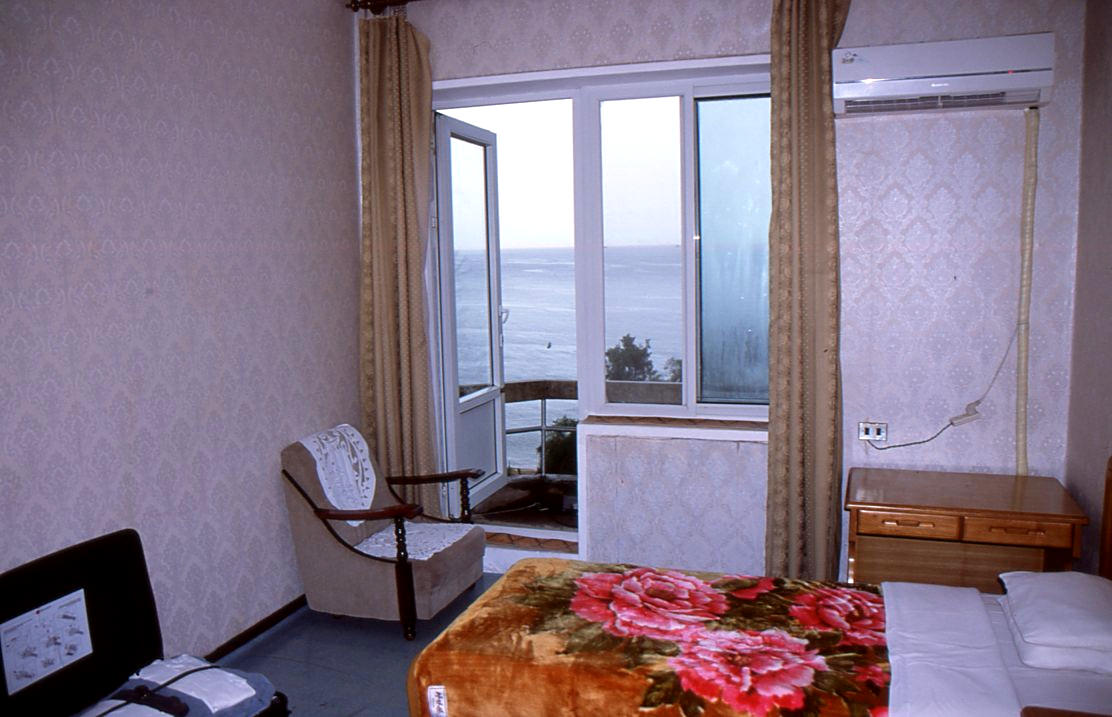 Baths consist of barrels (or large buckets) of hot water which you then pour over yourself in a sitting position outside the bathtub. There is no running water here and electric rods are used to heat the water. Please DO NOT handle this yourself and ask for the local staff to help you out.
Metal rods are used to heat water already provides in large buckets and in the filled up bathtub. Please DO NOT operate this by yourself and ask one of your guides for help using them
Activities
It is possible to have a clam barbecue and bonfire at night. The cost of the barbecue is 5 Euros per person. If you usually have a weak stomach when travelling we recommend you to stay away from any fresh seafood. If feeling brave and if you would like to try the tasty clams, we strongly recommend you to have some soju, not just because of the taste but also because, according to Koreans, it will help keep your stomach nice and clean!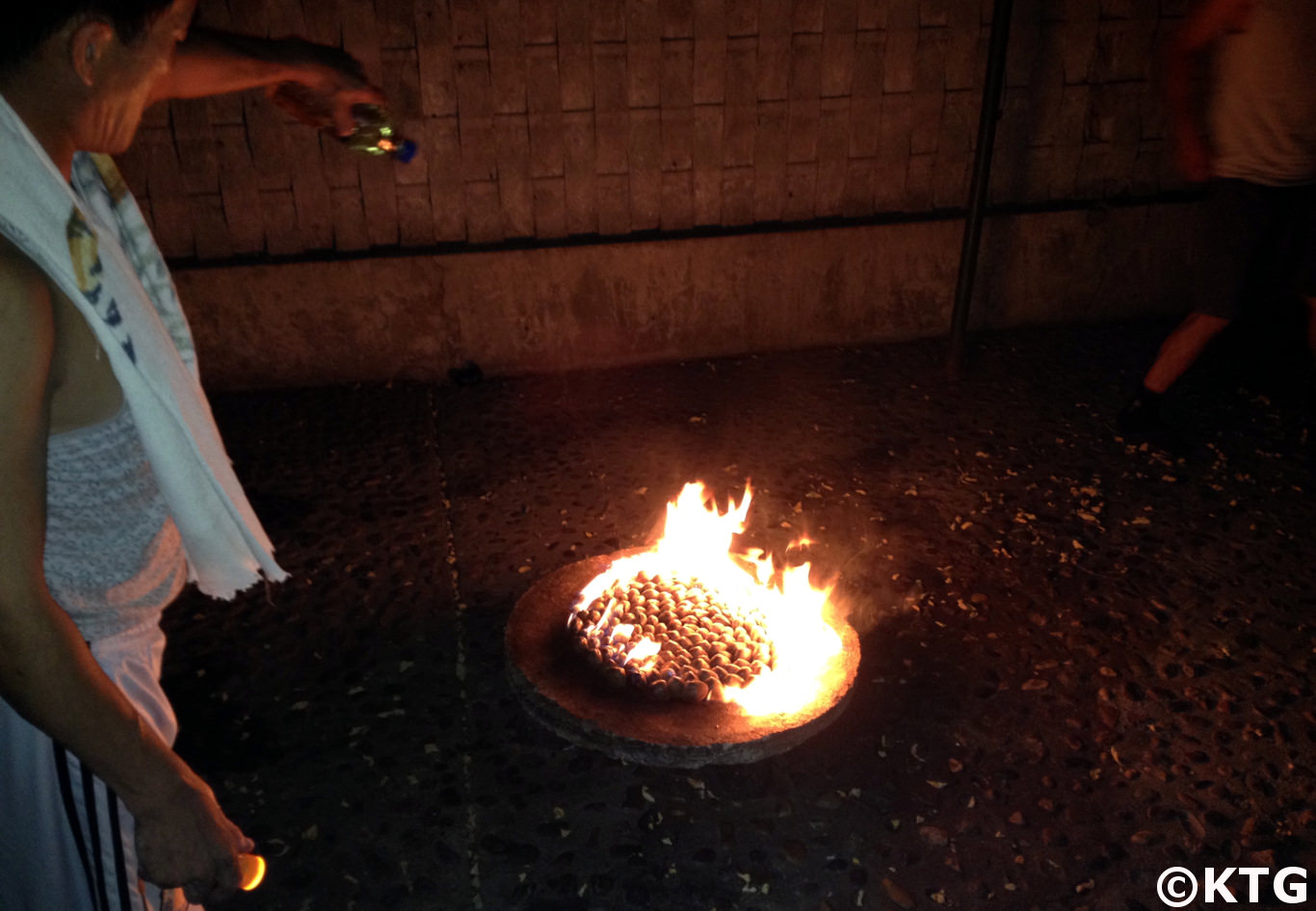 Petrol Clam BBQ
Tips
Pictures
Sunset and sunrise images can be truly stunning! We recommend you to get up early and snap away!
Breathtaking - Sunrise at the Majon Beach Resort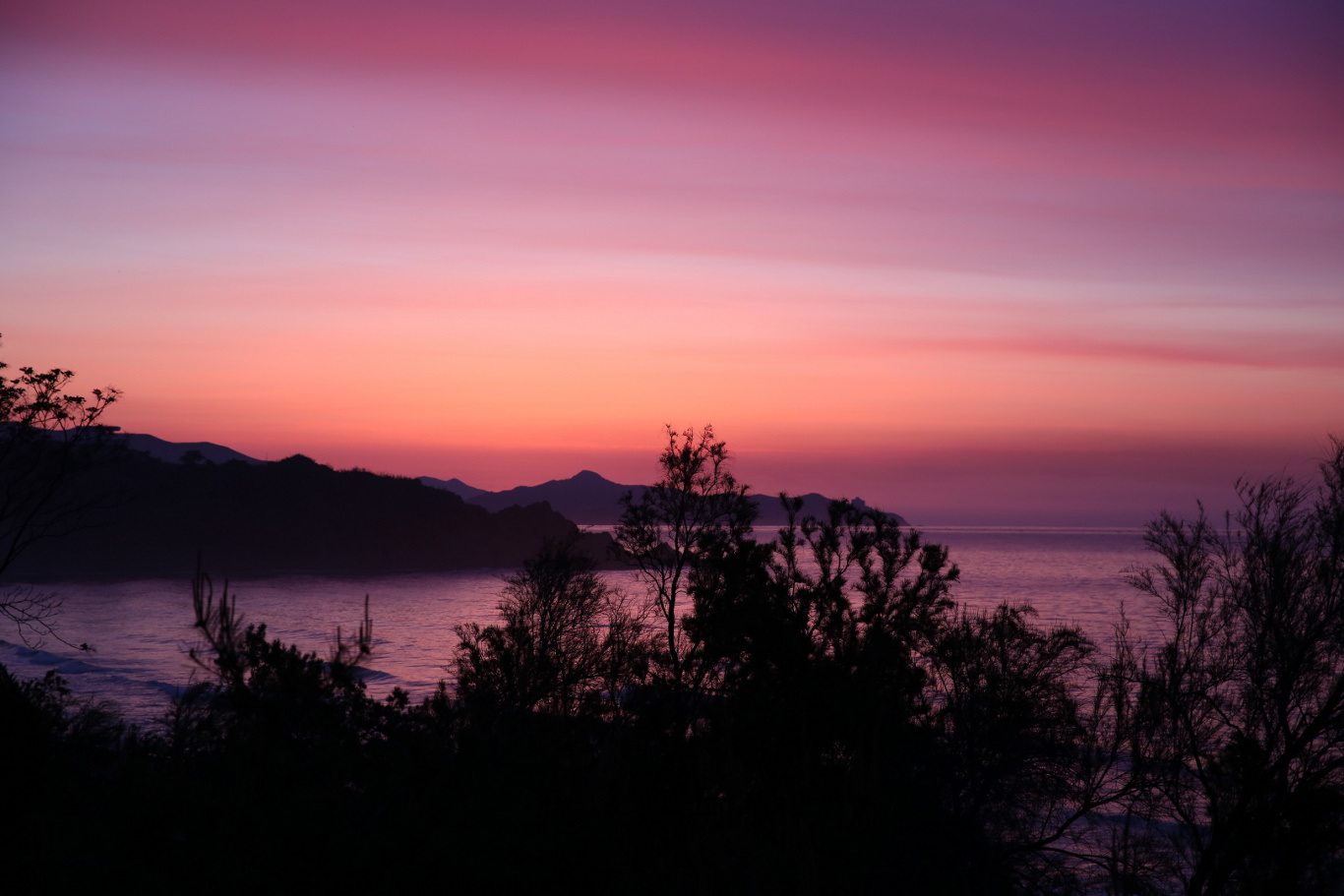 Minutes apart - notice the difference in the sky's colour
Buy a Beach Ball
Who doesn't love a kick around or a game of beach volley? Having a ball will definitely help break the ice with locals and allow you to have some fun with Koreans on the beach. You can purchase a ball in the main building of the resort.
Don't leave the Resort
Whereas we can walk around the beach freely and without our guides, please note that we cannot leave the resort itself.
To Sum Up
Overall, the Majon Bathing Resort is a great place to just sit back and relax during a busy tour of the DPRK. If you are looking for a calm break, especially after several days of constant travelling, and if you would like to meet locals, drink and have fun with them and you do not mind not having running water for a day then this is definitely a place for you to stay. If luxury is a must for you, then the Majon Bathing Resort may not be for you.
Have any reviews / questions about this hotel?
Do you have any reviews, stories and/or questions regarding the this hotel? Share them!