Mansudae Grand Monuments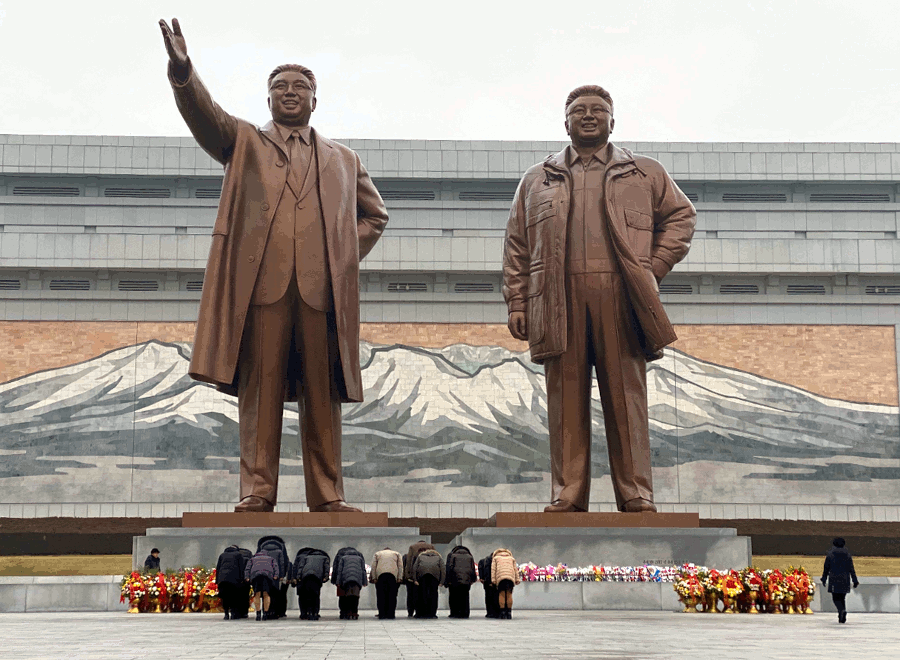 Mansudae Grand Monument - here people place flowers at the foot of the bronze gigantic statue in respect to the "Great Leader" Kim Il Sung before bowing in line. On both sides of the statue are figures of people representing the Wars against Japanese and the U.S.
There are over 200 sculptural figures which on average are 5 metres high and stretch for 200 meters. Behind the imposing figure of Kim Il Sung is a mosaic figure of Paekdu Mountain, known as being the birthplace of the Korean people.
The group of soldiers on both side represent the struggle against Japan (on Kim Il Sung's right hand side) and the US (on his left).
The building behind is the Korean Revolution Museum which has no less than 4.5 km of total display length! In 2012 the staute of General Kim Jong Il was added and modifications were made too to that of Kim Il Sung. Above is the original statue of Kim Il Sung. Below is an updated image of the Mansudae Grand Monuments.
Important! - the leaders of the DPRK are highly respected figures. You should not lean on the ground when taking pictures of the statues and the images of the bodies should not be cropped when taking any pictures; that is to say that the whole body image should be taken. When visiting the Grand Monuments you will be kindly asked to bow and one person in the group will be kindly asked to leave a bunch of flowers by the footstep of the monuments.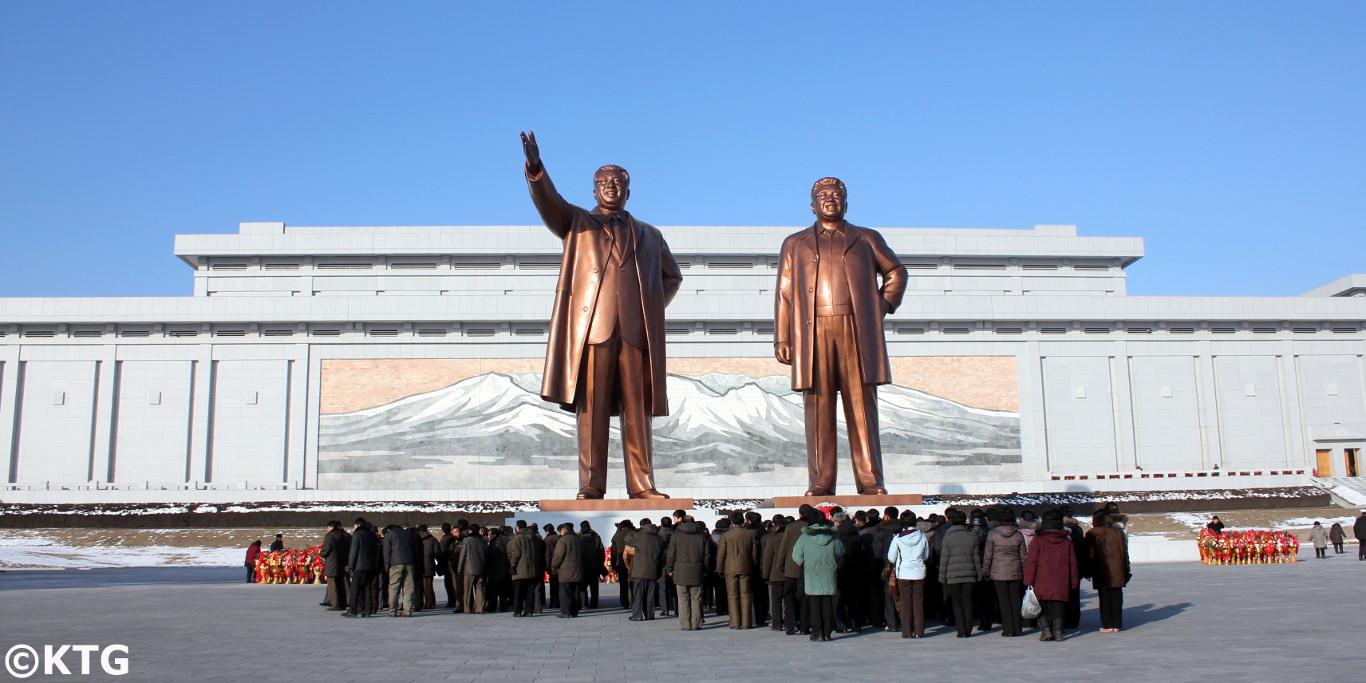 Picture taken on December 24th. December 24th is a National Holiday on occasion of the Birthday of Kim Jong Suk (mother of Kim Jong Il and wife of Kim Il Sung) referred to as Mother Kim Jong Suk in the DPRK. Traditionally tours have not be run during the coldest winter days though now trips can be arranged during December and early January as well as the rest of the year.
Chollima Statue
| | View of the Chollima Statue from the Grand Monument. Based on a Korean legend where a horse that could fly at incredible speed but always struggled to find someone to ride on it, this statue was used to encourage the people to reconstruct the country after the war emphasising the fact that constant work and innovation were required. |
| --- | --- |
The Grand Monument, that glares into the horizon over Pyongyang, was erected on Mansu Hill in April 1972 on the occassion of the 60th Birthday of Kim Il Sung and was restored in 2012.
Please click here to see what other places you will be able to visit on one of our North Korea Tours. The places you will see are not limited to those listed on our website.