North Korea Extended Easter Tour 2016
North Korea Extended Easter Tour 2016. The application deadline for this tour is February 20 2016. If interested in extending your tour please send us an e-mail stating how long you would like to extend for and if there are any specific places / aspects of the DPRK you would like to see. This is a very comprehensive tour that will allow you see a variety of aspects of the DPRK including a school, farm, hospital, factory and the mining city of Pyongsong which was only opened to tourists in 2013.

Please note that our group departures tend to be small, with an average of less than 10 people. This allows for more rapport with the local guides and flexibility in the DPRK which is simply not possible with large groups and will make this unique trip even more special.
If not a US citizen, you can also join this tour by train.
Please contact us if you are interested in this option.
Day 1 - 24 March (Thursday)
Depart from Beijing at 14.00 flight JS 252 Terminal 2, Beijing Capital Airport
Arrive in Pyongyang at 17.00 (Pyongyang time)
PM
Fountain Park




Mansudae Grand Monuments

- Giant bronze statues of the Leaders Kim Il Sung and Kim Jong Il
Hotel check-in: Yanggakdo Hotel
North Korea Extended Tour Welcome Dinner: KITC Restaurant, Pyongyang
Overnight: Yanggakdo Hotel, Pyongyang
Day 2 - March 25 (Friday)
Breakfast: Yanggakdo Hotel
38th Parallel (DMZ)

- chance to enter the famous blue negotiation rooms where talks between North & South Korea have taken place. Please note that if these are closed due to the DPRK and South Korea having any negotiation talks (as was the case in 2013) we will still have a close up look to the rooms. A North Korean soldier will hop on our coach and show us aroundPanmunjom. They tend to be quite curious about what foreigners think regarding the Korean War and the political situation of Korea. This is a unique chance to interact with a DPRK soldier.
PM
Lunch at Tongil Restaurant (Kaesong)
Koryo Museum (Kaesong)

- Kaesong used to be the capital of the Koryo Dynasty.
Kaesong Stamp Shop

- apart from stamps in all forms and sizes, we can also purchase DPRK postcards (these can be mailed home from our hotel in Pyongyang), artwork, books, etc. Please note that you will also be able to purchase these at different points throughout the trip.
Stop by the Reunification Monuments
Mangyongdae Native House

- Kim Il Sung's Birthplace
Dinner: Local restaurant, Pyongyang
Overnight: Yanggakdo Hotel, Pyongyang
Day 3 - 26 March (Saturday)
AM
Breakfast: Yanggakdo Hotel
Drive to Mount Myohyang

- we drive to a truly beautiful and peaceful area of the DPRK
Pohyon Temple

- ancient Buddhist temple

PM
Lunch: Chongchon Hotel, Mt. Myohyang
USS Pueblo - This US spy ship is the only US vessel held by a foreign country. It was captured in 1968 and is shown as a trophy to locals and foreign visitors.
Dinner: Chongryu Restaurant, Pyongyang

Overnight: Yanggakdo Hotel, Pyongyang
Day 4 - 27 March (Sunday)
AM
Breakfast: Yanggakdo Hotel
Kumsusan Memorial Palace

(where the Leaders Kim Il Sung and Kim Jong Il remain in state). This is a sacred place in the DPRK. You are kindly asked to wear formal clothing. We will brief you before your trip to the DPRK so that you are prepared for your trip.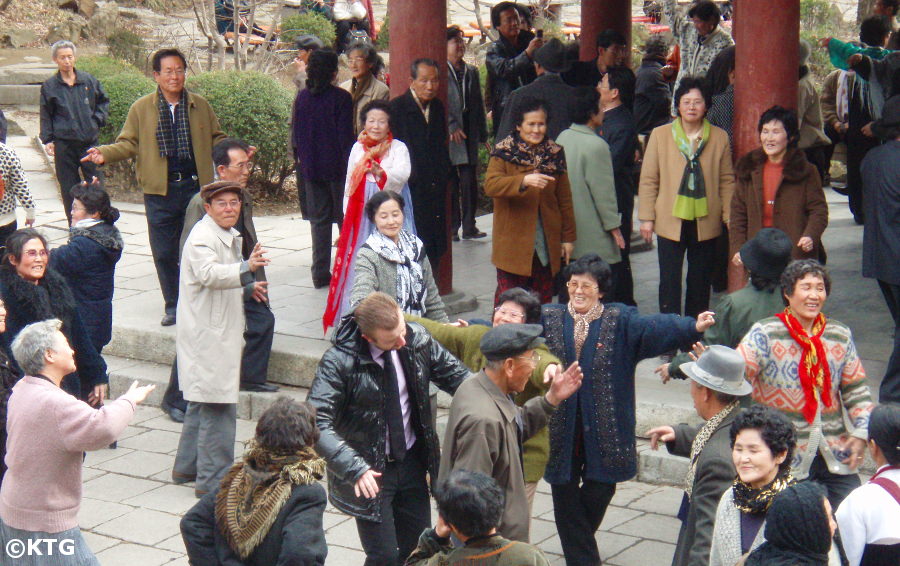 PM
Lunch: Local restaurant, Pyongyang
Moranbong Park

- where locals gather on holidays and Sundays. Do not be surprised if you are asked to join in any of the dances! With a very limited number of foreigners visiting the DPRK each year, the site of westerners in North Korea is very rare.
Juche Tower

- chance to go up the 150 metre tower (170 metres including the torch) that offers a panoramic view of Pyongyang.
Option

: local funfair - this is something we suggest as it allows us to interact with locals and see them have fun. Even if you do not try the rides (which cost 1 to 3 Euros / ride and are a lot of fun), walking among the crowds, exploring the venue, checking out the 1990s style arcades rooms and the burger joint, are all part of the DPRK experience.
Dinner: Pyongyang Duck BBQ Restaurant
Overnight: Yanggakdo Hotel, Pyongyang
Day 5 - 28 March (Monday)
AM
Breakfast: Yanggakdo Hotel
We will drive on the Youth Hero Highway, a highway built by students at the end of 1990s. Some of our local guides actually participated in this project. Being able to speak to them about their personal experiences in the DPRK and views of their country is something that we see as being invaluable and having small groups and an excellent relationship with them (many of the guides are now good friends given our constantly going to the country) helps us achieve this.
West Sea Barrage

- impressive 8 km long project that separates the West Sea and the Taedong River.
PM
Lunch: Restaurant in Nampo City
DPRK Art Studio

- wide variety of different forms of Korean art, including North Korean propaganda
Overnight: Yanggakdo Hotel, Pyongyang
Day 6 - 29 March (Tuesday)

AM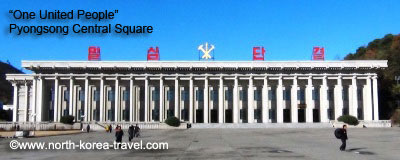 Breakfast: Yanggakdo Hotel
Pyongsong Central Square

- there is a giant bronze statue of a young Kim Il Sung and a history museum with the party symbol in between the slogan "One United People's Heart" (referring to one united country going in the same direction).
PM
Lunch: Jangsusan Hotel, Pyongsong
Children's Palace

- an impressive children's performance will be held
Farewell Dinner: Pyongyang City Restaurant
Day 7 - March 30 (Wednesday)
AM
Breakfast: Yanggakdo Hotel
10.40 am Train to Beijing - please notify us if you would like to exit by plane instead
PM
Stopover at Sinuiju train station bordering China
Overnight: train
Day 8 - March 31 (Thursday)
Arrive in Beijing at 08:31 am
End of tour our North Korea Extended Easter Tour