The Songdowon Hotel in Wonsan
A Blend of Soviet & Korean Styles with Great Sea Views
Introduction of the Songdowon Hotel
The Songdowon Hotel is a second class hotel located by the sea in Wonsan city, provincial capital of Kangwon province, on the east coast of North Korea.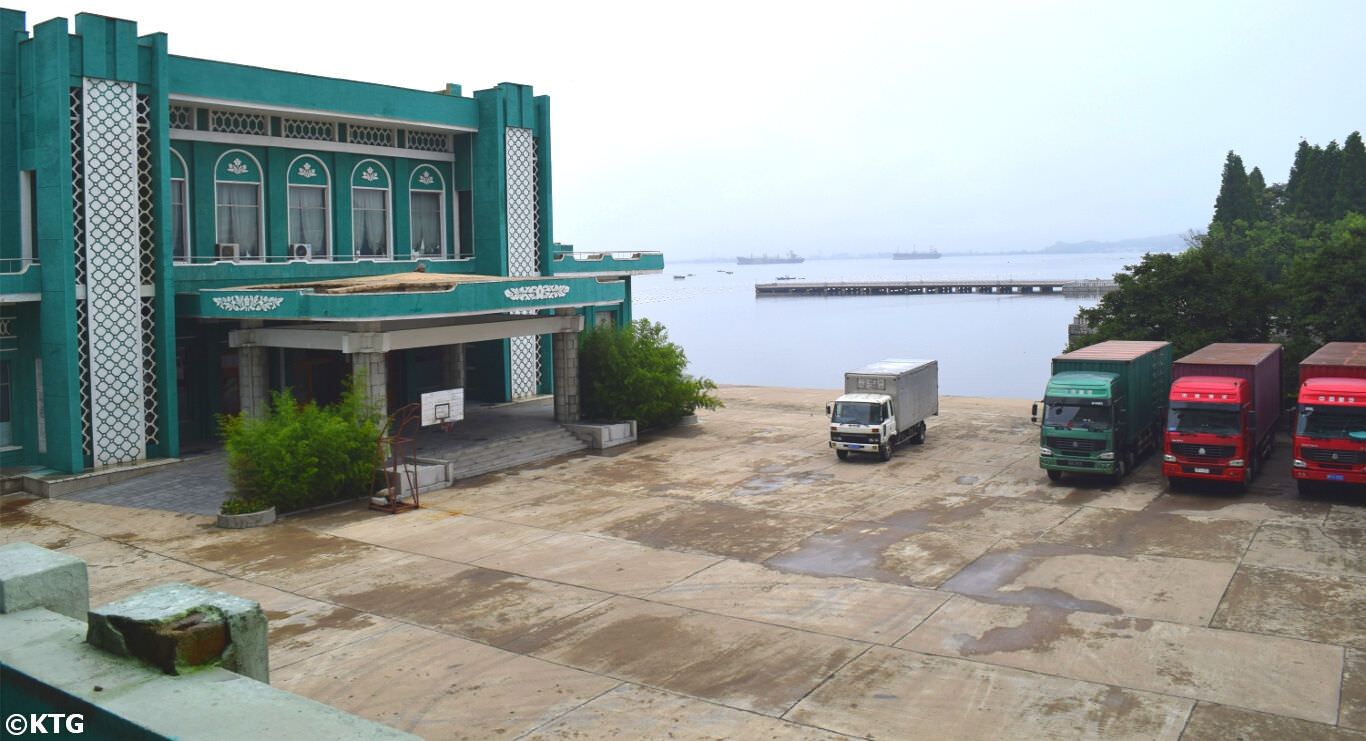 Views from one of the rooms at the Songdowon Hotel
The Hotel was built in the 1970s and, as is the case with many provincial hotels in North Korea, there is a feeling of going back to a period of soviet times when one is there.
Staying here will allow you to walk to some of the main places in Wonsan city, including the beach, main square and city docks.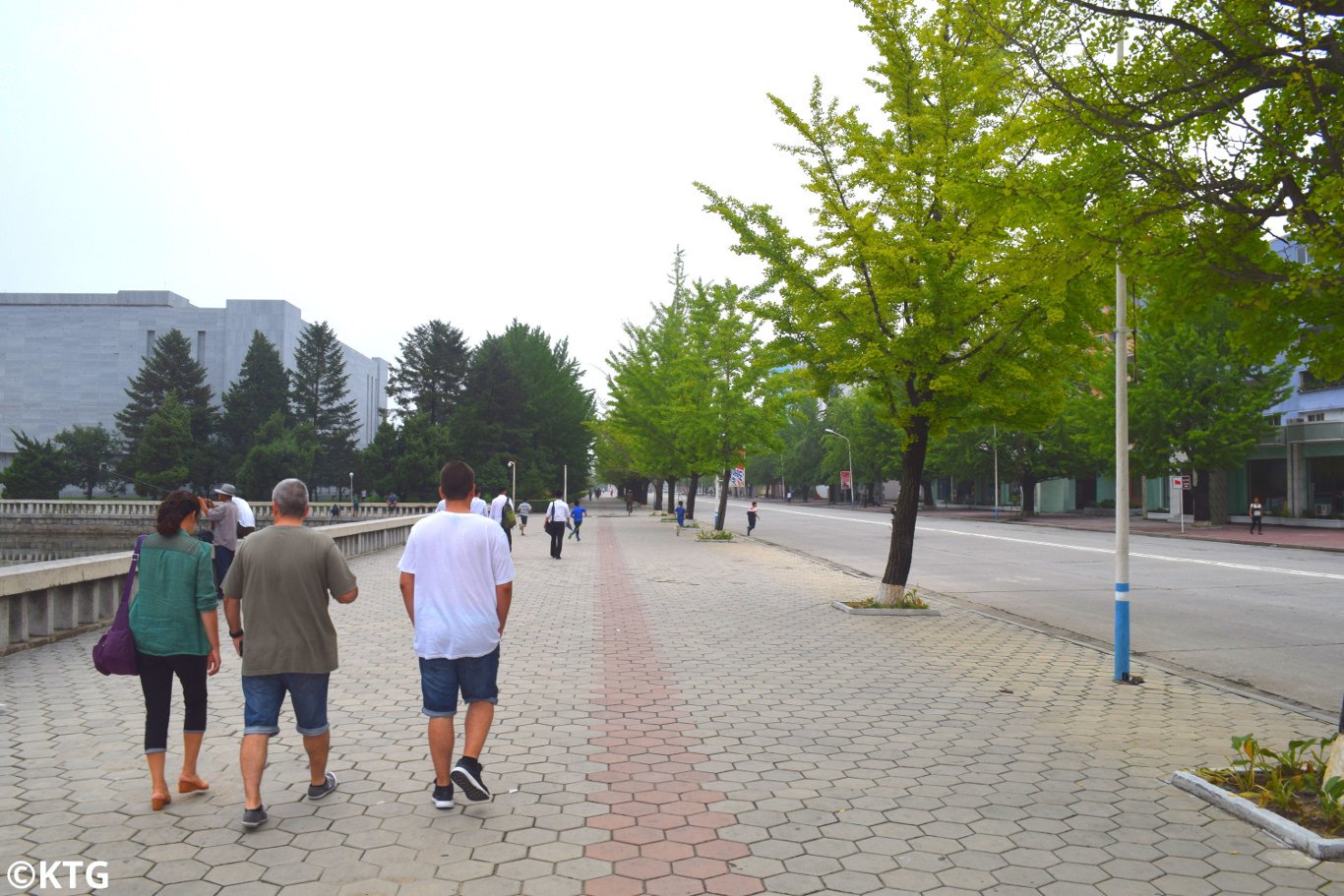 KTG travellers taking a stroll in Wonsan city, walking from the Songdowon Hotel to the beach
Location
Going to the east coast of North Korea is a fascinating, albeit bumpy, experience. We drive through small towns and rural areas of the DPRK, seeing different landscapes and going through places foreigners very rarely go. You can notice how much of a rarity we are by seeing the look on locals' faces when they spot us.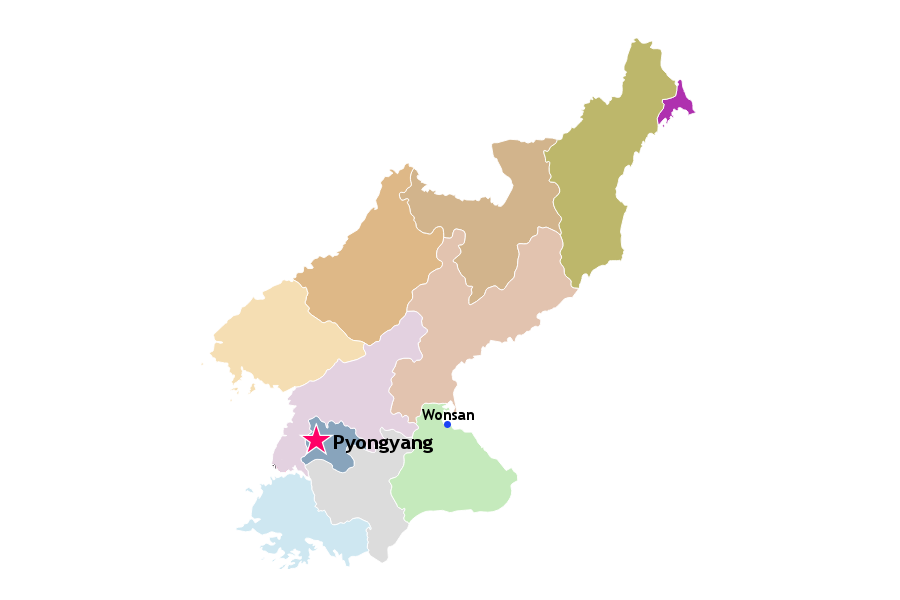 Click on the map above to go to our interactive map of North Korea.
Rooms
There are 194 rooms in the hotel. Rooms have a balcony with views of the sea. They may be a bit run-down but are comfortable enough for a night or two. Please note that room doors may not close easily so push the door to check that it is properly shut.
Views from our room in the Songdowon Hotel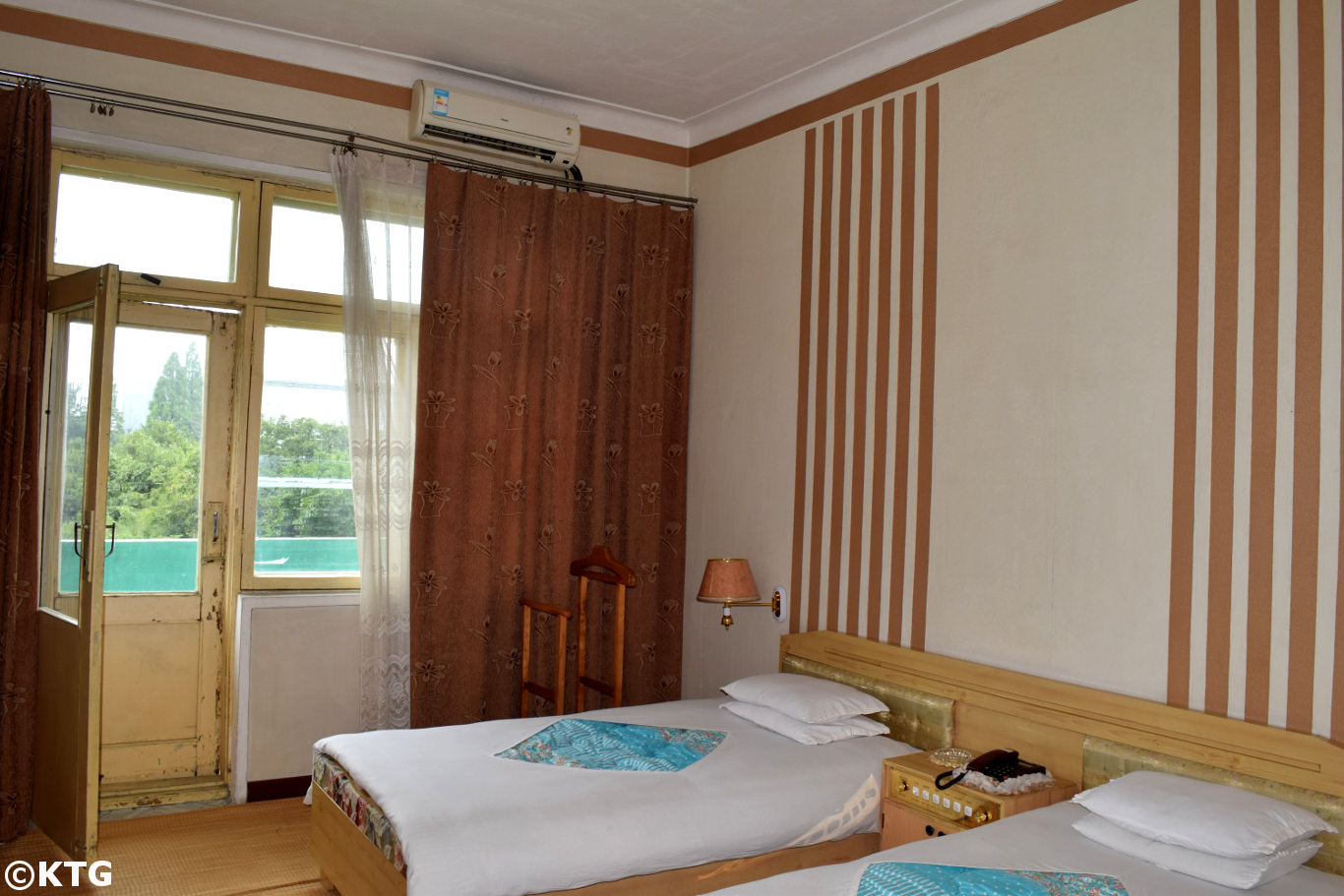 Room at the Songdowon Hotel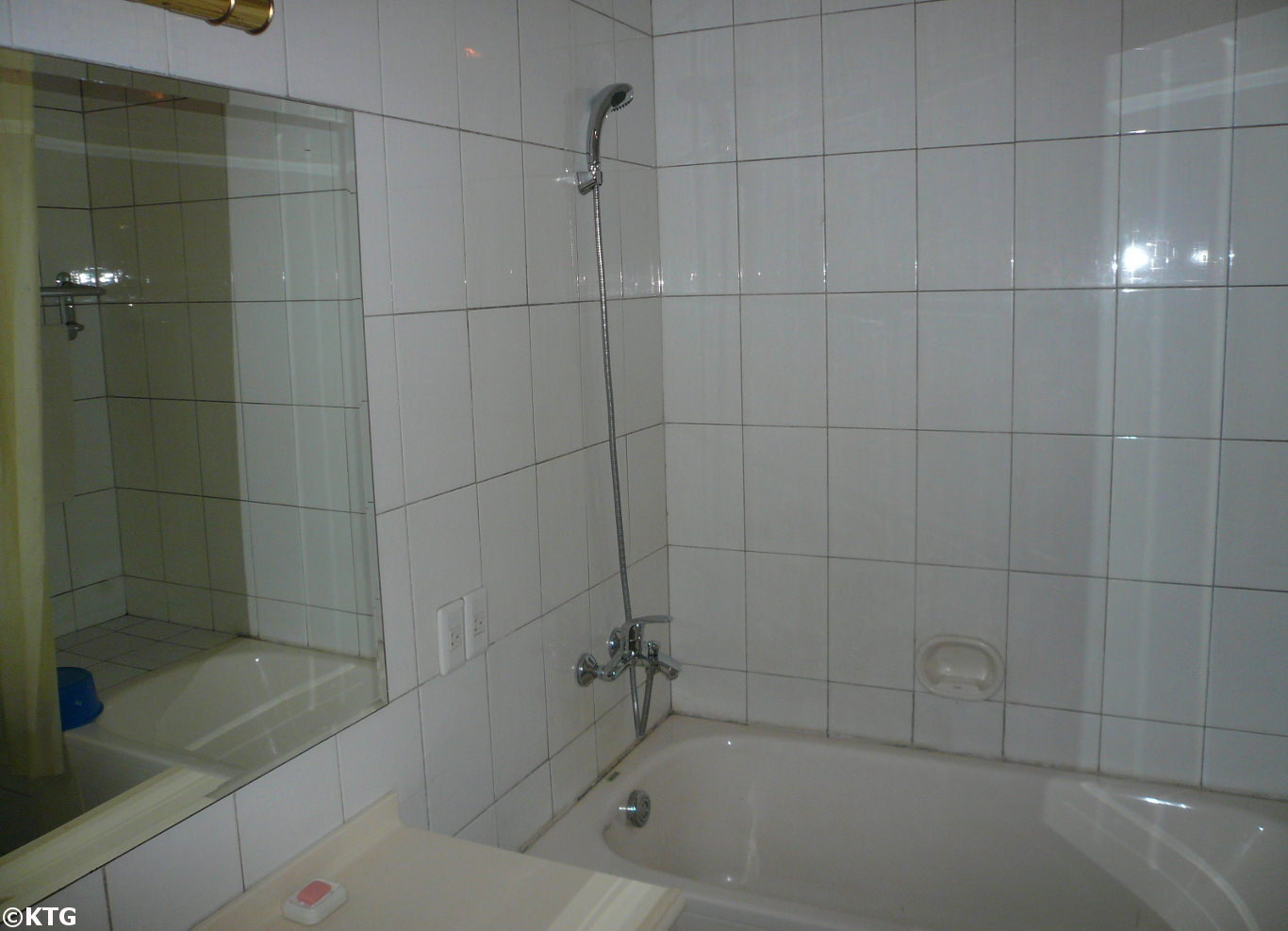 Bathroom in a room at the Songdowon Hotel
Decoration
Korea is a country rich in minerals and this is reflected in the almost ubiquitous presence of granite, quartz and marble in buildings all around the country. The Songdowon Hotel is big on marble.
Check the picture of the hotel lobby on the right.
Combined with dark tones, soviet-era looking sofas, dark wooden tables, dark green carpets, paintings of the leaders and of beautiful landscapes of North Korea, the decoration of the hotel as a whole is an elegant blend of soviet and Korean style. Could we call it Juche style?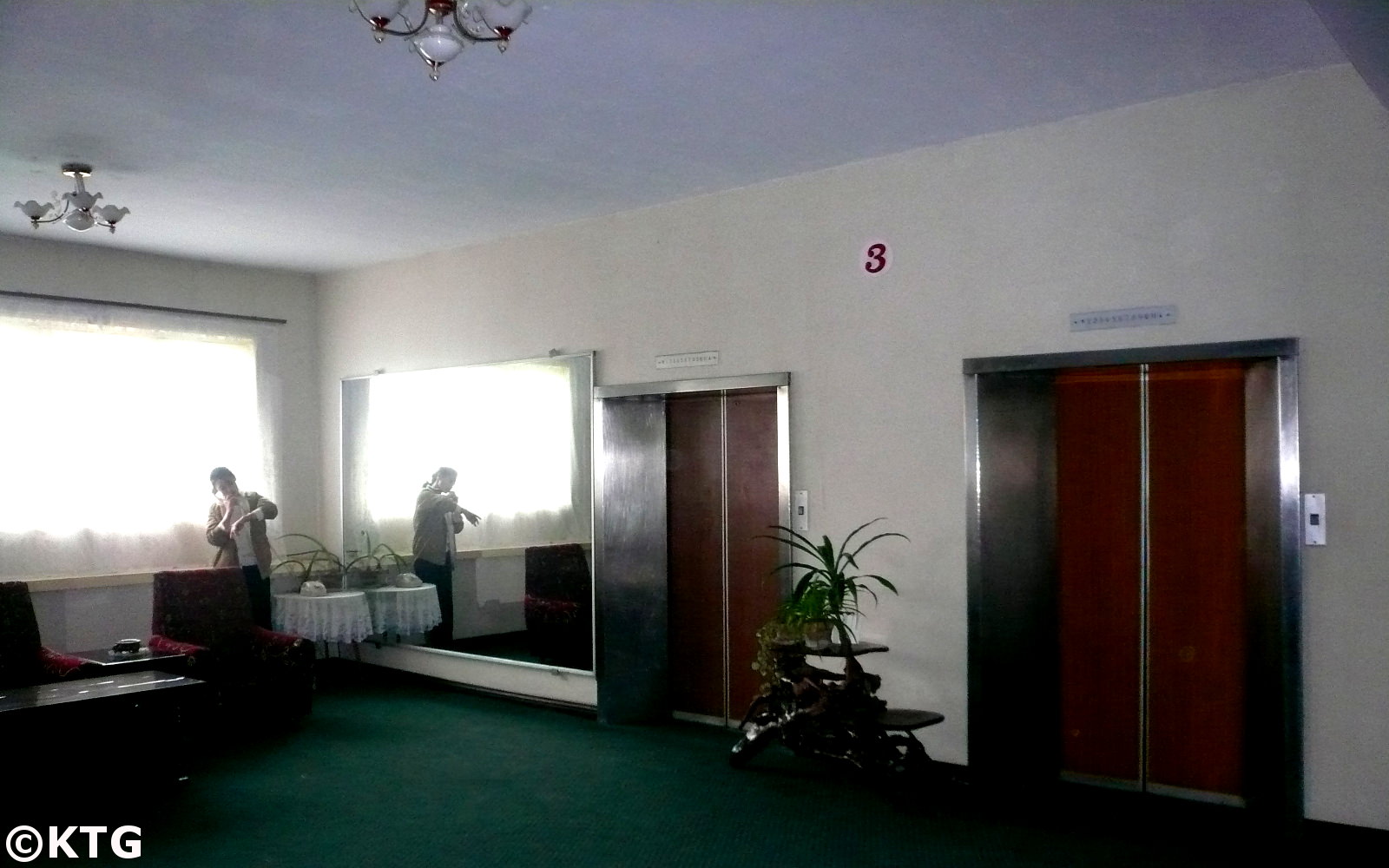 Back to the Days. Picture to the right: Lady checks the time while speaking on a rotary dial phone at the Songdowon Hotel
It is a very common trait of DPRK hotels to have retro architecture and/or decoration, evocative of times past.
The same applies to many other aspects of life in North Korea such as they way people dress and behave, movies, vehicles, etc.
Handy Tips
Room Balconies
Needless to say, there is nothing like enjoying a refreshment while checking out views of the sea and city from your room balcony.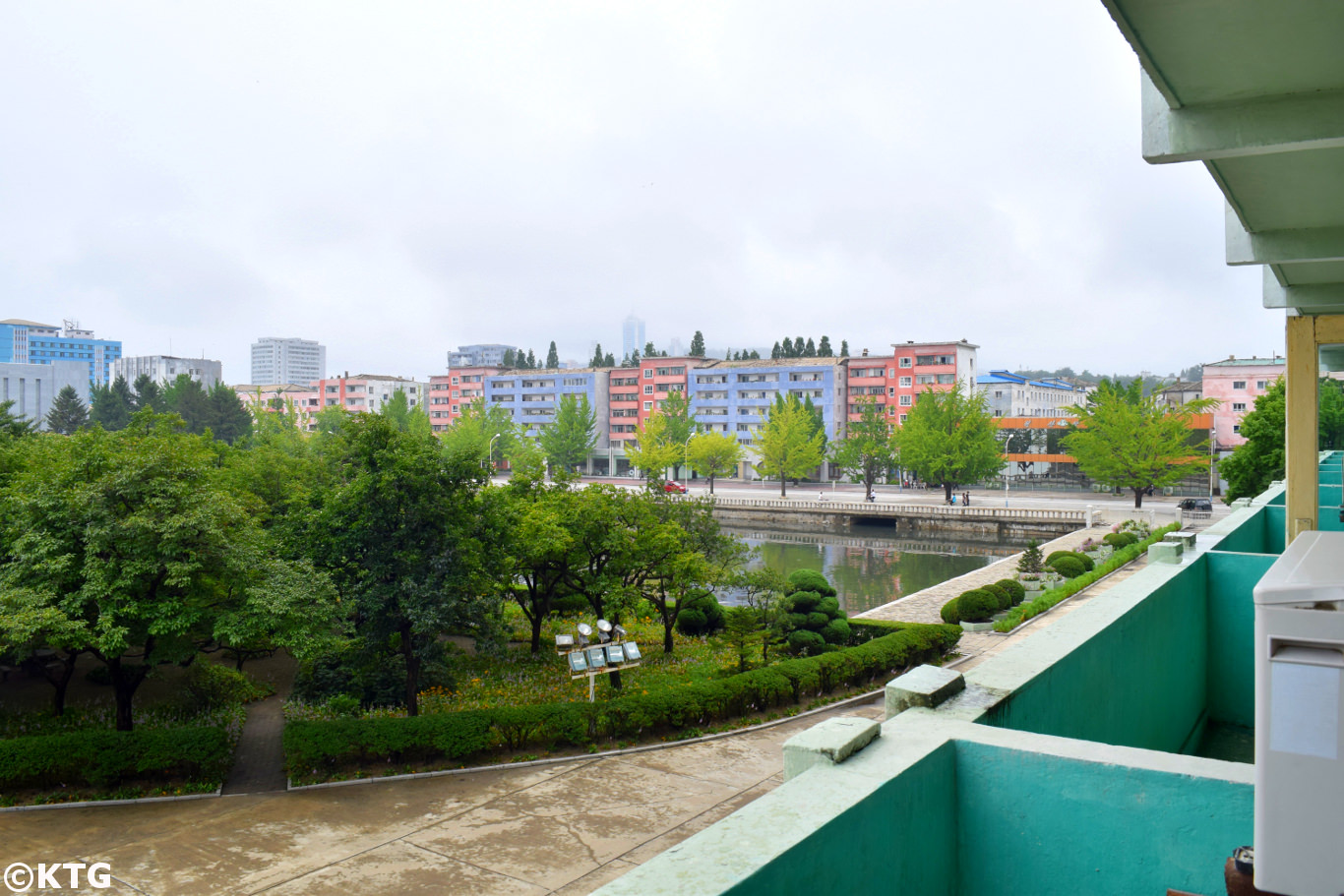 Views of Wonsan city from the Songdowon Hotel
Change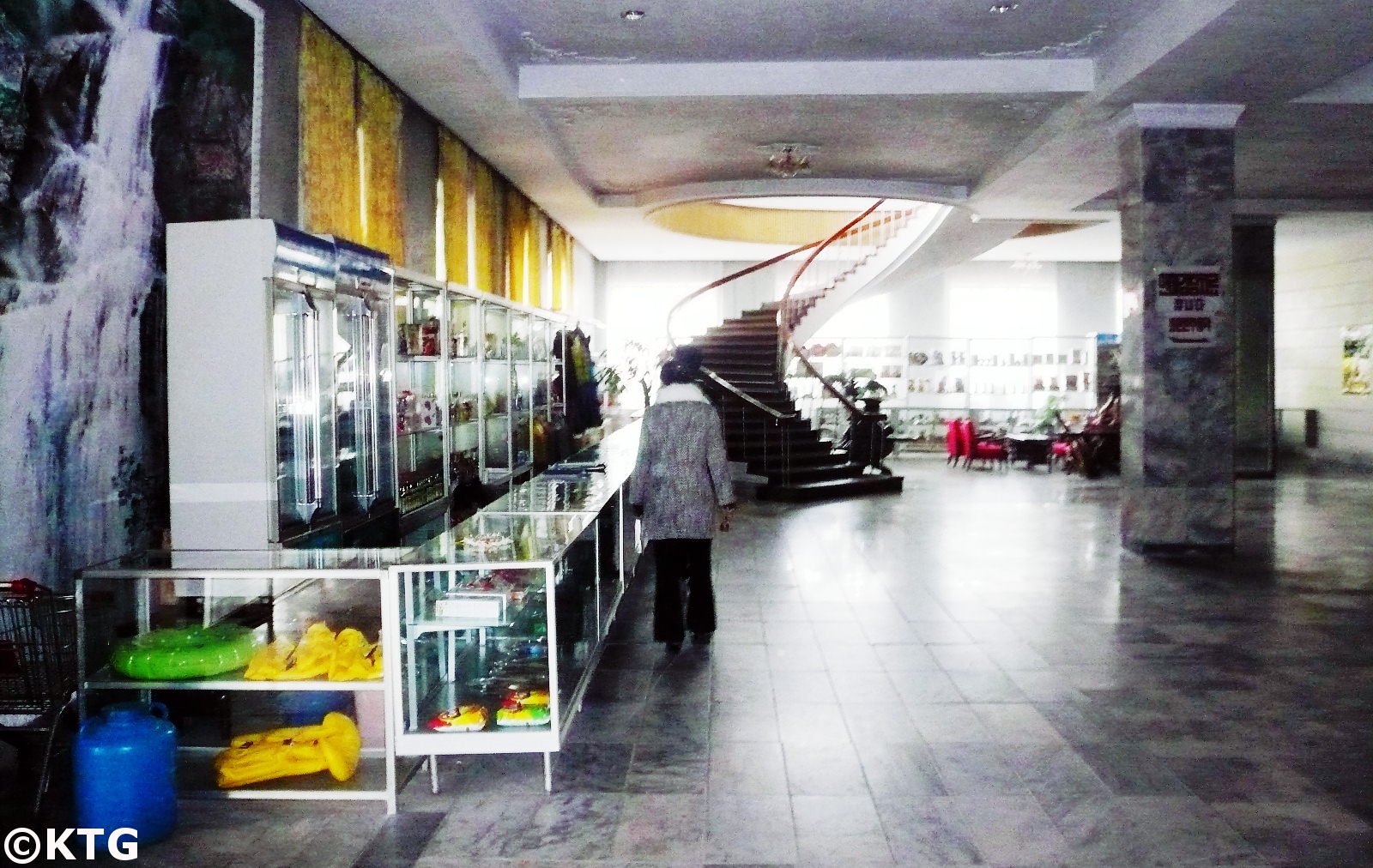 Not many tourists go to the east coast as it is about 4 hours away from Pyongyang each way meaning that a visit there requires at least two full days. Whereas this has its advantages one main disadvantage is that they may very likely not have change in the hotel souvenir shop for foreign currency. We cannot be handed Korean won as change, although this has occurred on a few occasions, meaning that you should take as many small denomination bills as you can in case you would like to buy anything there (they have a souvenir shop on the ground floor for instance). It would be a pity not to be able to buy swim rings to enjoy at the beach!
Having fun at Songdowon Beach in Wonsan. You can see the ambitious Wonsan-Kalma project in the background
Sitting Room
This may sound like a bit of an odd tip, but there is a small sitting room just before you arrive at the dining hall, with old soviet looking sofas. You may want to sit and relax here early in the morning or before dinner, have drink and just listen to people getting on with their lives outside of the hotel. The dining room itself is a bit hard to find, just remember that when you arrive at the sitting room that you are almost there!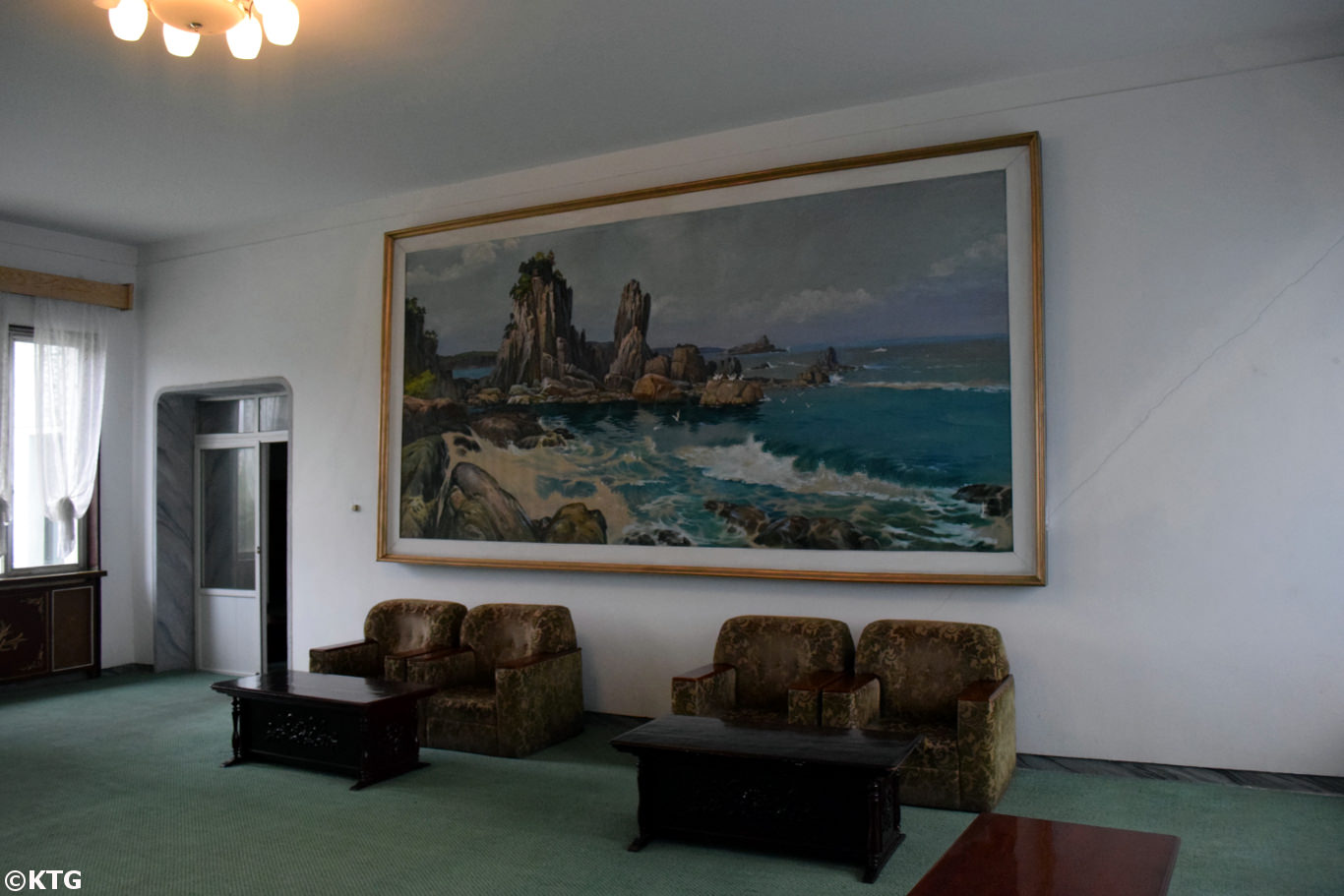 Retro looking sitting room at the Songdowon Hotel
To Sum Up
There isn't much choice regarding accommodation in downtown Wonsan as is the case with most provincial areas in DPRK. The other popular option available is the Tongmyong Hotel which is just a few meters away from this one and offers very similar conditions.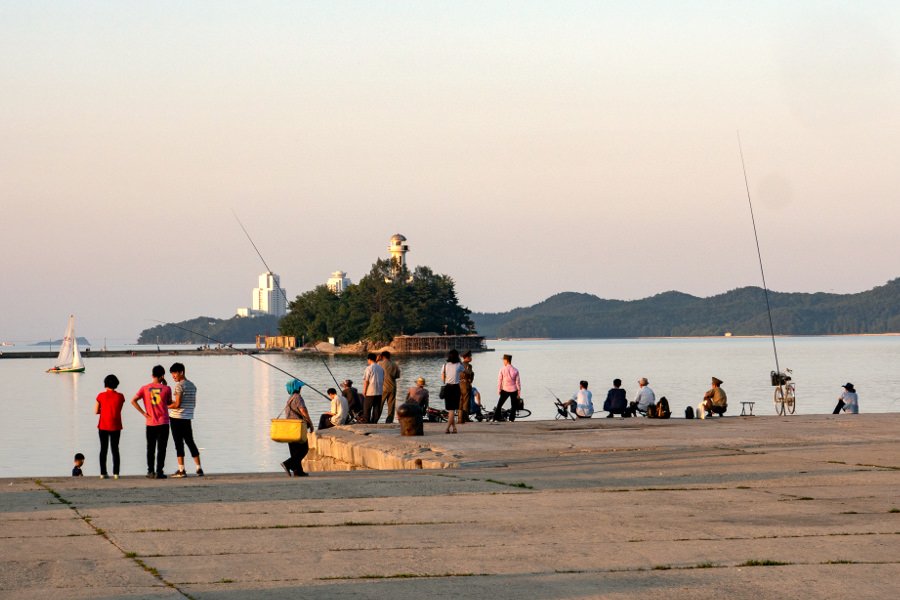 Locals gathering by the Wonsan docks. The Songdowon Hotel is a few minutes' walk from here
Both hotels offer great views of the area. We recommend you to soak up the atmosphere of this port city. If going on a private tour, make sure that you go for a stroll around to the local docks (we arrange this on our group tours) where you can see locals fishing and chatting or to the main square where families gather for fun.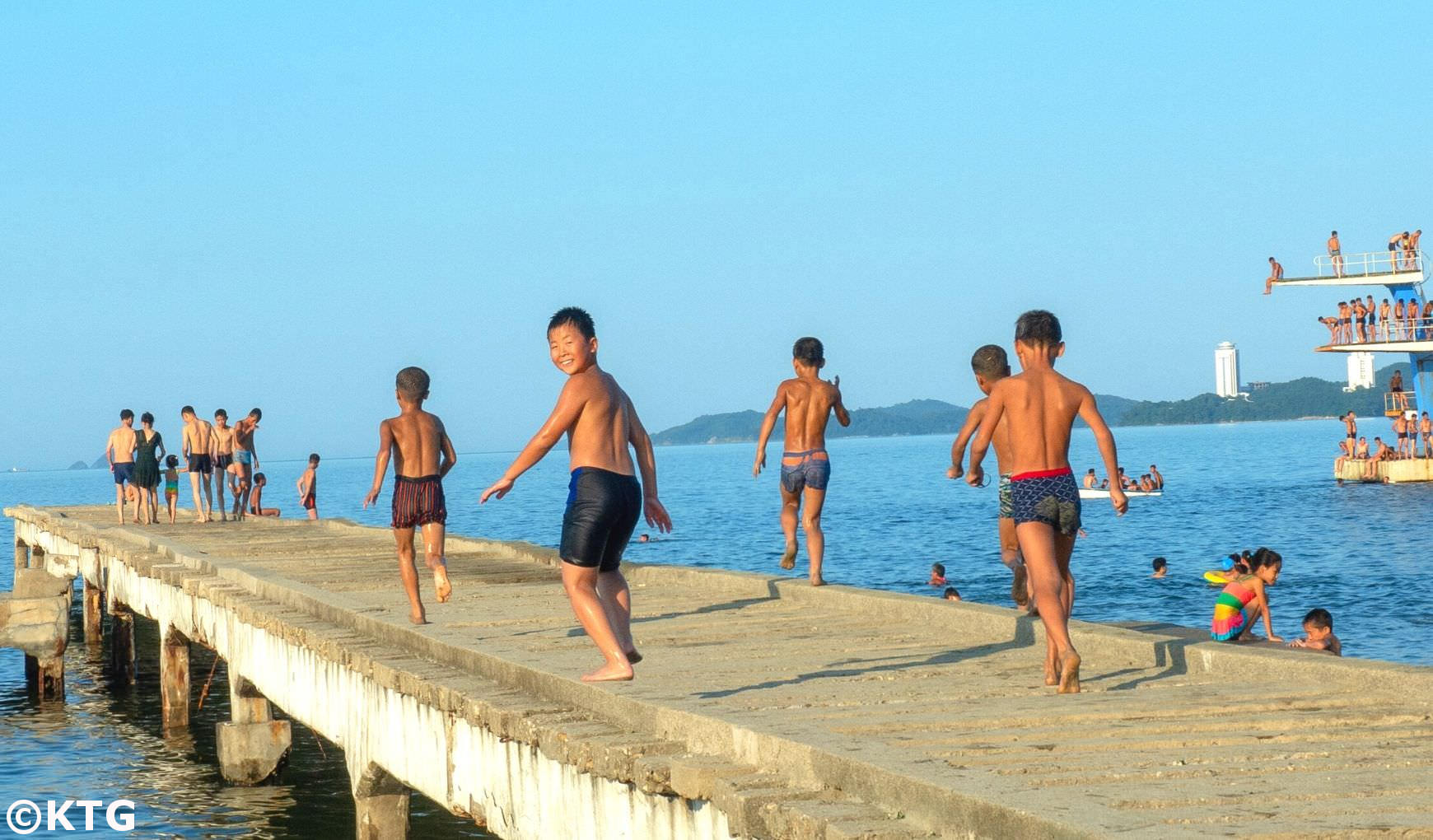 Head down to the beach for a swim, go down to Jangkdok Islet where locals gather for sea food barbecue... All these places are walking distances away from the Songdowon hotel.
Have any reviews / questions about this hotel?
Do you have any reviews, stories and/or questions regarding the this hotel? Share them!
Have any reviews / questions about this hotel?
Do you have any reviews, stories and/or questions regarding the this hotel? Share them!