Kim Il Sung Birthday & Pyongyang Marathon Tour
Join KTG for our 2018 Kim Il Sung Birthday and Pyongyang Marathon Tour! We will accept applications for his tour until February 20th 2018. Please book soon as we will have limited capability.
The Day of the Sun is one of the most important days in the DPRK calendar and being in Pyongyang for the occasion of the birthday of the founder of the DPRK will allow you to join in the celebrations.
This trip is an extremely well-encompassed journey where we will see no less than 6 areas of the DPRK, including crossing the whole country from one side to the other going to the east coast, and experience a wide variety of adventures including The Pyongyang Marathon, celebrations on one of the most important days in the DPRK Calendar; April 15th, and see as many aspects of the country.
Our extensive experience in DPRK over the years allows us to come up with enriching itineraries that we have come to improve over the years based on our travellers' feedback after their trips.
If not a US citizen, you can also join this tour by train. Please contact us if you are interested in this option.
Day 0 - April 6 (Friday)
Meet our KTG staff downtown Beijing and take the train to Pyongyang together, arriving the following day in Pyongyang
Day 1 - April 7 (Saturday) for those entering by plane

Head to the airport and depart from Shenyang at 13.55 flight JS 156, Shenyang Taoxian Int'l Airport
Arrive in Pyongyang at 15.40 (Pyongyang time)
PM
Arch of Triumph - marking the period spent by President Kim Il Sung fighting the Japanese and his return in 1945 to Korea, this collosal monument is larger than its Parisian counterpart.
Brief walk around the area - we will see the enormous mural showing an image of President Kim Il Sung's speech upon returning to Korea after the liberation of the country in 1945. The Kim Il Sung Stadium is located close by too, though we will see more of this on Sunday
Hotel check-in: Yanggakdo Hotel, Pyongyang
Welcome Dinner: KITC Restaurant, Pyongyang
Overnight: Yanggakdo Hotel, Pyongyang
Day 2 - April 8 (Sunday)
AM
Breakfast: Yanggakdo Hotel
Kim Il Sung Stadium - this is where the marathon will start. See our Youtube video below to have an idea of what the atmosphere will be like in the stadium! Thousands of people cheering, parachute events, a football match...

Pyongyang Marathon - you will be able to participate in the full marathon, half marathon or 10 km marathon. The atmosphere will be amazing here and running into Kim Il Sung Stadium full of Koreans cheering is an experience hard to explain in writing, so you will have to experience this yourself if you would like a more detailed description of such a feeling!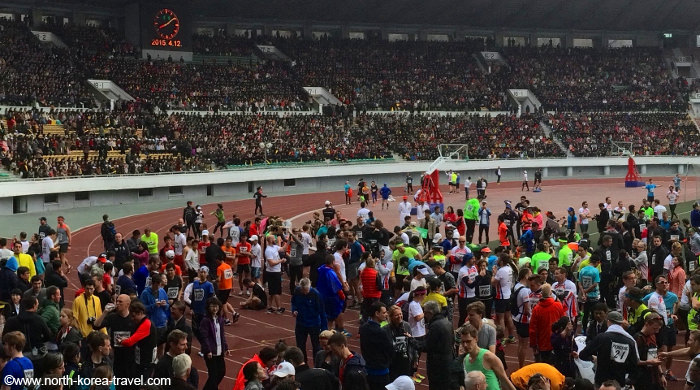 For those not interested in pariticipating in the running we will watch a football game in the stadium

PM
Lunch: City restaurant, Pyongyang
Fountain Park - popular amongst locals for wedding pictures and dates.
Mansudae Grand Monuments - giant bronze statues of the leaders
Ride on Pyongyang Metro - one of the deepest in the world - we will go on an extended ride with locals, having several stops that will allow you see one of the busiest aspects of life in Pyongyang
Juche Tower - opportunity to go up the 150 metre tower (170 metres including the torch) that offers a panoramic view of Pyongyang.
Kim Il Sung Square - we will walk around one of most known places of North Korea, the square that hosts military parades and mass rallies.

DPRK Bookstore - chance to see and purchase a wide variety of DPRK literature translated into English and other languages.
Dinner: Local restaurant, Pyongyang

Overnight: Yanggakdo Hotel, Pyongyang

Day 3 - April 9 (Monday)
AM
Breakfast: Yanggakdo Hotel
Drive to Kaesong (Panmunjom, the DMZ) - we leave Pyongyang early in the morning for this 2 and half hour drive south. As we approach Kaesong we will see the Kaesong Industrial Complex on the left hand side of our coach as well as the train station which leads to South Korea and represents the reunfication of the country.
38th Parallel (DMZ) - we will see the famous blue negotiation rooms where talks between North & South Korea are held. A Korean People's Army Officer will hop on our coach and us on our coach and guide us around Panmunjom. This is a great chance for us to interact with a KPA officer as they tend to ask us questions regarding our views on the Korean War or impressions about their country.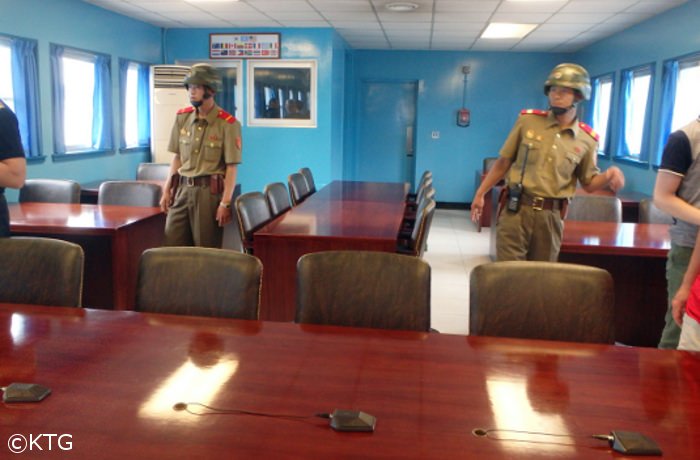 PM
Lunch at Tongil Restaurant in Kaesong - we will be served a variety of dishesin small covered golden plated bowls. The number of dishes used to symbolise in ancient times the status of the person eating, 12 bowls is the largest amount served.
Drive to Sariwon city- located in South Hwanghae Province, it is a lively city and one of the largest in the DPRK.
Walk around Folk Street- We will walk around one of the busiest streets inthe city and will have the chance to stop by a local bar, called "Sul Jib" (술집)in Korean. You can order some makoli, a week alcoholic drink. Sariwon is renowned for it makoli and wine.
Models of ancient pavilions- apart from seeing what Korea was like in ancient times we will most likely have the chance to see locals playing games in the street. Apart from chess, many locals gather at stalls and shoot targets with air rifles (corks are used as bullets). We can of course join in!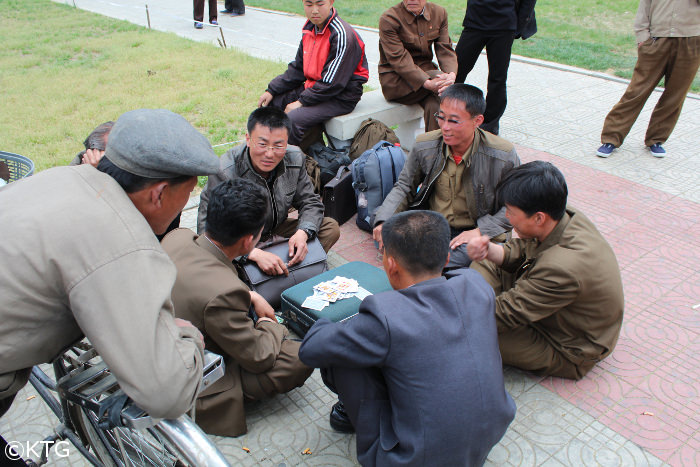 Walk up Mount Kyongnam - this walk is not as daunting as it may sound! It takes around 5 to 10 minutes to walk up to the main pavillion where we will have fabulous views of the whole city of Sariwon and of its surrounding areas. You can see a short video of the main street we walk around in Sariwon and of the views from Mount Kyongnam in our video below (feel free to visit KTG's Youtube Channel for more videos):
Three Charters Reunification Monument - consisting of two ladies that represent the reunification of the Korean Peninsula
Dinner: Local restaurant, Pyongyang
Overnight: Yanggakdo Hotel, Pyongyang

Day 4 - April 10 (Tuesday)
AM
Breakfast: Yanggakdo Hotel, Pyongyang
Drive to Mt. Myohyang - we head further north to this truly beautiful part of the DPRK.
International Friendship Exhibition Centre - showing thousands of gifts given to the leaders Kim Il Sung and Kim Jong Il and Comrade Kim Jong Suk (wife of President Kim Il Sung and mother of General Kim Jong Il). There is now a section too for the Leader Marshall Kim Jong Un.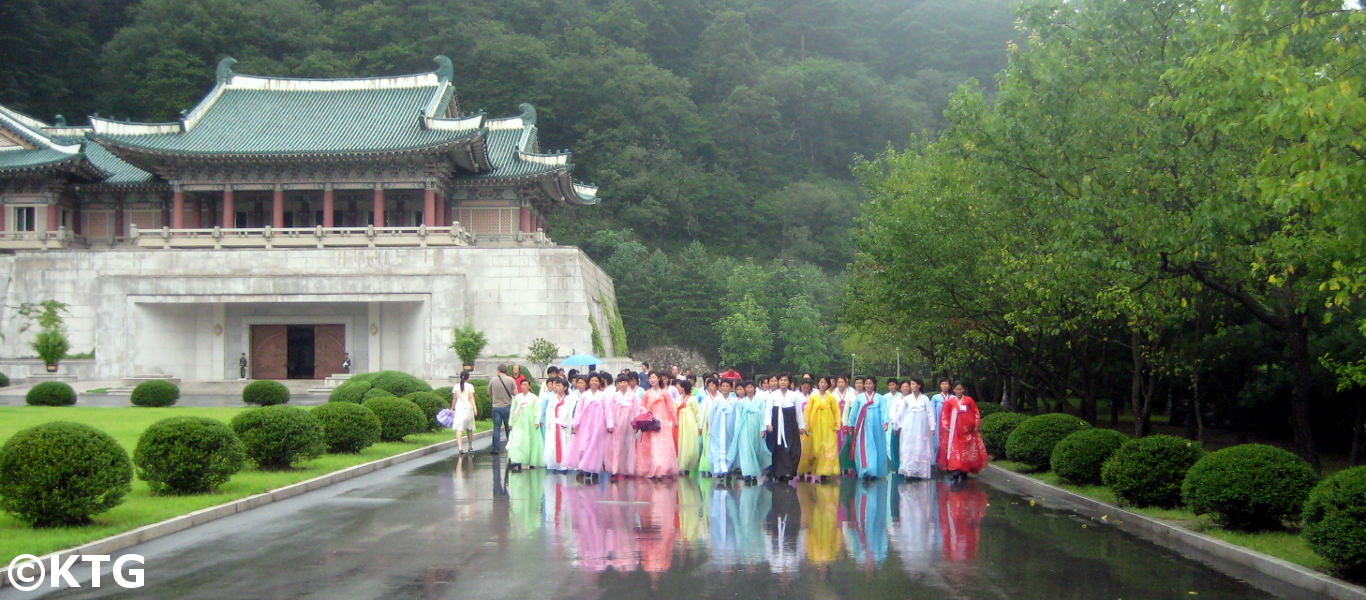 Pohyon Buddhist Temple - first built in 1042, it used to be considered the capital of Buddhism in this part of Korea. Buddhism was strongest in Korea in the Koryo Dynasty (935 - 1392).
PM
Chongchon Hotel, Mount Myohyang - we will be served a variety of dishesin small covered golden plated bowls. The number of dishes used to symbolise in ancient times the status of the person eating, 12 bowls is the largest amount served.
Korean War Museum - this War Museum was rebuilt only last year and is now an impressive complex, unique in its kind. It explains the DPRK view of the href Korean War. An extensive collection of vehicles and weapons can be seen. We will be guided around by a very friendly local guide.
USS Pueblo - American Spyship captured in 1968. The crew stayed in the DPRK for 11 months. This is the only US vessel in posession of another country.
Dinner: Pyongyang Number One Duck Barbecue Restaurant, Pyongyang
Overnight: Yanggakdo Hotel, Pyongyang

Day 5 - April 11 (Wednesday)
AM
Breakfast: Yanggakdo Hotel, Pyongyang
Drive to Wonsan (east coast) - we will literally go across the DPRK, seeing smaller counties and towns as we cruise from one side of the country to the other before we arrive at the port city of Wonsan on the east coast.
Sinpyong Guest House - We will have a break at the on the way to Wonsan here. It is located by the Sinpyong lake and we will have the chance to try some snake liquor!
Walk to Jangdok Islet - we walk across the beach and then have a panoramic view of the seafront of Wonsan.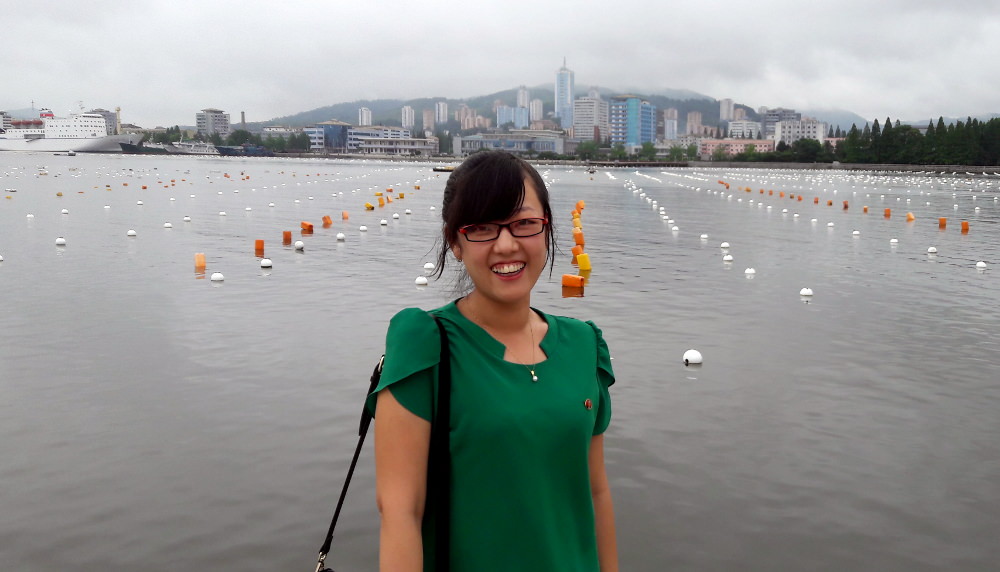 PM
Wonsan Central Square - there tend to be many families here as welle as many children roller-blading.
Wonsan Port - chance to see locals fishing and to see the ships. We will see too a bronze statue of a young Kim Il Sung. Wonsan port was the entry point for thousands of Koreans based in Japan who went to DPRK in the 1960s and 1970s.
Oriental Park - locals gather here near the beach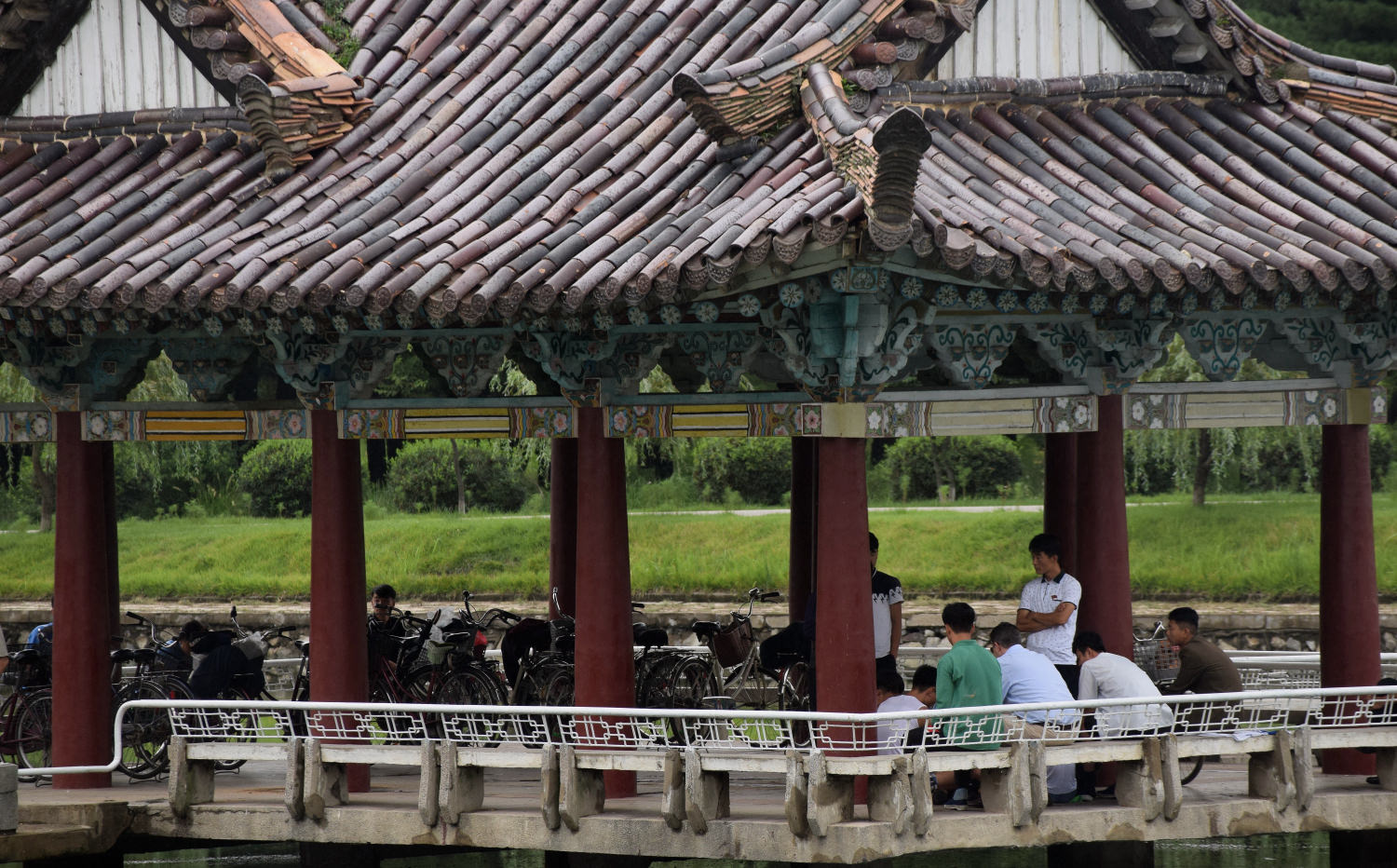 Dinner - local restaurant, Wonsan
Dongmyong Hotel, Wonsan - located by the sea with views of the port & docks.
Day 6 - April 12 (Thursday)
AM
Breakfast: Songdowon Hotel, Wonsan

Drive to Hamhung City - discover the second largest city in the DPRK. This industrial city only started receiving Western tourists in 2010 and is therefore considered even more "off the beaten track" of a destination.
Dongbong Cooperative Farm - see how farmers and their families live here. We will see farmers' homes, the fields and/or visit the kindergarten that their children attend (also located within the premises of the cooperative farm). This is an interesting aspect of DPRK tours as it allows travellers see different aspects of the country

Mt. Donghung - with an impressive view of Hamhung City and the whole surrounding area, a giant bronze statue of President Kim Il Sung is here and it is a popular place for newly-weds to go and pay tribute.
PM
Lunch: City Restaurant, Hamhung. Hamhung is well known for its potato starch noodles.
Hamhung Grand Theatre - enormous theatre located in the city centre right across from the main square. Please bear in mind that in spite of being the second biggest city in North Korea with an estimated population of 800,000, Hamhung has only been opened up to tourism very recently and the site of foreigners here is extremely rare for locals (more so than in other areas in the DPRK) which will explain the surprise on many people's faces when seeing you. The image on the right shows a Children's rally in Hamhung.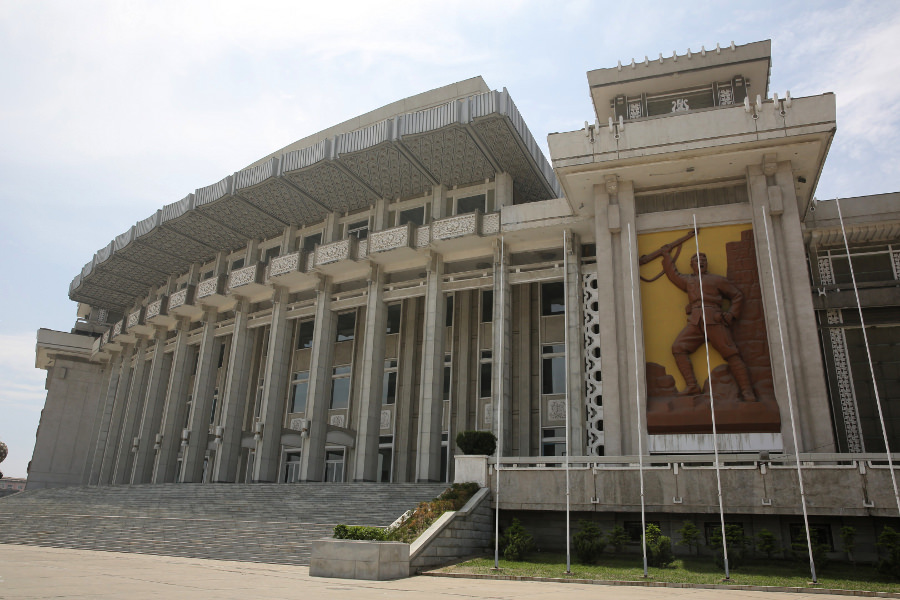 Home of Ri Song-gye - Founder of the Choson Dynasty, he overthrew the Koryo dynasty. His home is located in Hungnam disctrict which is home to many factories.

Hungnam Fertiliser Factory - unique chance to visit one of the country's biggest factories
Check-in Majon Cottage - a series of cottages located by the beach. Enjoy a relaxing stroll by the seaside before dinner. There are usually locals here happy to have us join in.
Overnight: Majon Cottage (at the seafront)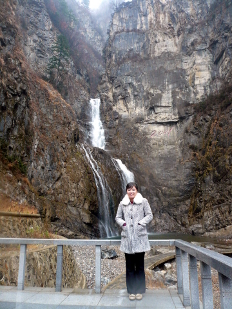 Day 7 - April 13 (Friday)
AM
Drive back to Wonsan city

Wonsan Agricultural University - walk around the campus and visit several building located on campus. Interesting chance to have more of an insight into the higher educational system in the DPRK.
Old Train Station - visit this model old train station of where President Kim Il Sung took the train from Wonsan to Pyongyang after the liberation of Korea in 1945. You can see the model train there too.
PM
Ullim Waterfalls - these beautiful waterfalls were discovered by soldiers in 2001. Ullim means "echo" in Korean.
Lunch: en-route picnic lunch
Grand People's Study House - enormous library & study centre with great views of Kim Il Sung Square.
Dinner: Local Restaurant, Pyongyang
Overnight: Yanggakdo Hotel, Pyongyang
Day 8 - April 14 (Saturday)
AM
Breakfast: Yanggakdo Hotel, Pyongyang
Drive to Pyongsong City - this mining city was only opened to tourists in 2013 (before then we had used it only to accommodate travellers overnight in the hotel but it was not possible to visit sites in the city)
Paeksongri Revolutionary Site - this is where Kim Il Sung University was moved to during the Korean War. We will see where the leader Kim Il Sung met students and what he said to them.
Pyongsong Central Square - see the Korean slogan meaning "One United Heart" and the bronze statue of a young President Kim Il Sung.
PM
Local primary school in Pyongsong - we will be shown around the school by its headmaster and will be able to join a lesson where you can let the students practice their English with you if you wish!
Paeksong Food Factory or Taedonggang Textile Factory - rare chance to see a DPRK factory.
Dinner - Hotpot restaurant, Pyongyang (located just across from the Romanian embassy).
Overnight: Yanggakdo Hotel, Pyongyang
Day 9 - April 15 (Sunday) National Holiday - President Kim Il Sung's 106th Birthday - main day of the Kim Il Sung Birthday Tour
AM
Breakfast: Yanggakdo Hotel, Pyongyang
Kumsusan Palace of the Sun - where the Leaders Kim Il Sung and Kim Jong Il remain in state. This is a sacred place in the DPRK and we kindly ask you to wear your smartest clothes when going. This is one of the highlights of the Kim Il Sung Birthday Tour.
Revolutionary Martyrs' Cemetery - cemetery with busts dedicated to National Heroes in DPRK who dedicated their lives to the freedom of Korea
PM
Mangyongdae Native House - President Kim Il Sung's Birthplace. You can listen to President Kim Il Sung's family's history. It will be busy with locals here today and there may be some local TV stations.
Walk by Moran Park - nothing like an afternoon promenade by the park where thousands of locals sing, dance, drink and enjoy a picnic on one of the major days in the DPRK calendar. Do expect to be asked by locals to join them in the drinking and dancing!
Kimilsungia and Kimjongilia Flower Exhibition - literally thousands of Koreans will be here today seeing the flower stands presented by different work units to the leaders. The centre consists of two floors and it will be literally packed. You will be able to see of course the flowers presented by KTG!
Expected Mass dances - in Kim Il Sung Square or the Party Foundation Monuments. We will be told once in Pyongyang where these will be held. Other celebrations may be expected though these have yet not been confirmed.
Possible optional activities include going to the Acrobatic Circus or seeing the Orchestra (entrance fee is 20 Euros). These will be confirmed once in Pyongyang.
Dinner - Local restaurant, Pyongyang
Evening Funfair (entrance fee is 2 Euros) - you can go on the rides if you like (these cost from 1.5 Euros to 5 Euros) but the main reason we arrange a visit here is to be able to see and join in with hundreds of Koreans, both children and adults.
Firework Display - we expect these to be held at around 8 pm. We will have confirmaiton once in Pyongyang if these will be held.
Overnight: Yanggakdo Hotel, Pyongyang
Day 10 - April 16 (Monday)
AM
Breakfast: Yanggakdo Hotel
PM
After crossing the Yalu River by train into China we will arrive in Dandong China, where we will get off the train and have a one hour break before continuing to Beijing. We will have the chance to see the giant statue of Mao Ze Dong.
Day 11 - April 17 (Tuesday)
AM
Arrival at the Beijing train station. The expected arrival time is 8.38 am
Please go to our DPRK Tourism section to see more information on other tours that we offer other than our Kim Il Sung Birthday Tour.