2016 DPRK National Day Mount Paekdu and Mount Chilbo Tour

2016 DPRK National Day & Mount Paekdu & Mount Chilbo Tour - 68th anniversary of the foundation of the DPRK. The application deadline for this tour is August 1st 2016.
Our group sizes tend to be small, with an average of less than 10 people per group. We believe that this, together with our close and long-term relation with our Korean partners, strongly increases our chances of being flexible with the itinerary and allows us to attend events hard to be present at with overwhelmingly large groups. On this unique tour we will take a charter plane to one of the most sacred places in t Korea; Mount Paekdu and to Chilbosan (meaning seven treasure mountain).
If you apply later we will be able to notify you within one working day if we can add you to the tour.
US citizens are kindly asked to apply 4 weeks before the departure date at the very latest.
Day 1 - September 6 (Tuesday)
Depart from Beijing at 13.05 flight JS 152 Terminal 2, Beijing Capital Airport
Arrive in Pyongyang at 15.35 (Pyongyang time)
PM
Arch of Triumph - marking the arrival of President Kim Il Sung after having fought against the Japanese occupation of the Korean peninsula, it is larger than the Arch of Triumph in Paris
Brief walk around the area, see the enormous mosaic of the Leader Kim Il Sung's speech after the liberation from Japan in 1945 and Kim Il Sung Stadium
Hotel check-in: Yanggakdo Hotel
DPRK National Day Tour Welcome Dinner: KITC Restaurant, Pyongyang
Overnight: Yanggakdo Hotel, Pyongyang
Day 2 - September 7 (Wednesday)
AM
Breakfast: Yanggakdo Hotel, Pyongyang

Depart to Kaesong (Panmunjom, the DMZ) - we will have a break in the middle. As we approach Kaesong we will be able to see on our right hand side the famous Kaesong Industrial Complex as well as the train station that leads to South Korea and is still not in use.
Please note that there are military points on the way and it is forbidden to take pictures of these. We will be notified before passing each check-point.
38th Parallel - chance to enter the famous blue negotiation rooms where talks between North & South Korea take place. We will also be toured around Panmunjom, see where the armistice was signed and we will be escorted by a DPRK soldier on our bus as is required on all tours. Most soldiers are intrigued to see what travellers think of the division of Korea and this presents a great opportunity to have a Q&A session with a DPRK soldier. The trip to the DMZ is too a highlight of our DPRK National Day Tour.
Koryo Museum (Kaesong) - originally a university in the Koryo Dynasty it shows what life was like then.
Stamp shop - a great selection of DPRK stamps and souvenirs available in this shop located just outside of the Koryo Museum.
PM
Lunch: Tongil Restaurant (Kaesong) - The name means Re-unification Restaurant. Dishes are served in covered golden plated small bowls. With 12 bowls per person there is a lot of variety in the food served!
Tomb of King Kongmin and his wife - These are one of the best preserved tombs in North Korea. They were declared a UNESCO World Heritage Site in 2013.
Drive to Sariwon City - we will explore the folk street in this city.
Mount Kyongnam - a 5 minute up to the local pavillion will allow us have impressive views of the whole city.

Stop at the Re-unification Monuments - good chance to take some pictures
Dinner: Local restaurant, Pyongyang

Overnight: Yanggakdo Hotel, Pyongyang
Day 3 - September 8 (Thursday)
AM

Kumsusan Memorial Palace - (where the Leaders Kim Il Sung and Kim Jong Il lie in state). This is a very important place in the DPRK which is why you are kindly asked to wear formal attire. We will fully brief you before your trip to North Korea.
Revolutionary Martyrs' Cemetery -located atop a hill in the outskirts of Pyongyang, this cemetery for National Heroes of the DPRK offers brilliant views of the capital of North Korea Cooperative farm near Nampo, North Korea.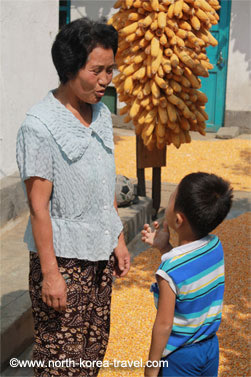 PM
Lunch: Hotpot restaurtant, Pyongyang
Victorious Fatherland Liberation War Museum - impressive building explaining the DPRK version of the Korean War to the smallest detail. The museum is new (it used to be in the building adjacent to it). It has a revolving panorama of battles, original weapons and vehicles used in the war and real sized wax statues amongst others.
USS Pueblo - US spy ship captured in 1968. It is held as a trophy in Pyongyang. The crew was held in the DPRK for about 11 months before being returned to the US.
Drive to the port city of Nampo on the west coast - We will drive on the Hero Youth Highway which was constructed in the late 1990s by students. Some of the Korean guides that we work with were involved in this project when students.
Chongsanri Cooperative Farm - see how Koreans work and live in this model cooperative farm which was very common in communist countries. You will be able to see a farmer's home or the kindergarten where the farmers' children attend. This is located within the premises of the cooperative farm.
West Sea Barrage - 8km long barrage that splits the Sea of Korea and the Taedong River which reduces the risk of floods in North Korea and generates energy in the local surrounding area
Drive to the Natural Hot Spa Hotel - The Ryongang Hotel is located in the outskirts of Nampo, this consists of several villas. Each room has a hot spa with water coming directly from the waterbed under the ground. In spite of it being salty, it is actually not from the sea. The spa allegedly has a number of health benefits.
Dinner: Hot Spa Hotel, Nampo - There is a Clam BBQ option after dinner. This place is famous for its petrol clam BBQ. The cost is 5 Euros per person but you do not need to join in if not a fan of seafood. Everyone is welcome to sit and chat while we have the BBQ outdoors!
Hot Spa Hotel, Nampo
Day 3 - September 9 (Friday) - DPRK National Day
This is one of the most important days of the calendar in North Korea.
AM
Breakfast: Yanggakdo Hotel, Pyongyang
Drive back to Pyongyang
Fountain Park - chance to mingle with Koreans here
Mansudae Grand Monuments - Giant bronze statues of the Leaders Kim Il Sung and Kim Jong Il
Views of Chollima Statue - the winged horse representing the national policy of rapid reconstruction of the DPRK after the Korean War
Extended Ride on the Pyongyang Metro - at an average of 100 metres below ground we will take a ride with locals
PM
Lunch: enjoy lunch on what is one of the most important days in the DPRK in Pyongyang
Moranbong Park - (where locals picnic and gather on national holidays) - do expect to be asked to join in the fun and games! See our Youtube video right below!
Mangyongdae Native House - President Kim Il Sung's Birthplace
Juche Tower - chance to go up the 150 metre tower (170 metres including the torch) that offers a panoramic view of Pyongyang.
Workers' Party Foundation Monuments - impressive monument consisting of a hammer, sickle and brush.
Expected Mass Dances in which locals celebrate National Day - chance to dance with North Koreans. Hundreds of university students; women dress in traditional Korean clothing and men in suits as they dance in a synchronised way.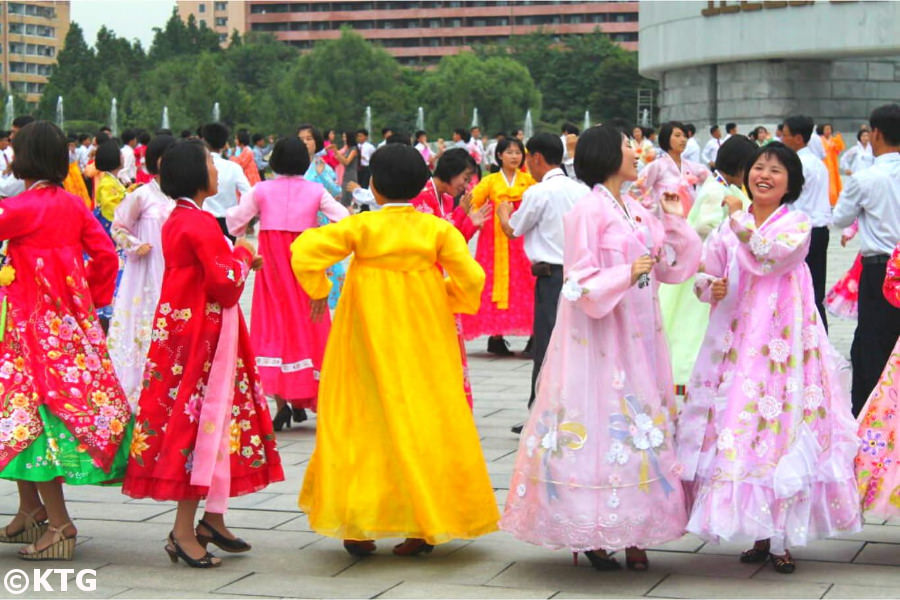 Drinks at a local bar - The Taedongang Number 3 Beer Bar is one of our favourite ones not only because the beer is brewed there but also because it is a major hangout place for locals.
Dinner: Number 1 Pyongyang Duck BBQ Restaurant. An ideal way to end a compact but diverse trip to North Korea!
Kaeson Funfair after dinner - you can take rides with locals, but even if you'd rather not, this is a great opportunity to join Koreans during their celebrations and to mingle with them. Rides cost from 1.5 to 5 Euros and are optional.
If there are any celebrations such as a firework display in the evening we will be able to attend these.
Overnight: Yanggakdo Hotel, Pyongyang
Day 5 - September 10 (Saturday)
AM
Breakfast: Yanggakdo Hotel, Pyongyang

Transfer to airport
Charter flight to Samjiyon Airport
Departure to Mount Paekdu - a sacred spot in Korea. This volcano is considered the point of origin of all Koreans. It is also where General Kim Jong Il was officially born while his father, President Kim Il Sung, was fighting the Japanese.



Chon Crater Lake - aka Heaven Lake

PM
Picnic Lunch
Secret Camp - used by Korean Guerilla to fight against the Japanese
Kim Jong Il's Native House - see where the leader was born
Samjiyon Grand Monument - giant bronze statue of a young Kim Il Sung
Day 6 - September 12 (Sunday)
AM
Breakfast: Yanggakdo Hotel, Pyongyang

Transfer to airport
Charter flight to Orang Airport
PM
Transfer to airport
Drive to Chilbosan National Park
Picnic Lunch on the way at a local waterfall
Drive to Inner Chilbo - head to a rural area of the northeastern part of Korea

Check-in: local homestay - Unique chance in DPRK to stay with a Korean family. We will have the chance to play volleyball and the traditional Korean wrestling game, Sirim, with the villagers!
Dinner: Homestay, Mount Chilbo
Overnight: Homestay, Mount Chilbo
Day 7 - September 13 (Monday)
AM
Breakfast: Homestay, Mount Chilbo
Visit Mount Chilbo
Kaesim Temple
Sungsondae - optional boat ride

PM
Lunch at Mount Chilbo

Transfer to Orang airport & charter flight to Pyongyang
Walk around the city centre in Pyongyang - fine way to end a very full trip to North Korea!

Dinner: Local Restaurant, Pyongyang

Overnight: Yanggakdo Hotel, Pyongyang
Day 8 - September 14 (Tuesday)
AM
Breakfast: Yanggakdo Hotel, Pyongyang
10.10 am train to China - if interested in flying back please do let us know, though we strongly recommend taking the train at least once as it adds to the DPRK experience
PM
Stopover at Sinuiju train station bordering China - DPRK customs will be carried out on the train

Day 9 - September 15 (Wednesday)
AM
Arrive in Beijing at 08:31 am

End of our DPRK National Day Mount Paekdu and Mount Chilbo Tour
Please go to our North Korea Tourism page to see more information on other tours that we offer other than our DPRK National Day Mount Paekdu and Mount Chilbo Tour.