2020 Pyongyang Marathon Tour II
Join KTG for our 2020 Pyongyang Marathon Tour II! What better way to explore the streets of Pyongyang than by doing so jogging! Get ready to start the race early in the morning at Kim Il Sung Stadium in front of a crowd of no less than 40,000! Local newspapers and TV channels will be there. As we leave the stadium and run around the capital thousands of Koreans will cheer us on!
For those not interested in running it is possible to stay in the stadium and see football match, parachuting show and remote control plane exhibition.
Day 1 - April 10 (Friday)
JS 152 flight to Beijing at 12.00 from Beijing International Capital Airport - please note that extra flights may be scheduled on this day so please arrive in Beijing on Friday 10 April at the latest in case your flight is re-scheduled to an earlier time


Arrive in Pyongyang at 15.00 (Pyongyang time)
Arch of Triumph - marking the period spent by President Kim Il Sung fighting the Japanese and his return in 1945 to Korea, this collosal monument is larger than its Parisian counterpart.
Brief walk around the area - we will see the enormous mural showing an image of President Kim Il Sung's speech upon returning to Korea after the liberation of the country in 1945. The Kim Il Sung Stadium is located close by too, though we will see more of this on Sunday
Hotel check-in: Yanggakdo Hotel, Pyongyang
Welcome Dinner: KITC Restaurant, Pyongyang
Overnight: Yanggakdo Hotel, Pyongyang
Day 2 - April 11 (Saturday)
AM
Breakfast: Yanggakdo Hotel, Pyongyang
Drive to Mt. Myohyang - we head further north to this truly beautiful part of the DPRK.
International Friendship Exhibition Centre - showing thousands of gifts given to the leaders Kim Il Sung and Kim Jong Il and Comrade Kim Jong Suk (wife of President Kim Il Sung and mother of General Kim Jong Il). There is now a section too for the Leader Marshall Kim Jong Un.
Pohyon Buddhist Temple - first built in 1042, it used to be considered the capital of Buddhism in this part of Korea. Buddhism was strongest in Korea in the Koryo Dynasty (935 - 1392).
PM
Chongchon Hotel, Mount Myohyang
Korean War Museum - this War Museum was rebuilt only last year and is now an impressive complex, unique in its kind. It explains the DPRK view of the href Korean War. An extensive collection of vehicles and weapons can be seen. We will be guided around by a very friendly local guide.
USS Pueblo- American Spyship captured in 1968. The crew stayed in the DPRK for 11 months. This is the only US vessel in posession of another country.
Dinner: Pyongyang Number One Duck Barbecue Restaurant, Pyongyang
Overnight: Yanggakdo Hotel, Pyongyang

Day 3 - April 12 (Sunday)
AM
Breakfast: Yanggakdo Hotel
Kim Il Sung Stadium - this is where the marathon will start. See our Youtube video below to have an idea of what the atmosphere will be like in the stadium! Thousands of people cheering, parachute events, a football match...

Pyongyang Marathon - you will be able to participate in the full marathon, half marathon or 10 km marathon. The atmosphere will be amazing here and running into Kim Il Sung Stadium full of Koreans cheering is an experience hard to explain in writing, so you will have to experience this yourself if you would like a more detailed description of such a feeling!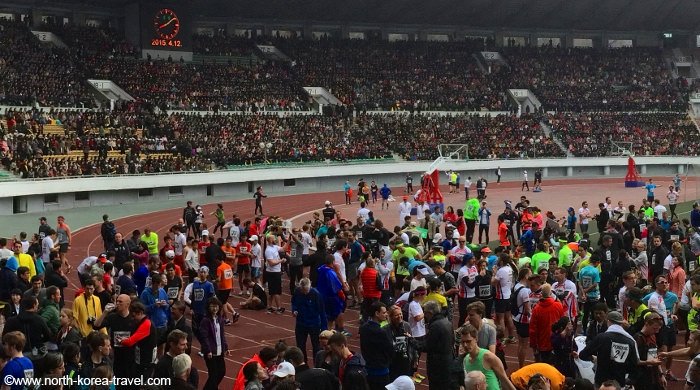 For those not interested in pariticipating in the running we will watch a football game in the stadium

PM
Lunch: City restaurant, Pyongyang
Fountain Park - popular amongst locals for wedding pictures and dates.
Mansudae Grand Monuments - giant bronze statues of the leaders
Ride on Pyongyang Metro - one of the deepest in the world - we will go on an extended ride with locals, having several stops that will allow you see one of the busiest aspects of life in Pyongyang
Juche Tower - opportunity to go up the 150 metre tower (170 metres including the torch) that offers a panoramic view of Pyongyang.
Kim Il Sung Square - we will walk around one of most known places of North Korea, the square that hosts military parades and mass rallies.

DPRK Bookstore - chance to see and purchase a wide variety of DPRK literature translated into English and other languages.
Dinner: Local restaurant, Pyongyang

Overnight: Yanggakdo Hotel, Pyongyang

Day 4 - April 13 (Monday)
10.25 am train to China - please contact us if interested in flying out.
PM
After crossing the Yalu River by train into China we will arrive in Dandong China, where we will get off the train and have a one hour break before continuing to Beijing. We will have the chance to see the giant statue of Mao Ze Dong.
Day 5 - April 14 (Tuesday)
AM
Arrival at the Beijing train station. The expected arrival time is 8.40 am
Please go to our DPRK Tourism section to see more information on other tours that we offer other than our 2020 Pyongyang Marathon II Tour.