Tibet Everest Base Camp Tour
Snow Capped Mountains, Small Rural Settlements, Lakes and Sandy Hills
After exploring the cultural, historical and religious highlights of Tibet, you will head west of Lhasa across the Tibetan Plateau to reach the roof of the world and enjoy spectacular close up views of Mt. Everest from the small Rongbuk monastery.
Day 1: "Road to Heaven" train from Xining to Lhasa
You start your trip from Xining, capital of Qinghai province. This city is located by the Tibetan plateau and was a commercial hub by the northern Silk Road for over 2,000 years. Today you will take what was once considered impossible, a train connecting Tibet, once one of the most isolated parts of the world, to the rest of China. The "Road to Heaven" is a remarkably impressive feat.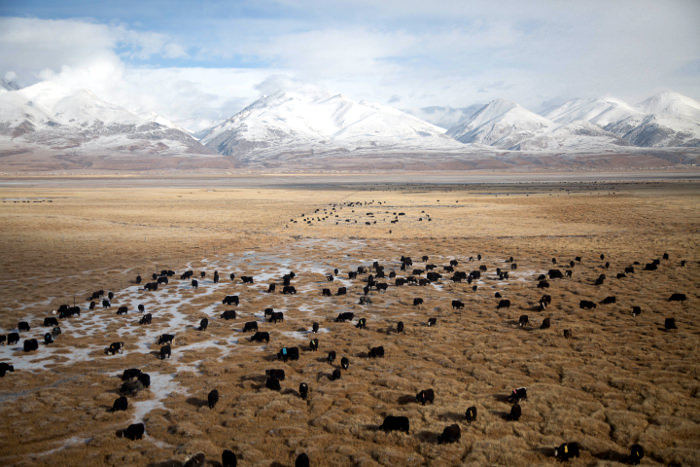 This train route boasts several records. It goes through the world's highest point on a rail track; the Tanggula Pass, which is 5,072 metres above sea level. The train also stops at the highest train station on Earth; Tanggula station which is 5,068 metres above sea level.
Lay back on your bed, enjoy a good read, some snacks and indulge in the stunning views of the Qinghai-Tibetan Plateau.
Day 2: Arrive at Lhasa train station (3658 metres)
Our local Tibetan guide and driver will be waiting for you at Lhasa train station. You will be greeted with a traditional Tibetan white katak (scarf) before being transferred in your private vehicle to your hotel.
Day 3: Highlights of Lhasa
You will start today by visiting what is probably considered Tibet's most famous landmark, the gigantic Potala Palace. Standing 13 stories high and with over 1000 rooms, this majestic tower can be seen from all over Lhasa.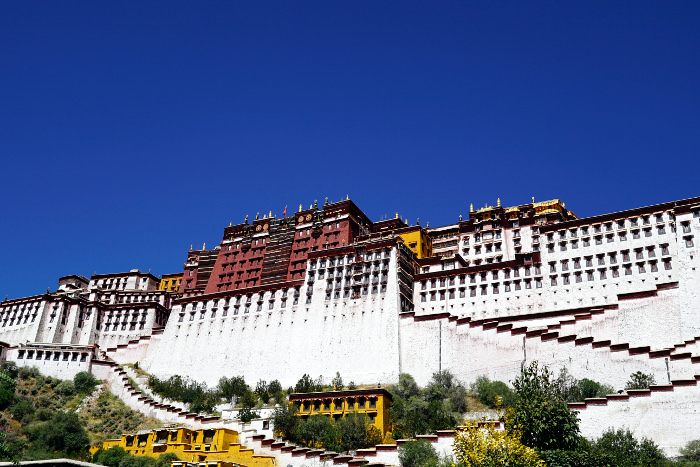 After lunch you will visit the most important religious building in Tibet, a temple that attracts pilgrims from all over the plateau. Religious devotees arrive at the climax of their long and arduous journeys at the Jokhang Temple.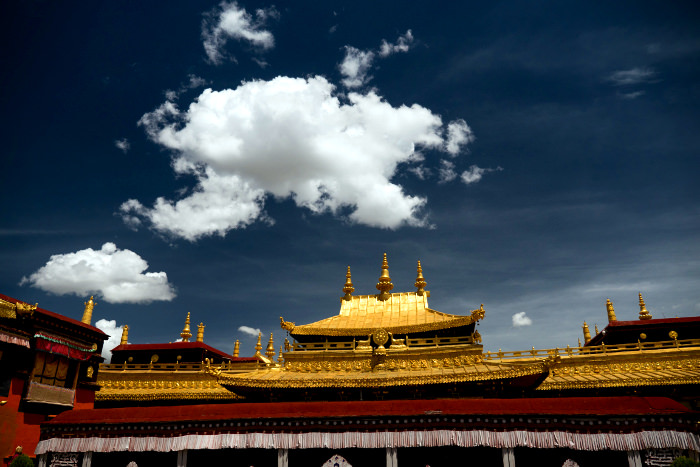 Known as the mecca of Tibetan Buddhism, the Jokhang Temple was built in the 7th Century by King Songsten Gampo to store images and gifts given by his Chinese and Nepalese wives as dowries.
Surrounding the temple is the Barkhor pilgrimage circuit.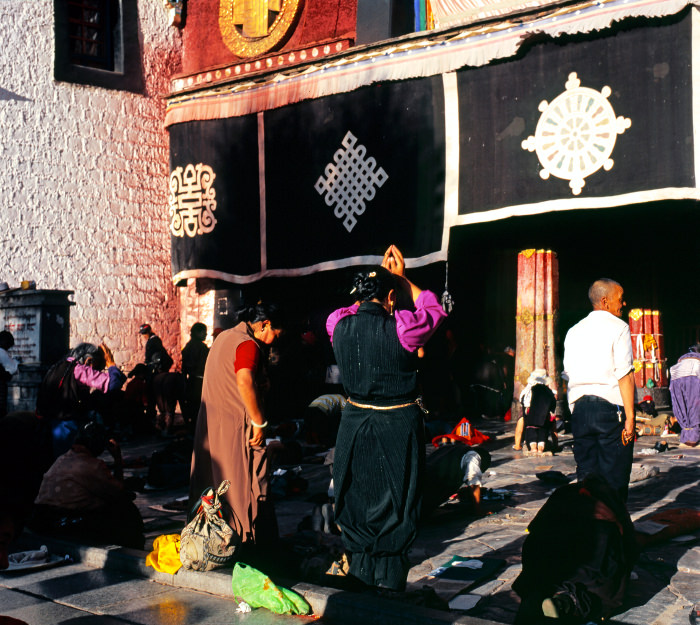 An 800 metre route full of pilgrims praying. This lively part of Lhasa is bustling with bazaars, tea houses and restaurants.
Day 4: Shigatse (3840 metres) via Yamdrok Lake and Gyantse
We head west today, our last stop being the second largest city in Tibet. Shigatse is located 340 km away from Lhasa.
On your way you will go by three big mountain passes; Khamba-la, Karo-la and Simi-la. Once at Khamba-la you will descend all the way to the shores of the beautiful Yamdrok Tso (Yamdrok Lake).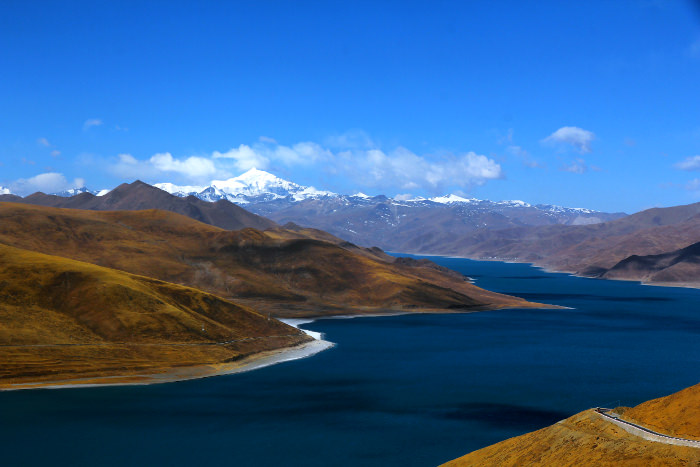 From the Karo-la pass you will have great views of the glaciers of Mount Nojin Kangsang that stands at 7191 metres above sea level.
You then head to Gyantse town. Once the third largest city in Tibet, this quiet town of about 8,000 is located on an ancient trade route in the Nyang Chu Valley. Gyantse used to have a 3 km long city wall and it has a fortress built in the late 14th Century that overlooks the whole town.
The most iconic landmark of Gyantse is undoubtedly its kumbum. A three dimensional stupa that represents the Buddhist cosmos, this 8 story building is 37 metres tall, has 75 chapels and 100,000 images and is part of the Pelkor Choede Monastery.
The famous 37 metre tall Gyantse Kumbum
Taking pictures with locals in Gyantse
The next part of your route takes you northwest through some of Tibet's most fertile lands.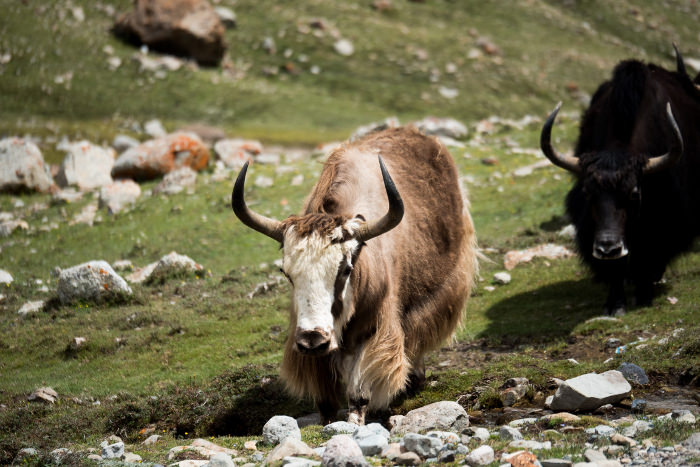 You then arrive at Shigatse, the second largest city in Tibet.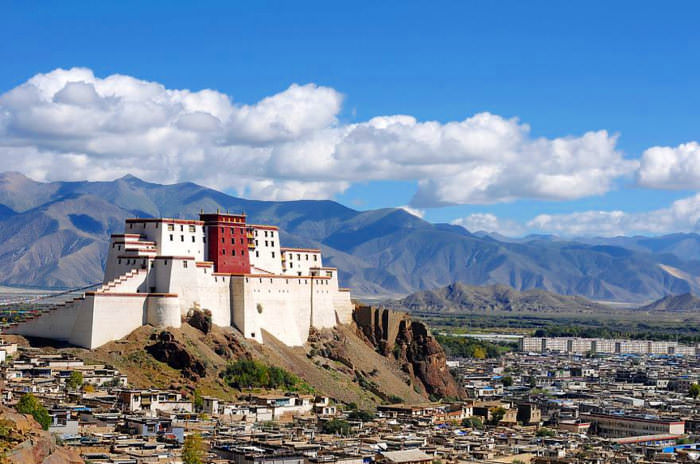 Day 5: Shigatse - Rongbuk - Old Tingri Town
Today is a long day packed with views of breathtaking scenery. We head west on the Friendship highway that connects Lhasa to the border with Nepal before turning south and driving up winding roads through steep valleys and mountain passes. We will then stop at Rongbuk monastery and indulge in the stunning views of Mount Everest. At 5009 metres above sea level, it is said to be the highest monastery in the world. It is located about 8km away from from north side of Mount Everest's base camp.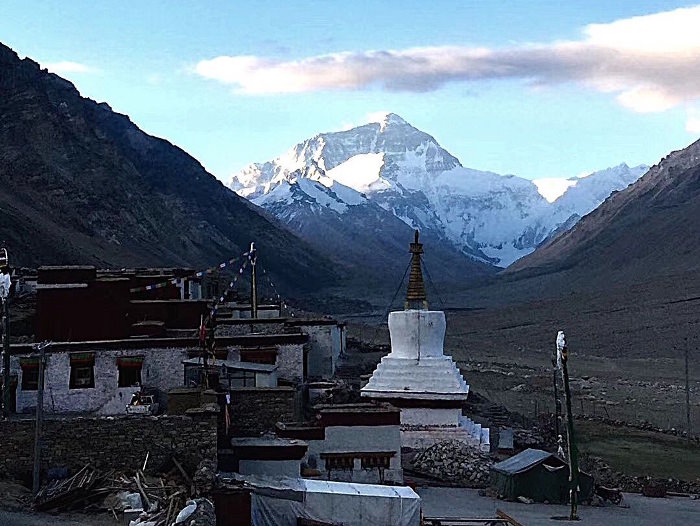 We will then descend to the small town of Old Tingri, which is known for its views of Mt. Everest, to spend the night.
With a population of around 500 people, this town used to be an important trade hub between locals and Nepalese sherpas. Staying in a remote, small Tibetan village at the footsteps of Mount Everest is indeed an incredibly unique experience.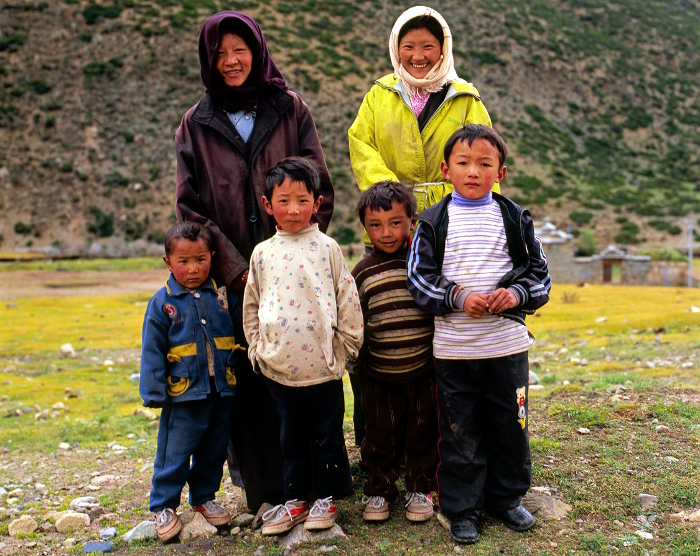 Day 6: Old Tingri - Shigatse (3840m)
We head back east to Shigatse city. Once here you will visit the huge Tashi Lhunpo Monastery.
Built in 1447 by the first Dalai Lama, it is the seat of the Panchen Lama. It is the largest religious institute in the Autonomous Region of Tibet and the most important Gulukpa monasteries. After this visit immerse yourself in the hustle and bustle of a vibrant local market.
Day 7: Shigatse to Lhasa (3658m / 280km)
Today you will drive east along the Yarlung Tsangpo (Brahmaputra River), going through sandy, barren hills and remote rural settlements. You will have a break at Rulak Yundrungling and then have lunch at a local restaurant in the small town of Nyemo. Nyemo is located 94 kilometres south east of Lhasa and it lies on the border between Shigatse and Lhasa counties.
You will have the afternoon off in Lhasa, a great chance to absorb the atmosphere of the busy Barkhor pilgrimage route and to buy some local souvenirs.
Day 8: End of our Tibet Everest Base Camp Tour
After breakfast you will be transferred to the airport or train station. The exact time depends on your train/flight time.