2017 Pyongyang Autumn Marathon
New! Want to explore Pyongyang by foot? Then look no further! Join KTG for the Pyongyang Autumn Marathon!
This is the first time a marathon is opened to tourists in autumn in North Korea confirmed only recently by the DPRK authorities. We're testing the waters here and offering this unique tour at and outstandingly low rate. We're offering spaces at a first come first go basis so do hurry to sign up!
You will be able to participate in any of the following races:
Full Marathon (110 USD)
Half Marathon (90 USD)
10 km Marathon (80 USD)
Mini Marathon 5~6.5km (70 USD)
Tour Rates
Starting from and ending in Dandong: 455 Euros
Starting from and ending in Beijing by train: 540 Euros
Tour Duration: 2 nights / 3 days in the DPRK
Application deadline: October 15th - please try to apply by the deadline. We will accept later applications and will notify you within a business day if there are train seats still available.
Rates include the following:
Transport costs from China to Pyongyang and back
All local transfer costs
Accommodation at the Sosan Hotel (twin room)
Three meals per day (B,L,D)
Guide service in English / requested language if other
Entrance tickets to all tourist attractions
The following is not included:
DPRK visa fee (€50 if issued in China)
Marathon registration fee (see above for details)
Going up the Juche Tower which is optional (€5)
Upgrading room to a single one (€35 per room per night if upgraded before hand, €40 per night if upgraded on the spot). If travelling alone you can share your room with another traveller if you wish not to incur this cost.
Extra drinks/snacks (meals include one drink and bottled water)

Meals on the train between China and Korea (a set menu at the restaurant carriage is 60 Chinese Yuan. You can also bring your own food)
Tips to tour guides (recommended amount approx. €45 in total)
For those not interested in running it is possible to see the event or have a morning city tour of Pyongyang.
Day 1 - October 28 (Saturday)
Route Map
Pyongyang Autumn Marathon Itinerary
Meet at Dandong train station at 8.00 am
PM
Arrive in Pyongyang at 17.50 (Pyongyang time)
Brief walk around the area - we will see the enormous mural showing an image of President Kim Il Sung's speech upon returning to Korea after the liberation of the country in 1945. The Kim Il Sung Stadium is located close by too, though we will see more of this on Sunday
Kim Il Sung Square - we will walk around one of most known places of North Korea, the square that hosts military parades and mass rallies.
Hotel check-in: Sosan Hotel, Pyongyang. This hotel is located in the Sports Villa of Pyongyang, an ideal setting for those running the marathon!

Welcome Dinner: KITC Restaurant, Pyongyang
Overnight: Yanggakdo Hotel, Pyongyang
Day 2 - October 29 (Sunday)
AM
Arch of Triumph - this is where the marathon will start. marking the period spent by President Kim Il Sung fighting the Japanese and his return in 1945 to Korea, this collosal monument is larger than its Parisian counterpart.
Pyongyang Autumn Marathon - the time limit is 5 hours! Please note that the picture below is of the April Marathon. This one will start from the Arch of Triumph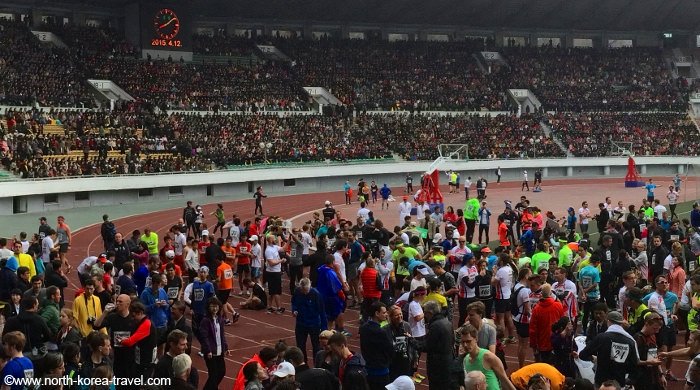 PM
Lunch: City restaurant, Pyongyang
Fountain Park - popular amongst locals for wedding pictures and dates.
Mansudae Grand Monuments - giant bronze statues of the leaders
Ride on Pyongyang Metro - one of the deepest in the world - we will go on an extended ride with locals, having several stops that will allow you see one of the busiest aspects of life in Pyongyang
Juche Tower - opportunity to go up the 150 metre tower (170 metres including the torch) that offers a panoramic view of Pyongyang.
Party Foundation Monuments - 50 metre high monument consisting of a giant hammer, sickle and brush
Dinner: Local restaurant, Pyongyang

Overnight: Sosan Hotel, Pyongyang

Day 3 - October 30 (Monday)
AM
PM
After crossing the Yalu River by train into China we will arrive in Dandong China. Those continuing to Beijing will have a one hour break before continuing to Beijing and have the chance to see the giant statue of Mao Ze Dong.
Day 4 - October 31 (Tuesday)
AM
For those continuing to Beijing arrival at the Beijing train station. The expected arrival time is 8.31 am
Please click go to our North Korea Tourism page to see more information on other tours that we offer other than our Pyongyang Autumn Marathon Express Tour.