Eastern Tibet Tour II - 7 days (flight to Nyingchi)
Southeast Tibet has some of the region's most stunning landscapes. Snow-capped mountains and glaciers dominate over deep river gorges; beautiful lakes lie hidden among densely wooded hills creating a stunning combination of vivid colours. Explore this magnificent area before discovering the religious and cultural hubs of Tibet in Lhasa.
Day 1: Early flight to Nyingchi
Take a morning flight to Linzhi (Nyingchi). You will see some of Tibet's most impressive scenery as you fly over snow-capped mountain ridges. Our local Tibetan guide and driver will greet you at the airport with a traditional Tibetan white scarf, a Katak.
You first stop for a Sichuanese lunch at Nyingchi. After this, the road will go up Serkhymla (4515 meters), allowing you to have splendid views of the mountains. You will go to Lunang forest, a beautiful area of mountain woods and pastures. After a one and a half hour walk you will reach the village of Tashigang, where you can enjoy breathtaking views of snowy mountains and lakes. You will then return to Lunang town to spend the night.
Day 2: Basum Tso (lake)
You will go to Bayi county, which is located in the mid-point of the Yarlung Tsangpo River and which has both steep cliffs and flat lands, before continuing west along the Nyang River, making a 40 kilometre deviation from the highway in order to go to the sacred Basum Tso (lake).
This lake is home to King Gesar's spirit. The small monastery here is an important pilgrimage site. Meaning "3 rocks" in Tibetan, it is one of the most beautiful lakes in Tibet, with an iconic islet, and, according to locals, its shape is like that of a dragon's.
Day 3: Ganden
You head further west today to a town located about 50 km northeast of Lhasa; Ganden. Dramatic views of the Kyi Chu Valley can be enjoyed from here. You will have lunch at the monastery's restaurant and then explore its main chapels and its huge assembly hall. Built in the early 15th Century by Master Tsongkhapa, a famous teacher of Tibetan Buddhism and founder of the Gelug order of Tibetan Buddhism, this monastery is the first and main building of the Gelug order.
It is possible to go on a one and a half hour hike, taking the kora route (circumambulation route) which goes around the monastery. You then carry on to Lhasa.
Day 4: Lhasa
Today you will see the highlights of Lhasa; the magnificent Potala Palace, the Jokhang Temple, the holiest temple in Tibet, and the pilgrims at Barkhor.
Our first stop is the Potala Palace which many people consider the most famous monument in Tibet. This huge building was built in the 17th Century as the residence of the Dalai Lama. The original site is an ancient fortress that is believed to have been built in the 7th Century.
Located in between the Deprung and Sera monasteries and the old town of Lhasa, this huge building consists of more than 1000 rooms and 13 floors towering over the city of Lhasa.
Next is a visit to the most important religious building in Tibet; the Jokhang Temple. Built between 639 and 647 by King Songsten Gampo for his Chinese and Nepalese wives, this temple is one of the oldest Buddhist monuments in Tibet and has attracted pilgrims from all over Tibet for centuries.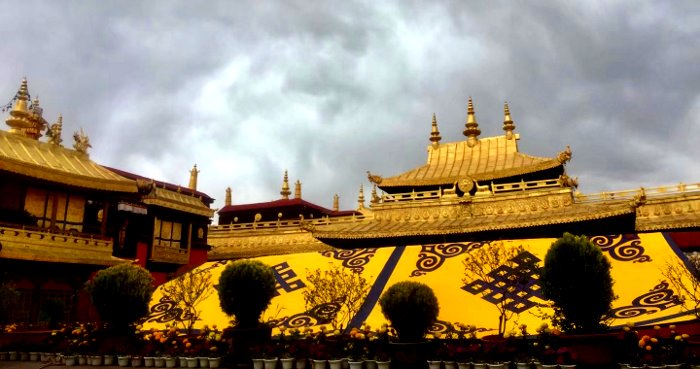 Lunch will be at a nearby restaurant.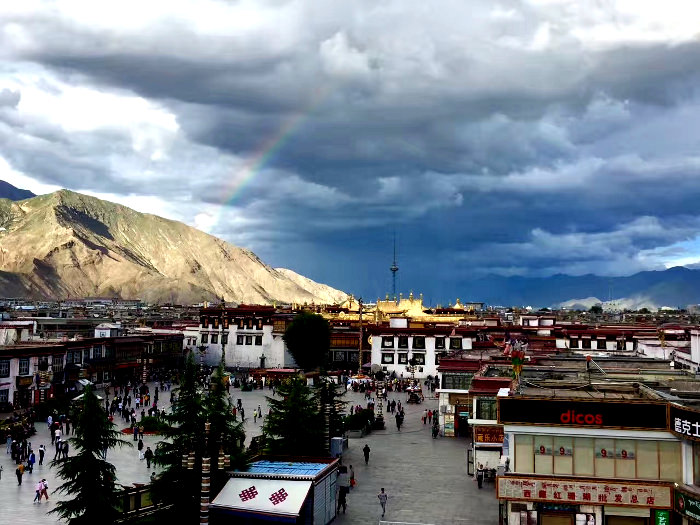 Full of bazaars, restaurants and tea shops, smaller chapels and religious followers, the Barkhor pilgrimage route is one of Lhasa's most vibrant places.
Please bear in mind that we need to pre-book tickets for the Potala Palace and that we will aim for a morning visit but that this cannot always be 100% guaranteed and the order of today's schedule may vary.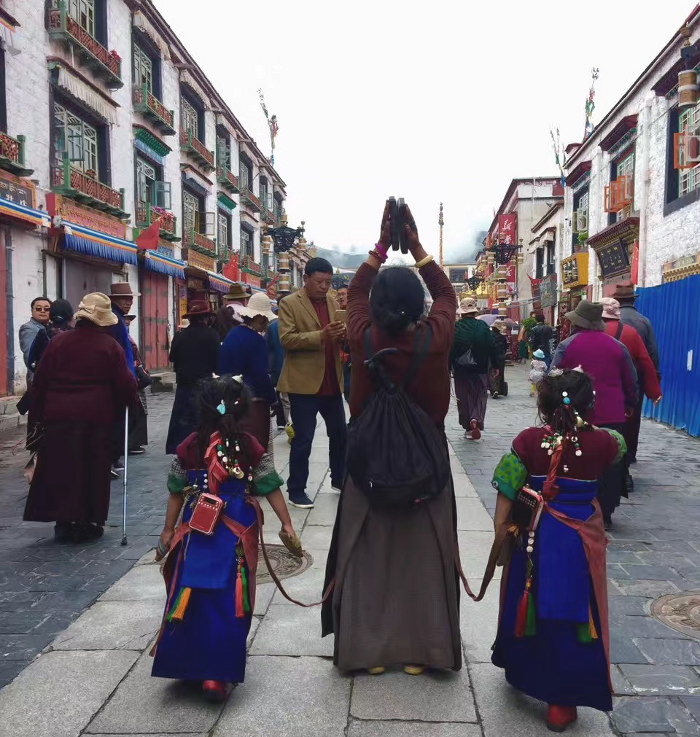 Day 5: Lhasa
In the morning you will visit Norbulinka, the summer palace of the Dalai Lamas. Meaning "Treasure Garden" in Tibetan, it attracts thousands of locals in summer and autumn, where they gather for picnics, camping and singing.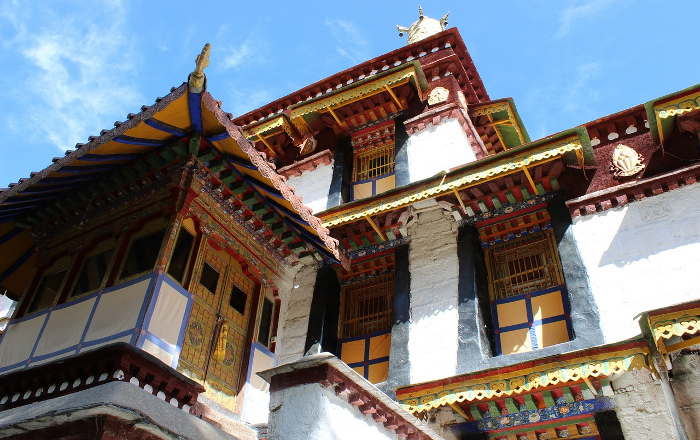 At an altitude of 3,650 meters above sea level, this paradise park has a vast array of rare plants, rose garnets, bamboo, and fruit trees.
After lunch you will head to Sera Monastery, where hundreds of monks reside and have public debates dominated by dramatic gestures. Located 5 kilometres north of the Jokhang Temple, it is one of Tibet's most prestigious monasteries and was founded in 1419.
Monks debating at the Sera Monastery, Lhasa
Day 6: Namtso Lake
We set off early this morning because the drive to Namtso Lake is very long, but well worth a visit. Namtso Chukmo, located north of Lhasa and the second largest salt lake on the Qinghai-Tibet Plateau, is an exceptionally spectacular attraction. The snow-capped Nyenchen Thanglha Peak attracts flocks of migratory birds, and Tashidor's cave hermits are well-known amongst pilgrims.
Lunch is due at Damxung town before you carry on to the Largen-La pass which is located 4970 metres above sea level and then descend to Namtso Lake. You will ride the national park's eco-bus on the last 18km of the route. You then head back to Lhasa.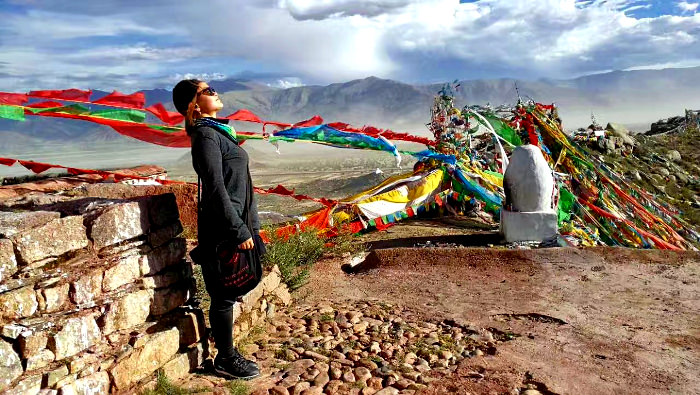 Day 7 - Departure
Transfer to the train station or airport after breakfast. Exact time depends on your train/flight schedule.