Mangyongdae Prize Marathon 2020 Express Tour
The application deadline for our Mangyongdae Prize Marathon Express Tour is February 20th 2020.
Get your racing shoes on and explore Pyongyang jogging as thousands of locals cheer you on!
Day 1 - April 11 (Saturday)
JS 152 flight to Beijing at 13.05 from Beijing International Capital Airport - please note that extra flights may be scheduled on this day so please arrive in Beijing on Friday 10 April at the latest in case your flight is re-scheduled to an earlier time


Arrive in Pyongyang at 16.05 (Pyongyang time)
PM
Arch of Triumph - marking the period spent by President Kim Il Sung fighting the Japanese and his return in 1945 to Korea, this collosal monument is larger than its Parisian counterpart.
Brief walk around the area - we will see the enormous mural showing an image of President Kim Il Sung's speech upon returning to Korea after the liberation of the country in 1945. The Kim Il Sung Stadium is located close by too, though we will see more of this on Sunday

Hotel check-in: Yanggakdo Hotel, Pyongyang
Welcome Dinner: KITC Restaurant, Pyongyang
Overnight: Yanggakdo Hotel, Pyongyang
Day 2 - April 12 (Sunday)
AM
Breakfast: Yanggakdo Hotel
Kim Il Sung Stadium - this is where the marathon will start. See our Youtube video below to have an idea of what the atmosphere will be like in the stadium! Thousands of people cheering, parachute events, a football match...

Pyongyang Marathon - you will be able to participate in the full marathon, half marathon or 10 km marathon. The atmosphere will be amazing here and running into Kim Il Sung Stadium full of Koreans cheering is an experience hard to explain in writing, so you will have to experience this yourself if you would like a more detailed description of such a feeling!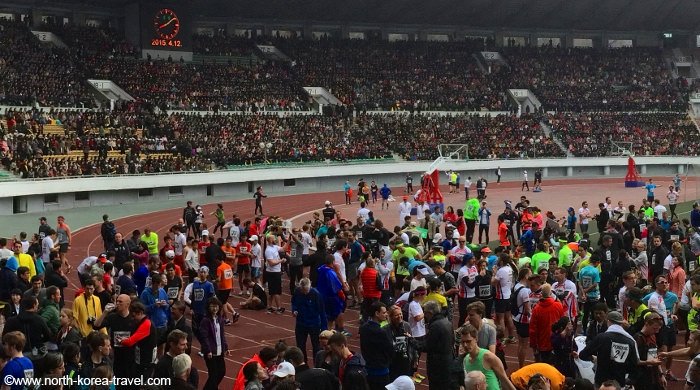 For those not interested in pariticipating in the running we will watch a football game in the stadium

PM
Lunch: City restaurant, Pyongyang
Fountain Park - popular amongst locals for wedding pictures and dates

Mansudae Grand Monuments - giant bronze statues of the leaders
Ride on Pyongyang Metro - one of the deepest in the world - we will go on an extended ride with locals, having several stops that will allow you see one of the busiest aspects of life in Pyongyang
Juche Tower - opportunity to go up the 150 metre tower (170 metres including the torch) that offers a panoramic view of Pyongyang.
Kim Il Sung Square - we will walk around one of most known places of North Korea, the square that hosts military parades and mass rallies.

DPRK Bookstore - chance to see and purchase a wide variety of DPRK literature translated into English and other languages.

Dinner: Local restaurant, Pyongyang

Overnight: Yanggakdo Hotel, Pyongyang

Day 3 - April 13 (Monday)
AM
Breakfast: Yanggakdo Hotel
10.25 am train to China - please contact us if interested in flying out.
Day 4 - April 14 (Tuesday)
AM
Arrival at the Beijing train station. The expected arrival time is 8.40 am